ROinvesting Review
Open Demo Account
17 minutes read
/
Updated: 01 July 2020
We are pleased to announce that AC Milan and ROinvesting have entered into a sponsorship agreement with immediate effect. ROinvesting are now listed on the clubs official website as an authorized Partner.
ROinvesting is an online broker offering CFD trading on a range of assets, including forex, stocks, commodities, cryptocurrencies, and gold. The broker prides itself on offering access to a range of global markets for both retail and professional clients.
ROinvesting began operating in 2017, with its regulation coming from CySEC and its headquarters in Nicosia, Cyprus. ROinvesting is a Royal Forex Ltd brand, which is an investment firm from Cyprus.
Traders will likely wonder whether to invest with ROinvesting . Continue reading this ROinvesting review to determine whether it meets your criteria and if you should open an account.
Strengths
Leverage is available up to 1:500.
ROinvesting offers more than 300 CFD assets.
ROinvesting is licensed and regulated by CySEC.
The broker offers multiple platforms, including a WebTrader, MT4, and a mobile version.
Weaknesses
All assets offered are CFDs.
What can you trade?
A ROinvesting forex review will indicate that the broker offers more than 50 forex pairs, including majors and minors. There is also education on trading forex available via the website.
Spreads on forex pairs can be as low as 0.7 for those who hold Retail Platinum Accounts or 0.6 for those with Professional Accounts. Forex leverage for professional clients can be up to 1:500, depending on account type. For retail investors, it can be up to 1:30, the highest you will find in any ROinvesting forex review due to EU regulations.
Any ROinvesting CFD review will point out that this is the strongest aspect of this broker, as all of the tradeable assets are part of a ROinvesting CFD review. As such, hundreds of CFDs are available, including forex pairs, cryptocurrencies, stocks, and commodities.
In terms of CFDs for commodities, if you review GMOTrading, you will see 15 commodities. Spreads for gold can be as low as 0.37 for professional clients and 0.15 for retail clients, while spreads for crude oil can be as low as 0.02 and 0.15, respectively. The figures on most CFDs can be found in this GMOTrading review in their specific sections.
A ROinvesting UK review will outline that the broker offers CFDs of the most common stocks, including educational information on stock trading. Trading stock CFDs lets investors go short or long, offering diversification and profits during downturns. Stock offerings include at least 140 stocks from the NYSE, NASDAQ, Frankfurt Stock Exchange, XETRA Frankfurt Stock Exchange, Toronto SE, Hong Kong Stock Exchange, London Stock Exchange, Borsa Italiana, Bolsa de Madrid, EURONEXT Paris, NASDAQ OMX Nordic, and Moscow Stock Exchange.
Leverage on stocks for retail clients can be up to 1:5 from ROinvesting, while it can be as high as 1:20 for professional clients.
As you review ROinvesting, you will see it offers futures for over a dozen indices, from the DAX 30 Index Future to the Nasdaq100 Index Future.
The minimum variable for Dax is as low as 0.9 for retail clients and 0.87 for professional clients.
A ROinvesting cryptocurrency review should make it clear that the broker does not let you directly trade cryptocurrencies. Instead, it offers crypto CFDs. This prevents the need to buy cryptocurrencies outright.
This ROinvesting cryptocurrency review indicates that traders can use at least 20 cryptocurrency pairs. There is also some educational information regarding crypto CFDs.
What did our traders think after reviewing the key criteria?
ROinvesting Fees
A ROinvesting review indicates that the broker does not charge commissions; instead, it relies entirely on spreads to make a profit. This assists traders since it makes the cost of trading more predictable. Another positive note in this ROinvesting review is that the broker is highly transparent in terms of its spreads and other fees, including those professional swap charges.
Retail and professional clients can take advantage of variable spreads, which depend on the type of account that a client has. The spreads for the Platinum accounts are highly competitive, while those for Silver accounts leave some room for improvement. For transparency, ROinvesting lists the relevant spreads for each asset on its website. The broker even provides information on calculating charges and the cost of spreads.
Account Types
A ROinvesting UK review outlines three types of accounts, each available for professional or retail clients. Islamic accounts are available for all account types.
There is also a demo account that is free to use for 14 days.
All professional accounts require a minimum deposit of £5,000 or 5,000 of the base currency. All retail accounts require a minimum deposit of £250.
Professional Silver accounts have EUR/USD spreads as low as 2.1, leverage up to 1:200 for forex, hedging, fifth decimals, and full customer support.
Professional Gold accounts bring the EUR/USD spread as low as 1.2 and increase forex leverage up to 1:400. They also add access to videos and webinars, as well as a dedicated account manager, discounted swaps, and discounted spreads.
Professional Platinum accounts can have EUR/USD spreads as low as 0.6 with leverage up to 1:500.
Retail Silver accounts have EUR/USD spreads as low as 2.4, leverage up to 1:30 for forex, and the same value-added services as professional accounts of the same level.
Retail Gold accounts reduce the minimum EUR/USD spread to 1.4 and add the same additional services as Professional Gold Accounts.
Retail Platinum accounts drop the minimum EUR/USD variable to 0.7.
Platforms
This ROinvesting review outlines the ways the broker offers access to trading via its WebTrader platform, MetaTrader 4, or the mobile ROinvesting application.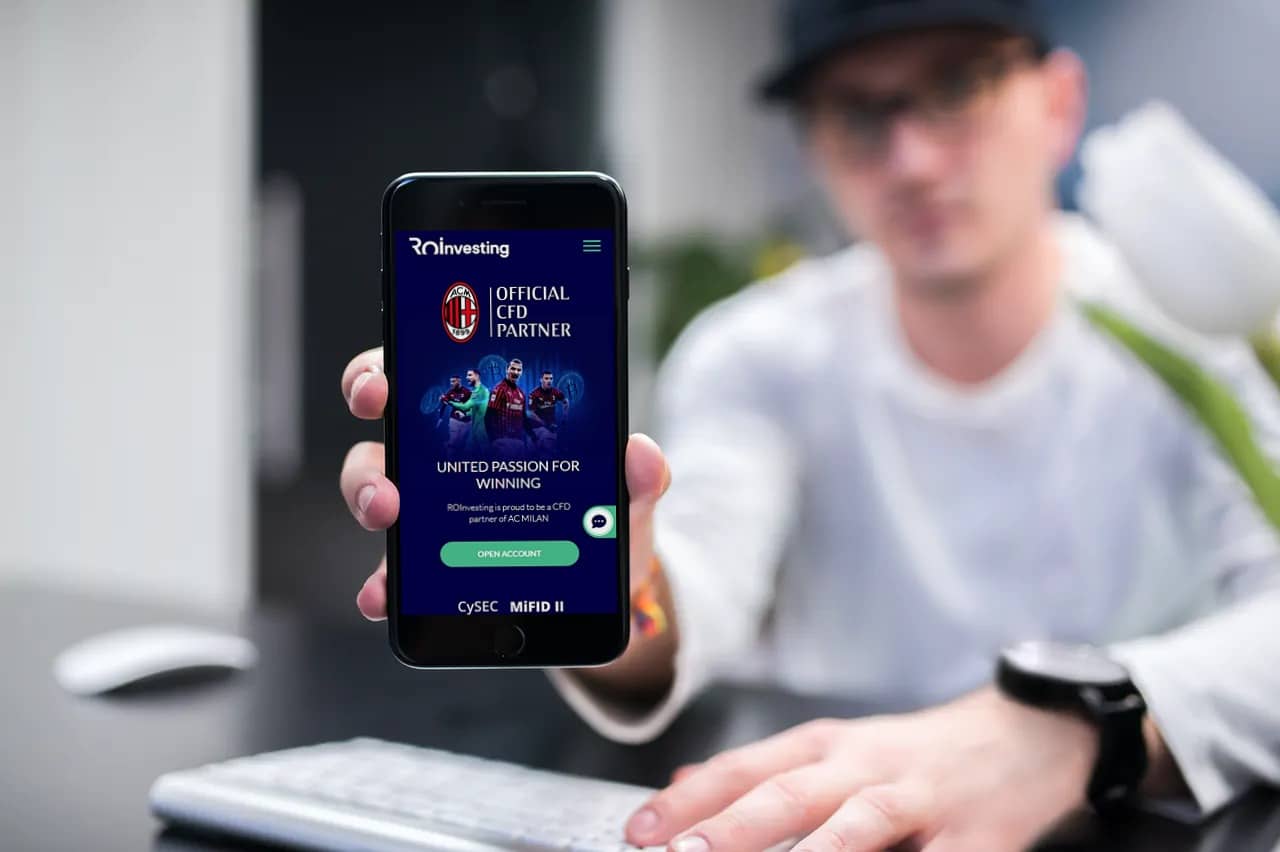 The WebTrader allows traders to execute their orders in a single click and does not require any installation or download to use. This platform includes live charts and analysis, allowing users to view all of their closed and open trades. It also includes visual trends and offers trading cubes that let traders view lot sizes, assets, and prices.
The MetaTrader 4 platform is a strong offering in a ROinvesting review, as it is among the most popular trading platforms. It has highly advanced analysis and charting tools and is something that most experienced traders will be familiar with.
MT4 also offers built-in indicators, as well as the ability to develop indicators, something most traders appreciate in a ROinvesting forex review. The platform also makes it simple to enter orders via a user-friendly interface. Additionally, MT4 is known for its reliable encryption, offering security to ROinvesting clients.
Finally, ROinvesting offers a mobile application for both Android devices and iPhones. It was created to include multifunctional features and a user-friendly interface. Traders can use this mobile platform to open new transactions, monitor investments, and track global trends, both micro and macro. The inclusion of a dedicated mobile application allows traders to continue using ROinvesting on the go, letting them react immediately to market news.
Usability