We are pleased to announce that AC Milan and ROinvesting have entered into a sponsorship agreement with immediate effect. ROinvesting are now listed on the clubs official website as an authorized Partner.
ROinvesting is an online broker offering CFD trading on a range of assets, including forex, stocks, commodities, cryptocurrencies, and gold. The broker prides itself on offering access to a range of global markets for both retail and professional clients.
ROinvesting began operating in 2017, with its regulation coming from CySEC and its headquarters in Nicosia, Cyprus. ROinvesting is a Royal Forex Ltd brand, which is an investment firm from Cyprus.
Traders will likely wonder whether to invest with ROinvesting . Continue reading this ROinvesting review to determine whether it meets your criteria and if you should open an account.
ROinvesting Review Navigation
#

ROinvesting Forex Review
| | | | |
| --- | --- | --- | --- |
| Min Deposit | App Support | Max Leverage | Trading Fees |
| £500 | Good | 1:30 | Low |
A ROinvesting forex review will indicate that the broker offers more than 50 forex pairs, including majors and minors. There is also education on trading forex available via the website.
Spreads on forex pairs can be as low as 0.7 for those who hold Retail Platinum Accounts or 0.6 for those with Professional Accounts. Forex leverage for professional clients can be up to 1:500, depending on account type. For retail investors, it can be up to 1:30, the highest you will find in any ROinvesting forex review due to EU regulations.
#1

ROinvesting CFD Review
| | | | |
| --- | --- | --- | --- |
| Min Deposit | App Support | Max Leverage | Trading Fees |
| £500 | Good | 1:30 | Low |
Any ROinvesting CFD review will point out that this is the strongest aspect of this broker, as all of the tradeable assets are part of a ROinvesting CFD review. As such, hundreds of CFDs are available, including forex pairs, cryptocurrencies, stocks, and commodities.
In terms of CFDs for commodities, if you review GMOTrading, you will see 15 commodities. Spreads for gold can be as low as 0.37 for professional clients and 0.15 for retail clients, while spreads for crude oil can be as low as 0.02 and 0.15, respectively. The figures on most CFDs can be found in this GMOTrading review in their specific sections.
#2

ROinvesting Stocks Review
| | | | |
| --- | --- | --- | --- |
| Min Deposit | App Support | Max Leverage | Trading Fees |
| £500 | Good | 1:5 | Mid |
A ROinvesting UK review will outline that the broker offers CFDs of the most common stocks, including educational information on stock trading. Trading stock CFDs lets investors go short or long, offering diversification and profits during downturns. Stock offerings include at least 140 stocks from the NYSE, NASDAQ, Frankfurt Stock Exchange, XETRA Frankfurt Stock Exchange, Toronto SE, Hong Kong Stock Exchange, London Stock Exchange, Borsa Italiana, Bolsa de Madrid, EURONEXT Paris, NASDAQ OMX Nordic, and Moscow Stock Exchange.
Leverage on stocks for retail clients can be up to 1:5 from ROinvesting, while it can be as high as 1:20 for professional clients.
#3

ROinvesting Futures Review
| | | | |
| --- | --- | --- | --- |
| Min Deposit | App Support | Max Leverage | Trading Fees |
| £500 | Good | 1:1 | High |
As you review ROinvesting, you will see it offers futures for over a dozen indices, from the DAX 30 Index Future to the Nasdaq100 Index Future.
The minimum variable for Dax is as low as 0.9 for retail clients and 0.87 for professional clients.
#4

ROinvesting Cryptocurrency Review
| | | | |
| --- | --- | --- | --- |
| Min Deposit | App Support | Max Leverage | Trading Fees |
| £500 | Many | 1:2 | Mid |
A ROinvesting cryptocurrency review should make it clear that the broker does not let you directly trade cryptocurrencies. Instead, it offers crypto CFDs. This prevents the need to buy cryptocurrencies outright.
This ROinvesting cryptocurrency review indicates that traders can use at least 20 cryptocurrency pairs. There is also some educational information regarding crypto CFDs.
What did our traders think after reviewing the key criteria?
ROinvesting Fees
A ROinvesting review indicates that the broker does not charge commissions; instead, it relies entirely on spreads to make a profit. This assists traders since it makes the cost of trading more predictable. Another positive note in this ROinvesting review is that the broker is highly transparent in terms of its spreads and other fees, including those professional swap charges.
Retail and professional clients can take advantage of variable spreads, which depend on the type of account that a client has. The spreads for the Platinum accounts are highly competitive, while those for Silver accounts leave some room for improvement. For transparency, ROinvesting lists the relevant spreads for each asset on its website. The broker even provides information on calculating charges and the cost of spreads.
Account Types
A ROinvesting UK review outlines three types of accounts, each available for professional or retail clients. Islamic accounts are available for all account types.
There is also a demo account that is free to use for 14 days.
All professional accounts require a minimum deposit of £5,000 or 5,000 of the base currency. All retail accounts require a minimum deposit of £250.
Professional Silver accounts have EUR/USD spreads as low as 2.1, leverage up to 1:200 for forex, hedging, fifth decimals, and full customer support.
Professional Gold accounts bring the EUR/USD spread as low as 1.2 and increase forex leverage up to 1:400. They also add access to videos and webinars, as well as a dedicated account manager, discounted swaps, and discounted spreads.
Professional Platinum accounts can have EUR/USD spreads as low as 0.6 with leverage up to 1:500.
Retail Silver accounts have EUR/USD spreads as low as 2.4, leverage up to 1:30 for forex, and the same value-added services as professional accounts of the same level.
Retail Gold accounts reduce the minimum EUR/USD spread to 1.4 and add the same additional services as Professional Gold Accounts.
Retail Platinum accounts drop the minimum EUR/USD variable to 0.7.
Platforms
This ROinvesting review outlines the ways the broker offers access to trading via its WebTrader platform, MetaTrader 4, or the mobile ROinvesting application.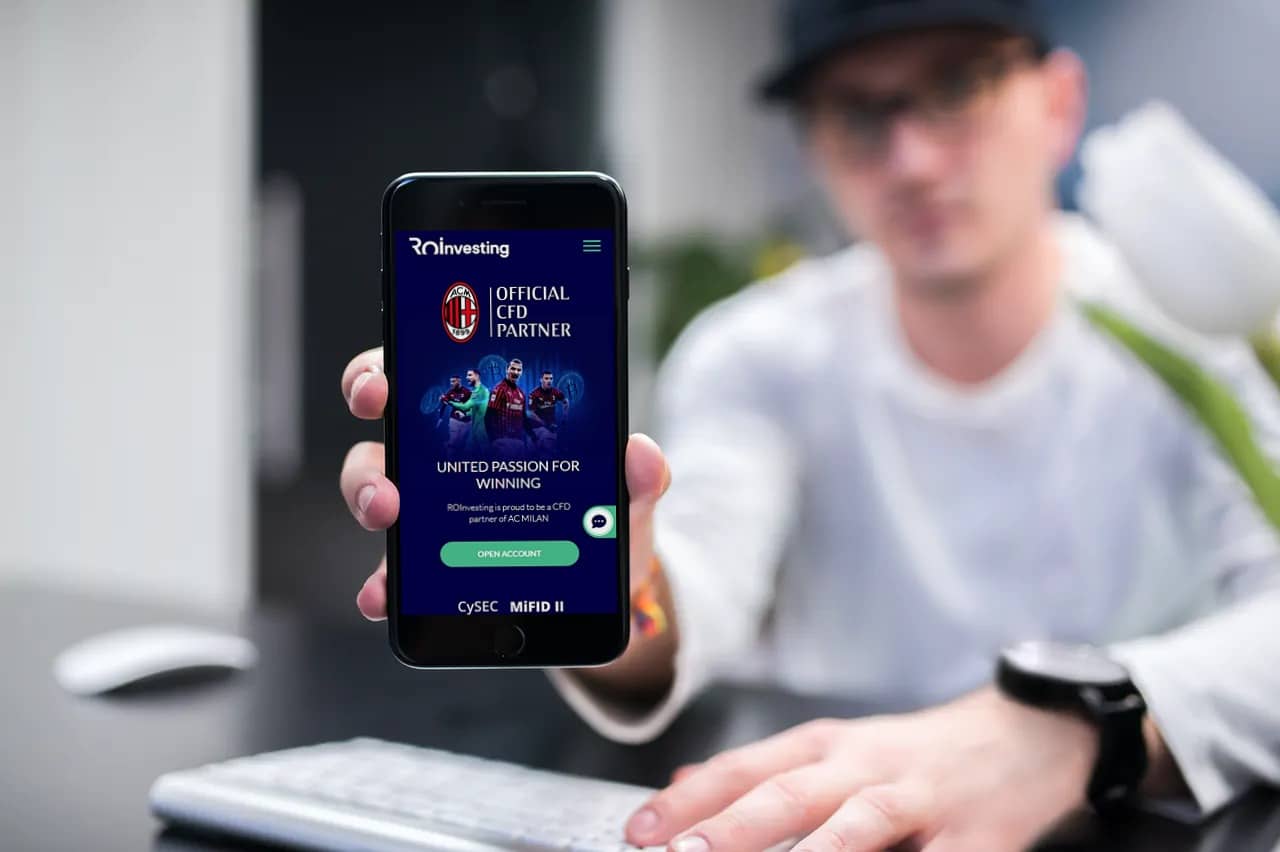 The WebTrader allows traders to execute their orders in a single click and does not require any installation or download to use. This platform includes live charts and analysis, allowing users to view all of their closed and open trades. It also includes visual trends and offers trading cubes that let traders view lot sizes, assets, and prices.
The MetaTrader 4 platform is a strong offering in a ROinvesting review, as it is among the most popular trading platforms. It has highly advanced analysis and charting tools and is something that most experienced traders will be familiar with.
MT4 also offers built-in indicators, as well as the ability to develop indicators, something most traders appreciate in a ROinvesting forex review. The platform also makes it simple to enter orders via a user-friendly interface. Additionally, MT4 is known for its reliable encryption, offering security to ROinvesting clients.
Finally, ROinvesting offers a mobile application for both Android devices and iPhones. It was created to include multifunctional features and a user-friendly interface. Traders can use this mobile platform to open new transactions, monitor investments, and track global trends, both micro and macro. The inclusion of a dedicated mobile application allows traders to continue using ROinvesting on the go, letting them react immediately to market news.
Usability
Most ROinvesting reviews will agree that the broker's website is simple and intuitive to use, with a clean design and professional image. The layout and font combine to convey professionalism.
The main menu has major categories, such as "Trade," "CFD Trading," "Education," "News," and "ROinvesting Info," each of which is a drop-down menu. This arrangement allows for intuitive navigation, whether looking for account information, spreads, or available assets. Some information, such as deposit methods, is harder to find.
Customer Support
ROinvesting offers slightly less customer support than many other brokers. There is no FAQ page, and the support staff is only available during work hours, according to the Contact Us page. However, elsewhere on the website, ROinvesting indicates that clients have access to full 24/5 customer support. This ROinvesting UK review has determined that the broker makes up for this confusion with the ability to contact customer support in several ways.
The broker's customer service can be reached on weekdays between 7:00 and 17:00 GMT. Contact can be done via live chat, an online contact form, the phone, email, or sending a letter to the physical address.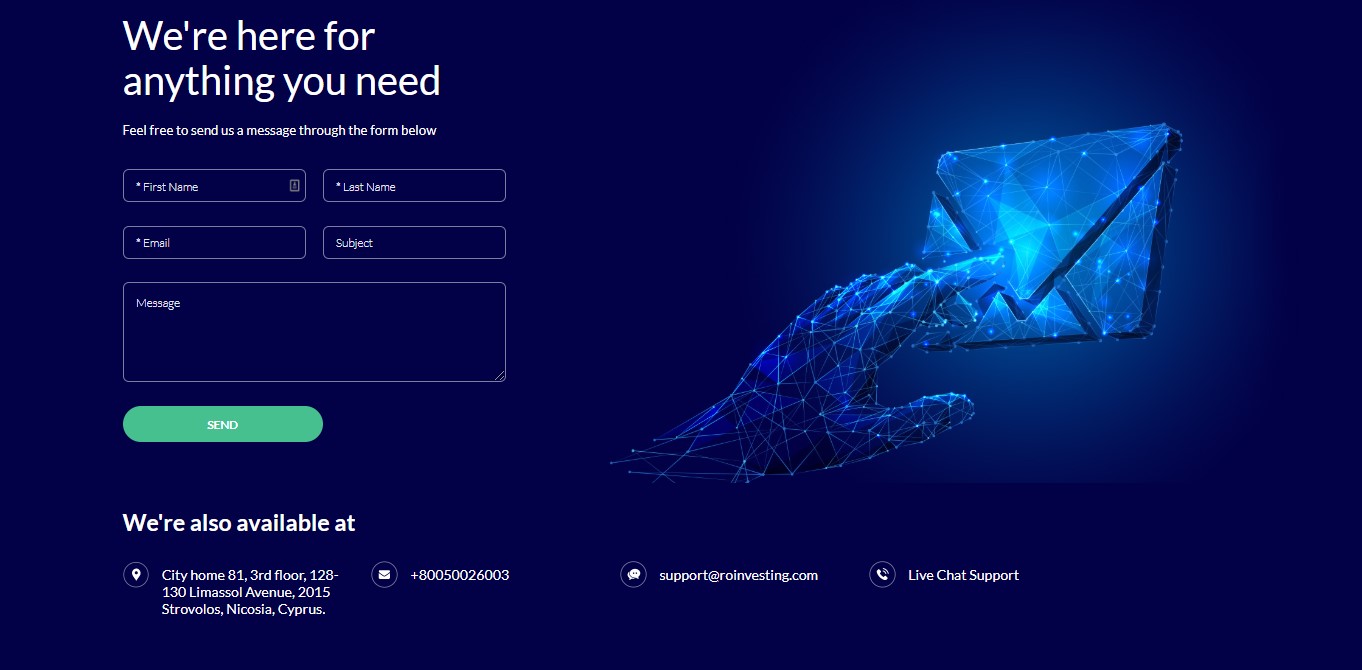 The toll-free phone number provides ease of access for traders, another positive for this ROinvesting review. UK traders should keep in mind that the physical address of ROinvesting is in Cyprus, and there is no indication of a UK address. As such, contact sent via snail mail may take several days, and there is no option to physically visit a local office.
Payment Methods
As ROinvesting appeals to international traders, the broker offers multiple payment methods. This allows traders to choose the method that best suits their needs. Unfortunately for those who like to review payment methods before opening an account, ROinvesting does not display deposit methods or wait times without logging in. There is no fee from ROinvesting for deposits.
Card payments
The primary payment method accepted by ROinvesting is card payments. The broker supports Maestro, Visa, and MasterCard, including Verified by Visa and MasterCard SecureCode.
Bank wire transfer
Wire transfers are supported, as well.
E-wallets
There is support for the most popular e-wallets, including Skrill, WebMoney, and Neteller. Support for e-wallets varies by region, but can also include iDeal, Rapid Transfer, POSTEPAY, and PayPal.
Best Offers
A review of cryptocurrency and other asset trading on ROinvesting will likely point out the range of offers from the broker, from educational materials to the demo account.
The demo account is free for 14 days, providing traders with the ability to test out the platform and review ROinvesting themselves.
Our ROinvesting review also appreciates the extensive selection of educational resources available, including videos on demand. These are divided by category, including for beginners, advanced traders, terms, and MetaTrader. ROinvesting also offers a full selection of 13 e-books suitable for all skill levels, with some including beginner strategies, advanced strategies, and technical analysis.
The broker additionally offers courses on four topics: trading strategies, trading tools, beginners' course, and CFDs and stocks. There are also MetaTrader tutorials available, so traders do not need to find outside resources. These educational resources are supplemented by a range of articles on various relevant topics, from cryptocurrency investments to long-term investments to trading strategies, another positive in this ROinvesting review.
ROinvesting also has an economic calendar, an expected feature that most traders require from a broker. It includes the expected features, such as descriptions, countries, times, and colour-coded categories.
Regulation & Deposit Protection
As ROinvesting is based in Cyprus, it is regulated by CySEC, the Cyprus Securities and Exchange Commission, a strong point in a ROinvesting UK review. It follows license No. 269/15. ROinvesting is the trading name for Royal Forex Ltd, which owns and operates it.
The Cyprus-based regulation of ROinvesting allows traders to invest with peace of mind, knowing that the broker must meet the highest standards of security. This also indicates that ROinvesting is regulated within Europe. However, many other brokers do offer regulation by multiple organisations around the world.
To supplement the regulation, this ROinvesting review praises the steps the broker takes to secure funds. It practises account segregation, fully separating client funds from corporate accounts. All client funds are deposited in first-class global banking institutions.
ROinvesting also uses state-of-the-art technology to protect funds and client information, including encrypted communication data servers, SAS 70 certified data centres, and SSL software.
Awards
To review ROinvesting, you must examine rewards, of which the broker has several. Global Brands Magazine honoured it in the Awards 2018 as the Best Customer Service Broker in Europe. FXDailyInfo.com honoured ROinvesting as the Best Trading Experience in 2019.
The minimal number of awards to date should be considered in context in a ROinvesting CFD review. The broker is only several years old, not enough time to have accumulated many awards.

People also viewed: