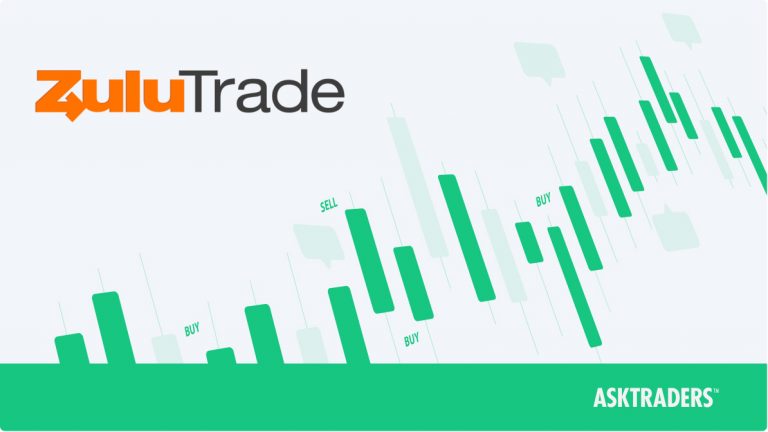 In the world of online trading and investment, it can often be difficult to keep track of all the new players entering the market. The last year, in particular, has seen a surge in the number of people starting to trade for the first time, with more platforms than ever attempting to break into the market in response.
With that said, ZuluTrade is one of the few players that have been on the scene for quite some time. Since being founded in 2007 by Leon Yohai, ZuluTrade has established itself as one of the most trusted brands in the industry.
ZuluTrade has not been resting on its laurels in recent years, however. In fact, despite being one of the older players in the market, ZuluTrade has continued to develop technological innovations that make online trading more accessible than ever.
Accessibility is at the heart of everything that ZuluTrade does. When the platform was founded in 2007, Yohai wanted to give retail traders the same information and resources that money market players would have access to. This mission has been taken to the next level with the advanced social trading features that ZuluTrade provides, allowing novice traders to learn from highly skilled day traders.
Social trading is the core product offering developed by ZuluTrade, and it is the feature that keeps its legion of loyal followers trading with the platform. When combined with the other features and tools it has developed – such as automated trading solutions, cryptocurrency trading, and full MT4 integration – the package that ZuluTrade has put together is hard to beat.
ZuluTrade Review Navigation
#

100
| | | |
| --- | --- | --- |
| Min Deposit | App Support | Trading Fees |
| $100 | Good | Mid |
Although ZuluTrade does not act as a direct broker, it is a social trading platform that allows you to trade a number of different types of financial assets. Forex trading is particularly popular on the ZuluTrade platform, with thousands of traders benefiting from social trading networks.
As the most actively traded financial market in the world, forex trading is perfect for copy trading based on the sheer volume of assets traded and the overall liquidity of the market. If you have a preferred forex trading broker, simply connect your brokerage account with the ZuluTrade platform and get trading straight away! The currency pairs you can trade, and the spreads you will benefit from, will depend on the brokerage you choose to use.
#1

CFDs
| | | |
| --- | --- | --- |
| Min Deposit | App Support | Trading Fees |
| $100 | Good | Mid |
Although ZuluTrade doesn't provide you with direct access to CFDs as a broker would, it is nevertheless an excellent platform to trade CFDs on.
ZuluTrade's unique copy and social trading capabilities are an excellent way to supercharge your CFD trading strategies by copying the trades of high-level day traders. CFD trading can often be an incredibly volatile market to trade, although by copying the trading strategies of experienced traders, you can reduce the uncertainty that you might otherwise have.
#2

Stocks
| | | |
| --- | --- | --- |
| Min Deposit | App Support | Trading Fees |
| $100 | Good | Mid |
ZuluTrade is the perfect platform to trade stocks on. The advantage of social and copy trading is that it gives you the opportunity to benefit from the skills and experience of expert traders. This is particularly important in a market that requires as much expertise as the stock market does.
The stock market is notoriously volatile, and for newer traders getting started for the first time, this can prove a significant barrier to entry. With ZuluTrade's social trading features, however, you are given the opportunity to learn the tips, tricks and strategies of experienced day traders.
The ZuluTrade platform is compatible with a wide range of stocks and other stock market-related financial assets.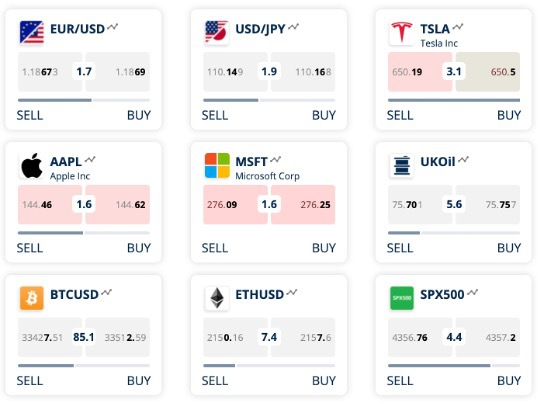 #3

Social Trading
| | |
| --- | --- |
| App Support | Trading Fees |
| Good | Mid |
ZuluTrade advertises itself as a broker focused on providing users with access to advanced social trading features – but having used the platform, how does it stack up against the other platforms out there?
Having conducted comprehensive research for this ZuluTrade broker review, we are pleased to report that ZuluTrade certainly offers some of the most advanced social trading features. ZuluTrade is a platform built from the ground up with social and copy trading in mind.
Perhaps what we appreciated the most about the support that ZuluTrade has for social and copy trading is how upfront it is about what kinds of gains you can expect to make on your investment account. ZuluTrade has a dedicated copy trading statistics section of the website that gives you a full rundown of the kinds of returns you can expect to make on your investment with its social trading statistics. While these are obviously not an indicator of what kind of success you can expect to have, they are nevertheless useful in helping you to make an informed decision about using the platform. Particularly for beginners just getting started copy trading for the first time, this is a great way of visualising the data.
#4

Crypto
| | |
| --- | --- |
| App Support | Trading Fees |
| Many | Mid |
As one of the fastest-growing financial markets, there has been a significant amount of interest in cryptocurrency trading over the last year.
ZuluTrade has responded to this area of growing consumer demand, and we are happy to report that it provides full support for cryptocurrency trading. This includes CFDs on a range of cryptocurrencies, including BTC, ETH, LTC, BCH and XRP, among others.
While this is not necessarily the most extensive selection of cryptocurrencies, for those of you looking to get started trading and investing in cryptocurrencies, this is a great way to get your feet wet. Additionally, the unique copy trading features offered by ZuluTrade give you a chance to join a growing network of cryptocurrency traders from around the world.
What did our traders think after reviewing the key criteria?
Fees
As ZuluTrade is not a broker itself, you will not be charged any direct fees for any trades you make using the platform. However, to avail the services that ZuluTrade provides, you will be charged a fee.
It should be noted, however, that there are various fees you might incur depending on what service you are using. Depending on what type of account you have, you may get charged a commission by your broker for connecting your account to ZuluTrade. This may depend on what broker you use, however, so please check this before committing to any trades.
Additionally, if you are taking part in ZuluTrade's profit-sharing scheme, this will also incur an additional fee. This comes in the form of a monthly performance fee that will be paid to ZuluTrade. The monthly performance fee is currently set at 20%. Additionally, you will have to pay a monthly subscription fee of $30 per month.
If you opt to take part in the classic scheme rather than the profit-sharing scheme, this will come with a different set of fees and charges. You will pay a set fee on every trade you make rather than paying a percentage based on your total trading profits.
Generally speaking, we were quite impressed with the fee structures that ZuluTrade has in place. ZuluTrade is very transparent about its pricing structure, which makes it easy to figure out in advance how much it will cost you to use the platform.


Account Types
ZuluTrade has a number of different account types depending on what kind of service you are subscribing to.
In total, there are three main account types: investor, trader and affiliate.
With the affiliate account, you can access a dashboard that allows you to view all information related to your account. If you are a trader looking to share your trading strategy with the ZuluTrade community, you can open up a trader account. This gives you access to all the relevant information related to your ZuluTrade account and allows you to check how much you have made through the programme.
The investor account type is for those of you looking to use the copy trading and social trading features as an investor that follows the trading strategies of select traders. Within the investor account, there are two account types: profit-sharing and classic. The classic account is better suited to more advanced traders with more experience.
Platforms
In terms of what trading platforms ZuluTrade is compatible with, as with many other of the major platforms out there, ZuluTrade is fully compatible with the MT4 trading platform.
Integration with the MT4 trading platforms comes as standard and requires very little tweaking or adjustments to get yourself up and running. The MT4 trading platform has firmly established itself as the platform of choice for hundreds of thousands of traders across the world. It is the preferred platform for its usability and customisability, which can be adapted to the needs of traders of all skill and experience levels.
Beyond this, a number of different tools and features are integrated into the ZuluTrade platform. These include social charts, combos, TradeWall, economic calendars, ZuluTrade Automator tool, and various forex specific tools.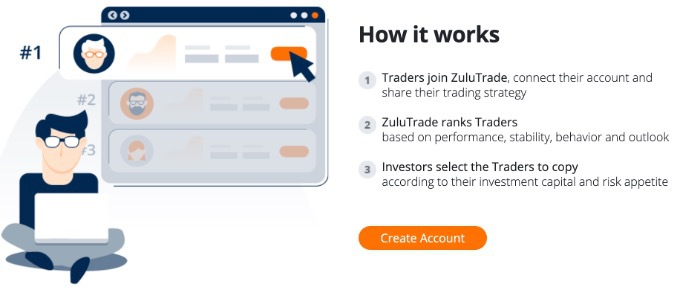 Usability
Generally speaking, the ZuluTrade platform ranks highly on usability. It is relatively easy to get your account up and running. Once you have progressed through the various verification processes, you will be able to manage all of the various aspects of your trading and investment accounts from one centralised hub.
Furthermore, the usability of the MT4 platform also ranks very highly. Although obviously not developed by ZuluTrade, you will ultimately be linking your own MT4 account with your ZuluTrade account, so it is worth bearing in mind their compatibility. Thankfully, we can report that both the MT4 and ZuluTrade platforms are fully integrated and work seamlessly with each other.
Customer Support
As it is a platform with a customer base spread across a number of regions and countries, ZuluTrade has put in place a multilingual customer support service. ZuluTrade supports a number of different languages, including English, Italian, French, German, Spanish, Russian, Portuguese, Arabic, Greek, Chinese and Japanese.
The customer support team operates 24 hours a day, five days a week. While this might seem somewhat limited compared to some of the other larger brokers, it should be remembered that this covers active trading hours. As such, the lack of 24/7 customer support should not be too much of an issue.
The customer support team is available via phone, email or live chat. Of these, the live chat option is the most efficient, with replies typically being received within five minutes. This is one of the fastest average response times that we have come across, so ZuluTrade should be commended for this!
Overall, we were really impressed by the level of customer support on offer!
Payment Methods
ZuluTrade supports several different types of payment methods. These include PayPal, bank wire transfers, credit and debit cards, and e-wallets. It should be noted, however, that the availability of a certain payment method may depend on the broker you have chosen to partner with.
Generally speaking, you should not get charged any fees on deposits or withdrawals, though this may depend on the broker you choose. You should always check this before choosing what broker to partner with, as these fees can often add up without you knowing.
Best Offers
Although ZuluTrade does not necessarily offer any special first deposit or other sign-up bonuses, we were impressed by the profit-sharing plan it has in place. This presents a great offer to users of the platform. ZuluTrade's profit-sharing plan is essentially a compensation model signed between ZuluTrade, investors into the platform, and traders. This means that the more profits that build up in your account, the more compensation you and your traders will receive. Traders will get paid using a payment reserve scheme, which means that half the dues will be paid when results are delivered, with the remaining amount to be paid in subsequent months depending on future performance. The profit-sharing plan is a great option for those who want to build a trading community online.
Another offer that ZuluTrade makes available for users of the platform is the partnership programme. As with many other trading platforms, ZuluTrade's partnership programme allows you to partner with the platform and to earn extra money from referrals you make. If you have a network of contacts you can bring to the platform, this is a great way of creating an extra income stream. Of all the partnership schemes that we have looked at over the years, ZuluTrade's has the advantage of being incredibly well integrated into the platform as a whole. Additionally, ZuluTrade has dedicated technical support designed to help you through the set-up process.
In terms of what offers ZuluTrade has available for newer traders, it regularly runs stock trading contests, which allow you to showcase your trading skills and be in with a chance of winning $3,000. The best part of this contest is that you don't need to invest any actual capital to win. To enter, simply open a demo trading account within the designated trading period and get the highest risk-reward ratio compared to your peers. The three highest-ranked traders will share a prize pool of $4,500, with the top trader taking home $3,000.
Regulation and Deposit Protection
With so many new trading platforms bursting onto the scene these days, it has become more important than ever to ensure that you are trusting your trading portfolio with a fully licensed and regulated trading platform.
Ensuring that you are trading with a properly licensed trading platform means that you are protected in the event that something goes wrong and, most importantly, it also means that you will have a licensing body to complain to if you are not happy with the level of service you are receiving. Licensing bodies will set regulations and ensure that trading platforms comply with the terms of their licence as long as they are offering you trading and financial services.
With that said, based on the research that we have conducted for this ZuluTrade broker review, we are pleased to report that ZuluTrade offers customers a high level of protection.
ZuluTrade is licensed and regulated in a number of jurisdictions, including the US, the EU and Japan. ZuluTrade's parent company is Triple A Experts SA, which is a financial services business with its primary operations in Greece. Having been founded in 2007, Triple A Experts SA has established a number of financial services companies, which includes ZuluTrade.
As it is based in an EU member state, ZuluTrade falls under the regulatory jurisdiction of the Hellenic Capital Market Commission (HCMC). This means that traders based in the EU will be provided with a high level of protection, which includes deposit protection. Financial services regulations in the EU are very stringent, and these are some of the leading regulators in the world.
We are also happy to report that generally speaking, the regulation and deposit protection information is relatively easy to find on the ZuluTrade website and we did not run into any issues trying to obtain this information in the course of writing this ZuluTrade broker review.
ZuluTrade has also put added protection measures in place, such as the ZuluGuard Capital Protection, which monitors traders' behaviour and will remove traders when the system detects a deviation from the expected loss profile. This essentially creates a shield for your investment account and stops you incurring unnecessary or unexpected losses.
Awards
Based on the research conducted for this ZuluTrade broker review, we were unable to find details on any industry awards that ZuluTrade has won. However, it should be noted that ZuluTrade has partnerships in place with a number of award-winning brokers. Although a lack of direct awards might put off some prospective users, we should keep in mind the nature of the service that ZuluTrade offers.