ZuluTrade Review
Open Demo Account
14 minutes read
/
Updated: 29 September 2020

Founded in 2007 by Leon Yohai, ZuluTrade is a social trading platform that formed an alliance in 2017 with Formax Group that provides financial services.  The company is primarily based in Tokyo Japan and Piraeus, Greece, although it has UK and U.S. offices in London and Delaware respectively. To provide social trading services, broker works with over 50 online brokers that its platform can link to.
If you are interested in how we review, then read further UK review to determine if its platform will satisfy your social trading needs and whether you should start using it today.
Strengths
Partners with more than 50 brokers to provide social trading
Regulated in Japan and the EU
Website, platform and text support in 26 languages
Commissions can be withdrawn via bank transfers, PayPal or CosmoPayment (MasterCard)
Provides access to customer service via live chat, phone and email
Weaknesses
Telephone customer support only in English and Spanish
Too many traders to make choosing among them easy
Does not provide its own trading service
What can you trade?
Social trading at ZuluTrade currently consists of using the broker's proprietary web or mobile platform to select among its community of traders. You can then follow their trades in an account held with one of the company's 50 collaborating brokers.
The leverage available for you to use when social trading can vary significantly depending on your region, although a leverage ratio of only 30 to 1 is the maximum permitted in the UK and elsewhere in the EU.
If you are skilled at trading, you can also become a Trader and have your trading actions broadcast via website.  Competition is strong among the best traders for their performance to place them in the top-ranked positions determined by ZuluRank algorithm.
Also offers both Traders' Combos and Combos Plus to investors. These consist of dynamic combinations of the systems followed by individual Traders.  The Traders' Combos are constantly monitored by Traders Community Desk. New traders are added automatically, while others are removed if they fail to meet specific criteria.
The Combos Plus also has a dynamic combination of traders, but its composition is managed by Traders Community Desk. This means the combination is frequently updated and automatically rebalanced and recomputed without any investor action required.
Furthermore, they support linking your MetaTrader4 (MT4) account set up at one of its collaborating brokers to social trading services by using a simple procedure.  You can contact customer support to get help if this process does not complete successfully.
What did our traders think after reviewing the key criteria?
Fees
Signing up for ZuluTrade costs nothing and you do not need to pay any subscription fees to the company.  As an Investor, you will have to pay trading signal providers 0.5 pip on each trade to follow them.
Also, if you participate in profit-sharing plans with a signal-providing Trader, then you will need to pay a performance-related fee to that Trader each month if profits were made.
Furthermore, the company claims to have over 35,000 affiliates who get 0.4 pips for each trade made by their clients who signed up to broker via their page, no matter what trading signal the clients subscribe to or if the Traders they follow are profitable.
In addition, you should expect to pay away the dealing spread on any transactions you make when following other Traders whenever you enter or exit a position. That spread can be fixed or variable depending on which broker you choose to deal through.  If you hold positions overnight, you may also need to pay rollovers or swaps when you are long the currency with the lower interest rate in a particular pair.
While they do not charge withdrawal or inactivity fees, your broker might do so, so remember to enquire about those common fee types when you sign up for a trading account with an online broker that collaborates with them.
Account Types
When it comes to social trading, ZuluTrade has an Investor account for beginners who want to learn from and copy other traders. The company also offers a Trader account for advanced users who want to broadcast their trades as a signal provider.
You can open either a live account or a demo account funded with virtual money to participate as a Trader or as an Investor.  Just select the account type you want when you sign up.
Trader account holders can benefit both from profit-sharing plans and from volume-based commissions determined by the turnover of their Investors, although your eligibility for these payments may depend on where you live.  For example, U.S.-based traders can only get a variable membership fee from their Trader accounts, while Japanese traders cannot earn revenue from their Trader accounts.
They don'tt currently offer any trading accounts since it is not an online broker that can accept margin deposits, so you will need to open an account of your choosing with one of the 50 brokers that ZuluTrade collaborates with.  Furthermore, if you wish to use MT4 as your trading platform, then you should open an account with a broker that supports that popular trading software.
As an Investor, your trading account held at the broker of your choice must have a minimum balance of $100 to participate, although keep in mind that some brokers do require a higher minimum deposit than this.
Also, due to legal regulations on social trading imposed by the EU, Traders wishing to attract EU-based investors will need to qualify by having a maximum drawdown level of less than 30% of total profit, a minimum time spent trading of 12 weeks and a profit of at least 3 pips per trade.
In addition, broker imposes certain general restrictions on Traders who wish to qualify to attract Investors on its platform. An example is its sensible rule that stop losses must be used and placed at reasonable levels. Also, the maximum total draw-down in a Trader's account should not be greater than their profit in pips, and no individual positions should be allowed to lose more than 700 pips.
Platforms
Many traders will probably elect to use ZuluTrade for social trading via its easy to use website interface, although you can also connect to follow any of its Traders via MT4/5 if your personal trading account is held with one of its 50 collaborating online brokers that support that software.
Furthermore, for trading firm partnerships, broker offers its proprietary ZTP Trading Platform that can easily be connected to major liquidity providers. This platform has numerous helpful features for social traders, as well as auto trading and scripting functionalities. It also supports introducing brokers, has useful reporting tools, and its text is translated into 26 languages.  ZuluTrade also provides two White Label options and a Back Office Tool for brokers.  They can even develop a professional-looking website for brokers using multiple design templates.
In addition to their desktop platforms, MT4/5 have mobile and web-based versions. Also offers mobile app versions of its platform for iOS or Android, and a screenshot of its app for Android is shown below.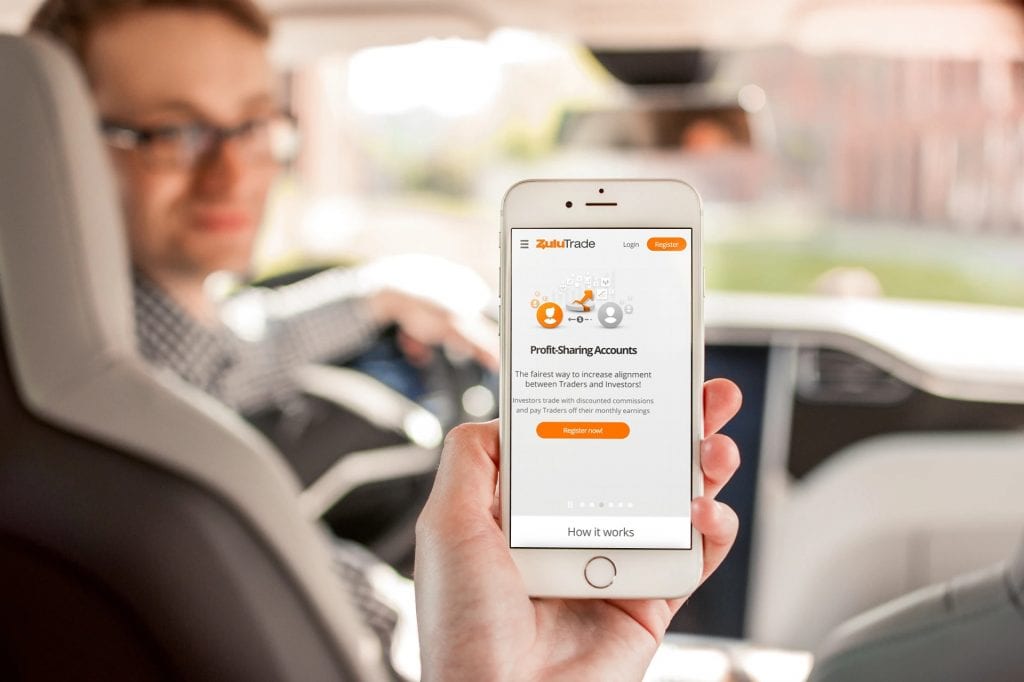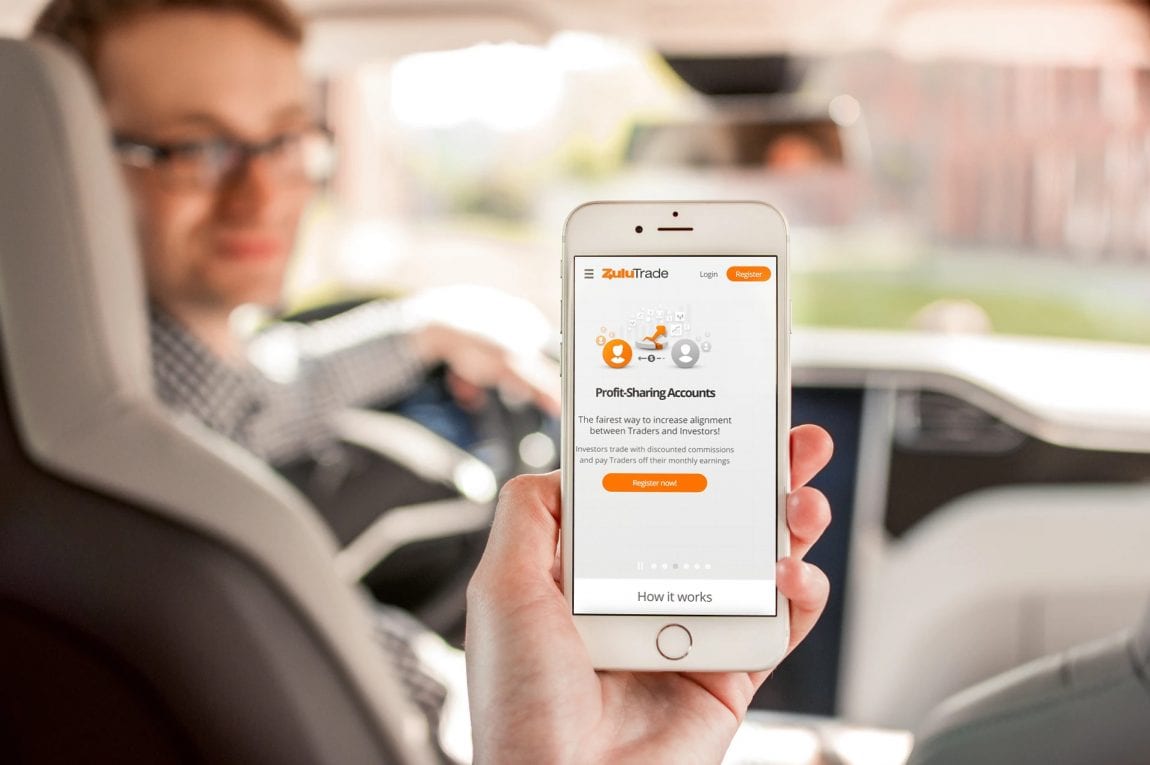 Usability
Official website has an easy to read and navigate format designed in shades of mauve, white orange and black. Menu tabs at the top of the website direct you to Traders, Combos, Features and Contact Us.
In the upper right of each page, you can select your preferred language out of the 26 available. You can also hit the neighbouring Login or Register buttons to get started. The bottom of the page has additional useful links and legal information.
In addition to ZuluTrade's web-based social trading platform, the website also has a useful Help Centre for general assistance that goes into considerable details, as well as a Trader Guide to assist those who want to get started offering trading signals to others.
Customer Support
ZuluTrade provides its customers with support over the phone in either English or Spanish on a 24/5 basis during standard forex market trading hours. You can also look through its searchable FAQ page for answers to common questions.
Furthermore, not only is website translated into 26 languages, but you can also contact the company for assistance via text in all of those supported languages using Live Chat and email.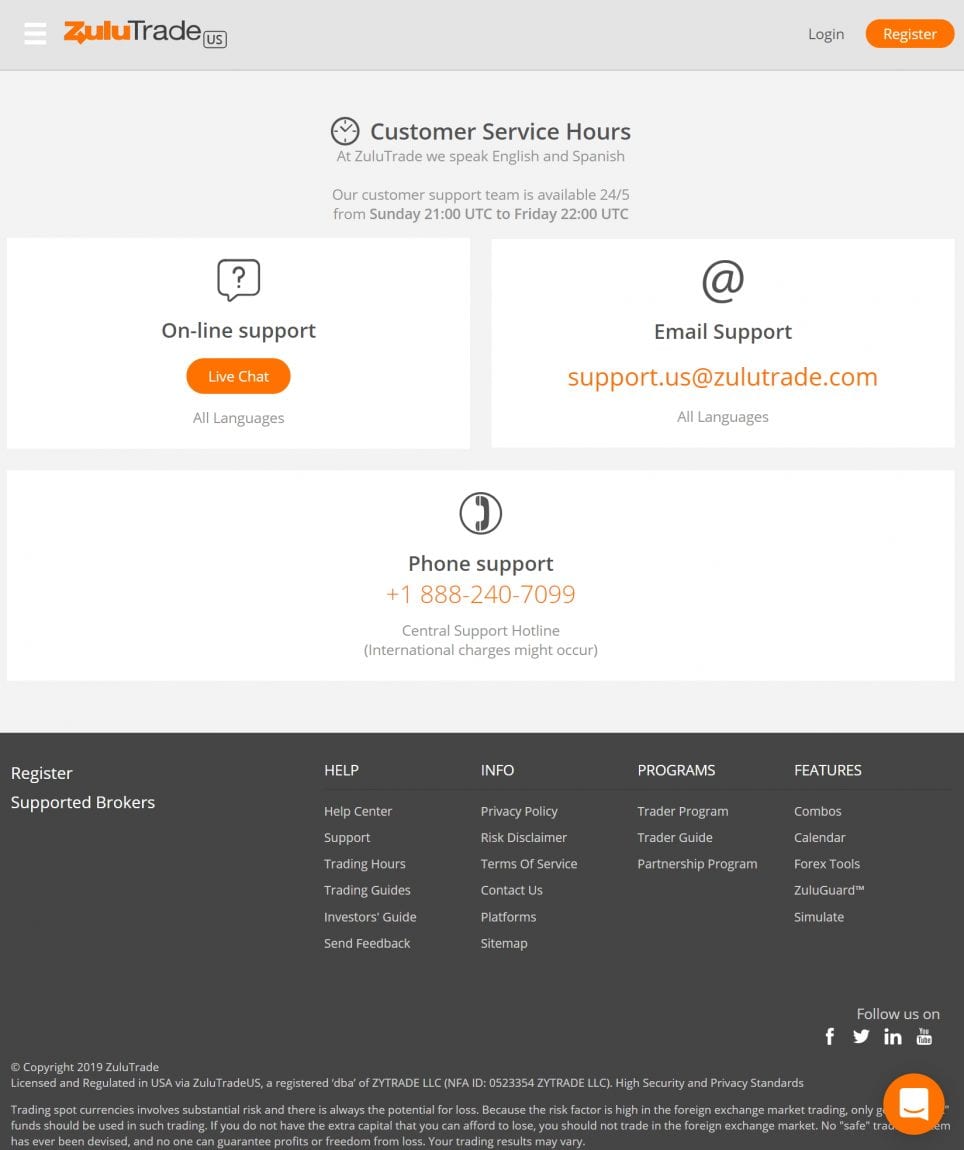 Payment Methods
ZuluTrade is a social trading platform, not a traditional online broker, so it does not have the usual range of payment methods you would use to make deposits into a trading account with. You are therefore going to need to find a suitable broker who accepts the payment methods you wish to use when you open up an account.
Broker does, however, help you collect commissions for providing Trading Signals via its social trading platform or for introducing clients to its platform. You can also earn profit-sharing fees via its platform as a Trader.
Traders should expect commission withdrawal times to take up to 60 days from requesting they be paid. Commissions can be withdrawn using various payment channels that include the following methods:
Card payments: You can make commission withdrawals via CosmoPayment (MasterCard). This costs $20.
Bank wire transfer: charges $30 for U.S. wire transfers and $45 for non-U.S. wire transfers. Some banks also charge you fees for such transactions.
E-wallets: lets you withdraw commissions via PayPal for a fee of $20 for the first $500 withdrawn and then $20 plus 3.9% of the requested amount thereafter.
Best Offers
As a social trading platform, is really one big, ongoing trading competition with considerable financial benefits to be had by being ranked well among the traders willing to conform to its trading rules.
In addition, ZuluTrade offers a set of useful tools under the Features menu tab on its website. There, you can find an economic calendar useful for forex trading and a forex calculator that traders will find helpful, which computes pip value, margin and profit and loss.
You can also use the company's ZuluGuard feature to automatically protect your account. It monitors each Trader's behaviour that you are following and will act to remove any Trader automatically from your account if it detects them using a strategy that deviates from its anticipated loss profile.
Helps protect your trading capital, and it is required for EU and U.S. based traders since it effectively creates a protective shield for your account that regulators have decided retail traders need to protect their financial interests.
Also has several notably active social media accounts. The social trading platform's Facebook Page presently has over 227,000 followers and regular posts, which is impressive. Its Twitter account is also very active in terms of tweets, but it only has accumulated 3,300 followers thus far. The platform's YouTube channel only has a modest set of educational videos, but it boasts an impressive 23,100 subscribers.
Regulation and Deposit Protection
ZuluTrade has its primary headquarters in Tokyo, Japan and Piraeus, Greece. The company also has offices in the UK and U.S. that are situated in London and Delaware respectively.  In the U.S., is a registered business name of via ZYTRADE LLC that is licensed and regulated by the National Futures Association (NFA) with the NFA ID#0523354.
You should also know that some jurisdictions provides social trading services in do regulate social trading activities, such as the U.S. and the EU, so they might place additional restrictions on how Traders and Investors can operate.
Since broker is just a social trading platform and does not hold your margin deposit, you will need to check with your online broker to see how they are regulated and if they follow the Markets in Financial Instruments Directive II and are therefore required to segregate client funds from their own and substantially restrict the leverage ratios clients can use.
You will probably also want to check if the margin deposit in your trading account is protected against your broker's default under the UK's Financial Services Compensation Scheme (FSCS).
Awards
Still remains the largest social trading network around, and it claims to host more than 100,000 registered trading strategies on its platform.  ZuluTrade does not, however, mention on its website having received any awards, either for its social trading or other services, and an online search does not bring up reports of any such awards.
Furthermore,  reviews posted online by Investors seem to be generally favourable, although some Traders have complained about the long 60 day wait time to get paid the commissions they have earned from Investors.  Some Traders also mention issues with trading signal delays and with disconnections occurring between the platform and signal providers.
ZuluTrade FAQs
You can sign-up with ZuluTrade for free. However, if you are an investor looking to follow a signal provider, the charges are 0.5 pips on every trade. Signal providers also have the choice of profit-sharing or performance-linked plans where followers pay a monthly fee on the profits earned.
Here are some of the ways to withdraw your commissions from ZuluTrade and the corresponding charges
Card payments-

Withdraw funds via CosmoPayment (MasterCard). The cost of withdrawal is $20.

Bank wire transfer-

It costs $40 to transfer funds within the US and $45 for non-US wire transfers.

E-wallets- You can withdraw commissions via PayPal. The fee is $20 for the first $500 and $20 +3.9% commission after that.
To use ZuluTrade, you have to first open a trading account with the 50-odd online CFD brokers that have partnered with the social trading firm. Next, sign-up for ZuluTrade's proprietary web or mobile platform. The software lets you monitor the activities of ZuluTrade's trading community and with the help of the plugins on your MT4, MT5 platform, copy strategies of other traders.
ZuluTrade operates out of the US, UK, and Greece, with a registered office in Japan. In the US, the firm functions under the business name 'ZYTRADE LLC,' licenced and regulated by the National Futures Association (NFA) with NFA ID # 0523354. You may, however, want to check with your broker on the regulatory framework to carry out social trading activities in your country.
CFDs are complex instruments and come with a high risk of losing money rapidly due to leverage. 75% of retail investor accounts lose money when trading CFDs with this provider. You should consider whether you understand how CFDs work, and whether you can afford to take the high risk of losing your money.