Established in 1983 in the UK, City Index is among the world leaders for CFD trading, FX trading, and spread betting, along with crypto CFD trading. The City Index broker offers more than 12,000 markets with the tools traders need to grow skills. City Index is both regulated and authorized in the UK via the Financial Conduct Authority. The parent company of City Index is GAIN Capital Holdings Inc., among the largest institutional and retail trading providers worldwide with regulations in eight jurisdictions and $945 million in client assets.
Highlights
Established in 1983
More than 12,000 markets
A wide variety of tools and resources
Parentcompany GAIN Capital Holdings Inc
10.
of 18 Crypto Broker
City Index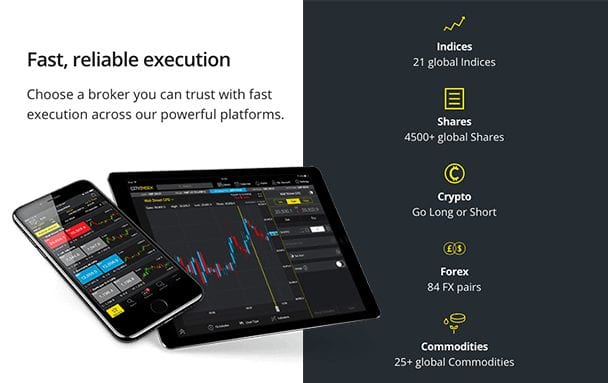 Go to Broker
Risk warning: Capital can be lost. Terms and conditions apply.
Headquarters and regulation
GB (FCA)
Tradable crypto currencies
Bitcoin, Ethereum, Ripple, Bitcoin Cash, Litecoin, Dash
Number of crypto currencies
5
Trading platform
MT4, MT5, Broker-owned Software
Demo account
Yes, 12 weeks
Services & additional benefits
Live
Hotline
E-mail
Economic Calendar
E-Book
Videos
Courses/Seminars
1. Trading Offer
1) Crypto Trading Offer: 5 Cryptocurrency CFDs Available
For those entering the cryptocurrency world, City Index offers five cryptocurrency CFDs, allowing you to trade crypto without actually owning any. The platform stands out in a forex broker comparison since you can go short or long on cryptos from just 10p a point. Additionally, all City Index trading platform review articles praise it for offering 21 major indices, more than 4,500 shares, 84 global FX pairs, and over 45 other markets. Just a sampling of those other markets are precious metals, bonds, interest rates, and options.
84
Other currency pairs
Number
City Index forex offers traders in search of crypto CFDs the ability to go long or short, competitive pricing, a range of markets, tax-efficient trading, and higher volatility that can lead to gains in a shorter period of time. Although City Index only has CFDs for five cryptocurrencies, they are the most popular, including Bitcoin, Ethereum, Bitcoin Cash, Litecoin, and Ripple. The range of cryptocurrencies also allows for varying investment sizes since Ripple has spreads of just 1 cent while Bitcoin's spreads are at 70 USD, EUR, GBP, or AUD.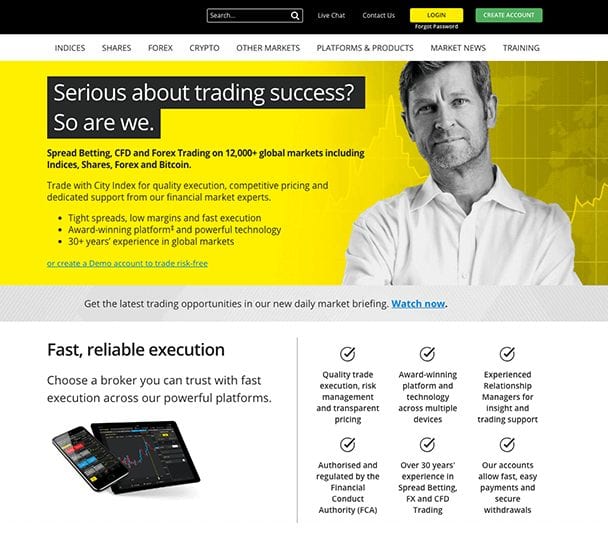 5 cryptocurrency CFDs
Other markets include indices, shares, FX, precious metals, options, interest rates, and bonds.
Trade crypto without owning any
Go to Broker
Risk warning: Capital can be lost. Terms and conditions apply.
2. Costs
2) Crypto Trading Costs: City Index Delivers Competitive Spreads
This best forex broker offers both variable and fixed spreads with margins starting at just 0.5 percent. As the most expensive cryptocurrency, Bitcoin CFDs have a spread from 40 units, whether that is USD, EUR, GBP, or AUD. Spreads vary by cryptocurrency, including those from $6 for Ethereum, $3 for Litecoin, 1 cent for Ripple, and $10 for Bitcoin Cash. Our review of City Index lets you know that margins for all cryptocurrencies are 25 percent.
Spread betting via City Index does not incur any commission fees, nor does CFD trading. There are only commission fees for Shares CFD trading. There are small financing charges of +/- 2.5 percent for holding positions open overnight. There are additional small overnight financing charges for Bitcoin and other cryptocurrencies. At the time of writing, this was just 0.08219 percent.
Is City Index a good broker with clear fees? The platform is very transparent concerning fees and commissions. It is difficult to find information on leverage via the City Index website, but margins and spreads are clearly labeled. All conversion rates are commercially reasonable and disclosed in contract notes and statements.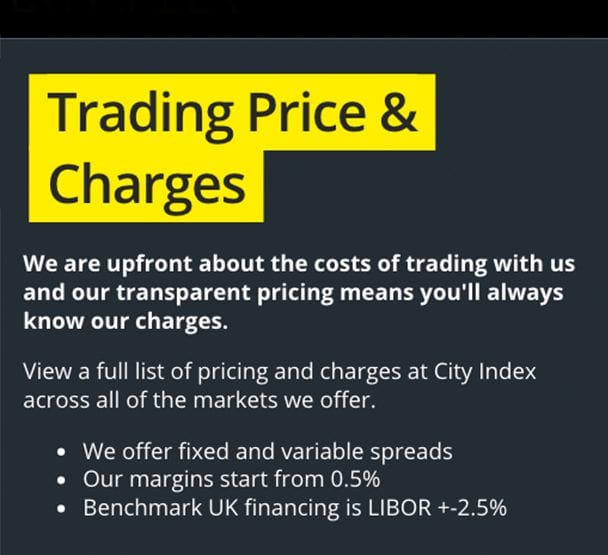 Spreads from 1 cent for Ripple and from 40 units for Bitcoin
Zero commission fees
Commercially reasonable conversion rates
Go to Broker
Risk warning: Capital can be lost. Terms and conditions apply.
3. Account
3) Accounts: Demo Accounts Available
City Index offers several types of accounts in addition to a demo account. At registration, traders are prompted to choose a spread betting or CFD account. You can also open both accounts via the same process at once. Traders who have both CFD and spread betting accounts automatically have them linked together, sharing login details. This simplicity helps City Index pull ahead in a broker comparison. Corporate accounts are also available, requiring special documentation and a balance of 50,000 pounds or more.
Demo accounts are available for spread bet and CFD accounts. They designed to help users become familiar with various platforms. One disadvantage worth mentioning in our City Index review is that demo accounts do have a limited timeframe. That being said, most traders will feel that 12 weeks with unlimited access and 10,000 pounds of balance is enough to get comfortable with the system. If this is not sufficient time, it is possible to apply for another demo account. We suggest beginning with a City Index demo account and then switching to a live account after confirming you appreciate the platform.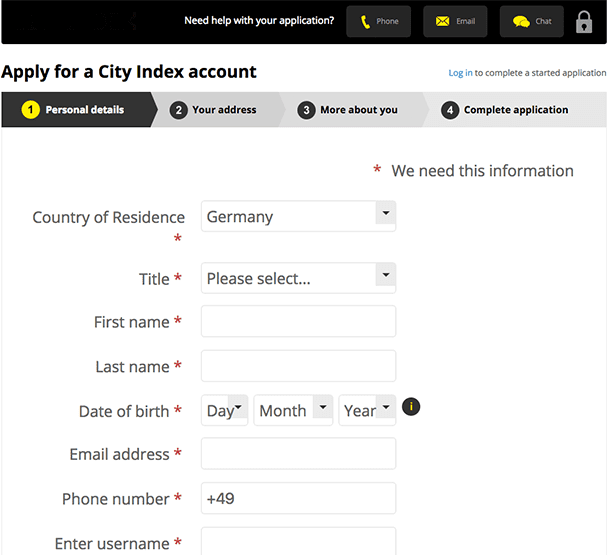 Choice of CFD or spread betting accounts, or both
Demo account available for 12 weeks
Similar intuitive process for opening any account
Go to Broker
Risk warning: Capital can be lost. Terms and conditions apply.
4. Platform
4) Crypto Trading Platforms & Mobile Trading: Web Trading, MT4, and Mobile
Our City Index trading platform review points out that this best forex broker offers four different platforms to choose from, ensuring all traders will find one they feel comfortable with. The Advantage Web platform is browser based and very customizable. Traders can customize their screen layouts, use advanced HTML 5 charts, and access the portal for technical and fundamental analysis. There are also Advantage trading apps for both Android and iOS tablets and smartphones. These include secure 24-hour access to accounts, an economic calendar, a live Reuters news feed, and live charts and streaming prices. The previous two options are ideal for beginning to intermediate traders.
Experienced users will appreciate the advanced features of the downloadable platforms, which City Index review articles praise for content and usability. AT Pro has improved efficiency and speed, along with an advanced charting package and auto-trading strategies. Those who want a familiar trading platform can use MetaTrader4 with its full feature array and support, pricing, and service of City Index. MT4 is available for Windows, iOS, and Android and includes custom trading signals and indicators, plus expert advisors.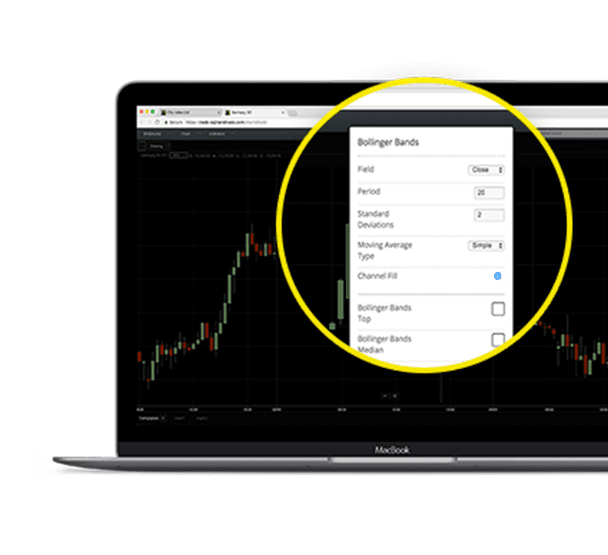 Four trading platforms available
Two downloadable platforms for advanced traders
Mobile platform for iOS and Android
Go to Broker
Risk warning: Capital can be lost. Terms and conditions apply.
5. Usability
5) Usability of the Website: Clearly Labeled with Intuitive Navigation
As part of a forex broker comparison, it is clear that City Index has a well-laid-out website. The very top of the page displays a search bar, the live chat, the ability to contact the team, and buttons for logging in and creating an account. The navigational bar is set up to minimize clicking, displaying information by the major market types, with tabs for Indices, Shares, Forex, Crypto, and "Other Markets." Other navigation tabs include "Platforms & Products," "Market News," and "Training." Simply hovering over any main navigation tab is enough to display the subheadings to minimize clicking and time wasted with pages loading.
In our opinion, the City Index broker website appears streamlined and professional. The use of mostly black and white maintains that professional appearance, while the yellow accents set the website apart from those of competitors. The homepage provides most of the information needed to make a decision as to whether to use this broker, including advantages, brief history, market overviews, and more. Multiple methods of contacting customer support appear at the bottom of every page. Legal information is also simple to find; it appears at the bottom of each page.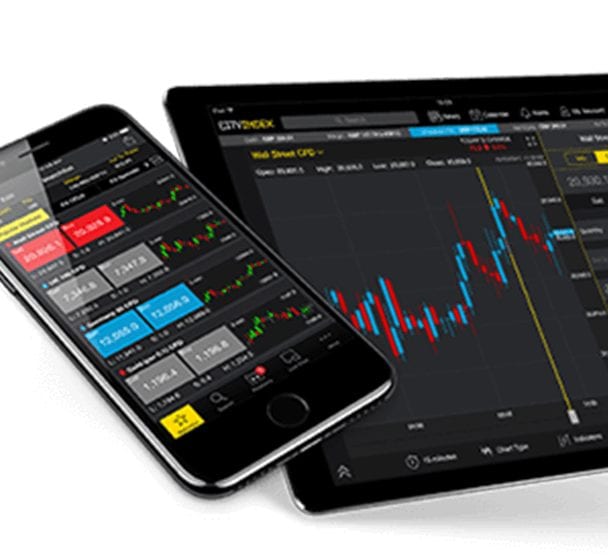 Streamlined, professional appearance
Legal information displayed at bottom of each page
Easy-to-find market news and training
Go to Broker
Risk warning: Capital can be lost. Terms and conditions apply.
6. Support
6) Customer Support: Multiple Methods of Contact with Ease
Due to its decades of experience, City Index has been able to hone its customer support services. Most simple queries can be answered by the FAQ section on the main "Help and Support" page. This page is accessible by hovering over any of the main navigation tabs and looking at the right column. Is City Index legit with care placed on client understanding? Yes. The FAQ center includes both topics specific to trading on City Index and general CFD and spread bet trading, including a glossary, as well. The educational center is also very extensive, providing most of the information that beginning traders require before trading crypto CFDs and other assets.
Those who need to contact support can choose to utilize the live chat, send an email, or call the support line depending on their preference. This range of options makes City Index a best forex broker. When contacting support for City Index, this takes you to GAIN Capital support since it is the parent company. Customer support is generally highly rated, indicating few problems in this respect.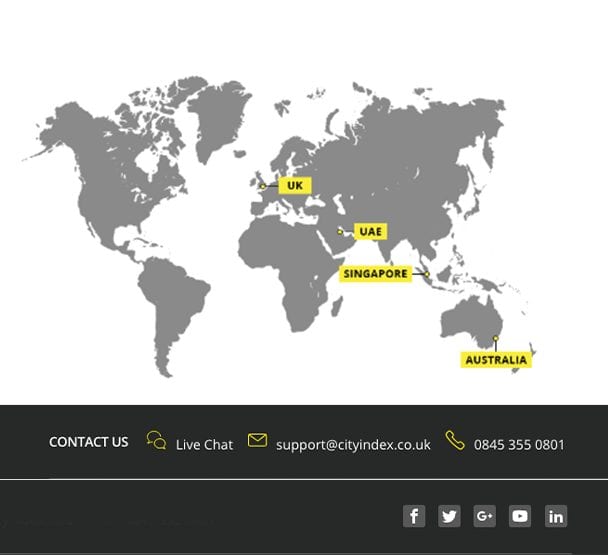 Customer support links on every page
Choice of live chat, email, or phone support
Well-organized FAQ section
Go to Broker
Risk warning: Capital can be lost. Terms and conditions apply.
7. Payment
7) Methods of Payment: Your Choice of Deposit and Withdrawal Methods
Our review of City Index outlines the numerous ways that you can fund your account and make withdrawals. There is no minimum amount required to open an account, although City Index suggests depositing at least 100 pounds. There is no charge for making a deposit into your City Index account, and you can do so via a bank transfer, Credit Card (Visa or MasterCard), or debit card (Visa, MasterCard, Maestro, or Electron). Keep in mind that you must deposit funds in the base currency of whichever account you choose to fund from.
Withdrawals offer the same options, and due to compliance reasons, refunds can only be done to the original source of funding. The minimum amount for a withdrawal is 50 pounds or your full available balance when it is lower than this. The maximum withdrawal limit for a single transaction is 20,000 pounds, which is also the credit card withdrawal limit within 24 hours. Bank withdrawals typically take one to two working days, while card withdrawals take three to five. There is no withdrawal fee unless you need a CHAPS payment under 5,000 pounds, which has a 25-pound fee.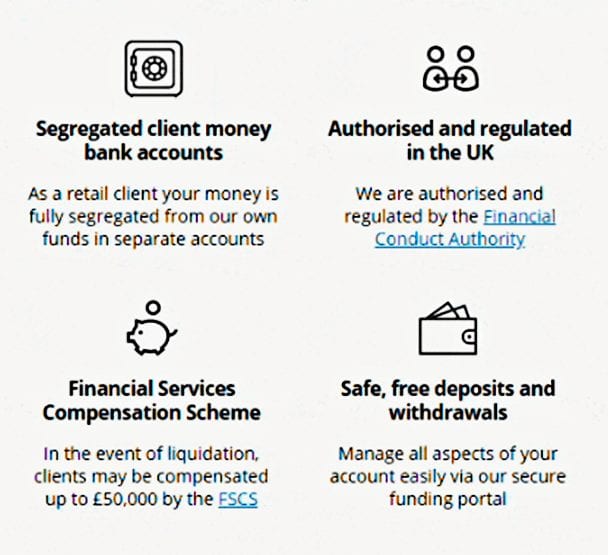 Deposits and withdrawals via bank transfer or credit/debit cards
No fees for deposits or withdrawals in most cases
Withdrawals take one to five business days.
Go to Broker
Risk warning: Capital can be lost. Terms and conditions apply.
8. Offers
8) Additional Offers: Demo Accounts, Training, and Other Tools
As mentioned, City Index offers a demo account to let you get a feel for the trading platforms and crypto CFD trading before risking your own assets. This demo account lets you test your skills with 10,000 pounds for 12 weeks. Additionally, this best forex broker offers multiple tools related to market news and analysis. There is a detailed economic calendar, reports for company earnings, an "idea of the day," and an updated list of the most recent relevant news stories. Those trading crypto CFDs will appreciate the specific section focusing on market news related to Bitcoin.
A point in favor of a resounding yes for those wondering is City Index a good broker is the extensive training materials. There is a "Trading Academy" that covers a range of topics, including technical analysis, fundamental analysis, risk management, and trading strategies. Beginners will appreciate the topics, such as "Introduction to Financial Markets," and there are also specific topics for spread betting, crypto trading, forex trading, and CFD trading. Visual learners can access the video library, as well.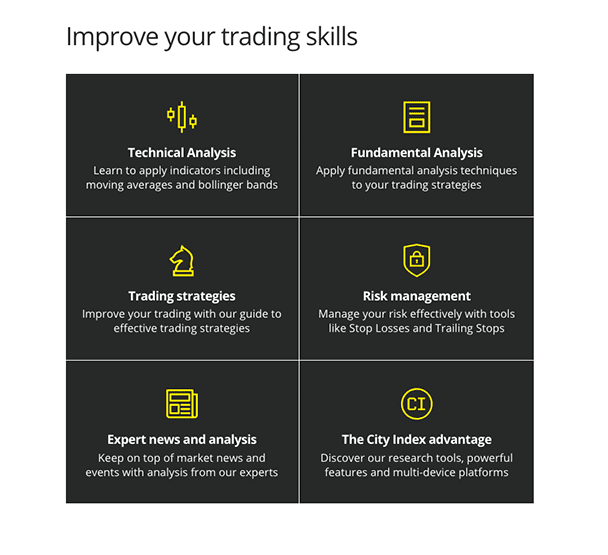 Economic calendar, market news, and more
Video library of educational tools
Training information for all levels of experience
Go to Broker
Risk warning: Capital can be lost. Terms and conditions apply.
9. Regulation
9) Regulation & Deposit Protection: Licensed and Regulated by FCA
City Index is part of the parent company GAIN Capital Holdings Inc., which is listed on the New York Stock Exchange as GCAP. This parent company has the highest standards for financial reporting, disclosure, and corporate governance. City Index is specifically the trading name for GAIN Capital UK Limited, with its headquarters and registered office in London. This company is registered in both Wales and England under number 1761813. The FCA, Financial Conduct Authority, regulates and authorizes City Index. The FCA Register number is 113942, and the VAT number is 524837435.
Due to authorization and regulation via the Financial Conduct Authority, the Financial Services Compensation Scheme covers funds. If liquidation occurs, clients can receive compensation from the FSCS of up to 50,000 pounds. For added security of assets, City Index broker fully segregates client funds from its own via separate accounts. The City Index website uses an https:// portal for additional security. During the account registration process, City Index requests potential client's birthdays for verification reasons and to prevent minors from opening an account.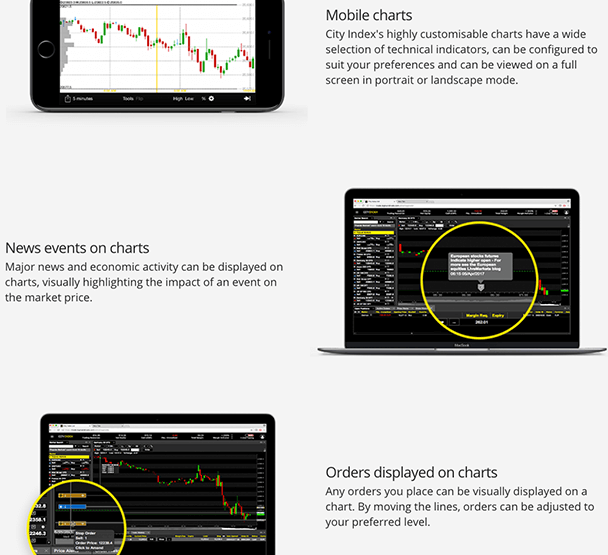 Parent company, GAIN Capital Holdings, Inc., is in London
Regulated by Financial Conduct Authority
Covered by FSCS
Go to Broker
Risk warning: Capital can be lost. Terms and conditions apply.
10. Awards
10) Awards: City Index Holds Numerous Awards
Over the years, multiple awards have supplemented the various City Index review articles. At the Shares Awards 2017, City Index was voted the "Best Spread Betting Provider," and ADVFN voted it the "Best Spread Betting Platform 2017." During the Online Personal Wealth Awards 2018, City Index took home awards for the "Best Cryptocurrency Trading Platform," "Best Mobile Application," and "Best CFD Provider." At the UK Forex Awards 2017, City Index won a forex broker comparison to take home the title of "Best MT4 Broker."
As these awards all come from well-respected third parties in the industry, they should be seen as an objective broker comparison that puts City Index ahead of the competition in several ways. The range of awards is also noteworthy. Those interested in cryptocurrency CFDs will place particular importance on the honors for "Best Cryptocurrency Trading Platform" and "Best CFD Provider," which go hand in hand in creating a seamless crypto CFD trading experience. Those interested in trading multiple assets will appreciate that the awards span CFDs, spread betting, and specific platforms.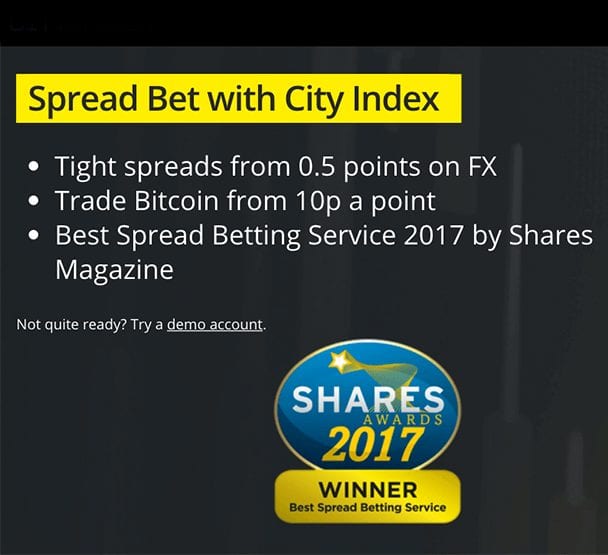 "Best Spread Betting Platform 2017"
Numerous awards at Online Personal Wealth Awards 2018, including "Best Cryptocurrency Trading Platform"
"Best MT4 Broker"
Go to Broker
Risk warning: Capital can be lost. Terms and conditions apply.
Conclusion: Is City Index a Good Broker?
Following our City Index trading platform review, we can say that a broker comparison puts City Index among the options worth considering, particularly for those interested in cryptocurrency trading. The ability to trade cryptocurrency CFDs makes the investment process simpler since there is no need to hold the underlying assets or understand the technical aspects of cryptocurrency. The vast range of CFDs and other assets to trade makes City Index a tempting choice for those who want to trade more than just crypto. We find the range of platforms to be a very nice touch and feel that everyone should be able to find a platform for City Index forex that meets their needs, whether they are a beginner or experienced trader. The regulated status of City Index along with the lack of minimum deposit size is also a strong point in its favor. Those considering crypto CFD trading will have to decide if the weaknesses of City Index, such as a lack of money management accounts and two-factor authentication, outweigh the positives. We see no reason to skip at least trying the demo account to confirm you understand crypto CFD trading and appreciate City Index as a broker.
Regulated in 8 jurisdictions around the world
Part of the New York Stock Exchange
30 years of industry experience
Small spreads
Most popular cryptocurrencies
Information on leverage not readily available
MT4 spreads tend to be higher than other City Index platforms
City Index UK website only in English
Test result
Broker

Go to Broker
Risk warning: Capital can be lost. Terms and conditions apply.