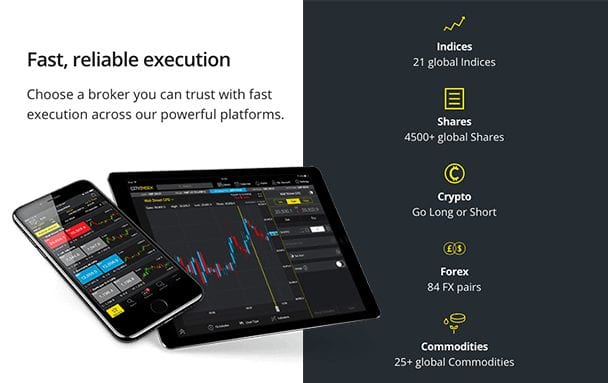 As one of the leading providers of financial services in Britain, Cityindex is a well-known name in the financial world.
And thanks to the top-quality Cityindex mobile app, the firm now lets you make trades and implement risk management tools easily, no matter where you are. Gone are the days when you need to be by your desk to make a trade. Thanks to this tool, you can do it from wherever you happen to be. With that in mind, this Cityindex review will look at how the app puts Cityindex in the running for the best stock broker.
Apps for both iOS and Android available
Creation of OCOs, if-done orders and much more available
Latest financial news from reliable sources available in-app
Secure data transfer when upgrading to new versions
Operating system compatibility
Any broker comparison will show that being technologically savvy is a must in today's complex financial world. In general, Cityindex has realised this, and its trading platforms are thus highly accessible no matter what kind of technology you use to access them.
This is true when it comes to the Cityindex mobile apps and, in the spirit of maximum accessibility, they are available on both of the major operating systems (Android and iOS). This stands in contrast to some brokers, who only offer apps for one operating system or the other – or, worse, do not offer a dedicated mobile app at all.
Mobile app for on-the-go trading available
Different apps for iOS and Android
Many features available on both platforms
Newly released updates often available
For the Cityindex product, you will need to download a slightly different app depending on which operating system your smartphone or tablet uses, but most of the features available on one app are available on the other too. It's also important to note that the features available may be dependent on the version you have downloaded and, as a result, it's worth checking online that you have the latest version installed. That way, you will be able to make the most of the convenient technical features that the app offers and stay ahead of the curve when it comes to investment tools.
Data and information
Although the screens on smartphones and tablets may be a lot smaller than laptops and desktop computers, that's no reason to sacrifice the advanced technical tools that you've most likely become accustomed to as a trader or investor. Now trading can be as easy as sending a message and as enjoyable as any other app on your phone. As a stock broker comparison focused on apps is likely to show, the Cityindex Android app is a major market player when it comes to providing all sorts of these tools, both simple and advanced, designed to make your trading experience as positive as possible. The trade ticket function, for example, can work out margin requirements in an instant and provide a suite of complex risk management tools, while the search function serves up the markets you're searching for in a speedy fashion.
Designed to put you in control when making trading decisions, the app can provide warnings regarding margin amounts using regularly-updated instant data, while the watchlist function provides you with the opportunity to keep an eye on any areas of interest. On the iPhone app, with just a tap or two you can select the exact intervals and timeframes you would like your bespoke historic chart data to be organised into.
Both apps contain data management tools
Select your preferred data timeframe quickly and easily
Instantaneous data updates for margin amount warnings
Trade ticket function carries out calculations
Order execution
However, it's not just data that the Cityindex apps can offer traders and investors. Ordering a trade and executing it can also be carried out easily and efficiently from the comfort of the Cityindex app, too. Many of the order types you can setup on the main Cityindex trading platform can also be done on the apps, including the creation of OCOs, one-cancels-other, which helps you place two orders at once to cover as many outcomes as possible, if-done orders and more.
App allows you to place orders remotely
Creation of OCOs, if-done orders and more
Variety of stops can be setup
Hedging functions available
The order execution function of the Cityindex apps can also be used for risk management. The iOS app, for example, lets you set up trailing stops and guaranteed stops designed to limit losses in the event that the market turns away from your preferred outcome. As well as this, the order execution tools in the Cityindex app include hedging functions and partial close functions to increase the chances that a trade will complete in your favour. Ultimately, the order execution functions of the Cityindex apps provide some of the main reasons to use them: by helping you make the most of your trade without having to be in front of a computer, a successful portfolio can be crafted remotely and flexibly around your other daily tasks.
Setup notifications
Market conditions can change at a moment's notice, and it's possible that this will have an impact on your open positions. Although you may decide that you do not need to act on a price or market change, for example, knowledge is power in this situation. Sometimes you may need to act and sometimes you may not, but by being able to see the development on the home screen of your device, you can make more time-efficient decisions. That's where the Cityindex app really comes into its own: by making the most of mobile app technology, the platform can alert traders and investors to a whole range of events as soon as they happen. By harnessing the power of the push notification feature, the Cityindex app can tell you everything from price shifts to changes in the performance of your position as soon as they occur. If you regularly trade on a certain market, for example, price alerts can be setup to inform you when that market moves in a certain direction. In addition to this, you can also setup price alerts which enable you to make the most of the risk management tools embedded into the Cityindex system, such as stop losses, imposed limits and more. By creating push notifications which provide regular updates on how your open positions are doing, you can consume information about your trades' performance without having to waste time opening up your phone or tablet.
News and resources
As well as all of these top order execution, risk management and other tools, the Cityindex apps allow you to access top-quality market research data which can inform your trading choices. The iOS trading app contains a Reuters news section, for example, which can provide you with some of the latest information on worldwide financial and investment goings-on from a reputable source. The app also allows you to pin relevant and interesting news stories for easy access at a later time, too. So, if you find a piece of news which might be relevant to future areas of portfolio expansion or which you don't have time to read right now, you can easily highlight it and come back to it later.
In addition to this, the streaming charts available in the app provide you with the chance to see the latest market information in real time format. Just because the screens on mobile devices are smaller than the screens many traders might be used to, doesn't mean that the full value of this kind of data can't be extracted and used. The iOS app contains a variety of technical indicator choices which can be applied to the charts to help you comprehend the past performance of a market or an instrument, so the same kind of insight can be gained whether you're at your desk or on the go.
Help and information
Cityindex has always had a good reputation among its customers when it comes to customer service, with one user on TrustPilot writing that the "communication and service with City Index is top notch". Available over the phone or online 24 hours a day, five days a week, the client services team is accessible and easy to reach. Now, the iOS app makes it even easier to speak to Cityindex customer service agents through an innovative live chat function. Cityindex's live chat system is simple. When launched, you may be asked to provide the answers to some quick questions, such as what your query relates to, in order to make sure that your question goes to the right person. Other than that, the service is usually speedy and easily accessed.
But the Cityindex apps can provide much more information than just account help or assistance resolving problems. The Cityindex Android app, for example, provides access to an economic calendar which gives you the latest information on a wide range of upcoming significant events, ranging from consumer price index announcements to inflation rate updates. Usually, these calendars cover a range of relevant geographic locations. With this kind of information at your disposal, you can use it to form a judgement on when is a good time to trade – and when isn't.
Synced and safe
When it comes to trading, it's essential for the investor to know that the version of their account they see on one device is the same as on every other. If the versions were different, it could lead to mistaken transactions being placed and, as any hardened trader knows, confusion is the enemy of successful investment. When it comes to making your payments or selecting different investments, you need to be completely confident that the information you are receiving and inputting is bona fide and as up-to-date as possible. With Cityindex's mobile app, there's no need to worry about any of that. The advanced syncing system ensures that any changes made on the Cityindex mobile app update your account on every other version of Cityindex you have available, including your web login area and any downloaded software you use on your computer. And when you update your app with the latest versions released by Cityindex's developers, most of the data you've entered – such as your watchlists – will not disappear.
The Cityindex mobile application has also been designed with security in mind so that when you upgrade the app your personal financial information will be seamlessly and securely transferred.
Updates made in the app are synced across your Cityindex account
Syncing system means that new versions of the app won't affect your data
Keep your watch lists and other personalised elements when you download the latest version of the app
Secure transfer of sensitive information when you upgrade
Cityindex: Our verdict
Cityindex offers one of the best broker apps available today, and it holds the power to change the way you trade for the better. From the capacity it offers for remote order execution to the simple customer service experience it can provide through the live chat system, there's plenty going for this app. Available both for iOS and for Android, you can download it no matter which of the two major mobile phone operating systems you use. Once downloaded, it offers a whole range of extra advantages including easy implementation of risk management tools, options for margin amount control and simple push notification setup. And while the Cityindex mobile application may have some small barriers to a seamless user experience, more often than not this app provides value and benefits time after time. By allowing you to access a wealth of information while also saving you time and allowing you to focus your energies on market analysis no matter where you are, this app can hold the key to a whole new trading experience.