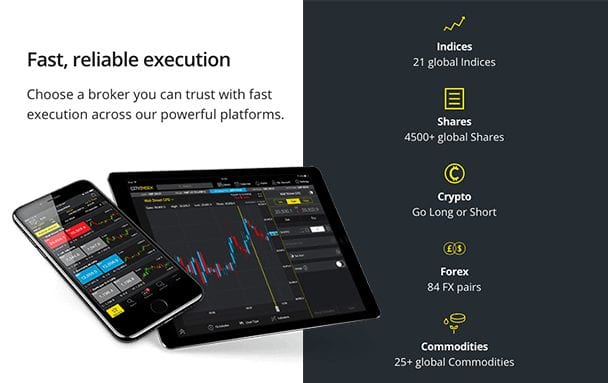 Trading With CityIndex – Fast And Reliable Trade Execution
When it comes to online share or commodities trading, a lot depends on how quick you are to respond to the price changes. There can be times when you are executing a deal and there is a price change in the real-time that could be a positive for your trade. When doing any broker comparison, this is perhaps the most important aspect to look at. CityIndex takes note of all such situations and during such times ensures that its clients close their deals at the better price. If you're interested in trading with CityIndex, you can get started with a CityIndex demo account.
This is possible with the quick and reliable trade execution policy that the company follows. In simple terms, the trade execution policy of City Index is designed to keep the traders' interests as a top priority. With a CityIndex demo account, traders can get a good idea on how they use the online trading approach for maximum financial gains. Using the City Index's trade execution technology, the traders get a competitive edge in the markets. Here are some unique aspects of trading with City Index that can assure traders better trading opportunities and improved trading results:
City Index allows its traders to use any unrealised profits from open positions as a margin for any new positions that the traders may wish to open
Traders have the liberty to roll over the futures trade at expiry, which they will only have to pay half the spread
Traders can go long and short at the same time
Trading Products And Markets
Trading with City Index will give y including stocks, indices, forex, CFDs, commodities and cryptocurrencies. The company's award-winning trading platform offers several trading opportunities to suit the varying needs of different types of investors, all of whom have different risk-taking abilities and preferences. The company deals with share CFDs from the biggest financial markets across the globe.
The trading signals and alerts that the company provides its traders offer them real time updates on the performance of their stocks, thereby allowing them opportunities to make the best of the price changes as well as track the progress of investments. This is one of the reasons why the company is considered to be the best CFD broker. The City Index demo account can be a very effective tool for new and inexperienced traders to understand all the intricacies of online trading before venturing out to make real investments. While there is constant support also available, the use of the demo account gives a lot of confidence in the new traders and also creates a sense of trust between the company and the traders.
Award-winning trade platform
Accommodates various different types of investors
Highly responsive real time performance updates
Powerful Trading Platforms
In our City Index review the company's trading platforms offer innovative research tools and customizable charts. These award-winning and advanced trading platforms have contributed extensively to improving the trading experiences of the traders. Traders trading with City Index can choose to trade using the browser-based Advantage Web Platform or the downloadable AT Pro Platform using their mobile devices. With the CityIndex demo account, traders can get to experience the trading platforms and get a complete understanding of online trading before investing real money.
The Advantage Web is a completely customizable web browser based platform that offers powerful trading tools and features. With access to customisable charts, over 80 technical indicators and one-click dealing, traders have the advantage of lesser processing times and quick operations. The trading platform was recognised as the Best Spread Betting Platform in 2017 by ADVFN.
The Advantage Trading Apps are available across iOS and Android powered Smartphones and tablets. These trading apps provide a 24-hour access to the trader's trading account with live streaming of prices. This ensures that the traders do not miss out on any great deals, no matter at what time of the day (or night), they want to strike the perfect deal!
City Index also offers MetaTrader 4 (MT 4) and AT Pro downloadable trading platforms. These trading platforms are typically designed for the advanced traders, who use powerful analysis tools. With expert advisors and custom indicators, these platforms empower the traders with the best trading experiences.
Trading Tools
When looking for a CFD broker comparison to trade with, the most essential thing to consider is the support available to traders in the form of trading guidance and tools. As far as the trading tools are concerned, City Index offers access to wide range of trading tools that include a variety of order execution types and a competent research portal with power market intelligence research that can enhance the trading opportunities for all traders.
The technical analysis research portal offered by City Index is a great resource for the traders, both new and professional, as it provides a bird's eye view of the financial markets. With chart patterns, best buy and sell opportunities clearly indicated, traders can save a lot of their research time but still get fundamental stock analysis that can be a game changer for them to enhance their trading income.
Another very useful tool offered by City Index is real-time trading alerts that traders receive via SMS or email. These daily trade signals are effective for investors who have busy schedules and may not be able to spend a lot of time researching the global financial markets. Along with the CityIndex demo account, traders can sign up for a free 30-day trial of trading signals and if found useful, they can register for the same.
– Powerful research tools enhance opportunities for traders
– Handy real time alerts via email and SMS messages
– Gain insight into comprehensive financial market summaries in no time at all
Trading Prices and Charges
Like most trusted stock brokerage companies, City Index is upfront about the costs of trading with the company. The company follows a transparent approach to its pricing, which means that traders will be well aware of all the charges that they have to pay and the fees they are eligible for at all times. The company explicitly provides a list of all prices and charges across all the trading markets and instruments on its website. The company offers fixed and variable spreads with margins that start at 0.5%.
The fixed spreads charged by the company do not change according to market conditions. This implies that no matter how volatile the market is, the fixed charge on spreads will remain the same. The variable spreads, on the other hand, fluctuate based on the market volatility or the liquidity. For the convenience of the traders, the company quotes a minimum spread charge along with an average spread for a defined period.
As far as the commission is concerned, City Index charges no commission for spread bets or CFD trading, however there is a commission charged for shares CFD trading. Apart from these charges, the company has a monthly inactivity fee, borrowing cost for shorting CFDs, dividend adjustments and other costs, details about which are specified on the website clearly.
Learn To Trade With City Index
City Index believes that trading is a skill which can be easily learnt with the right training and guidance. This is the reason the company takes a keen interest in ensuring that all new traders who join the City Index trading platform receive the perfect support and training to help them realise their investment goals. No matter what the current level of experience of the traders is, whether they are new or professional, there is a whole lot of training resources available through the training section of City Index's website. To begin with, there is a series of educational videos, articles and practical examples on a wide range of trading topics that will help new and professional traders alike.
Apart from the training in the form of educational videos, the company also offers its traders technical and fundamental analysis. These indicators and techniques can be applied to the trading strategies for improved trading performance. The company also encourages its traders through holding regular sessions with experts. The training programme is designed as a course for a specified duration, at the end of which the eligible traders are even rewarded with cash prizes. There are also regular webinars that aid the traders by offering them training on critical topics.
Trading Help and Support
While it is true that the right training can be very effective in ensuring that the traders understand the strategies of dealing with shares and commodities in the financial markets, there can still be times when traders will require support apart from the training videos, webinars or courses. City Index offers constant help and support at various stages of trading from the time of opening a demo account to funding a real account.
When you are keen to starting your journey towards financial independence with online trading, you could be sceptical on various issues dealing with it. A demo account with City Index will give you the feel of trading in financial markets without involving your money so that you become comfortable and confident. The help and support team at City Index will guide you through opening the demo account and navigating through the various webpages and trading strategies.
Once comfortable, traders can open a real money account with support from the experts at City Index. The support team can be reached at any time through the live chat, email and call options. The instant replies that are assured by live chat can be very useful for traders who have highly busy schedules.
Market News And Analysis
When you are trading in global financial markets, accurate and up to date information is your key to success. If you do not have knowledge, you can get lost among the many trading alerts and signals you receive, and end up making the wrong deals and at the wrong time. Of course, being educated on trading is essential but even more crucial is to have the right information at the right time. The fact is that there is an information overload with various news and research websites offering their expert surveys, opinions and analysis. In the midst of all this, new traders can find themselves overwhelmed and lost.
City Index has a team of expert analysts who scan through all the information available on the various trading instruments and markets. The information is then processed along in the form of concise analysis summaries that are made available as early as possible on the company's website. The trading experts at City Index also offer their insights along with the latest information on the performance of different international markets. All of this together empowers traders with the key information they need to make well-informed trading decisions that can go a long way to assure better trading results.
City Index: Our Verdict
City Index is one of the most acclaimed CFD broker companies for the fact that it gives great priority to its traders. With the best trader support and the most empowering training available, the company takes pride in offering great trading strategies to its huge list of traders, who have all, in some way or the other, realised the investment dreams by dealing with City Index. With a Cityindex demo account, both novice and advanced investors alike gain access to an insightful and robust training platform.
Especially for people that are curious about sampling the world of trading before committing financially, City Index provides a valuable tool that empowers users to explore trading online at their own pace and without jeopardising their personal finances. With industry-leading customer support, users have a wealth of expert knowledge within reach, which makes the process far less daunting or overwhelming.
PEOPLE WHO READ THIS ALSO VIEWED: