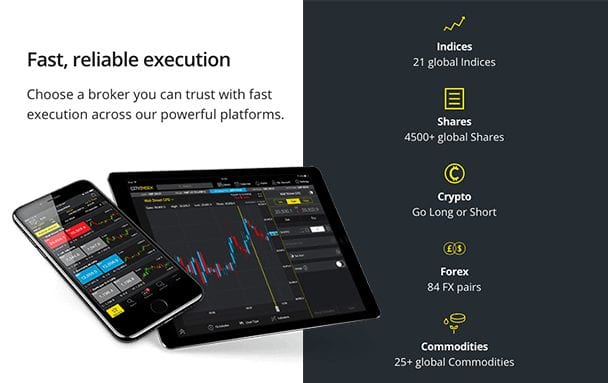 City Index is a multi-asset broker based in London and one of the leading and most popular in the UK. It operates independently, but under GAIN Capital Holdings, since acquisition happened in 2015, City Index has been providing FX trading, CFD trading and spread betting. The City Index MT4 (Meta Trader 4) has recently been launched to allow clients to access additional features such as the 'price tolerance' feature. This has been named one of the best forex trading tools in our unbiased forex broker comparison. Get to understand City Index as you read more.
MT4 Forex trading platform
Withdrawals and funding at City Index
Methodology and risk involved
Trading at City Index
The MT4 Forex trading platform
Meta Trader 4 (MT4) is one of the leading and most famous platforms in FX trading all over the world. You are able to trade FX at City Index courtesy of expert advisors through an MT4 trading account at City Index. You will be provided with fairly variable spreads, which happen to be the most competitive in the FX market, as well as a properly customised leverage. A separate MT4 account application is required for you to access City Index's MT4 account.
It needs to be separated from your existing CFD account as you can't operate the MT4 with the CFD sign-in details. This is due to the fact that the City Index trading platform provides many complex features that are incompatible with MT4. Some examples of this are price tolerance, HTML charts, research tools and the ability to place multiple limits and stop orders with varied sizes against a single position. Due to the capability difference in these platforms, a separate type of account is required specifically for MT4 activities. Additionally, City Index MT4 accounts offer extra functionalities that are not available at the standard trading platforms, such as the Expert Advisors (EAs) option. Sign up and receive an extraordinary experience!
City Index demo accounts
Register for a City Index demo account and gain unlimited access to more than 100 CFD and FX markets for 12 weeks on this demo account of MT4. It comes with virtual cash of $20,000 so that you can experience risk-free trading before using real cash. It is always free to apply for another demo account in case you feel that the practice period given has not made you competent. An extension for a demo account is not allowed at City Index. Demo accounts allow you to familiarise yourself with the features and tools available in this trading platform. Failure or success resulting from trading simulations does not depict probable future results in live trading. Do not expect a replication of success from a demo account in actual live trading in the near future. Demo accounts do not always reflect all reasonable conditions in a live environment of trading. This includes execution, margin requirements and pricing. Leverage and margin settings vary at times from a demo to a live account. This is due to the changes in the setting of a live account imposed, resulting from heightened volatility in the market and other factors. Note the following exclusive features available in a City Index MT4 demo account:
12 weeks unlimited total access to MT4
Provision of virtual $20,000 cash for trading
Analysis of price movements and trends with indicator guides
Real-time pricing on FX pairs and CFDs in excess of 100
Using Meta Trader 4 on a Mobile Device
The Meta Trader 4 is available for a number of mobile platforms, which include mobile devices and tablets powered by iOS and Android operating systems. Using any mobile device grants you access to more than 12,000 Forex trading, CFD trading and spread betting markets anytime, anywhere. A trading opportunity will never pass you, as you always have secure and full access to your City Index account. You just need to download the app, sign in, and create an account to begin trading. 
When using the MT4 platform for mobile devices, the server name used for live accounts is CityIndexSG-Live 107 and the one for the City Index demo account is CityIndexSG-Demo 106. Meta Trader 4 account is available on:
iPad 

Android phone

iPhone

Android tablet
Withdrawals and funding at City Index
To open a City Index MT4 account, you do not need to have a minimum deposit. The depositing of trading cash into your account is done through the funding portal after logging into your MT4 account. The use of credit cards and debit cards for transfers and deposits does not incur charges. Withdrawals, including bank transfers by use of BACS, do not incur charges either. However, a charge of £25 is applicable if you wish to receive payment on the same day using CHAPS bank transfer. Please note that fund deposits only happen using the base currency of your City Index account. Funding your account by card is known to be the most convenient method as cash is available immediately for trading. You also receive an email notification for this. Currently, clients are allowed to register a maximum of three cards in their City Index account. Withdrawal methods are just the same as the deposit methods. Limits have been set in terms of withdrawals – you can only withdraw a minimum of £50 to a maximum of £20,000. The daily withdrawal limit for cards has been set at £20,000 every 24 hours. The withdrawal waiting time depends on the bank and the charges incurred. International withdrawals normally take three to five days, and domestic withdrawals normally take one to two days.
City Index account commissions, fees and transactions
City Index offers among the best forex broker spreads in the London industry of multi-asset brokers. The spreads on the platform of City Index MT4 are higher with a mean spread of around 1.6 pips for the EUR/USD within the same period of time. Generally, City Index ranks highly in the category of fees and commissions for the smaller traders. In addition, greater discounts from programmes of active traders offered by the parent firm GAIN Capital could help in reducing the trading costs further for high-volume traders. Currently, City Index offers options and pricing after switching the spread model to variable pricing from fixed pricing. This happened in 2016 to help reduce the fees and commissions that clients pay in order to make trading more efficient and even cheaper. If you want to hold an open position overnight, there is a financing fee required from you. Each day that you decide to hold a position overnight, a financing fee is applied to your City Index account, which also includes weekends. The same is applicable for Forex trade – you will have to pay an FX overnight charge, which is inclusive of the borrowed amount. This enables you to trade a full position and probably reap big from the investment.
Methodology and risk involved
Based on our City Index review as well as a research carried out in 2018 by FXEMPIRE, it was observed that City Index is among the safest brokers, with full regulatory and transparency oversight from various regulatory agencies in the United Kingdom. It was found that the City Index platform has been providing clients with all the required tools to start trading on the right path from the training and practice offered through the City Index demo account. Although trading is extremely beneficial, an important point worth noting is that it does not guarantee you instant riches, as trading securities involves a high degree of risk. With regards to margin-based Forex exchange trade, cryptocurrencies and several derivatives, there is a large exposure to risk. This also includes but is not limited to creditworthiness, leverage and market volatility, and limited regulatory protection may affect the liquidity or price of a certain trading instrument or currency. You should not automatically assume that the techniques, indicators or methods used in these products will always be profitable or may not result in any loss. City Index is not an exception to this reality, but there are a number of strategies for managing risks related to trading, such as:
Minimising your leverage – this reduces your exposure to trade, hence reducing the amount of capital potentially at risk
Reducing the size of your position
Setting up an order for stop loss, which after exceeding a predetermined price closes a trade
Opening a hedge trade
Trading at City Index
You have the opportunity to trade Forex with tight spreads and quick executions. At City Index, it is the most liquid and largely traded market in the world, accounting for more than $5tn daily trading. This includes but is not limited to EUR/USD, USD/JPY and AUD/USD. You can benefit from:
Trading on over 84 international Forex pairs
Forex margins starting from 0.5%
Very tight spreads starting from 0.5 points
There are times when a trade will be rejected when the price moves during trade execution. This is because the City Index trading platform does not provide price tolerance to safeguard against movement of price. The rejection appears in the form 'off quotes', and you are therefore required to do a resubmission of your trade using the new price to complete the transaction. The trading support service is one of the most important services offered by City Index. It is made available through live chat, telephone calls or email. There is also an option of leaving a call-back message through the City Index website on the web form located at the 'Contact us' page. Apart from the City Index demo account available, there is a resource section for beginner traders that provides them with comprehensive education on the intricacies of trading online. There are other benefits of trading with City index, including the following:
Gives a comprehensive library of training
Small requirement on deposit
Dynamic options of trading platforms
Contains a wide range of trading instruments
Do you think City Index provides what you deserve?
The City Index trading platform has one of the best provisions in the industry through the dynamic offerings in Asia and Europe. Traders have a variety of options from which to choose when accessing international markets, which include several platforms of trading such as 15 Forwards, more than 10,000 CDFs and 84 spot FX pairs. City Index caters well to beginners and experts – you will be taken through a comprehensive process of learning about the platforms offered, such as the desktop and City Index mobile app. Beyond the extensive range of products offered by City Index, multi-asset investors in trading can comfortably choose City Index's competitive spreads, versatile chatting and premium tools of research under the support of one of the most dynamic retail brokers in the world, GAIN Capital Holdings. However, the addition of an active trader programme would help in levelling the playing field against its colleagues when considering big-volume traders.
PEOPLE WHO READ THIS ALSO VIEWED: