XTB is an online forex and CFD broker that was founded in 2002. With offices in more than 10 countries, multiple trading instruments and a sophisticated trading platform, the company has won many awards over the years. The company is registered in Belize and has offices in over 10 European countries. It is fully regulated by the World's best regulatory authorities such as the IFSC, FCA, KNF, CNMV and CMB.
XTB Forex broker offers over 1,500 forex and CFD trading instruments such as currencies, CFDs, metals, stocks, ETFs, indices and commodities.
Highlights
XTB is fully registered and regulated by different regulatory agencies.
XTB has offices in 13 countries.
A forex comparison of regulated assets shows that XTB offers 1500 trading instruments.
XTB has been in business for over 15 years and is one of the oldest retail brokers in the FX market.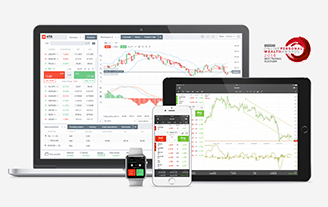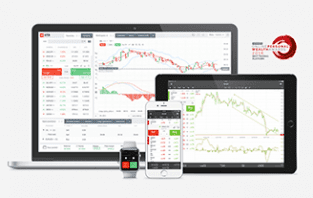 Go to Broker
Risk warning: Capital can be lost. Terms and conditions apply.
Headquarters and regulation
UK (FCA)
Fees and Spread
Spread only
Trading platform
MT4, Broker-owned Software
Demo account
Yes, available for 30 days
Trade Offering
48 Currencies
Services & additional benefits
Live
Hotline
E-mail
Economic Calendar
E-Book
Videos
Courses/Seminars
1. Trading Offer
1.) Forex Trading Offers – Trade Over 50 FX Pairs
An XTB forex trading review 2018 shows a broker that offers a wide collection of trading instruments. Let us examine the various trade markets on XTB.
Tradable assets: The available assets that are traded include currency pairs, indices, commodities, ETFs, Equity CFDs and cryptocurrencies. Thirty-five of the world's leading indices can be traded. Some of them are UK 100, US 100, US2000, EU50 etc. Gold, silver, cocoa, coffee and sugar make up some of the 21 commodities that are traded as CFDs on XTB. Other CFDs include 97 ETF CFDs (VXX.US and ECH.US). Trade 1,487 Equity CFDs of leading companies like Intel, Microsoft, Total etc with this broker.
FX offer: XTB forex assets include about 48 currency pairs available for trading on the platforms. The currency pairs include several major, minor and exotic currency pairs.
Exotic Assets: Five cryptocurrencies are available for trading, and represent some of the exotic assets featured on XTB. They are Bitcoin, Dashcoin, Litecoin, Ripple and Ethereum.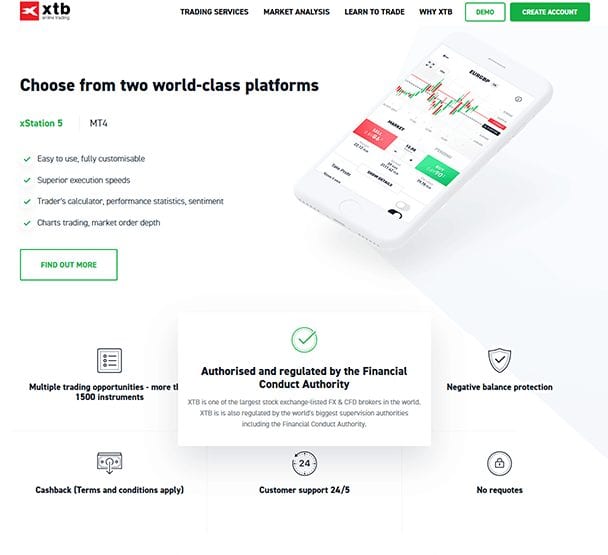 There are multiple trading instruments available for trading on the platforms.
48 currency pairs of major, minor and exotic currencies can be traded on XTB.
ETFs and the stocks of some of the world's blue chip companies form part of the XTB asset listing.
Go to Broker
Risk warning: Capital can be lost. Terms and conditions apply.
2. Costs
2.) Forex Trading Costs: Trade FX and CFDs at Comparatively Low Costs
As usual, there are costs associated with trading with every broker. The fees associated with trading with XTB are listed below:
Spreads: The spread is the difference between the buy price and the sell price. It is charged for trading forex and some CFDs. It is fixed during normal trading. However, it can become variable during market volatility. Spreads on XTB for forex pairs start from 0.28 pips, 0.39 points for indices and 0.21 points on gold.
Commissions: Trading commissions are charged by this broker for trading Equity CFDs and ETF CFDs. The commission is from 0.08% per lot traded. They charge no commissions on trading cryptocurrencies, forex, indices and commodities.
Swap Points Fee: This fee is charged when a trader holds an open position on his account till midnight or at swap points. The swap points are the time that trades begin and close for a day.
Withdrawal fees: XTB do not charge withdrawal fees. But for bank wire transactions, fees are charged by the different banks involved. Electronic wallet withdrawals also attract charges but the exact charges are not defined by XTB.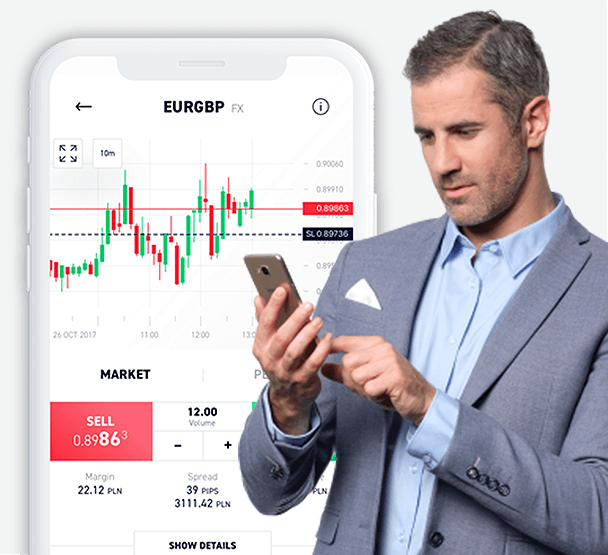 Spread costs are paid by traders on the XTB platform, and these are comparatively lower on broker comparison.
Commissions are charged on some CFDs
Swap point fees are charged by this broker
Go to Broker
Risk warning: Capital can be lost. Terms and conditions apply.
3. Account
3.) Accounts: Choose from Two Real Money Account Types
A minimum deposit of $250 is required to trade on this broker platform. The Account types available on the XTB Forex Broker platform are the Standard account and Pro account.
Standard Account attracts a minimum spread of 0.35. The minimum order is 0.01 lots(1 micro-lot). There are no commissions on cryptocurrencies, forex, indices and commodities. For equity CFDs and ETFs, the commission starts from 0.08% per lot.
The Pro account comes with a minimum spread of 0.28 and a minimum order volume of 0.1 lots (1 mini-lot). Commissions on cryptocurrencies start from £2.50. Commissions on forex, indices and commodities start from $2.50 per lot. For equity CFDs and ETFs, the commission also starts from 0.08% per lot.
For the purpose of simulated trading, XTB Forex broker provides a demo account for all clients. This account is available for only 30 days. A forex comparison of demo account offerings shows that most brokers provide this account type for their clients but not for a limited time. XTB provides up to $100,000 virtual opening balance which is very high compared to most brokers who provide only $10,000.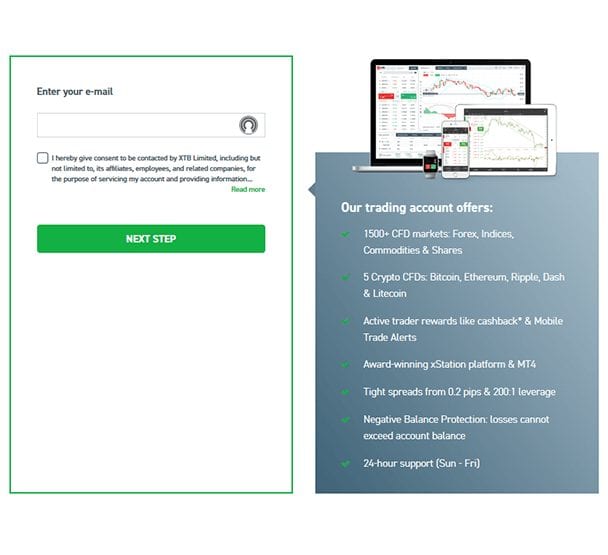 A standard account is the basic account and comes with minimal features.
The Pro account features lower spreads.
A 30-day demo account is provided for $100,000 virtual capital.
Go to Broker
Risk warning: Capital can be lost. Terms and conditions apply.
4. Platform
4.) Forex Trading Platforms & Mobile Trading: Choose from Two Solid Platforms
There are 2 trading platforms on the XTB Forex trading platform: the proprietary xStation 5 and the MT4.
The MetaTrader 4 is the most popular retail trading platform today. It has some customizable features and is available on XTB. It features automatic monitoring, advanced charts and live analysis. It is available on PC and on mobile phones.
xStation 5: This is the award winning proprietary trading software from XTB. An XTB forex trading review 2018 shows that the platform is fully customizable and very fast. It features a trading Calculator, advanced chart trading, trader statistics, advanced technical analysis, bulk order closing, market sentiment, equity screener and a list of top movers.
Both the MT4 and the xStation 5 trading platforms have mobile versions for the iOS and Android devices. These can be downloaded from their respective stores. The xStation 5 is also available for download on smart watches and computers.
A Broker Comparison shows these features (custom downloadable software on computer, phone, tablet and smart watch) are unique.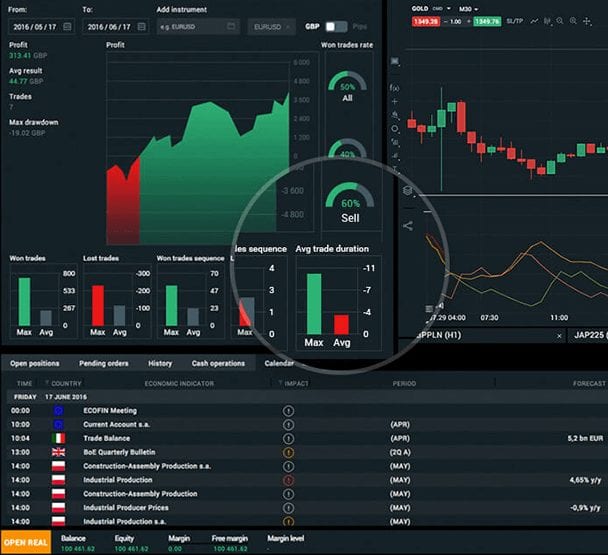 XTB provides the popular MT4 trading platform
XTB also provide their own xStation 5 trader.
xStation 5 is available on computers, iPhone, android, tablets and smart watch.
Go to Broker
Risk warning: Capital can be lost. Terms and conditions apply.
5. Usability
5.) Usability of the Website: Beautiful, Multilingual and Responsive
The official website is www.xtb.com . The recent XTB Forex Trading – Review 2018 reveals that the website is beautifully designed and visitors had no problems finding what they were looking for.
The background is white while the texts are black with matching font sizes. The green clickable buttons gives the entire website a pretty look. The pictures and banners across the website are professionally designed and well arranged. Overall website design is rated as excellent.
Navigation menu features a nested drop-down menu that is located at the top of the page but requires several clicks before locating a page for opening. There are no navigation links at the bottom of the web pages.
Risk warning and registration details of XTB are displayed on all the web pages. There is a chat button for a visitor to initiate a live chat anytime anywhere on the website.
The website shows good display on different browsers. Texts, pictures and banners arranged and aligned very well. The website is also optimized for mobile viewing and features good displays on tablets and mobile phones.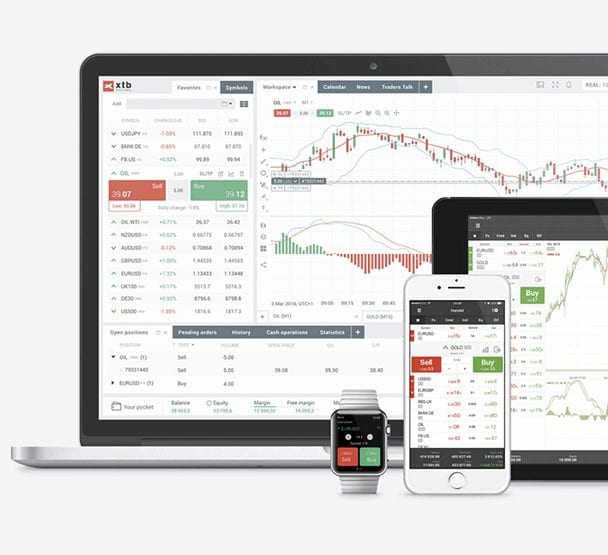 XTB Forex owns a professionally designed website
The website displays well across major internet browsers.
The website resizes and displays well on mobile phones, but the menu bar could be better.
Go to Broker
Risk warning: Capital can be lost. Terms and conditions apply.
6. Support
6.) Customer Support: Multiple Support Channels on XTB
There are various ways of receiving support on the XTB Forex, they are:
XTB has an international office address in Belize, which functions as the headquarters. Additionally, there are 13 office addresses listed for different countries. Clients in these countries can visit the local offices: Czech Republic, Italy, Hungary, Turkey, Chile, Poland, Germany, Portugal, Slovakia, Romania, France, Spain, and United Kingdom.
For phone contact, two international phone numbers are listed for support. They are +44 2036089194 and +44 2036089195. There are also over 40 other phone numbers listed for each country along with the office address.
The Live Chat option is available 24/5. A support staff is always available for support and assistance. You can also use the email address listed for international support: [email protected]
The other office addresses listed has email address for support for each of the countries.
To round off the support channels, traders can use the social media channels on Facebook, Twitter and YouTube.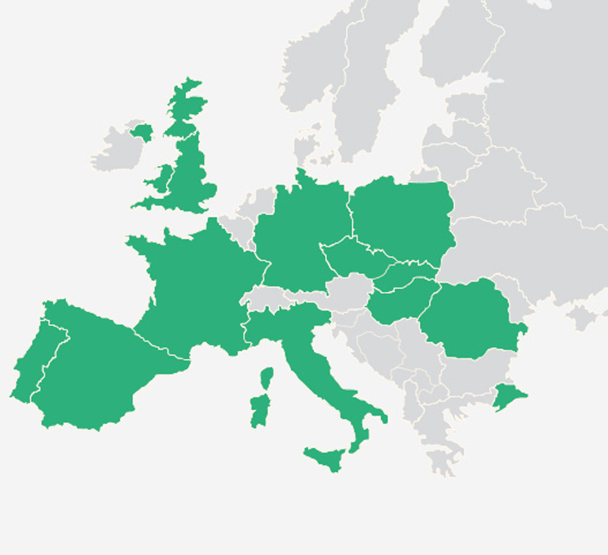 Office addresses listed for different countries includes phone numbers and email.
Online chat is available on the website on a 24/5.
Support is available in different languages. Country dependent support is available in the different countries where XTB has an office.
Go to Broker
Risk warning: Capital can be lost. Terms and conditions apply.
7. Payment
7.) Methods of Payment: Multiple payment Options
The payment methods available are as follows:
Card payments are a method of instant deposits and withdrawals. However, they are not available for all countries. The credit/debit cards accepted are VISA card, MasterCard and Maestro card. There are no deposit charges and the transactions are processed instantly. This method is only for deposit. The transaction limits for card payment is not defined by this broker.
For bank wires, the processing time is between 2-5 business days, depending on the bank and client's location. A trader should be ready to pay bank charges that will be imposed by the banks. For withdrawals using this method, XTB will only charge $30 if the withdrawal amount is below $100.
Digital wallets are another method of payments. Available options are: Skrill, Astropay and Neteller. The accepted currency is the dollar. For Skrill deposit, 2% of the deposit amount is charged. Information about withdrawal charges using e-wallet options is not available.
For all methods, accepted currencies include the US Dollar and British Pounds.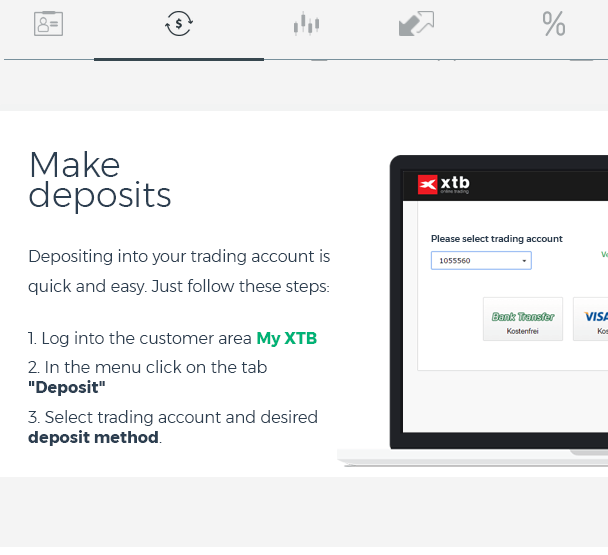 There are several methods of payment available for transactions.
Most methods are region dependent; so, choose the method applicable in your country.
Bank transfers attract bank charges but XTB charges no fees except for withdrawals below $100.
Go to Broker
Risk warning: Capital can be lost. Terms and conditions apply.
8. Offers
8.) Additional Offers: Receive Cashback for Being an Active Trader
There are some bonus offers available for traders on XTB: Some of these offers are discussed below.
Cash Back Reward: Every month, active traders are rewarded with a cash back bonus which is credited into the traders account. The cashback is readily available in cash and can be used for further trading activity or withdrawn. The cashback amount received depends on the trader's monthly volume. The system automatically does this calculation and credits the trader's account.
Refer a friend bonus: It pays to have friends, and XTB pays you for getting them business from your friends. When you invite a friend to join XTB Brokers, you get a bonus credited directly into your trading account. You can make as much as £600 when you refer a friend.
Market Analysis: XTB provides in-depth market analysis for the benefit of traders. The market analysis tools include market news, price tables, market screener and market calendar.
XTB also operates a trading academy. This provides training for forex traders starting from beginner to intermediate level. Expert level training will be available shortly. The available training programs feature videos, webinars and lots of articles, which traders can use for educational purposes.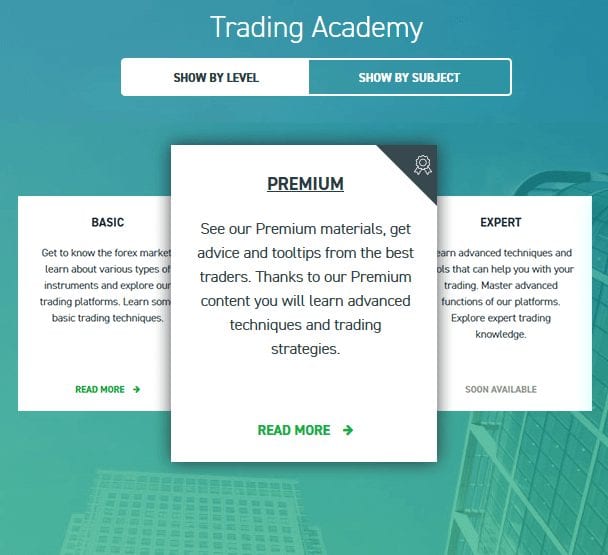 XTB provides a cashback reward bonus for active traders. XTB also rewards traders who invite their friends to join the XTB forex trading platform.
XTB provide traders with various trading tools.
Training materials are available for free to beginner and intermediate level traders.
Go to Broker
Risk warning: Capital can be lost. Terms and conditions apply.
9. Regulation
9.) Regulation & Deposit Protection: Traders are Protected on XTB
XTB Limited is regulated by the UK Financial Conduct Authority (FCA) with the reg. No. FRN 522157. XTB International Ltd is authorized and regulated by the International Financial Services Commission in Belize (IFSC license no. IFSC/60/413/TS/17). XTB is also regulated by the local regulators in Poland and Spain. These regulations make them comply with some standards which protects the traders. KYC is carried out on every customer before trading can commence.
A secured Socket Layer (SSL) is deployed on their website. This ensures that the user data entered into the website is secured during data transmission.
Traders' funds are segregated from the funds belonging to the XTB forex broker. These funds are kept in banks. This is a regulatory requirement to protect traders in case there is broker insolvency. Regulation by the FCA also gives XTB traders access to the Financial Services Compensation Scheme, which offers client fund protection to the tune of £50,000.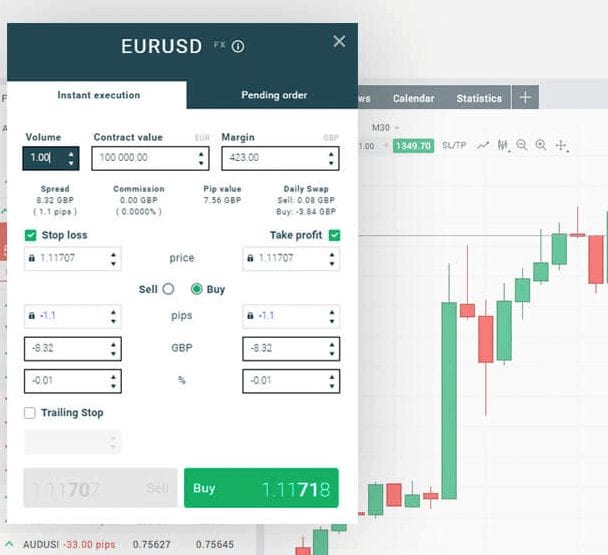 XTB is fully registered and licensed by the FCA, IFSC, KNF and FCA.
KYC is carried out on every customer during registration, and site protection is conferred by the use of a Secured Socket Layer (SSL).
Trader's fund is segregated from XTB's fund as required by the regulators.
Go to Broker
Risk warning: Capital can be lost. Terms and conditions apply.
10. Awards
10.) Awards: Trade with an Award-Winning Company
An XTB Forex review affirms that the company has won many industry awards. These awards are important because it serves as a barometer of the broker's performance in delivering service to users. Most of these awards are based on votes cast by different traders, analysts, market watchers, journalists and analyzing firms. These awards help to improve the rating of a broker. Many traders rely on these awards and ratings before deciding on which broker to use for forex and CFD trading.
Awards are given annually by the different industry stakeholders, analysts and investors. Some of the awards won by XTB Forex Brokers are listed below:
Wealth and Finance Global Excellence Awards, 2018
Winner, M & A Global Awards 2018
Winner, Online Personal Wealth Awards, Runner Up, 2016
Other awards include the Forbes Broker of the Year 2010, World Finance Exchange and Brokers Award 2013, Leser Award 2013, Online Personal Wealth Awards (2010) and Best Broker in Europe 2005, awarded by Money Markets Journal.
XTB looks poised to win many more awards as the years go by.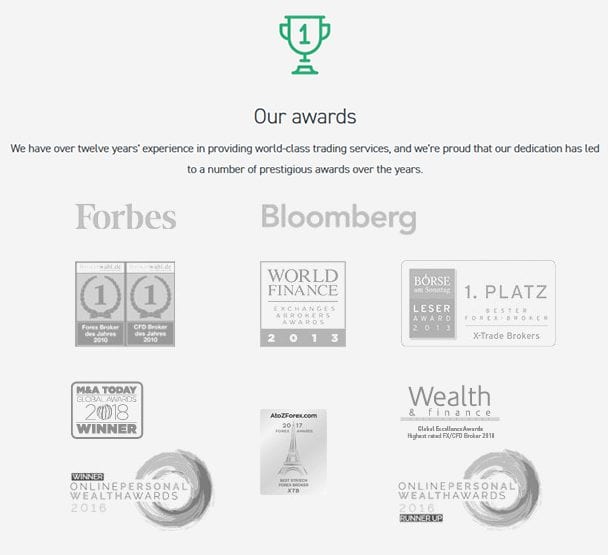 XTB has won prestigious industry awards.
They have been in business for long have been delivering on promises
The award showed that they are satisfying customers.
Go to Broker
Risk warning: Capital can be lost. Terms and conditions apply.
Conclusion: It Makes Sense to Trade with XTB
XTB is a multi-award winning Forex and CFD broker. With over 1,500 trading instruments, offices in over 10 countries and powerful trading platforms, XTB stands as one of the best online forex and CFD brokers.
XTB is fully registered and regulated in different countries. So, they comply with the rules of KYC. Trader's capital is segregated from Broker's funds. Risk warning is displayed on all pages for traders to understand that they may lose their capital trading forex and CFDs.
The XTB forex trading platforms feature the MT4 and the xStation 5: two trading platforms which are sophisticated, powerful and user friendly. They can be downloaded on phones, tablets, smartwatch and computers.
XTB offer trading in forex, metals, stocks, indices and cryptocurrencies. Two real account types are available and leverage is up to 1:30 for forex and 1:20 for CFDs. Smaller leverage means that traders must have larger capital to setup the margin collateral for trades.
Customer support is available 24/5 on web chat, email, phone lines and social media. A training package, market news and analysis and some market tools are available. Refer a friend bonus as well as cashback reward is available.
Fully registered and regulated company in many countries
Powerful, proprietary xStation 5 platform downloadable on all devices.
Presence in over 13 countries and support available in many languages
Low commissions and low charges.
Multiple awards won from different countries.
No service to traders from the United States, Canada and many other countries.
High minimum deposit of £250. Some broker require $5
The demo account provided is only for 30 days.
They do not offer VPS
Test result
Broker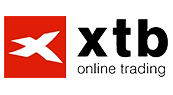 Go to Broker
Risk warning: Capital can be lost. Terms and conditions apply.