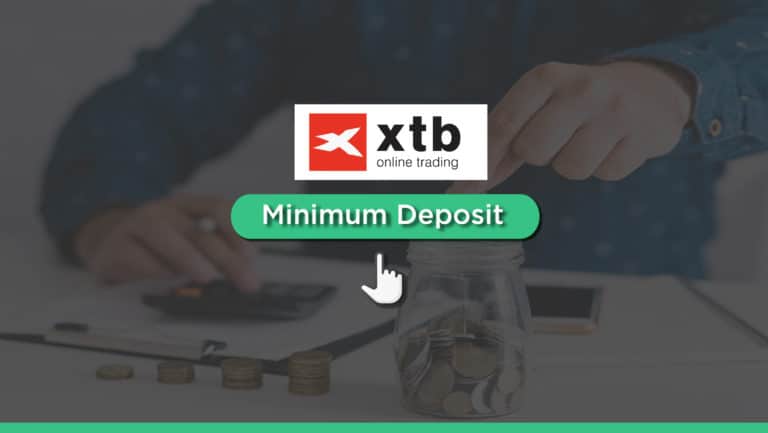 With expected markets such as forex and CFD, where they made their name, as well as shares and indices, there are many options for them to tempt interested traders. But what is the XTB minimum deposit?
This broker comparison will show you who XTB are, what they do best, and what kind of minimum deposit you'll need to get started, as well as plenty of background information, so you can know all you need to before you get investing.
XTB Trader Academy
Active trader rewards scheme
Tight spreads
Award-winning platform
Who are XTB?
Established in 2003 XTB is a trading platform specialising in forex and CFD. It claims to be one of the largest listed on the stock exchange of its kind, operating in over 13 countries, including much of Europe.
XTB aims to be the best forex broker by building long-term rapport with those who invest with them by offering clients individual tailored support, a strategy which has earned them many positive reviews on trusted sites such as Trustpilot.
Every client gets a personal account manager to help them along the investment journey and phone support 24 hours a day, Sunday to Friday.
Its specialism in forex takes centre stage according to the website, with clear explanations of what it is and how everything works, including leverage, guaranteed stop loss, pairing and tight spreads which makes some of the jargon a bit clearer.
XTB also employs that same clarity with the rest of its offerings, including over 20 different indices, which come with their own leverages and spreads, alongside commodities; including agricultural, metal, and energy based CFDs.
It also has a special cryptocurrency section, to keep up to date on these rapidly changing markets, with Bitcoin, Ethereum, Litecoin and Ripple available to trade with.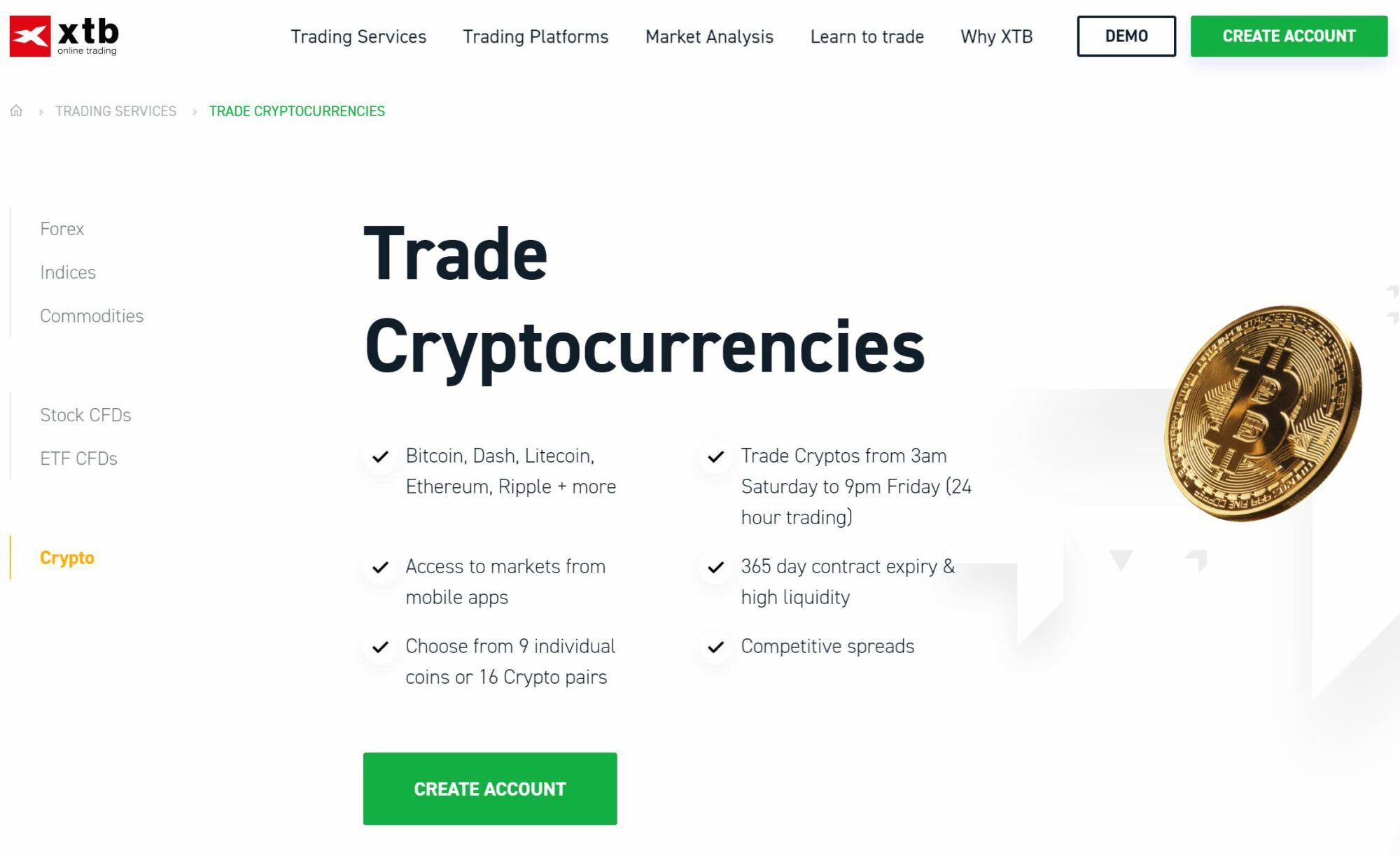 XTB also allows you to get involved with ETFs and Equity CFDs, making it clear that every trading instrument carries different leverage and spread points, so whatever you're looking to trade, something's there.
What is the XTB minimum Deposit?
According to the website, the XTB minimum deposit will depend on where you are from. If you're based in the UK, it will require £250. From within the European Union, you will be expected to pay in €250 to begin and if you are from the USA, it will cost you $250 to make your first investment.
This may seem like a fairly large figure compared to some other brokers, but this also suggests that XTB is only after the more serious investors who have enough available capital to make large trades that will make more of a difference to both the client and the firm.
Interestingly, this is a one-time thing. Beyond the first payment, the next XTB minimum deposit has no lower limit. After you have paid in once, there is no additional level to hit, and you can invest at whatever level you wish. This is interesting because it suggests that although they only want those who are willing to invest such a relatively large amount, they may well be in the middle of expected minimum deposits as a forex broker comparison.
With no minimum to invest after that first investment, it would show how highly XTB values its clients prepared to take that first step. With XTB priding themselves on their high customer interaction levels and a personal account manager, focusing on high-quality accounts makes sense.
How to Deposit to XTB?
Every platform is a little different, so it is good to know how it all works before struggling to get over the final hurdle. According to their website, XTB offers a number of different ways for you to make your first deposit, making it easier for you to get started.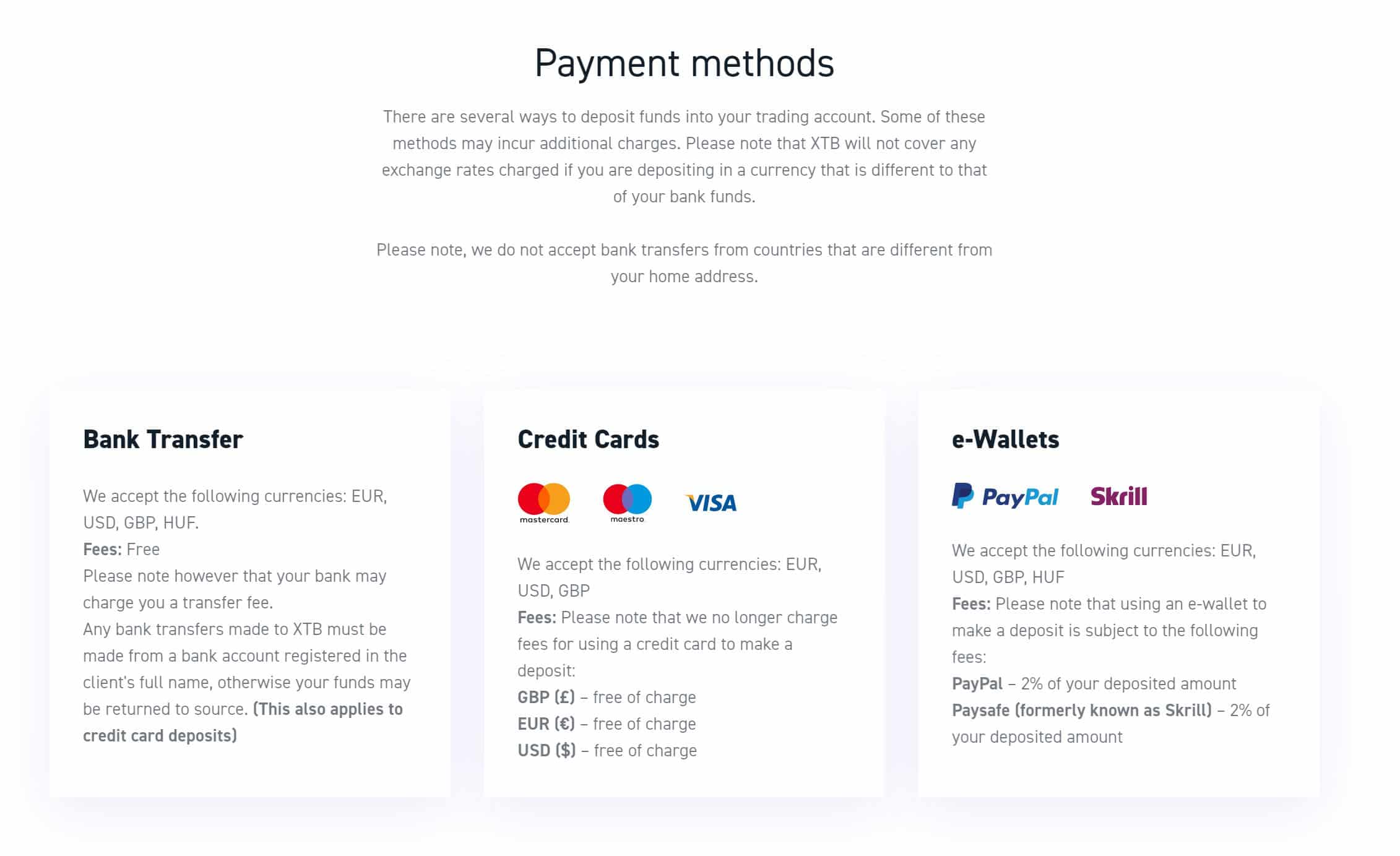 Available options include standard bank transfers, payments through debit and credit cards and online transfers from companies such as PayPal, Neteller and Paysafe.
The first step here is to create an account and fill it with your personal details, name, email, et cetera.
After you have filled this in and verified your account through clicking the link in the email you will receive, you will be asked to log in to their 'Client Office'
Click on the deposits tab.
From there, you will have the option to go with one of the payment options described above, before selecting the minimum amount, and if this is your first time the figure will be £250/€250/$250.
If you choose to pay via bank transfer they will give you their details for which to use, and for other options there are step-by-step mechanisms on the deposits page.
Any deposited funds through a method other than bank transfer will be immediate. However, if you use a bank transfer it will need to be cleared, so you may have to wait a bit before you can begin.
What Are The Differences Between XTB Standard and Pro?
Before getting started, it would be good to decide on which account type to use. As well as your strategy and what you aim to trade in, the account types you choose will also help to frame your investment tactics based on the available tools that come with each account.
There are two main available account types with XTB: standard, and pro. On the face of it, it would appear that both of these are remarkably similar. However, looking a little deeper suggests that they both trade in markets, and allow you to trade on everything you'd expect: forex, commodities, indices, cryptos, shares, and ETFs.
Other aspects that remain the same are the number of instruments available to trade, which is over 1500, negative balance protection, automated trading, the same use of the trading platforms xStation and MT4, as well as account management and setup.
Two different accounts
Offer different commission
Different spreads available
All basics stay the same
The difference in these account types becomes apparent when you get to the spread.
For the standard account there are three different spread limits, based on whether you opt for an A, B, or C market, where pro just carries one figure. The same happens with the minimal order. In terms of commission the standard sees none applied for cryptocurrencies, forex, indices and commodities, whereas the pro will affect a small charge.
Check Out The XTB Trading Academy
In a method sure to set them apart in any broker comparison, XTB also offers what it calls the Trading Academy. Although you may think this is not for you, it does far more than just a basic trading introduction.
It is split into four different levels of difficulty; basic, intermediate, expert, and premium.
Basic Level – introduces you to the forex market, lets you discover various new trading instruments, get used to their trading platforms
Intermediate Level – takes it a step further and seeks to strengthen your knowledge of trading. Here you will discover technical analysis and work on fundamentals, as well as learning your levels of risk and the art of controlling your emotions when investing.
Expert level – challenges you to pick up on advanced trading techniques to take your investment strategies to the next level. It also allows you to explore expert knowledge around their platforms and also trading in general.
Premium Level – offers the 'premium materials', and puts you in touch with the best traders, allowing you to discover advanced trading techniques. If you opt to search by subject, you will find tutorials on MT4, xStation, introductions to CFDs, forex and general fundamental analysis, with dedication from XTB to improve a trader's chance of success.
Test It All Out With a Trading Demo Account
If you want to make sure this is the right decision for you before going ahead with the XTB minimum deposit, the option of an XTB trading demo account is a great way to test the waters in a risk-free environment.
Here, you can invest up to $100,000 over four weeks, to allow you to test out various strategies, trading instruments, and of course, the platform itself. It can be easy to worry about something you've never done before, but by removing the mystique and sense of confusion around various jargon terms, as well as feeling that there is no risk involved, you can get properly involved and test out everything you'd ever be interested in trying out as a trading instrument.
One word of caution with this is that although you may be offered a six-figure sum in virtual terms, if you have no intention of investing this amount it is worth reducing the amount you start within the demo.
You may have dreams to get to that figure, but it will skew your approach if you suddenly go from such a large amount to just the XTB minimum deposit and could lead to you feeling unused to the strategies you had been employing.
However, if you start low, it is a fantastic way to get used to what can seem overwhelming trading platforms full of new information and use it to hone your intuition.
Take Advantage of The Personal Account Manager
Not everyone offers the same service when it comes to forex brokers or brokers in general. Some will go in at the cheaper end of the scale, looking to draw in as many new accounts as possible and hope enough new users eventually decide to deposit higher amounts, increasing profits.
Some, like XTB, are happy to forego that idea and aim squarely higher and their minimum deposit strategy definitely leads towards that feeling. However, there are definite perks that come with this, such as having your own personal account manager.
It's not a bad idea to see these like a personal trainer, there to encourage you with those last few push-ups, to lift those last few weights, and to run that extra mile.
The account manager is not just here to help, but to guide you with advice, insider experience and the knowledge that the better they are able to help you they will see the benefits as well.
Given that not every broker offers this kind of service, knowing that you've got the same person on the phone each time and not one of one hundred in a call center means that you can build up a relationship with them and they can learn how you like to approach your investments in order to talk you through the process.
XTB Review: The Personal Approach
With a much higher minimum deposit than many of the brokers you might see on your research, it is immediately clear that XTB isn't after this the lowest end of the market.
With a clear focus on delivering user satisfaction, especially given how much they talk about their online reviews, XTB looks to entice users with a level of customer interaction that isn't matched elsewhere.
With 24-hour call availability Sunday to Friday, a personal account manager there to guide you through your investments and strategies customers will find help whenever they need it.
XTB offers a trading academy to allow you to discover the tips and tricks of the trade, find out more about the fundamentals and learn new aspects of investing that you may not have otherwise seen, this is a comprehensively-designed process for the right kind of person. Take a look at XTB and see how it can improve your investing experience.
People who read this also viewed: