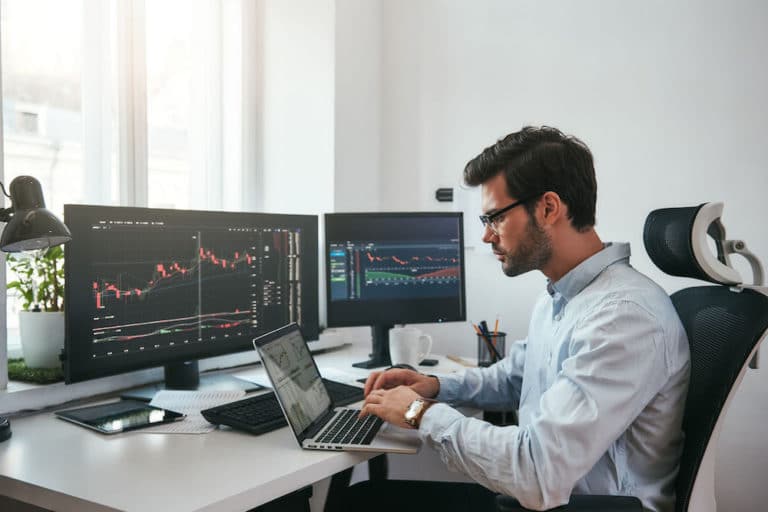 How To Open An XTB Demo Account
1. Head Over to The XTB Demo Account page
Simply click the link found HERE to head directly to the XTB demo account registration page and sign up for risk-free, virtual trading.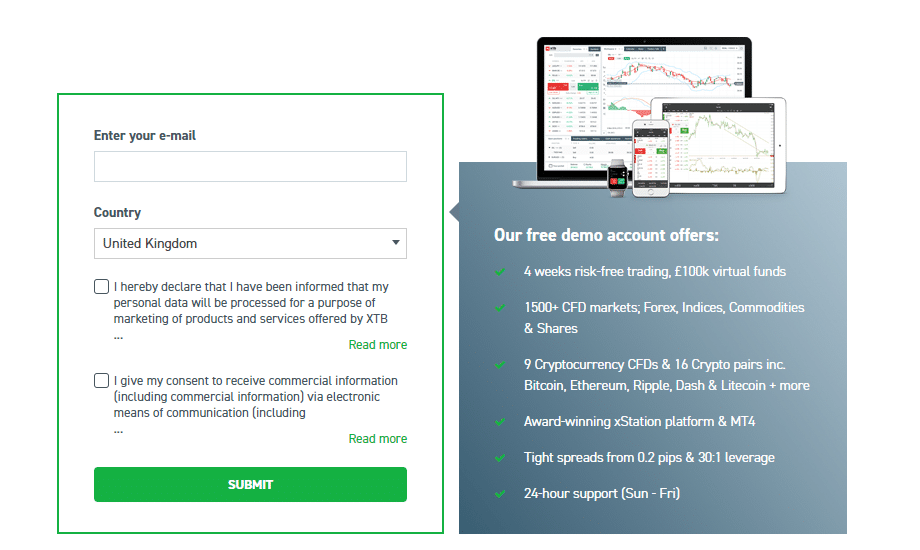 If you want to find out more about the broker first, then there is also a link to the demo account on the XTB home page.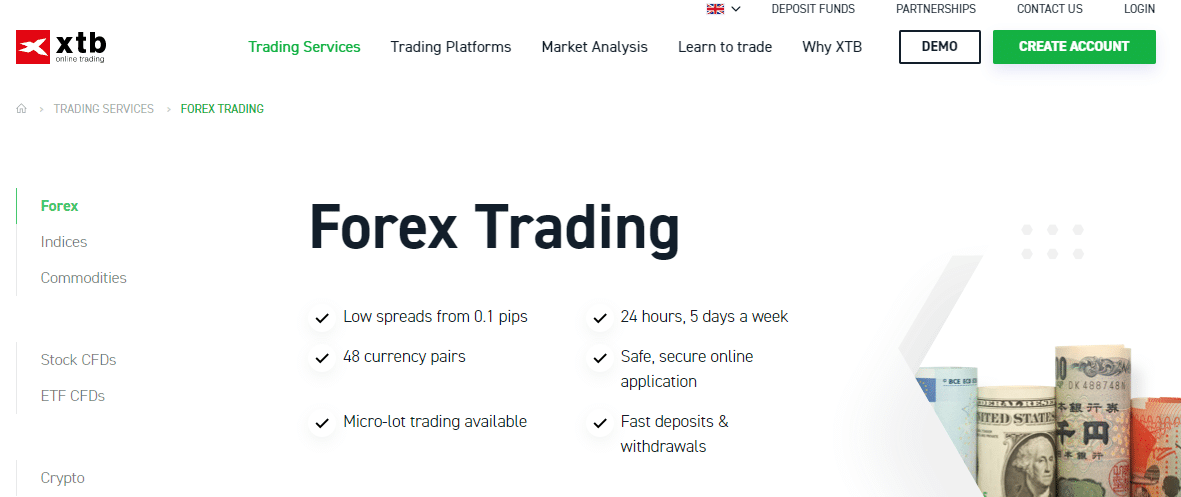 From the home pages of the site, the demo account is accessed by hitting the white 'demo' button, which appears in the top right-hand corner.
2. Fill Out Your Personal Details On The Demo Account Registration Page
You're required to input an email address and declare your country of residence. The last question is so that the broker can confirm which regulatory body you will be protected by. For example, if you select 'United Kingdom' you will come under the umbrella of the Financial Conduct Authority (FCA).
The tick-boxes are also part of the regulatory onboarding. Authorised brokers can only provide demo accounts to clients who agree to terms relating to such aspects as personal data sharing.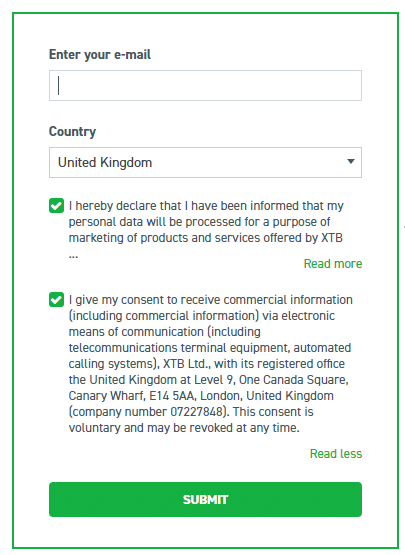 XTB, like other regulated brokers, is obliged to obtain a certain degree of 'know your client' data from all of their clients. This is so the broker can track your activity and demonstrate to the regulators that it is treating its clients appropriately.
After clicking on 'submit', you'll be taken to a page where the broker asks for some personal details.
Completing these required fields is an indication that you are likely to be registering with an authorised broker.
Following this stage, you can then begin to build your account profile.
How To Choose A Platform Type When You Have Limited Experience Of Trading?
If you're new to trading, being asked to select between platforms might appear to be a bit forward. The truth is that at this stage of the process it becomes a bit 'suck it and see'. Indeed, demo account trading is about giving you hands-on experience of trading the markets.
You can always adjust your preferences at a later date. At this stage, it's simply a way to get things moving.
Both of the platforms on offer at XTB are first class. If it helps, the below summary of the two platforms on offer might help you with your initial choice.
xStation — XTB's proprietary platform
Award-winning — Packed with trader-friendly features
Ultra-fast trade execution — Helps you get better prices on your trades
Powerful software — The analytical tools you need all in one place
Trader's Talk and Trader's Calculator — Useful tools right where you want them
'Open API' help — If you want to develop and run some automated trading programs
Future proof — Tools for more advanced trading will support you on your trading 'journey'
MetaTrader — The most popular trading platform in the world
Convenient — Available in desktop and web format
Advanced charts – Tried and tested industry-leading technical tools
Expert advisors – Benefit from using the trading ideas of others
Which account type is best for you?
Completing the selection process relating to account type can actually help you develop an understanding of your personal trading aims.
Standard — A great choice for those who are new to trading
Floating spreads — Keeps trading costs down
Market execution — Benefit from behind the scenes technology
Forex, commodities​, indices — Trade the major global markets
Professional — A more advanced product suited to those who have traded before
Institutional spreads — Market-leading pricing terms
Market execution — Benefit from behind the scenes technology
Market depth — Look into the real-time workings of the market
Forex, commodities​, indices — Trade the major global markets
After hitting submit to register your details, you'll be taken to the below screen.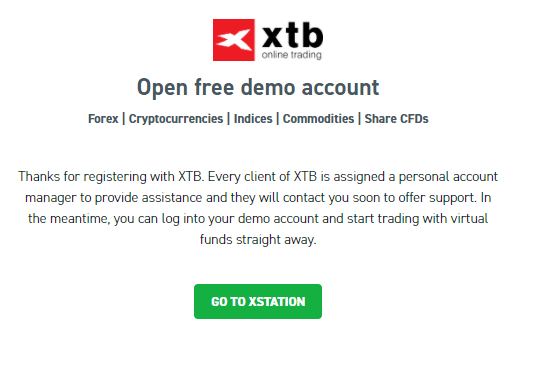 We opted to trial the xStation platform as it is unique to XTB. Once logged on, the welcome page looked like the one below — a hint of quite how exciting the xStation demo account is.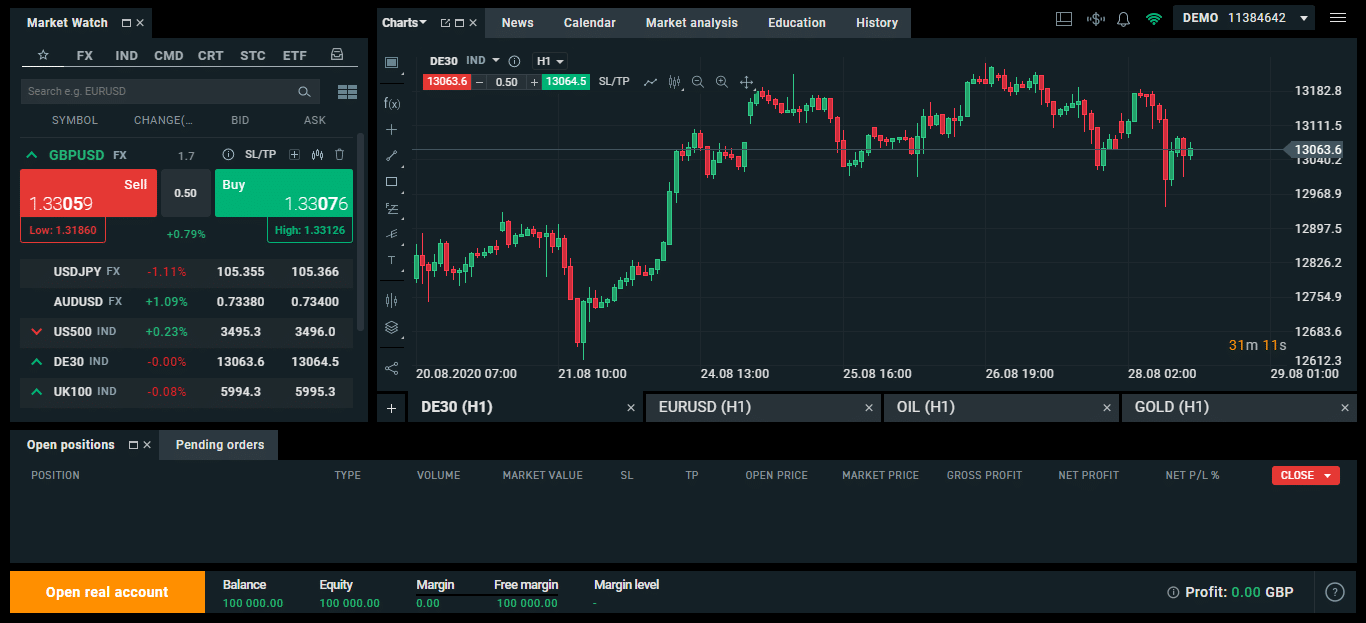 Getting Started
The demo account is available in desktop or mobile app format. Each has an attractive aesthetic and intuitive feel. Markets can be dragged and dropped from the Market Watch monitor, and powerful charting tools are close to hand.

Default trading settings are set at one-click trading. Experimenting with a few markets, it's possible to quickly build a virtual portfolio.
Whichever monitor you are using can be maximised and minimised at a click of a button. This is a really useful feature, which helps you gain familiarity with all the workings of the platform.

There are also a host of training courses, which are made freely available. They come in written and video format, and many of them are pitched at beginners.
XTB Demo Account Review
The xStation interface is one of the best in the market. It has the feel of being designed by traders, for traders.
Trying it on demo mode is well worthwhile, even if just to see what using the leading technology feels like.
Behind the scenes, there is even more going on and more reasons to try an XTB Demo account, including:
Superior execution speeds
Highly reliable trading infrastructure
Trader's calculator, performance statistics, sentiment
Charts trading
Market order depth monitor

The great thing about the Demo account at XTB is that you can enjoy a trading experience very much in line with live trading. This extends to the Market Analysis, Calendar, News and Education tools. All of these are really useful trading tools and available on the demo account.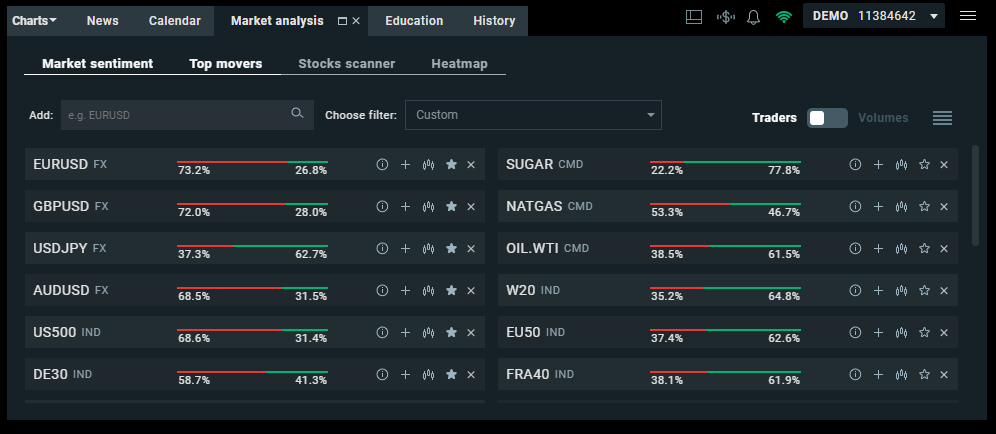 You can follow real-time market developments. Adapt your trading strategies accordingly, learn how to place orders to buy and sell. Positions, and the profits or losses associated with them, can be tracked using real prices — in the same way as if you were using a real trading account.
Advantages Of A Demo Account
Fast-tracked learning — The fairly ubiquitous training materials found online can be really useful. A demo account not only helps you skip some of those lessons, but offers a hands-on experience, which helps them really count.
Testing — Follow the lead of institutional investors and use virtual accounts to test out new strategies.
New tricks — Demo accounts can be particularly useful when branching out into unfamiliar territory. Whether it is a particular currency pair, or an entire asset group such as cryptocurrencies, demo accounts are a great first step into trading.
Information is power — A demo account gives you the opportunity to really get to know how your broker works. There are plenty of alternatives and demo accounts are free, so if it's not a good fit, you can easily move on.
Operational risk — 'Fat finger' errors plague all traders, even seasoned pros. It's just that the top guys have learnt they need to know their systems and check their trades. A demo account offers an insight into how to do this and a chance to practice.
The Bottom Line
XTB is one of the largest stock-exchange-listed CFD brokers in the world. A lot of its popularity is down to the xStation platform, which can be tried and tested for free.
Registering for the account is easy to do. Another plus point is that the XTB demo account does not have a set time-limit on it. But if your account is dormant for 30 days, it will close down and require reactivation.
One of the great aspects of demo account trading is that it's risk-free. Do bear in mind though that the switch to trading real funds can play tricks on your 'trading psychology'.
One top tip is that when that time comes, start trading in small size. With the absence of a minimum account balance, that is certainly possible to do at XTB. Even then, do keep in mind that virtual trading is a big step away from live trading.
People Who Read This Also Viewed: