City index is an experienced financial online trading firm that was established in 1983. It is one of the pioneers of CFD trading and has amassed a wealth of experience in dealing with indices, shares, forex pairs, crypto, commodities, options and bonds. It has invested in state of the art technology that makes it present to traders with an unmatched trading environment that includes; tight spreads, lightning quick execution, nil re-quotes among others. This can be evidenced from the over 200,000 funded accounts, a USD1.2 billion customer funds, and USD 3.1 trillion annual trading volume. Still doubtful?
Highlights
Pioneering broker - CFD Trading industry
Over 200,000 active traders at City Index
Over 12,000 instruments
Indices, commodities, shares and more
1.
of 9 Spread Betting Broker
City Index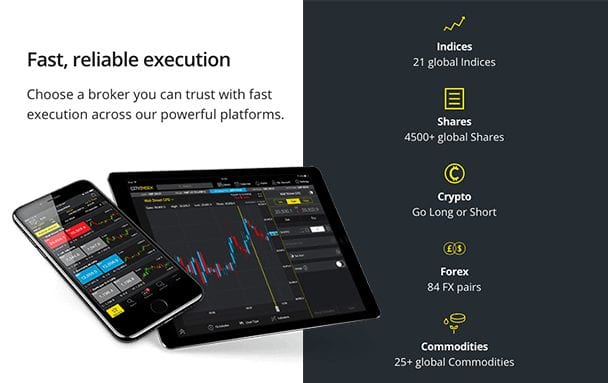 Go to Broker
Risk warning: Capital can be lost. Terms and conditions apply.
Headquarters and regulation
UK (FCA)
Fees and Spread
Spread only
Mini contracts tradable
No
Trading platform
MT4, Broker-owned Software
Demo account
Yes, available for 12 weeks
Services & additional benefits
Live
Hotline
E-mail
Economic Calendar
E-Book
Videos
Courses/Seminars
1. Trading Offer
1) Spread Betting Trading Offer: Over 12,000 Trading Instruments Available
City index is among the few online brokers who have trading instruments that exceed the 10,000 mark. This showcase that city index is a broker that professional traders can opt to for. Probably would give traders a feel of Wall Street. The instruments are distributed across six cadres, indices, shares, cryptocurrencies, forex, and commodities.
There are 21 indices, the indices are picked from different countries and continents. Examples include; UK100, US SP 500, and China A50. Shares form the lion share of the trading instruments. There are over 4500 shares both from top companies like Amazon, Apple and penny stocks. The shares are picked are from US shares, European shares, UK shares, FTSE 100 shares among others. Traders experienced in cryptocurrencies have an option to trade with City index and pick from five cryptocurrencies available, these are; bitcoin, ethereum, bitcoin cash, Litecoin, and ripple. There are 84 forex pairs that are categorized as; majors, USD pairs, GBP pairs, EUR pairs, forwards and others. There are 26 commodities with most common commodities such as oil, coffee, hogs and others inclusive on the list. There are UK, European, and US bonds available, though limited since they are only 12, but form part of the trading list of City Index. There are three interest rate derives; Short Sterling 3 month, Euribor and Eurodollar.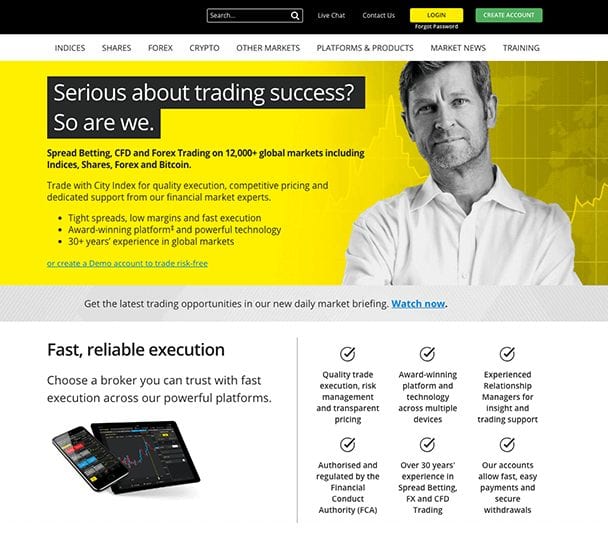 Over 12,000 trading instruments
Cryptocurrencies included
Trading instruments represents different regions
Go to Broker
Risk warning: Capital can be lost. Terms and conditions apply.
2. Costs
2) Spread Betting Trading Costs: City Index Has Low Commissions, Variable And Fixed Spreads
City Index is a market type of a broker. Though market brokers are uncommon amongst traders, this brokers has distinguished itself from other market marker brokers by offering competitive spreads. For instance for the first quarter in 2017, the EUR/USD had an average spread of 0.69 pips. Indices have a minimum spread of 1 point, UK shares have a commission of 10% per trade while US shares have a minimum spread of 4 cents. Cryptocurrencies have the highest spreads with bitcoin having a spread of $70 while ripple has a spread of 1 cent. Commodities have tight spreads with sugar futures having a spread of 0.06 points. Overall the spreads are fair enough considering commission is only charged for entering trades that belong to the class of shares, all other trades spreads is the only charge. It is important to note that City index adopts both a variable and fixed spread approach.
Other fees apart from trading fees are, inactivity fee. A £12 fee is charged to account balance every month when an account has become inactive for a consecutive period of 12 months. There are no charges related to exchange data fees and spread betting doesn't attract UK stamp duty and capital gains tax.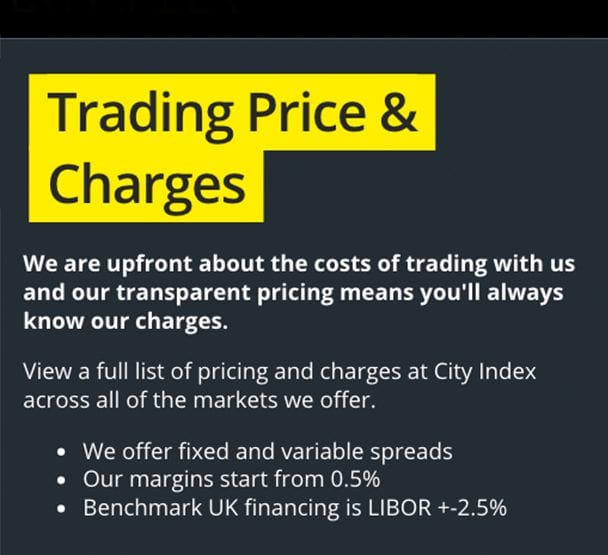 Tight spreads
£12 inactivity fee
No commissions except from equities
Go to Broker
Risk warning: Capital can be lost. Terms and conditions apply.
3. Account
3.) Accounts: Flexible Account Types
City Index has three account types available to traders. The standard account, demo account and VIP account. The demo account is a good account for practice especially for newbies, experienced traders can also use it for back testing and strategy testing. The demo account is valid for 12 weeks and comes with a preloaded balance virtual money. The demo account is much similar to live account and has all the features of the live account. There are two types of virtual accounts, the MT4 virtual account and City index demo account which comes with a balance of £ 2,500 and £10,000 respectively.
Other accounts are VIP and the standard account. City index does offer the limited risk accounts (mini account and micro accounts). The standard account requires a minimum deposit of $100. VIP account is a discretionary account that is opened by the City index VIP team. There is no minimum account limit that is defined. The VIP account has good perks to account holders such as dedicated sales trader, flexible margin rates, interest paid on cash balance and access to VIP events. Traders can opt for the three in one account; CFDs, spread betting and options account. Companies requiring to open a corporate account with City Index are required to have a minimum deposit of £50,000 and go through a special application process.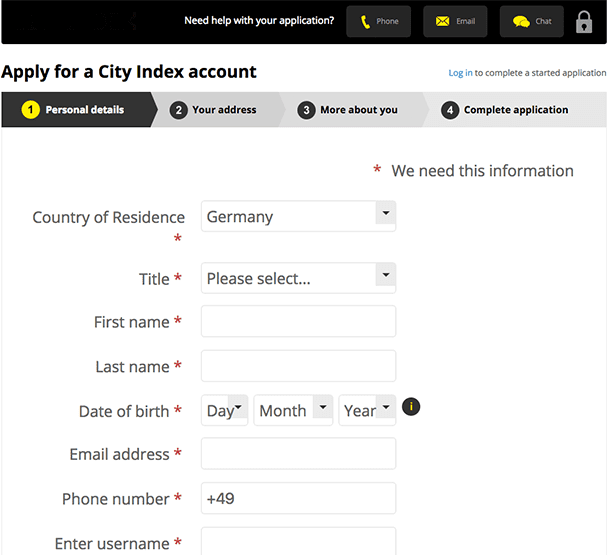 VIP accounts
Corporate account for companies
Free demo account
Go to Broker
Risk warning: Capital can be lost. Terms and conditions apply.
4. Platform
4.) Spread Betting Trading Platforms :Award Winning Trading Platforms
City index offers traders with three trading platforms to choose from; MetaTrader 4 (MT4), Advantage Web and AT Pro. MT4 is a popular and common trading platform amongst traders. The MT4 offered by City index features innovative features such as a custom indicators. Traders can develop their own expert advisors that can run on City index VPS even when a computer is shut down. The MT4 offered is available on PC, Mac, IOs and android devices.
At Pro is another powerful trading platform that is available to City index customers. The platform has the following features; 100+ technical indicators, multiple chart layouts and extensive drawing tools. On the At Pro platform, traders can customize charts, pan across timeframes, and deal through charts. Traders can develop their own trading templates on AT Pro's Development Studio using the following programming languages; .NET, C# and visual basic. At Pro offers almost similar charting functions though to MT4 such as back testing and customizable economic calendar.
Advantage Web is a browser based trading platform that has over 80+ technical indicators. There are 12 chart types that have unlimited customizable layouts. Advantage web features one click dealing, multiple watch lists that is inclusive of a heat map view and real time news feed from Reuters.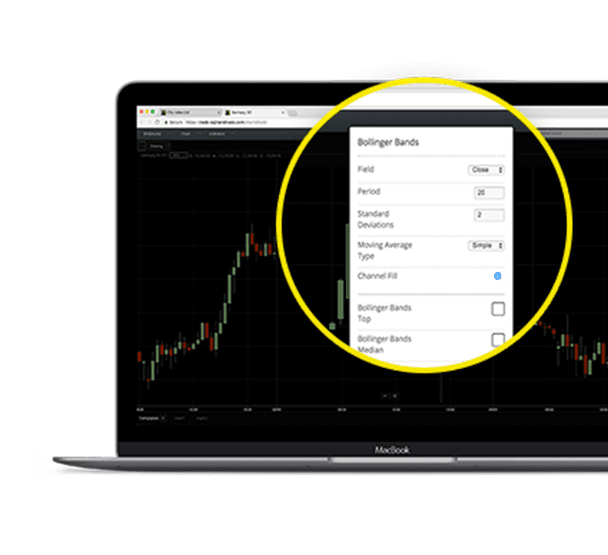 Three platform options
Hedging allowed
Platforms accessible on windows, IOs and android devices
Go to Broker
Risk warning: Capital can be lost. Terms and conditions apply.
5. Usability
5.) Usability Of The Website: Exquisite And Easy To Use Website
City Index has one of the most easy to use websites. The website is organized and a new visitor will easily find information that he/she might be looking for. The website has eight menus with 5 covering market types and the other three being training, market news, and platform & products. The menus show submenus when you hover the cursor on the menus. The submenus have loads of information pertaining a particular menu. There are no promotions running on the website or any pop ups, just a clean simple and easy to use interface. There is a search bar on the middle of the website and the live chats link. Perhaps this is one of the striking features about this website.
On the bottom section of the website there is the legal information cover information about the establishment of City Index. On the bottom section there is a menu also that has almost similar information to the upper menus with the difference being that there is FAQ section, about us, press release and others. There is no language switch icon. Other than this missing function, all other aspects of this aspects of City Index website are appealing, there is a good mixture of colors and fonts used throughout the website. Credit goes to the developers and City Index for settling upon a good corporate image.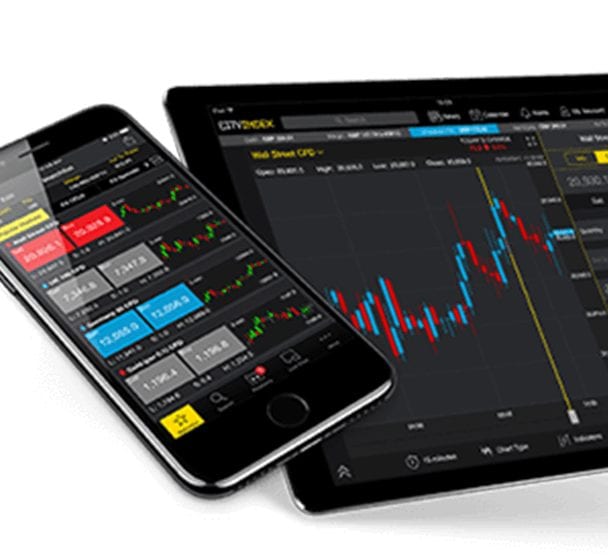 Nice user interface
Menu and submenus available
No pop ups
Go to Broker
Risk warning: Capital can be lost. Terms and conditions apply.
6. Support
6.) Customer Support: Friendly Customer Support
There are three main ways of accessing the customer support representative of City index; live chat, mail ([email protected]), and phone support (0845 355 0801 / +44 203 194 1801). Alternative methods though not instant are Twitter, Facebook, and Google plus. The customer service are responsive and fast at resolving issues. The phone number provided is not free and telecom provider charges applies whenever contacting them. There is a VIP support for the VIP account holders. VIP account holders are given a dedicated manager who is available 24/5 and the manager can resolve any issue faced. All customer support is provided on 24/5 basis.
There is a help and support page that has most of the common enquiries that traders have. For instance the help and support has pages that talk about, opening and account, glossary section, margin and leverage. On the bottom section of the website there is a frequently asked questions (FAQ) that has load of information that resolves traders concerns prior reaching out the customer support. There is also an inquiry form available. On the inquiry form you are required to fill basic trader information such as name, telephone and email address and there is blank field where you write your inquiry. The customer support will get back to you using the details provided and offer you answers.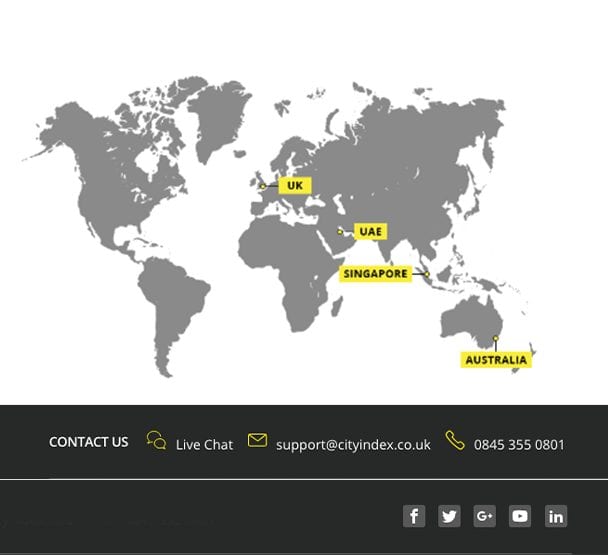 24/5 customer support
Professional customer service
VIP support
Go to Broker
Risk warning: Capital can be lost. Terms and conditions apply.
7. Payment
7.) Methods of Payment: Convenient Deposit and Withdrawal Options
City Index uses three deposit methods; bank transfer, credit and debit cards. Ewallets are not allowed. Accepted debit cards are; visa, maestro, MasterCard, and electron. Accepted credit cards are visa and MasterCard. Traders can only fund their account using a maximum of three debit/credit cards at any time. City index doesn't charge any amount when making a deposit or a withdrawal using debit cards. However, there are exceptions when using CHAPS payment where traders are charged £25 for withdrawal below £ 50,000. Credit cards attract a 1.5% charge. City index have an exception of Citibank card, Citibank cards cannot be used to fund spread betting account. The minimum deposit amount allowed is £100, the minimum withdrawal amount is £50 or all your account balance and the maximum withdrawal amount is £20,000. In case you might want to withdraw an amount in excess of the limit account you will be required to contact the City Index.
Debit and credit cards takes up to 24 hours for funds to reflect. Bank transfer takes 3-5 working days for funds to be available on both either end. City index doesn't allow funding of a trading account in other currencies except from the base currency.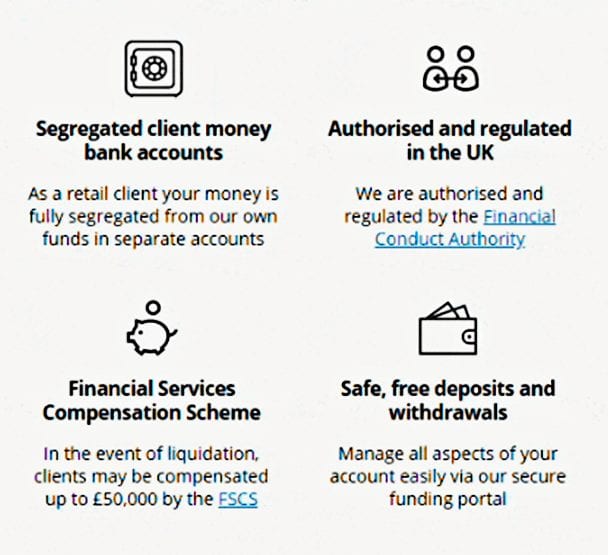 E-wallets are not allowed
£100 minimum deposit amount
Free deposit and withdrawal
Go to Broker
Risk warning: Capital can be lost. Terms and conditions apply.
8. Offers
8.) Additional Offers: Free Training, Live Webinars Among Other Offers
City Index offers a wide range of offers to its clients. There is an educational section on the website that has loads of information about CFDs trading and spread betting. The education segment is labelled as training on the city index website and has 11 segments. The training is an exhaustive coverage of the forex, CFD, crypto, and spread betting markets. It covers basic material such as introduction to financial markets to complex training subjects such as trading strategies. The training materials have videos embedded alongside the content.
City index provides traders with free trading signals and an economic calendar in all their three trading platforms. The economic calendar is customizable and you can filter news based on specific preferences. Other offers include a demo account for their three accounts, live webinars, and daily video brief among others. City index doesn't run any promotions or bonus programs. Trade signals are provided in real time via SMS or email. Traders can opt for a free 90 day period trade signals providing buyers with trade entry and exit from Faraday research experts. There are other partnership programs that City Index runs, for example white labels, affiliates, and Introducing brokers. In order to City Index referral links you can reach them using this address ([email protected]).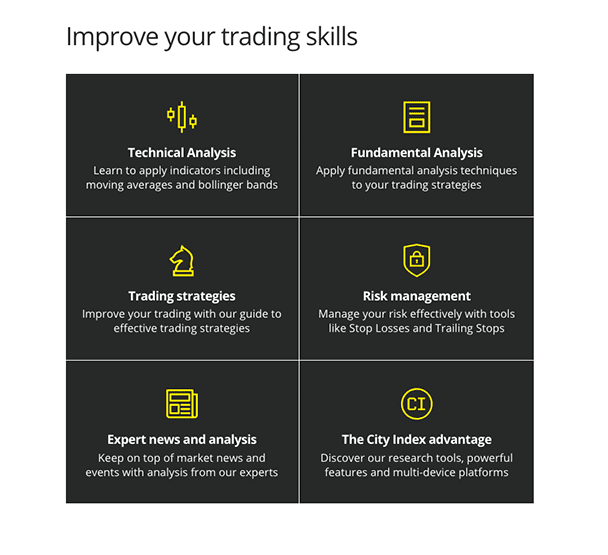 No promotions or bonuses
Free educational materials
Free live webinars
Go to Broker
Risk warning: Capital can be lost. Terms and conditions apply.
9. Regulation
9.) Regulation and Deposit Protection: Regulated Broker In Multiple Jurisdictions
City index is regulated in several jurisdictions depending on the entity. The UK entity is regulated by the financial conduct authority under license number 113942. Under the FCA, City index customers are given a customer protection for their funds up to £50,000 incase City Index becomes insolvent. There are stringent measure that FCA imposes on forex brokers such as segregation of funds, KYC procedures and regular audits. AS part of the KYC procedures, customers are required to produce proof of identity and proof of residence documents. This prevents to deal with underage customers and traders who have criminal cases.
There are other regulatory bodies that protect the interest of customers, for instance City index Dubai is regulated by UASE, in Singapore it is protected by Monetary Authority of Singapore and in Australia it is protected by ASIC. City index customers are protected from negative balance in times of excess market volatility.
City Index takes serious client information and has invested in state of the art IT infrastructure to protect personal and financial information. They use 128 bit SSL encryption, a technological data protection tools that is used in financial institutions like banks, therefore, you shouldn't be worried about leakage of your credit card information.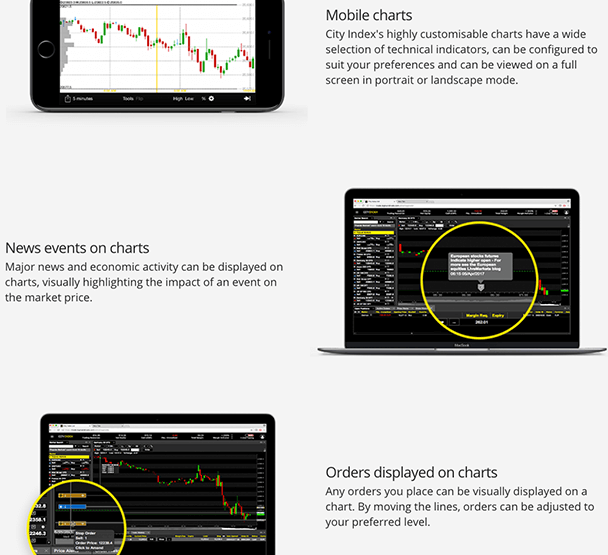 Regulated broker
Insurance of funds up to £50,000
State of the art technology to protect information
Go to Broker
Risk warning: Capital can be lost. Terms and conditions apply.
10. Awards
10.) Awards: Numerous Awards Year After Year
City Index constant pursue for innovation has seen it been rewarded with numerous awards from different players. For instance in 2014 it was awarded the best forex provider by UK forex. In 2015 it was honored with two awards; best forex platform and best education by UK forex awards and UK online personal wealth awards respectively. In 2016 it was awarded the best CFD provider by UK online personal wealth awards. In 2017 it was awarded the best MT4 broker by UK forex awards, it received the best international trading platform at middle East banker industry awards and two times best spread betting platform at shares awards and by ADVFN. In 2018 it has already grabbed a trophy for the best mobile app and best crypto trading platform by at personal wealth awards.
Well, City Index has demonstrated a constant approach of making their services better each and every time. It has invested in intensive research and they have a dedicated team for their research and development. This has since it bag more rewards and be recognized as a powerhouse of CFDs and spread betting. City index should probably try to get its business accommodate risk averse traders who form a big part of the traders population as a result they will get more trader recognition considering they already offer excellent service.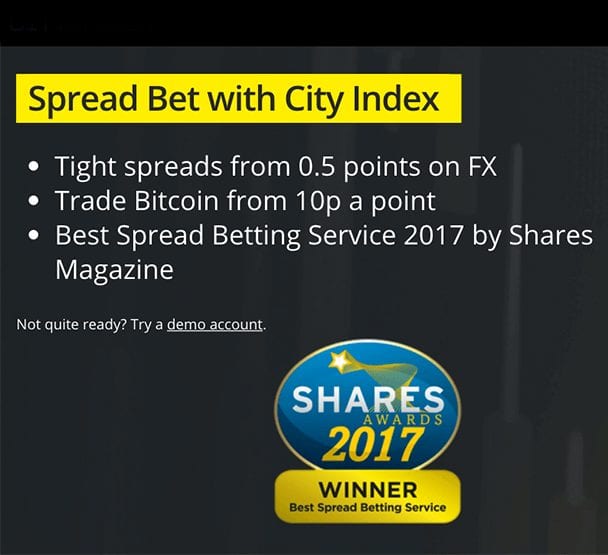 Year after year awards
Voted best platform provider over 5 times
Recognized in different jurisdictions
Go to Broker
Risk warning: Capital can be lost. Terms and conditions apply.
Conclusion: A Really Safe Bet And A Leading Company
City Index has demonstrated to be a broker who has the level of experience in handling online trading that is unparalleled. From low spreads, fast execution speeds, low deposit amount among others it has definitely proven to have the interest of traders at heart. City index deserves credit for the excellent customer support staff who are very professional in approach. By the virtue that City Index is regulated there reduces the doubt that traders often have back in their minds in case a broker goes under. With City Index, traders are insured. Lastly City index has superb trading platforms that form the giant share of the awards they have received, truth to be said, City index platforms are a cut above the rest.
While there might be much to adore about this online trading firm, there are a few areas of improvement such as the limitation of e-wallets for funding account. E-wallets are common amongst most online forex traders as a result there is a need for City Index to introduce them for convenience to traders.
Regulated
tight spreads
Low deposit requirement
ewallets not allowed
No bonus
Test result
Broker

Go to Broker
Risk warning: Capital can be lost. Terms and conditions apply.