An increasing trend among consumers and investors is to focus on a firm's CSR (Corporate Social Responsibility) policy, which covers the details of how a business manages the social, environmental and economic side of their operations. As CSR policies are given more weight, they can be the difference between a consumer making a purchase or not. Equally, it can be a potential pivot point for investors as well.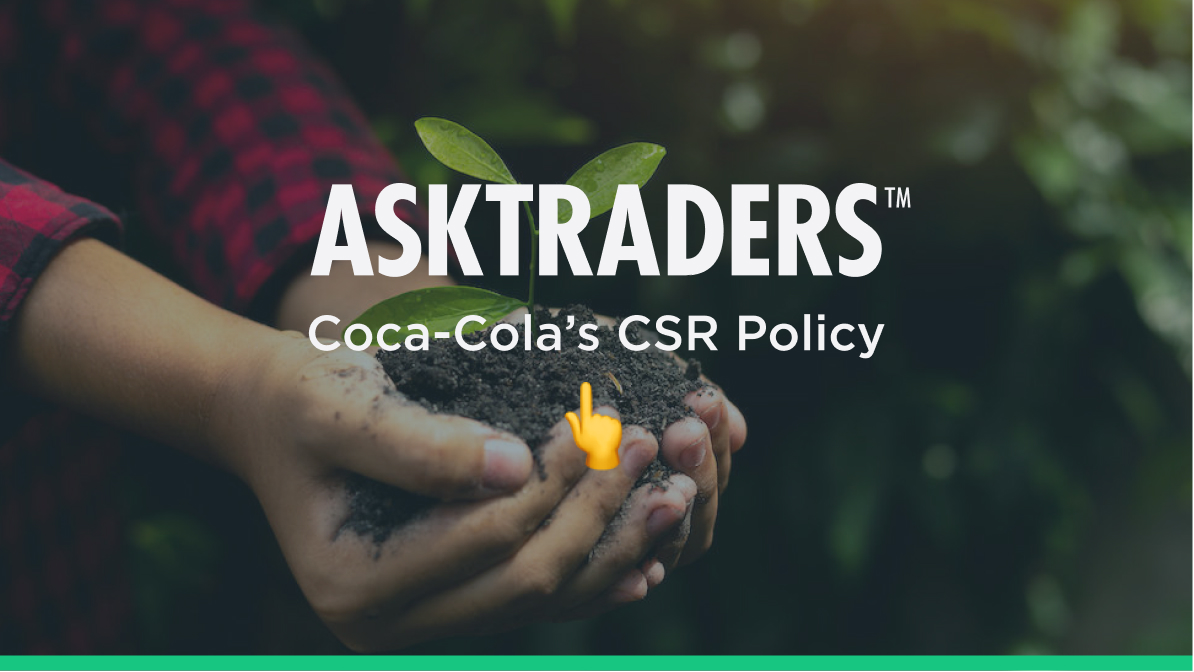 CSR policies are as unique as the business models of the firms they apply to. A manufacturer of consumer durables, such as Coca-Cola needs a CSR policy that addresses issues that will be different from those of internet operator Google.
If you're thinking of trading in Coca-Cola stocks, then you'll find a firm and CSR policy that is specific to a particular range of issues. A fizzy drinks maker that needs to procure water from communities all over the world, add sugar to it and package it in single-use plastic might not be the top pick for an ethical stock. But dig down into the detail, and even from a CSR perspective, there are very good reasons why now could be the time to buy Coca-Cola shares.
---
What is Corporate Social Responsibility?
CSR policies are statements detailing non-binding, voluntary self-regulation. Talk is cheap, and over time, the momentum behind the shift in consumer appetite led to a range of industry-standard metrics being introduced.
The effort to formalise the process was, and still is, spearheaded by the International Organisation for Standardisation. Their flagship benchmark, known as ISO 26000, does not set out hard and fast rules. Instead, it offers guidance on some key metrics. This upgrade in terms of consistency has had ramifications for firms across all sectors.
Firms can and do set CSR policy aims that are above and beyond what ISO 26000 requires. This can be to mitigate the risk of something going wrong and impacting a community or employees. Alternatively, it might be done to build consumer trust and enhance the brand among stakeholders. Either approach can be seriously beneficial for a firm's reputation and its bottom line.
This report will consider the CSR policy of Coca-Cola and offer a peer group and broader market comparison. If you are wondering, 'is now the time to buy Coca-Cola shares', but want to double-check the firm's ethical rating before pulling the trigger, then this report is for you.
What is Coke's CSR Policy?
Coke breaks its CSR policy down into two sections. One is entitled 'Better Shared Future' and covers diversity, community interaction, employees and the work of the Coca-Cola Foundation. The other is called 'Sustainable Business' and addresses water use, packaging, product materials and sustainable agriculture.
This high-level split is unusual as most firms address all those sub-topics under one umbrella heading. It also reflects how Coke has to grasp the nettle of its core products, which at face value at least rank poorly in terms of ethical business models.
Sustainable Business
Water Stewardship– Most firms have a specific section relating to water usage. Multinationals that operate in some of the poorer areas of the world have to be careful of not appearing to be deplete local communities of such a valuable resource – drinks makers especially so.
The core policy is called the '2030 Water Security Strategy', which aims to provide long-term benefits in terms of water availability, governance and quality via investing in schemes that reuse more water and operate outreach programs into communities.
Sustainable Packaging– Investment in this area has been substantial. The World Without Waste program, which started in 2018, has seen the firm implement a range of innovative upgrades. The focus is on design, collection, and partnering. Currently, 90% of packaging used is recyclable, and that is due to reach 100% by 2025. By working with community stakeholders, the firm is implementing schemes designed to make recycling easier to do.
Product Materials – Coca-Cola's product range covers still and carbonated water, dairy, fruit juices and teas and coffees. Around 18–20 of the brands now offer a low or no-sugar option. There has also been a distinct shift away from 'Super-Sizing' and towards smaller container sizes.
Better Shared Future
The Better Shared Future elements of the Coca-Cola CSR are in line with modern corporate protocols.
Communities– The firm has beaten its own target relating to the 5by20 program. That scheme targeted the economic empowerment of 5 million women by 2020 and actually improved the lives of 6 million women.
Diversity, Equality and Inclusion – Coca-Cola adopts a four-pronged approach to ensure its business development, workforce and community projects make a difference. Its aim is to create an inclusive environment by leveraging off input from employee groups and leadership councils. It then measures its progress using carefully thought-out metrics.
The Coca-Cola Foundation – A punchy 1% of the previous year's total operating income is channelled into community schemes. That figure is actually only a minimum requirement, and in 2022, the firm invested 1.4%. CSR policies can sometimes contain grey areas and hard-to-measure variables, but this easy-to-understand and significant contribution helps the Coca-Cola CSR initiative stand out from the crowd.
Environmental Policies
Coca-Cola has a lot of ground to make up in terms of environmental policies. Its production processes unavoidably involve cash-crops and limited resources being used to make discretionary consumer products. As the firm's own site states, only 2% of the world's water is potentially usable, the rest is seawater or ice.
Coca-Cola's CSR Approach to Water
Scarred by events relating to a processing plant in Kerala, India, which hoovered up local drinking supplies in the 2000s, Coca-Cola has set out to give back as much water as it uses. While the firm's Water Neutrality program is a lofty aim, the metrics used to measure that program are not as well established as those used to measure carbon offsets. This makes the issue of water a potential reputational risk for the firm.
It's not difficult to find comments online that suggest the Water Neutrality scheme is still a work in progress. To date, Coca-Cola has done enough to steer clear of consumer boycotts such as the one threatened in 2007, but there is still more to be done.
One aspect that could work against the firm is the extent that which water scarcity is increasingly becoming a key consideration for consumers and investors. The World Health Organisation estimates that half of the world's population will be living in water-stressed areas by 2025. This all points to potential hazards for a firm that calculates it takes 35 litres of water to make 0.5 litres of the finished product.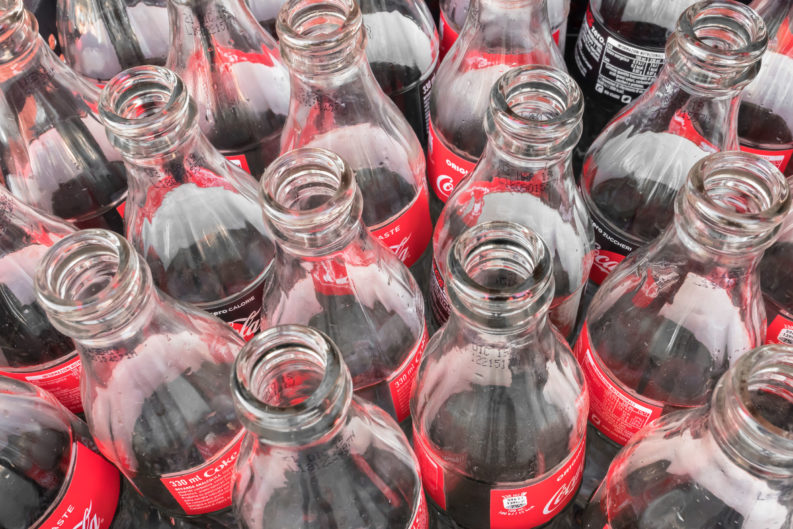 Source: 123rf.com
Coca-Cola's CSR Approach to Carbon
Any manufacturer is going to have some kind of carbon footprint. Research agency Statista has confirmed the footprint to be stable/declining, which offers hope to Coke's aim of reducing total greenhouse gas emissions by 25% by 2030. The company's ambition is to achieve net-zero carbon emissions by 2050.
Coca-Cola's total carbon footprint is small in comparison to some other corporate giants. Despite starting from a low base, the firm is still setting relatively aggressive reduction targets. It has also signed up to the Task Force on Climate-Related Financial Disclosures. This organisation helps identify key climate risks and potential opportunities. By doing so, Coca-Cola hopes to position itself as a transparent operation willing to disclose risks to their stakeholders, shareholders and customers.​
There is a feeling these carbon savings might bottom out at some point, as they do need some amount of energy to operate. It will be interesting to see to what extent the firm engages in direct offset programs to compensate for the carbon emissions that form part of its core manufacturing processes.
Coca-Cola's CSR Approach to Waste
Waste is another tricky one for Coca-Cola. The traditional business model for all manufacturers has been Take-Make-Waste. It also highlights a tricky paradox. The general population and investors have expressed a desire to cut back on single-use plastic, but the firm's research has identified that when it comes to buying Coke products, those same individuals are reluctant to give up on existing containers.
Social and Corporate Policies
Coca-Cola, alongside its bottling partners, employs 700,000+ people worldwide, which means the total impact of its progress in terms of employee policies has the potential to be far-reaching. As a result, its diversity, equity and inclusion programs are being applied across the world. The firm empowers staff through its use of Employee Town Hall schemes and Business Resource Groups, which are employee-led projects with a focus on creating an inclusive workplace culture.
Stakeholders are also positioned to benefit from the firm's approach. In 2021, $800m of corporate spending was targeted at diverse suppliers in the US.
How Does Coca-Cola Compare to Other Companies?
Compare Coke's supply chains and target markets with those of Google, and you quickly realise the internet search company has far easier hurdles to jump through. Google's product is virtual in nature and as long as enough carbon offsets are implemented and staff are looked after, then it pretty much ticks all its boxes.
For Coke, it's different. It's starting from a weak position and resolving the issues relating to the product range is incredibly important and challenging. Faced with this almost existential threat, the firm has invested heavily in doing what it can.
Water scarcity is much more of an issue for Coca-Cola than some other big US blue-chip firms. In 2018, Amazon's business operations emitted the equivalent of 51.17m metric tons of carbon dioxide, while Coca-Cola's operations during the same year posted a comparatively low 5.2 million metric tonnes. Carbon is just easier to offset than water, and so while Coke has a smaller carbon footprint, the water factor looks set to hang over the firm.
The firm's waste initiatives haven't been completely panned. The pledge to recycle the equivalent of every bottle and can of its products is a good cornerstone to build on. Feedback from green groups has so far been positive on this point.
However, the new round of targets based on the 'circular economy' leaves something to be desired when compared to those of other Fortune 500 companies. Coca-Cola plans to source 50% of its packaging from renewable, recycled, or certified sources by 2030. McDonalds, at the same time, aims to be 100% compliant by 2025.
How to Invest in Ethical Companies
Choose a Broker
The CSR policies of big firms have become a key element of the investment decision-making process. As more and more attention has been given to them, they have ballooned in size. It can, as a result, be difficult or time-consuming to gain a clear understanding of what targets are and if they are being met. The good news is that once you've established you have enough confidence in a firm, the process of buying shares in them is relatively super-easy.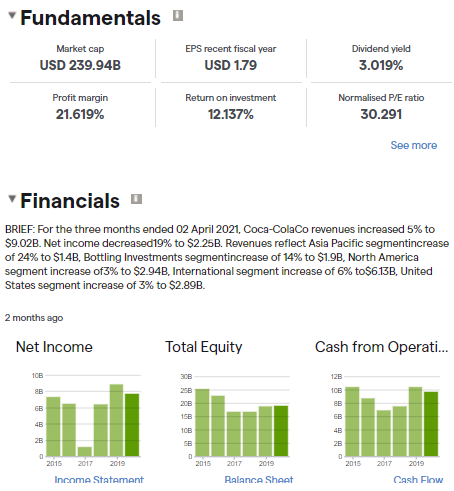 Source: IG
Coca-Cola Co. has a significant market capitalisation, and that means most brokers offer a market in the shares. The firm is listed on the New York Stock Exchange under the ticker KO. To buy shares in the firm, it's simply a case of finding a regulated broker. This analysis of trustworthy platforms offers a shortlist of suitable candidates.
Whichever broker you choose, the golden rule is to ensure your broker is regulated by one of the below Tier-1 authorities.
The Financial Conduct Authority (FCA)
The US Securities and Exchange Commission (SEC)
The Australian Securities and Investments Commission (ASIC)
Cyprus Securities and Exchange Commission (CySec)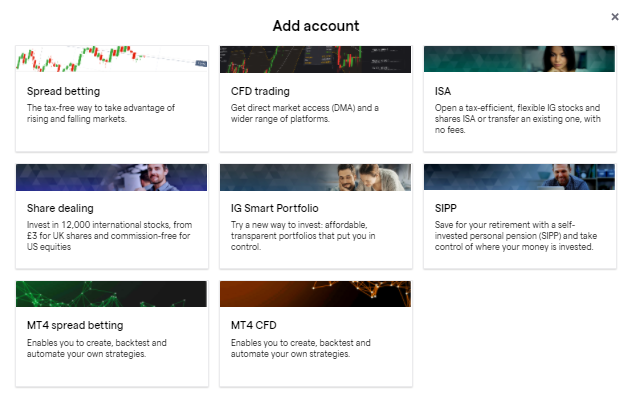 Open & Fund an Account
Setting up an account with an online broker is easy to do, but if you're looking to buy and hold Coca-Cola shares as a long-term investment, it's important to opt for a share-dealing rather than a CFD account. CFDs offer greater functionality and are favoured by short-term speculators, but if you're holding a position for any longer than a few weeks, owning shares outright will be more cost-effective.
Onboarding can be carried out online using a desktop or handheld device. The process takes minutes to complete and involves sharing enough personal information so that you, and only you, have access to the account. If you're using a regulated broker, it is also obliged to ask some questions on your trading experience and investment objectives. This is so the broker can build a client profile for you and ensure it complies with Know Your Client (KYC) rules and regulations.
The process of sending funds to your account is similar to other online transactions. Most brokers offer a variety of payment methods. Some are faster than others, and some incur fees. It's worth checking the T&Cs, as most brokers offer at least one method that is instant and free of charge.
If you're new to trading and want to familiarise yourself with the processes, then setting up a demo account is a good idea. These take moments to sign up for and often require providing little more than an email address. They allow you to trade the markets using a simulated broker account and virtual funds.
Demo accounts are a great way to get hands-on experience of trading and of trying out different brokers. They're also free of charge and even more experienced traders use them to test new strategies prior to putting live cash at stake.
Research Companies Using Technical & Fundamental Analysis
Whether you are already committed to investing in Coca-Cola or are looking to run a few last-minute comparisons, it's always worth considering optimising your trade entry point using Fundamental Analysis and Technical Analysis. The former involves studying the company's business model and core statistics such as income, profit margins and dividend yield. The latter is currently +3% for Coca-Cola.
Technical analysis uses historical price data to spot short-term pricing anomalies or buy and sell indicators. These use mathematical formulae such as moving averages and the Relative Strength Index (RSI) to put the current price into a historical perspective. In truth, most investors use a combination of both types of analysis. Fundamental factors may determine if a stock is a buy, sell, or hold, while technical analysis can help predict if now is the right time to trade.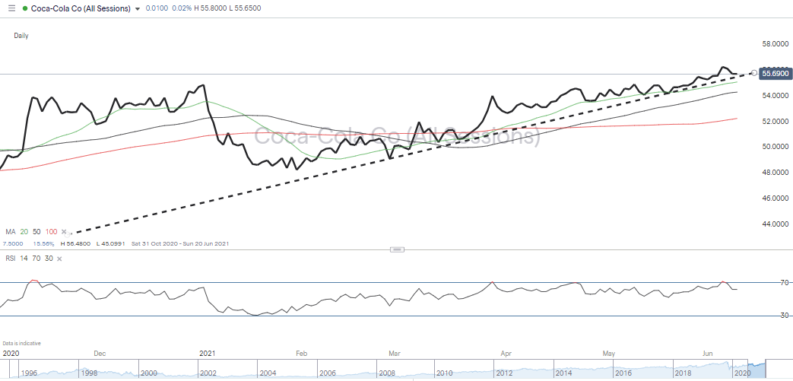 Open an Order Ticket and Set Your Position Size
Once you've signed up and sent funds to your account, you are in position to buy Coca-Cola shares. Finding the market on the trading platform can be done using the 'search' function and then clicking on the Coca-Cola name or icon. That will take you to the trading interface, where there will be a chance to check last-minute news and recent price history.
If you want to buy Coke shares, it's as simple as entering the amount you want to trade and clicking or tapping 'buy'. There are, though, some last-minute checks you might want to run.
Set your Stops and Limits
If you want to incorporate some risk management tools into your strategy, then you might want to consider Stop Losses and Take Profit orders. These are automated instructions to sell some or all of your position if the price moves a certain amount. Stop-losses kick you out of losing positions and Take-profits lock in gains.
There are other approaches to risk management to consider, such as trading in small size and portfolio diversification. Having a clear idea of your trading aims weighs the odds in your favour and can help you become a more successful trader.
Select and Buy Coca-Cola Shares
The final part of the process is clicking to 'buy' Coke shares. That will convert some of your cash pile into a stock position. If you access the portfolio section of the platform, you'll be able to check its value as it fluctuates in line with market price moves. This is also where you can run a sanity check on the position and ensure you didn't fat-finger the buy order.
When the time comes to sell, then accessing the position and clicking 'sell' will reverse the process and convert the equity back to cash. Your P&L (profit and loss) will be realised and you'll be able to buy more or different stocks or send funds back to your savings account.
Is Coca-Cola an Ethical Investment?
Coca-Cola has, for many years, been moving away from being just a fizzy drinks maker. Its range of products has adapted to match changing consumer tastes, and its business practises have also been upgraded to reflect consumer and investor appetites.
The company's core product range is not on any black-lists in the way that gun-makers, tobacco firms and alcohol brands are. However, the reach of the CSR policy demonstrates the firm feels it needs to move towards a more ecological and community-based operating model.
Coca-Cola is certainly moving in the right direction and compares well with its immediate peer group. However, it will need to keep up the good work to address some challenging and unavoidable issues specific to its operations.