Although Microsoft and some more forward-looking firms have been running corporate social responsibility (CSR) policies for many years, few would have predicted the incredible and growing influence they can have over the fate of a firm's share price.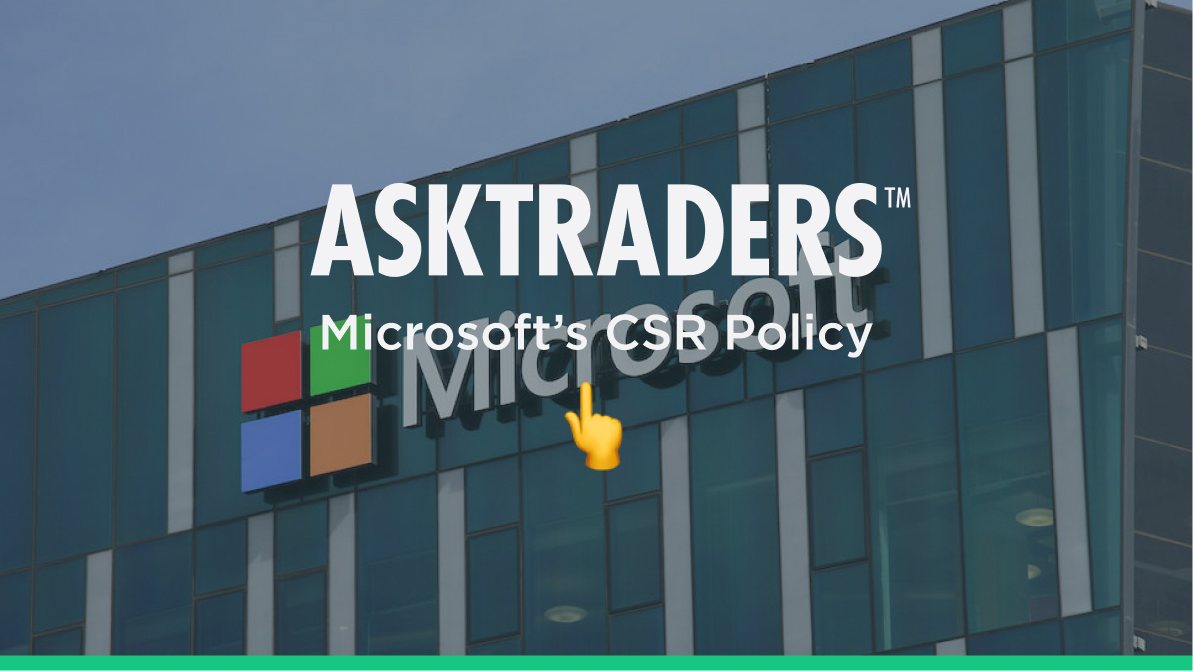 Consumers, stakeholders, and investors are now all intertwined in a complex set of relationships based on how a firm 'behaves'. A CSR policy outlines how a business aims to manage the social, environmental, and economic aspects of its operations.
The policies have grown in size and break down a range of different issues, ranging from carbon footprints to community outreach programmes. Each firm adopts its own approach and often shares hundreds of pages of materials disclosing its ambitions.
Measuring a firm's CSR policy is complicated. First off, there is the question of how to measure the aims. Then, there is the question of whether the aims are appropriate. As difficult as it is to assess a firm's CSR policy, it has to be done because it can make a very real difference to consumer and investor sentiment, and this means that it influences the share price.
Help is on hand for investors looking to give a firm a once-over to check how its CSR credentials stack up. Our team of analysts has reviewed the Microsoft CSR policy and provided a summary of the good and the not-so-good. For those who want to proceed and invest in one of the world's largest tech stocks, there are some easy-to-follow guides outlining the practical dos and don'ts of how to set up with a safe broker.
What is corporate social responsibility?
CSR policies themselves have morphed over time. They started out as broad-brush gestures, and while most of the regulation is still non-binding and voluntary, the process of self-regulation is increasingly rigorous. A range of industry-standard metrics have been introduced, the most widely used being those of the International Organisation for Standardisation (ISO). Its flagship benchmark known as ISO 26000 does not set out hard and fast rules or enforce them. Instead, it offers guidance on good practice and standardises the way that aspects of CSR policy are measured. This upgrade, in terms of consistency, goes across all sectors and countries.
Firms can and do set CSR policy aims that are below or above the expectations of ISO 26000. There is a competitive advantage to be gained by pitching your business correctly, so measuring progress is one way to carry out research on whether a firm will or won't, meet its aims. This call comes down to the bottom line, making the CSR policy something that needs to be considered before pulling the trigger on an investment idea.
This report will consider the CSR policy of tech behemoth Microsoft and compare it to its peer group and the broader market. The old adage 'the geek shall inherit the Earth' was much used in profiles of Microsoft founder Bill Gates. The reality these days is that the share price will do well if they also look after the Earth.
What is Microsoft's CSR policy?
In 2019, Microsoft was rated the world's most environmentally friendly company by Just Capital, although it now sits at number 3. However, this is no flash in the pan. Microsoft was named the company with the best reputation for CSR for two years in a row: 2012 and 2013. There's not much to choose between the firms at the top of the CSR rankings, and newcomers such as Google have challenged Microsoft's historical dominance, but the core of the Microsoft offering is still strong.
The details of the CSR policy outline a clear and long-term commitment to all of the key touchpoints, but there are some added extras. Carbon footprints, employee development, and community projects are all there. They're well financed, well thought out, and regularly measured and graded. In addition, there are some policies that are more far-reaching than the standard policies of even the biggest corporate giants. These include projects relating to human rights, education and democratic governance. These do raise questions about how far companies ought to become involved with political processes, but whatever your take on the situation, it's worth noting that Microsoft is the firm most willing to push those boundaries.
Environmental policies
Environmental policies are something of a sweet spot for Microsoft – not because it doesn't have significant footprints (in fact, it does), but because the eco issues raised by its business model are easy to ameliorate. The firm's shift from being a manufacturer of PCs to a data centre cloud host is also helping the firm.
Microsoft's CSR approach to carbon
Making hardware and operating servers uses a lot of energy. By spotting the trend towards responsible operating early, Microsoft was able to go carbon neutral as early as 2012. It now aims to be carbon-negative by 2030. An extra kicker is that the firm is aiming to remove all of its historical emissions by 2050.
Microsoft balances the use-replenishment equation by being one of the largest buyers of carbon offsets in the world. It has also launched a $1bn climate innovation fund. It has only, in the last few years, managed to turn the tide on its supply chain carbon emissions. These peaked near 14m metric tonnes per year in 2018, but by January 2021, the firm was reporting in the previous year that emissions had been reduced by 6% or 0.73m metric tonnes. It was reported that 2022 emissions also slowed.
The ability of Microsoft to reduce its carbon footprint, rather than just increase the amounts of offsets, has earned it considerable praise in the CSR community. The move into cloud computing operations is one example of how it's tackling the fundamental way that it does business instead of just planting more trees.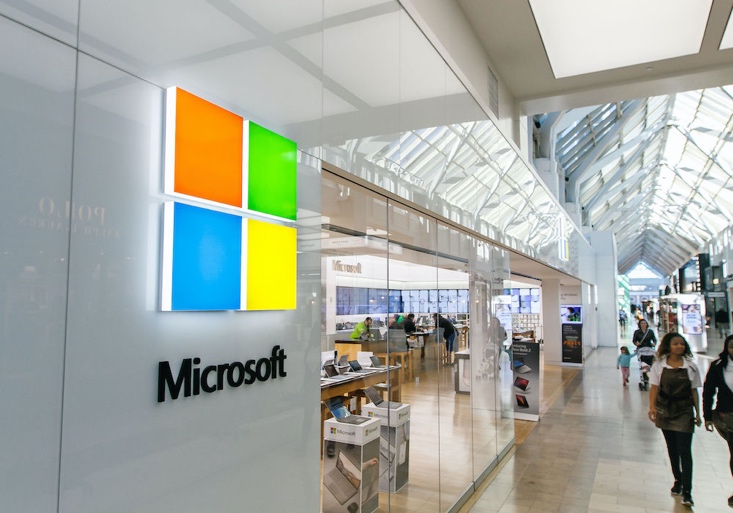 Microsoft's CSR approach to water
The United Nations calculates that currently, two billion people lack access to safe drinking water. The situation is only getting worse, and the World Health Organisation estimates that by 2025, half of the world's population will be living in water-stressed areas. It's an increasingly contentious issue and one that Microsoft has had for some time, tackled head-on. All businesses use water in some way, but Microsoft is helped by the fact that the tech sector is, in general, not as thirsty as some others.
Microsoft's aims are simple and look achievable, and they're also quite impressive. By 2030, the firm aims to be water positive. This means that it will replenish more water than it uses. It also aims to make this an effective rather than a headline-grabbing strategy – it's not just a case of nurturing supplies where water security isn't an issue. The firm states that it will achieve its aim by putting back more water in stressed basins than its global water consumption across all basins. The amount returned will be determined on a case-by-case basis and will be dependent on how much water it uses and how stressed the basin is.
As mentioned previously, Microsoft has a habit of going the extra mile in terms of CSR. Having ticked the box in terms of water use and targeting the replenishment of stressed areas, the firm has expanded into other areas. One, for example, is its involvement in the World Economic Forum's Centre for the Fourth Industrial Revolution Network for ocean innovation and technology in Norway (C4IR Ocean). This programme is dedicated to the use of data, governance and technology frameworks to protect the world's oceans. Microsoft signed up to the scheme as a technology partner and donor with the aim of increasing the sustainability of ocean-based industries. It's a classic case of using new technology to solve an old problem. This scheme will give app developers, data scientists and marine spatial planners access to data coming from historical and real-time data sources. With this information to hand, they will be able to develop solutions to improve ocean health.
Microsoft's CSR approach to waste
'Take-Make-Waste' has long been the motto of manufacturers. Some kind of a footprint in this area is inevitable, and while Microsoft has shifted direction from selling retail hardware devices towards data centres, it also has a range of innovative policies that target waste. With so many other aspects of CSR fine-tuned, the waste initiatives stand out as being some of the most ground-breaking in the CSR policy:
Climate Innovation Fund– This big-ticket item represents a $1bn investment in developing new practices, and a large part of the investment is going on waste management. The Closed Loop Partners scheme will set out to help accelerate the infrastructure, innovation, and business models for supply chain digitisation. It will focus on e-waste collection, food waste reduction and recycling industry products.
Microsoft Circular Centres– These will be used to help the firm meet its commitment to achieving zero waste by 2030 for its direct waste footprint. Measures to be introduced include manufacturing 100% recyclable surface devices. Servers will be repurposed and reused, and single-use plastics will be eliminated from all packaging from 2025.
Social policies
The firm has one of the most pioneering social interaction policies out of all of the Fortune 500 companies. The following examples give an idea of the scope of the programme:
Human rights – Since 2016, the firm has had a formal commitment to respect human rights as a signatory of the United Nations Global Compact. It uses actions and public statements to demonstrate that Microsoft is an important voice, and advocates for the promotion of human rights.
Employee contributions – Microsoft employees have donated $225m, inclusive of company match-funding, to non-profit organisations worldwide and volunteered more than 720,000 hours in the 2022 fiscal year.
4Afrika – This initiative ensures a set of programmes to empower African youth, developers, entrepreneurs and business and civic leaders.
YouthSpark – Empowering a staggering 300 million young people around the world, this programme delivers opportunities relating to education, employment and entrepreneurship.
Defending Democracy – This involves working with governments, NGOs, academics and industry in democratic countries around the world to protect campaigns from hacking and manipulative political advertising, and to explore technological solutions to preserve and protect electoral processes and keep them transparent.
Digital Crimes Unit (DCU) – The firm's project to crack down on malicious malware is obviously good for the reputation of the business, but it also provides a social good. Since 2010, the DCU has collaborated with law enforcement agencies to rescue 500 million devices from cybercriminals.
It's also worth noting that the charitable activities of the Bill & Melinda Gates Foundation, founded by Microsoft founder Bill Gates, is also good for the Microsoft brand. The entity is the second largest charitable foundation in the world and holds assets in the region of $67bn, making it larger in size than household names such as Barclays, Tesco, Vodafone, Carnival, Halliburton and Travelers.
Corporate policies
The established policies of Microsoft relating to employee relations and development are some of the best in the sector. There has recently been something of a curveball in terms of reputational damage, but this situation, while alarming, falls outside of the standard policies.
92% of surveyed staff stated that they feel proud to work at Microsoft.
87% of employees would recommend Microsoft as a great place to work.
90% of employees are eligible for various bonuses.
Since 2016, the company has almost doubled its number of women corporate vice presidents – both in technical roles and overall.
In 2022, African American/Black and Hispanic/Latino representation among the workforce increased.
Microsoft was one of the first Fortune 500 companies in the world to offer domestic partner benefits for LGBT employees.
Microsoft spent $4.4bn with disabled, veteran, minority, and woman-owned businesses in FY20.
With such a formidable set-up in terms of employee rights, it was a surprise to many when founder Bill Gates found himself embroiled in allegations relating to him making unwanted advances on members of staff. The situation has some way to run and might not significantly impact the Microsoft share price due to Gates having given up his executive roles some years ago. There are still a lot of issues for the firm's public relations department to work through.
How does it compare to other companies?
For the best part of a decade, Microsoft has ranked in the top 10 companies in terms of CSR policy. It was an early adopter and pioneer of many innovative practices and continues to have an appetite for pushing boundaries.
The firm has been helped by a lot of its products being virtual in nature and, therefore, relatively easy to manage. This hasn't stopped the firm from continuing to make progress in other areas – most notably waste management and reducing its actual carbon footprint rather than just off-setting it.
Some of the other big tech firms have similarly deep pockets, and Apple and Google now challenge Microsoft for the title of the tech firm with the best CSR policy. Compared to other Fortune 500 companies, these three stand out as pioneers of modern CSR standards.
How to invest in ethical companies
1. Choose a broker
CSR policies are now so extensive that it can take a long time to conduct a thorough analysis of them. The good news is that setting up a brokerage account and buying into an ethical firm is, in comparison, super-easy to do. There are, however, some simple guidelines to follow that will steer you toward using a trusted and safe broker.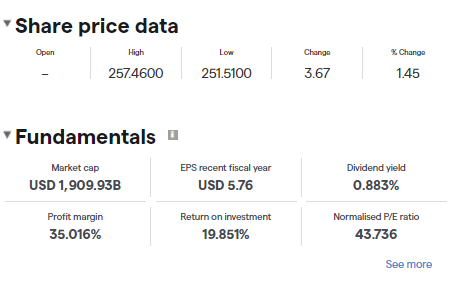 Microsoft is one of the largest firms in the world and has a market capitalisation of $1.9tn. This means that most brokers that offer equity markets offer a market in Microsoft. The firm is listed on the Nasdaq Stock Exchange under the ticker MSFT. To buy MSFT shares it's simply a case of finding a regulated brokerage firm, and this analysis of legitimate brokers offers a shortlist of suitable candidates.
Whichever broker you choose, the most important thing is to ensure that your broker is regulated by one of the below Tier 1 authorities:
Financial Conduct Authority (FCA)
US Securities and Exchange Commission (SEC)
Australian Securities and Investments Commission (ASIC)
Cyprus Securities and Exchange Commission (CySEC)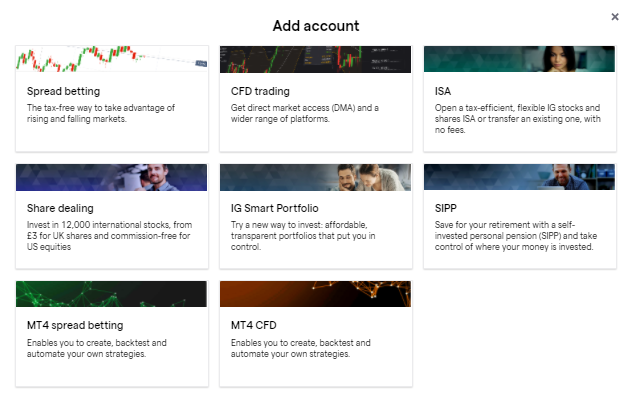 2. Open & fund an account
Online brokerage accounts can be set up in minutes and the application process is done online. It's even possible to do it from a handheld device such as a phone or a tablet. You'll be asked to provide some personal information so that you, and only you, have access to the account. Regulated brokers also ask questions relating to your trading experience and investment objectives. This is so that they can comply with Know Your Client (KYC) rules and regulations and build a profile for you.
When it comes to funding your account, most brokers offer a variety of payment methods. Some methods, such as debit and credit card, are faster than others and some incur fees. It's worth spending a few seconds checking the details to avoid unnecessary costs or delays.
If you're interested in trading but not ready to commit to wiring funds, then trying out a Demo account could be a good idea. These take moments to set up and give you access to the same live platform as if you had fully onboarded – it's just that you trade with virtual funds. They're a great way to get hands-on experience of trading and to try out different brokers. As they're free of charge, they're also popular with more experienced traders who use them to test new strategies.
3. Research companies using technical and fundamental analysis
Two of the ways to pinpoint why and when to buy Microsoft shares are fundamental analysis and technical analysis. The former involves studying the company's core business credentials such as annual income, profit margins and dividend yield. Technical analysis amalgamates historical price data to spot short-term pricing anomalies or buy and sell indicators. The reality is that most investors use a combination of both types of analysis to fine-tune their trading decisions. Fundamental factors may determine if a stock is a buy or not. Technical analysis can help predict when to enter the market.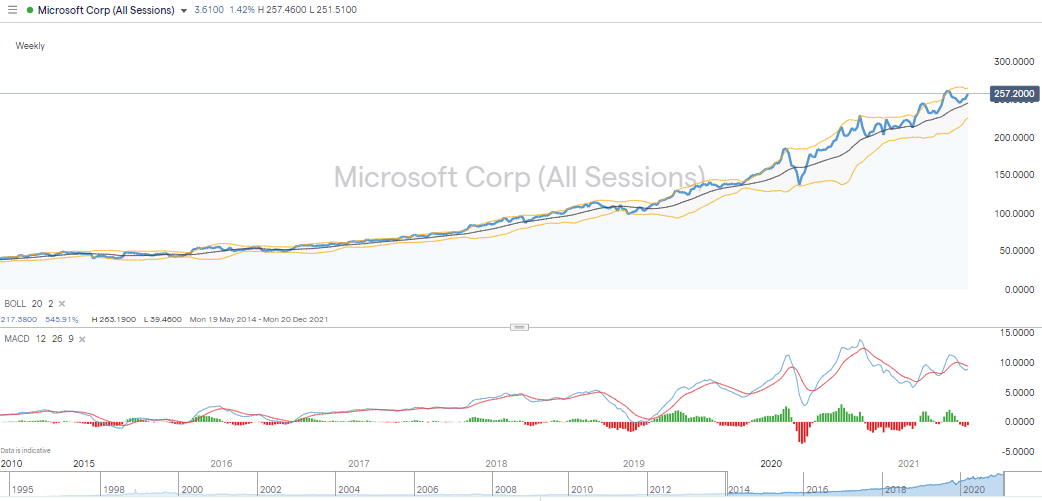 4. Open an order ticket and set your position size
Microsoft shares are so popular among the trading community that they typically appear on most platform home screens. Just click on the name or icon, and you'll be taken to the MSFT market, where you'll find the latest news and price charts.
If you want to buy Microsoft stock in the simplest way, it's just a case of entering the amount of shares and tapping or clicking buy, depending on what kind of device you are using. There are other tools you might want to use to help manage your risk.
5. Set your stops and limits
Stop-losses and take-profit orders are automated instructions to sell some or all of your positions if the MSFT price moves to a certain level. Stop-losses close out losing positions and take-profits crystallise gains. Other risk management features include trading in small size and diversifying your portfolio, and all are worth considering.
6. Select & buy ethical stocks
The final part of the process is clicking 'buy' Microsoft shares. At that point, you will exchange some of your cash pile for a position in MSFT stock. The value of your holding will be a function of market price, and if you access the portfolio section of the platform, you'll be able to check the value and your P&L (profit and loss) as they fluctuate in line with market conditions. This is also where you can run a double-check on the position to ensure that you didn't make a manual error.
Is Microsoft an ethical investment?
Microsoft pretty much sets the benchmark in terms of successful CSR policies. The firm has shown a desire to carry out a ground-breaking approach and has backed that up by dipping into its significant cash pile to make sure that it meets its targets. The high rating that the firm scores comes down to more than its willingness to throw money at the problem.
The business model of Microsoft is relatively self-contained. Compared to other sectors, Microsoft has relatively easily identifiable pinch points. Building on this natural advantage, the firm has extensively used technology to address issues, and a positive and far-reaching side effect of this is that a lot of those ideas can be transferred to other sectors and companies. The efforts of Microsoft have resulted in a global win-win.
If you're weighing up the pros and cons and wondering whether now is a good time to buy shares in Microsoft, then the firm's approach to CSR shouldn't get in the way of taking the next step and investing.