The threat posed by CO2 emissions is bringing about a massive overhaul of how the global economy operates. The multitude of changes offers a range of different investment opportunities as mobility, logistics, domestic and wholesale power generation are all revamped.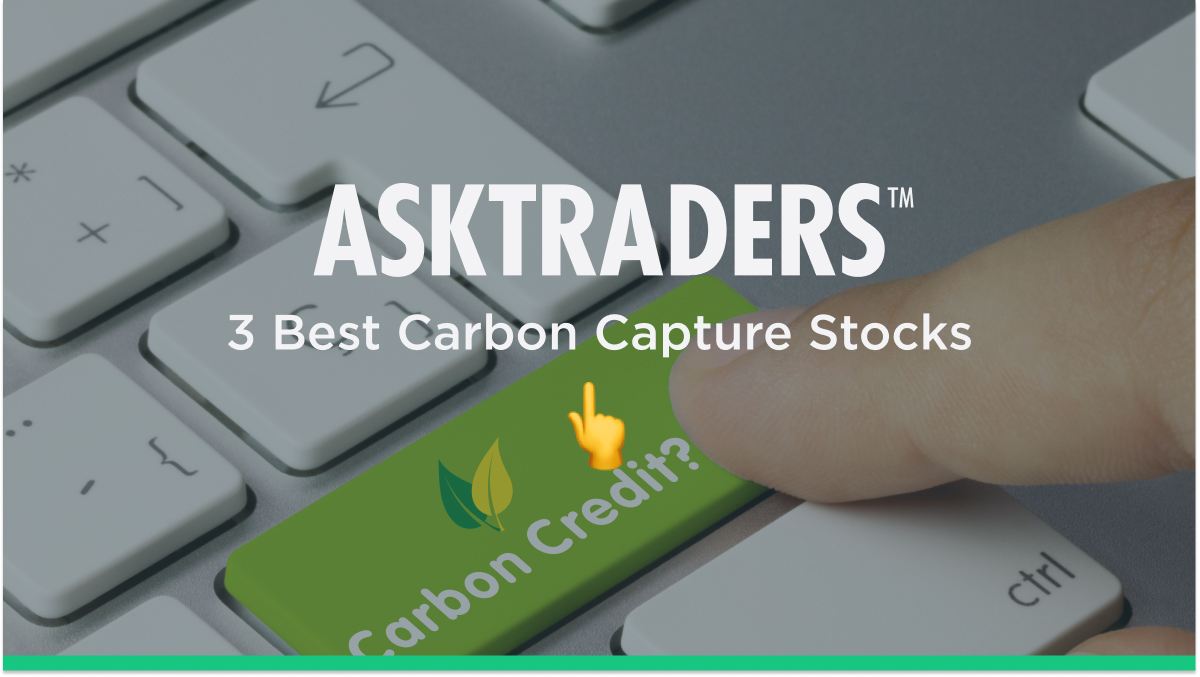 With an emphasis on preventing CO2 levels from increasing further, the group of carbon capture stocks, which encompasses businesses involved in preventing CO2 from entering the atmosphere, are due to prosper thanks to the shift in political and commercial thinking. Fortune Business Insights predicts that the global carbon capture industry will grow from $1.75bn in 2019 to $6.3bn by 2027.
One tip shared by successful traders is to trade with the trend. That means identifying and buying the best carbon capture stocks for 2022 could be a way of generating returns over the short, medium and long term.
Best Carbon Capture Stocks 2023
Any sector that relies on tech visionaries, new inventions and government grants will be skewed towards the higher risk-reward end of the investment spectrum. There is potential to make considerable gains, but there are risks that also need to be considered.
The role of governments
The carbon capture sector relies on financial support from governments as many of the processes being applied to capture carbon are not currently economically viable. How new laws and regulations passed by governments will influence the market will be a significant determinant of the prospects of particular firms.
High levels of price volatility
Carbon capture stocks and green energy stocks are intrinsically highly volatile. It's just too easy for different investors to take wildly different views on what fair value should be. The situation is exacerbated by short-term speculators and day traders being drawn to carbon capture stocks as they offer the chance to make a short-term return. That 'noise' can disrupt the plans of buy-and-hold style investors.
Low stock liquidity
Out-and-out carbon stocks are associated with markets that experience lower trading volumes and are associated with wider bid-offer spreads. In a worst-case scenario, there may just not be enough buyers for sellers to offload positions to, and then the rules of supply and demand will drive the price down.
Alternatives
Carbon capture operates on the basis that CO2 generation and levels will continue to be an issue. If there were a sudden and convincing swing towards nuclear power use, for example, then a lot of the CO2 that firms in the sector get paid to capture would not be generated.
Small companies
Small-cap companies can have opaque reporting procedures, and retail investors may be the last to know if bad news is coming through the pipeline. If they were too small to be within the scope of institutional investors, they would not have been subject to the rigorous due diligence investigations carried out by larger companies.
Tech heavy
New technology not only needs to work, but it also needs to be commercially viable. Firms investing in the next big thing also need to set barriers to entry at a high enough level so that their shareholders benefit from the years of experimentation and development.
Using fundamental analysis can help with which carbon capture stock has the best growth prospects, and technical analysis can help spot the optimal time to pull the trigger on a trade. The below list of the five best carbon capture stocks 2022 factors in both approaches to help get your trading in the sector off to the best possible start.
---
RELATED ARTICLES
---
Source: 123rf.com
1. Aker ASA (AKER)
Norwegian base Aker ASA operates a diverse range of business divisions aimed at reducing levels of CO2 in the environment. The Norwegian government is investing $28bn per year in renewable technology, and the group's other income streams provide a solid base for its 'moonshot' style research into carbon capture. Aker looks like one of the candidates best positioned to make the breakthrough into the next generation of carbon capture products needed to make the process more economically viable.
Between February 2020 and October 2021, the share price of Aker sky-rocketed by 391%, suggesting investing in the firm could offer significant returns on capital and the comfort which comes from investing in a firm looking to expand the use of renewable energy.
Source: 123rf.com
2. NRG Energy (NRG)
Houston based NRG Energy already has an established carbon capture system that uses or sequesters as much as 1.6m tons of CO2 each year. The company has restructured its balance sheet by issuing $1.1bn of new corporate bonds with a maturity date in 2032. That will enable it to clear down the fragmented tranches of short-term debt on its books and continue expanding into carbon capture technologies.
With interests in commercial, domestic and EV power sectors, the firm is in an excellent position to use its carbon capture technology to build its reputation in all areas of the economy.
Source: 123rf.com
3. Occidental Petroleum (OXY)
An interesting aspect of the carbon capture industry is how frequently established firms embrace the process with existing business models that are a long way from being described as carbon neutral.
US oil and gas firm Occidental is one of the biggest shale gas producers in North America. It's using the income stream from those operations to develop a carbon capture division which it hopes will capture and retire more CO2 than its operations produce.
The Oxy Low Carbon Ventures (OLCV) subsidiary set up to specialise in the field is leading the way in transformational and sustainable business models that use human-made CO2 emissions in new ways. Initiatives include net-zero oil and fuels, net-zero chemicals, and net-zero concrete.
The high levels of debt on the balance sheet could be a drag on investment in R&D, but if OXY does meet that challenge, then the technology it would have developed would be able to be rolled out commercially.
BEST BROKERS TO BUY ETHICAL STOCKS:
Carbon capture stocks tend to be associated with that element of a firm's business being part of a more extensive operation. Therefore, long-term investors need to consider which of the names is likely to become more of a pure play in the sector. That isn't an easy proposition as some of the key players are legacy energy firms such as Exxon Mobil, BP, or Shell, which are pumping out CO2 as part of their existing operations.
One more manageable risk is operational risk, the chance of the broker you use to trade carbon capture stocks not being a good fit or, even worse, being a scam operator. Investing in cutting edge technologies is hard enough, so AskTraders have created a list of trusted brokers who are all regulated by financial authorities. Establishing which one has the best functionality for your trading style is as easy as setting up a free Demo account and trying them out in a risk-free environment. It takes moments to open and fund an account. Once done, the platforms have a range of additional features to get your investment plans off to the best start possible.
The Benefits of Buying Carbon Capture Stocks
1. Helping the Environment
Businesses need capital to invest in new green technology. High share prices help them scale back on other forms of debt and invest in R&D. A decision to buy shares in carbon capture firms can directly influence the shape of the future economy.
2. Helping The Bottom Line
The shift in political consensus towards reducing carbon levels has been mirrored by a change in the approach by big investment companies. The wall of cash that could enter the market would support the share prices of carbon capture stocks and mean investing in them is good for the wallet and the heart.
Retail investors can also take some comfort from the fact that pension and hedge funds have specialist teams that carry out due diligence on firms before investing in them. Outsourcing that legwork to institutional investors means retail investors don't have to carry out the research themselves.
Start Trading Carbon Capture Stocks Now
The increased interest in the carbon capture sector in 2022 has resulted in more brokers offering a greater number of markets in the sector. It's now possible to invest in a range of firms with exposure to carbon capture. Brokers you might want to consider using to do so include eToro, DEGIRO, and IG. These three have a proven track record of providing traders with the tools they need to succeed, and they offer markets in carbon capture ETFs (Exchange Traded Funds).
ETFs are a convenient way of spreading risk by buying a basket of different stocks with the click of one button. Returns can also be smoothed out by this approach that mitigates single stock risk, making our guide to the best sustainable ETFs for 2022 a report worth checking out.
People who read this also viewed:
FAQs
How can I find the best carbon capture firm to invest in?
Carbon capture is a relatively young industry, and many firms expanding into the market already have established business models in another field. The above list of names is a great place to start as it has identified firms that have shown a commitment to investing in carbon capture and benefit from having other business lines to support their R&D.
How easy is it to buy carbon capture stocks?
Finding an out and out carbon capture stock is relatively tricky because the technology associated with the process is at a standard where the work done is not commercially viable. Investing in a firm with carbon capture as a side-line that is willing to back its prospects currently appears to be the best way to gain exposure to the industry.
Will carbon capture stocks appreciate in value?
Investing in any stock comes with a degree of risk, and the extent to which carbon capture systems are currently bankrolled by government subsidies casts a shadow over the sector. There is a sense that world leaders have gone all-in on reducing CO2 levels, and carbon capture will play a big part in achieving that aim.