Best Growth Stocks to Buy Right Now
What are growth stocks?
A growth stock is any share in a company that is anticipated to grow at a rate significantly above the market average. Investors in growth stocks aim to earn money through capital appreciation and typically have a medium- to long-term holding period. Growth stocks are very much about looking into the future prospects of a firm and spotting potential catalysts for an upward price move.
Not all growth stocks pay dividends, but if they do, it would be expected that any dividends paid are reinvested into buying more shares. Buying back into your target stock has historically paid off in terms of returns on investment. Taking a script dividend rather than a cash payment can also build in preferential tax treatment, as there is no stamp duty applied and nor are there dealing charges. You're going 'all-in' and the below list of the best growth stocks for a long-term investment is a great place to start.
1. Huya
Growth stocks come in all shapes and sizes, but some investors prefer to specialise in small firms such as Chinese game streamer Huya. It is a perfect example of a small firm with a lot of room to grow.
Huya has a dominant position in the China gaming market and is looking to scale that up through a planned merger with Douyu International (NASDAQ:DOYU). Building off a secure domestic base, the firm has the potential to scale up operations by claiming global market share.
Revenues are generated by taking a commission from its online users and selling on-site advertising space. The break of the Huya share price downward trend line suggests investors are beginning to factor in that both cash flow streams will expand as more and more users sign up.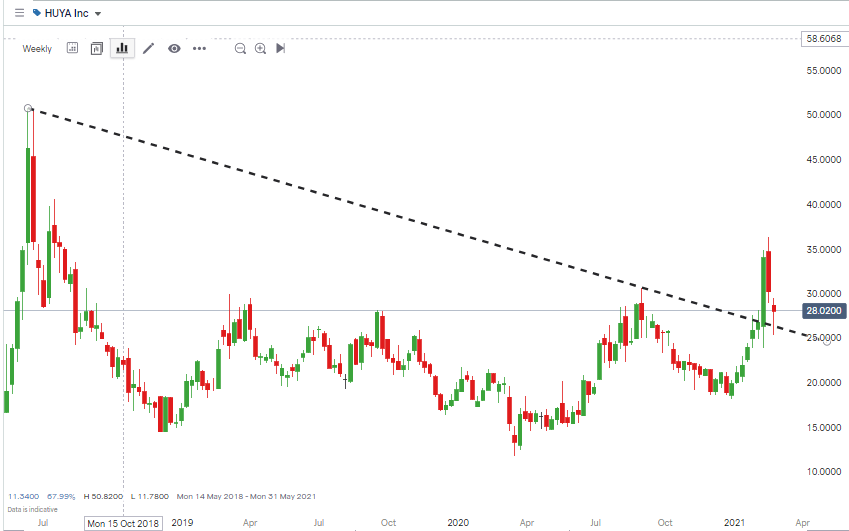 Source: IG
2. BAE
Government spending plans may currently be focusing on the green agenda and COVID recovery, but any uptick in geopolitical uncertainty would see increased spending in defence spending. UK-based defence company BAE would be one firm to benefit from this. Its established global client base and repeat business revenue streams are related to upgrades and servicing of legacy contracts.
Joe Biden's election to the position of president of the US signifies a more outward looking approach by the White House, which could snowball into military spending. Military spending is currently at a low base as Donald Trump was, after all, the first US president for 50 years to not send US troops into a new conflict.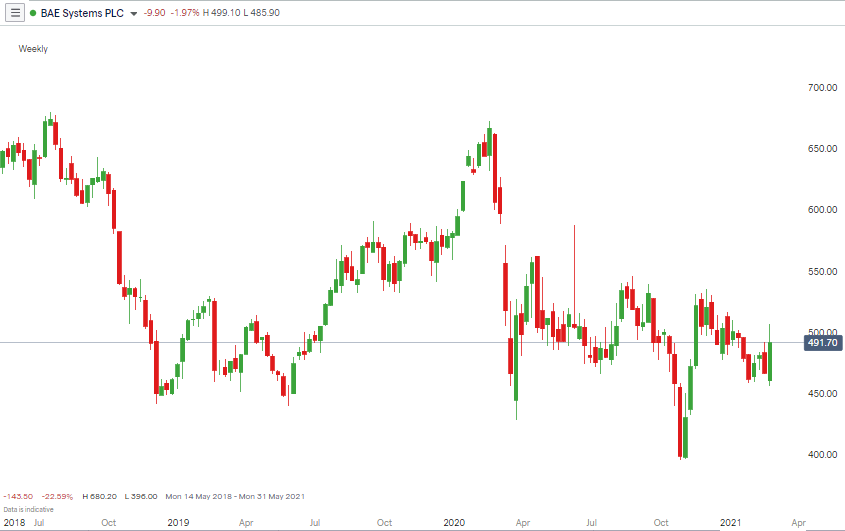 Source: IG
3. IAG
The share price of Airline group IAG has been hammered into the ground by the COVID pandemic. The firm operates under the trade names British Airways, Iberia, Aer Lingus, Iberia Express, LEVEL, and Vueling and the share price has the potential to sky-rocket. Investors will be looking for revenues to pick up on the back of vaccine hopes and a resumption of economic activity.
The share price high of 2020 was 669p.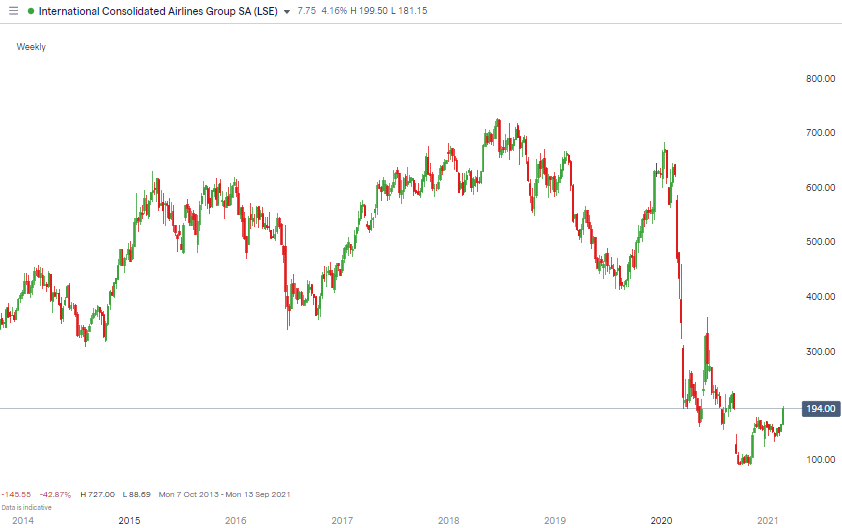 Source: IG
4. Pfizer
US pharma giant Pfizer demonstrated its technical prowess by being one of the first firms to roll out a COVID-19 vaccine. Even before its ground-breaking discovery, the share price had seen consistent growth on a multi-year basis.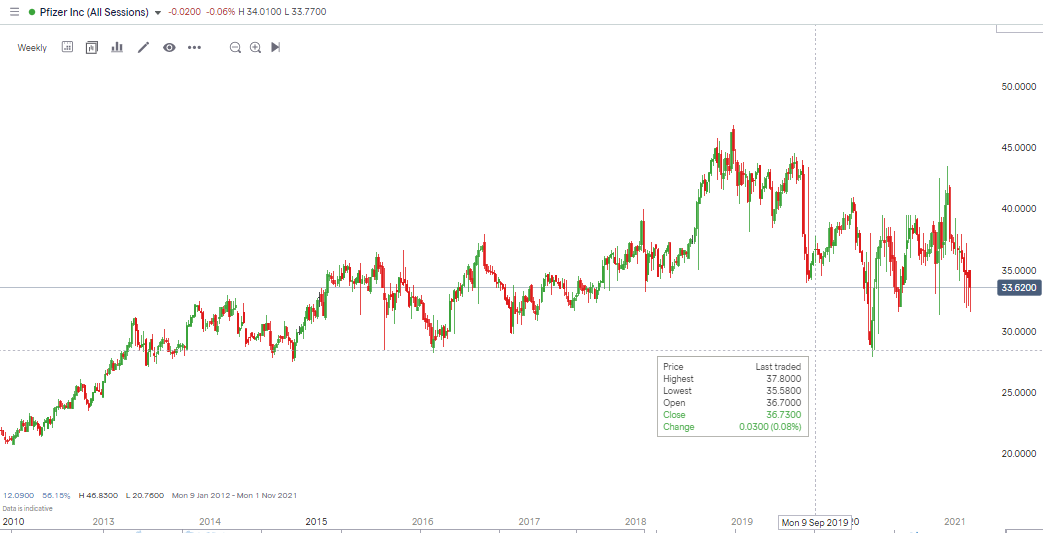 Source: IG
5. European Metals Holdings
Mining and exploration company European Metals Holdings looks set to benefit from the commodities super-cycle, which is becoming a big buzz word in the financial community.
Not only is it in a growth sector, but it's well-positioned to lead that pack because a lot of its assets are in geopolitically secure locations. Its lithium mines, for example, are in the Czech Republic, which means revenue streams should be protected against geopolitical risk and have potential to grow due to the close proximity of European car production plants.
The firm has a small market capitalisation, which makes is a risky call, but if you can handle a bumpy ride, then European Metals Holdings looks like one of the best long-term stocks to buy right now.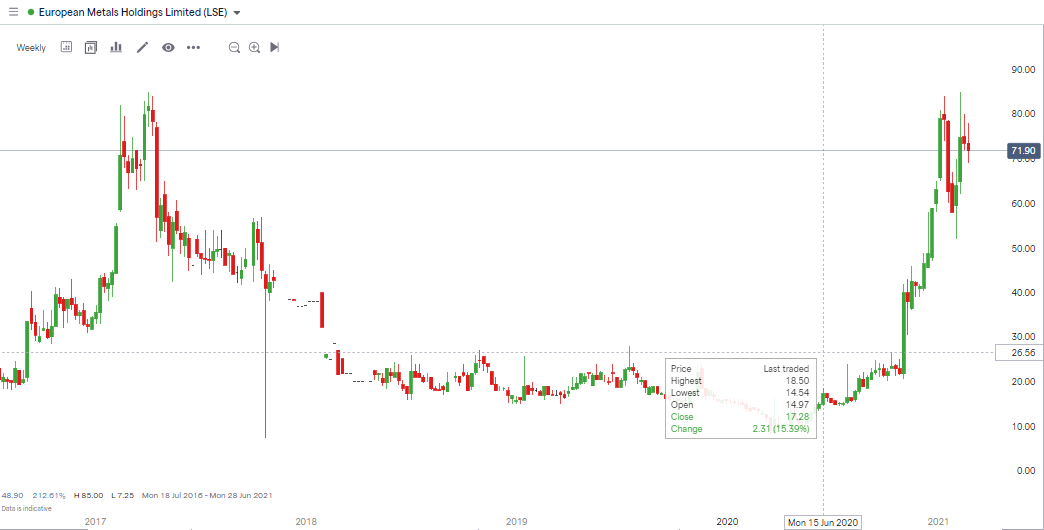 Source: IG
6. American Airlines
American Airlines is another airline stock that forms a play on pandemic lockdown measures being eased. American has demonstrated a strong appetite for returning to business as normal and has consistently been one of the first airlines to get back up in the air. If air traffic numbers in six months are going to return to pre-pandemic levels, then American Airlines represents one of the best growth stocks to buy now.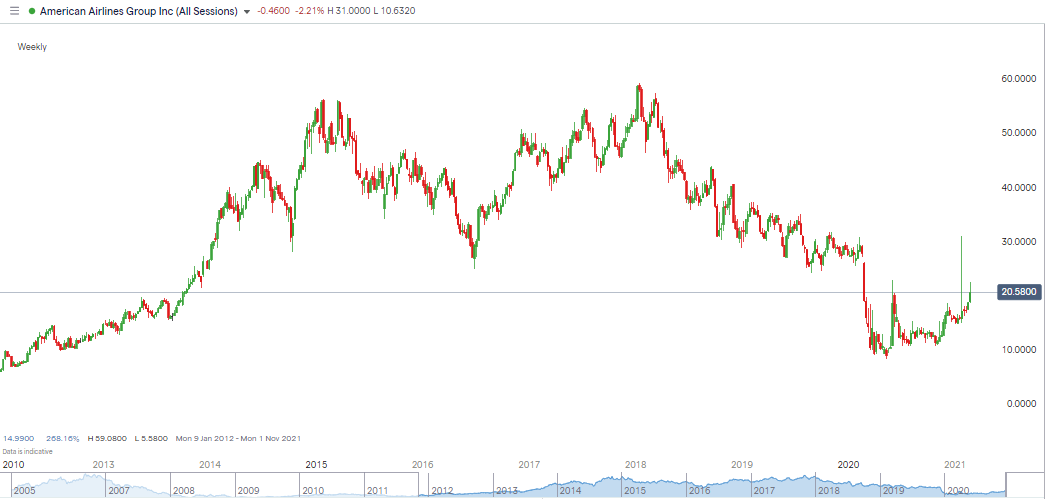 Source: IG
7. United Postal Service
American package courier UPS posted great revenue growth in 2020 and that looks set to continue. It has targeted small business deliveries, which is a market it had previously had limited exposure to. Factor in the general increase in demand for home delivery services and UPS, with its strong branding, looks in a good position to further boost revenues.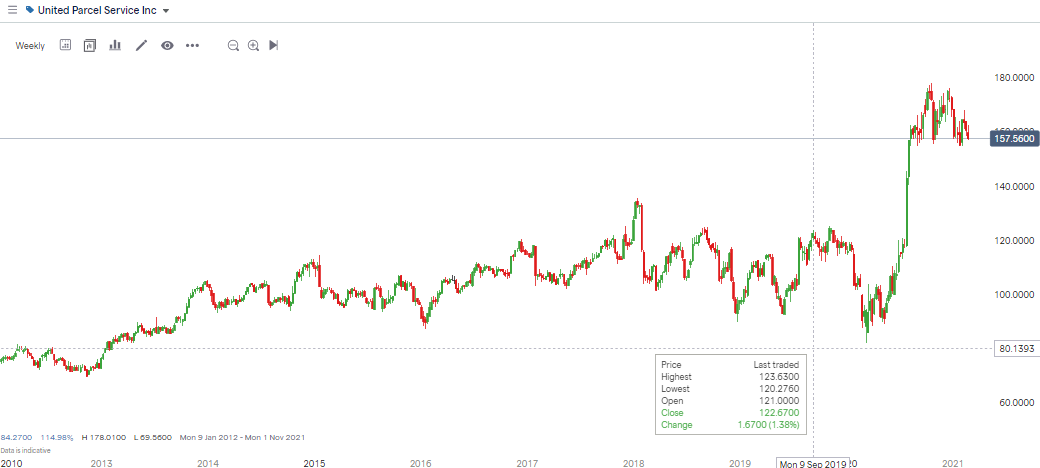 Source: IG
8. Veeva Systems
Veeva Systems' trailing 12 months revenue chart is a text-book example of the revenue growth hunted out by growth stock investors. The firm provides cloud-based software solutions to the biotechnology and pharmaceutical industries. Cloud systems and pharma are both hot-topics at the moment, so revenue growth looks likely to continue climbing.
Veeva Systems' annual revenue for 2020 was $1.104bn, a 28.05% increase from 2019.
Veeva Systems' annual revenue for 2019 was $0.862bn, a 24.86% increase from 2018.
Veeva Systems' annual revenue for 2018 was $0.691bn, a 25.43% increase from 2017.

Source: Macro Trends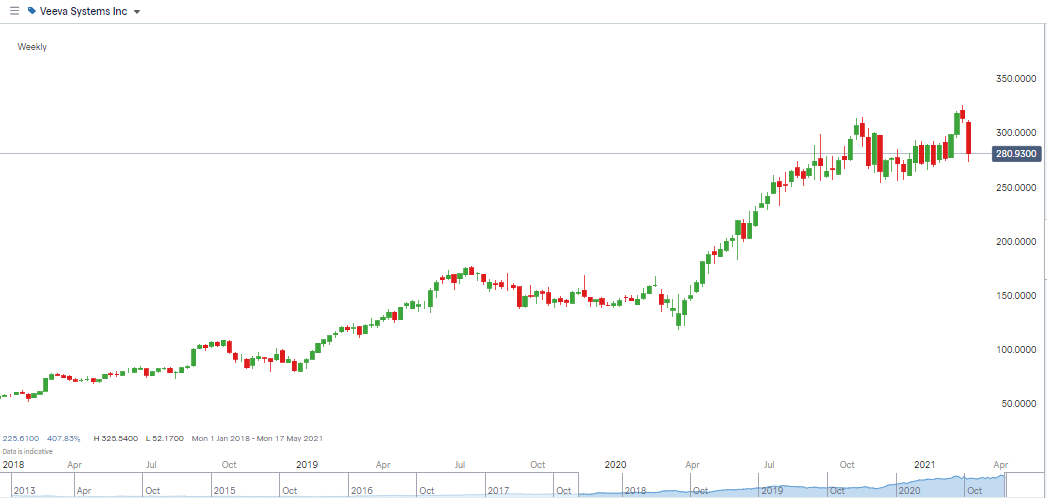 Source: IG
9. Apple
Apple is one of the best-known growth stocks and has seen its share price rise by more than 500% in the last five years. It's proof that growth stocks can just keep on growing and is popular with Wall Street and Main Street investors.
While it is now one of the world's largest firms, the consumer technology sector is fast-moving and constantly changing. If Apple can continue to perfectly gauge consumer appetite, it will be in a position to keep on making sales.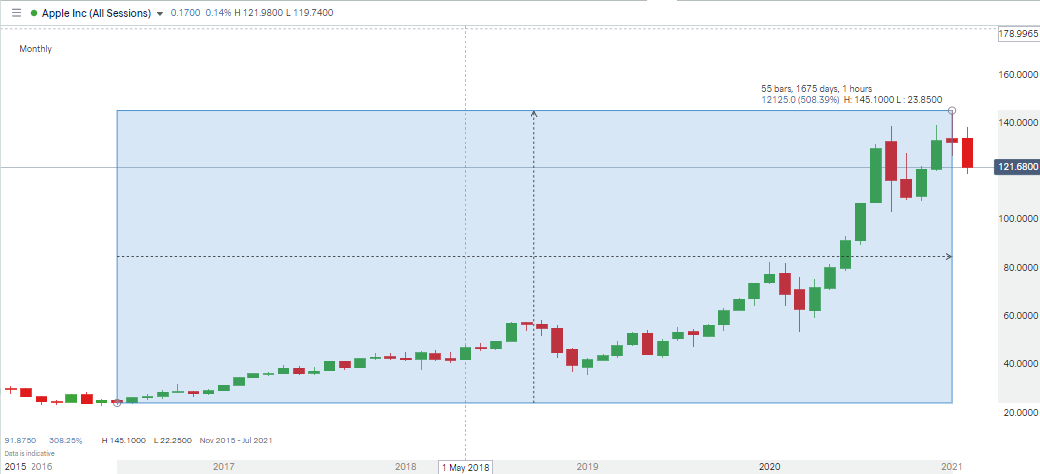 Source: IG
10. Johnson & Johnson
The Johnson & Johnson revenue growth figures show it has found a way to keep on expanding. There are some peaks and troughs in the revenue chart but it's certainly heading in the right direction. With a focus on pharmaceutical products, medical devices, and consumer products, the firm looks to be in the right place at the right time.

Source: Macro Trends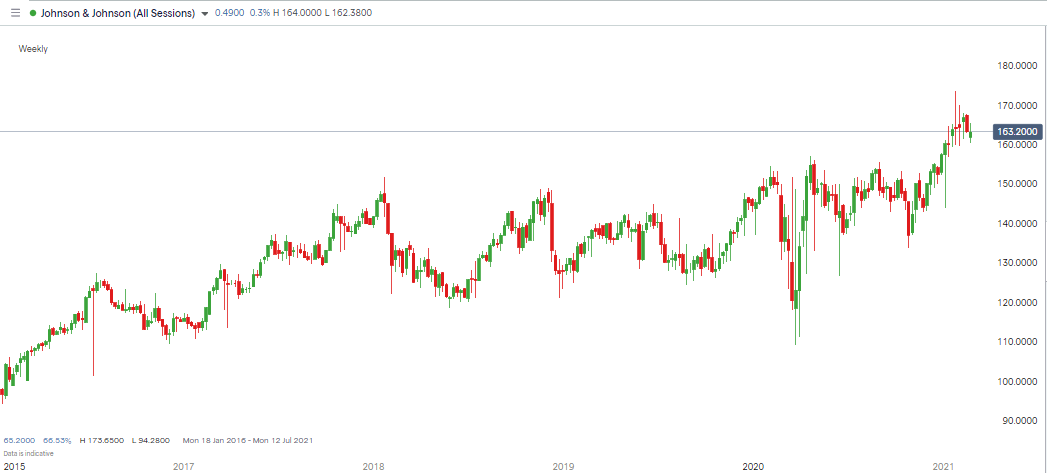 Source: IG
11. Purplebricks
Online house-sales portal Purplebricks could be set to capitalise on a property market reshuffle. The COVID pandemic forced millions to work from home and realise a property that suited them in 2019 wasn't what they wanted in 2020 and 2021.
The Purplebricks share price has had a bad run of late but is closely linked to the amount of house-moves taking place. If the property market picks up, it could be about to surge thanks to desperate home-owners looking to relocate.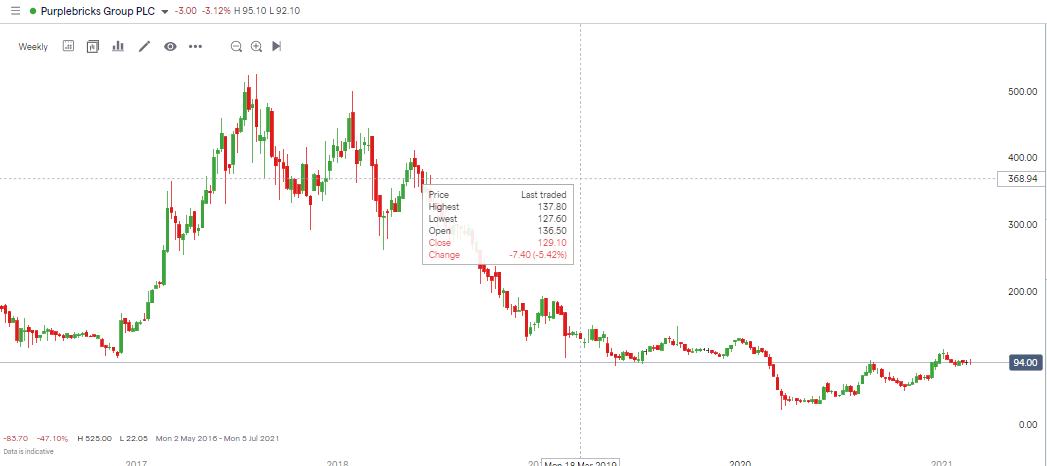 Source: IG
12. Electronic Arts (NASDAQ: EA)
US-based video game company EA has the second-largest revenue figures in the Americas and Europe. It's got the critical mass to invest in new products and a track record of buying up smaller firms to ensure its revenue stream remains healthy.
From a technical analysis perspective, a break of the $150 all-time high price would be a bullish indicator.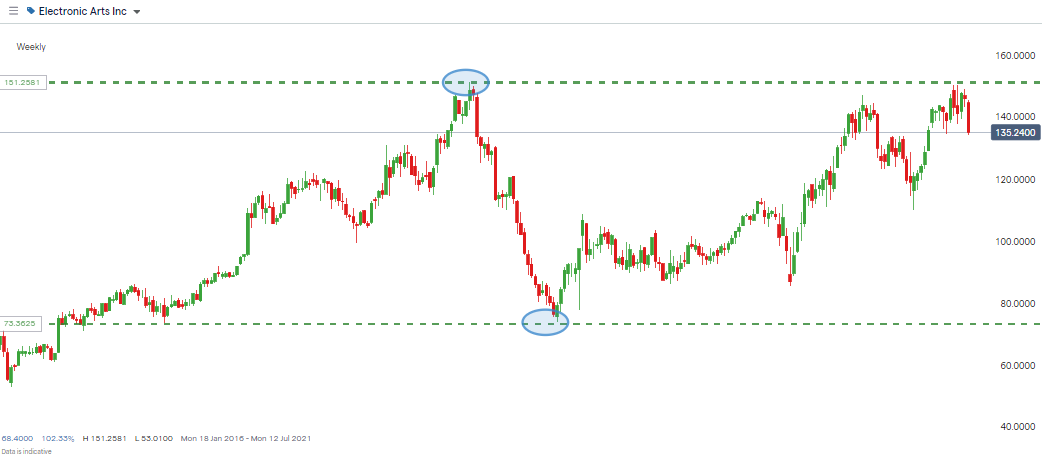 Source: IG
How to Find and Research Growth Stocks
Investing in growth stocks takes more thought than just buying shares in different companies and thinking they'll eventually go up in price. A little bit of time spent analysing the market can really pay off and a lot of the research is free and easily available.
The features that growth stock investors look for in a firm and can result in sky-rocketing share prices include:
Scalability
If new potential markets or products are on the horizon, then firms might be able to tap into those revenue streams without necessarily increasing their cost base by the same amount. Huya, for example, has taken a large share of the global gaming market. The costs of supporting all these new customers does not increase at the same pace as the revenue they generate, which has been great for the firm's bottom line and the Huya share price.
Barriers to entry
Firms that are able to fend off new entrants stand a better chance of maximising their returns. Barriers to entry include Apple's intense brand loyalty, which has been nurtured over many years and would require a rival to invest a prohibitively high amount of capital to replicate or challenge. Other barriers to entry include technical copyrights and patents such as those held by pharma-giant Johnson & Johnson. Then there is first-mover advantage. BAE, for example, is now well-established in a sector where the major players all have massive market capitalisation. Setting up a rival would be a costly and high-risk venture.
Catalysts
The financial markets are full of analysts who are correct but not making any money. Being right about a stock is different from capitalising on share price moves and this is where catalysts come in. Identifying catalysts is all about spotting upcoming developments that might bring the reasons you bought into a stock to a wider audience.
Why Invest in Long-Term Stocks
Getting the approach right can result in considerable capital gains. Growth stocks prioritise reinvesting profits and developing their business rather than paying them to investors in dividends. In short, the management teams in growth stock companies haven't run out of ideas yet. With a global economic recovery on the cards, these stocks look well-positioned to outperform other types of strategies.
The risk-return is therefore scaled up when compared to the more sedate strategies such as one following dividend stocks. If you're bullish about long-term macro trends, such as continued economic development in Africa and the gentrification of China's middle-classes, then growth stocks are for you.
Investing in growth stocks can be a relatively light-touch way of gaining exposure to the financial markets. Once you've researched and traded into growth stocks, you'll be able to focus on your day job. Most of the time devoted to your equity investments will be spent checking prices and keeping up to date with news events.
What to Know Before Investing in Growth Stocks?
It's possible to make substantial profits from growth stocks, but there are some potential downsides to look out for.
The Workload is Front-loaded
It pays to invest time in stock selection. This involves carrying out due diligence, considering alternative sources and playing devil's advocate. Some of the best decisions you make will be discarding firms from your shortlist, but this means you'll have to work through a relatively lengthy list of firms.
One example of the extent of time put into researching a long-term investment strategy is outlined in this article, which explains the life-cycle of Keith Gill's GameStop trade. It's a great guide to share with beginners as it explains his methods. As it turned out, GameStop increased in value by 1,550%, but Gill profited thanks to the time he put into researching the situation.
Catalysts needed
Companies with great potential still need to see their business ideas translated into earnings. This is particularly true of growth stocks as earnings data is the major driver of share price movement.
A lack of dividends
Some companies tipped as growth stocks still pay dividends, but a growth stock strategy involves reinvesting those funds back into buying more shares in the target company. This can pay off in the long-term, but you will be sacrificing a near-term revenue stream.
Paradigm Shift
What looks like a great potential market now might not be one in five years' time. The history books are full of firms that failed due to changes in technology or consumer behaviour. Blockbuster, Polaroid, Borders and Compaq were all once stock market sweethearts, and all eventually filed for bankruptcy. One way to mitigate this risk is to diversify your portfolio so you reduce single stock risk.
How to Start Trading Long-term Stocks Online
Most of the work involved with buying growth stocks relates to research and analysis. The process of actually registering for an account with an online broker and buying stocks is, in comparison, short and sweet.
Client onboarding
Regulated brokers are obliged to ask you a range of questions on topics such as 'previous trading experience'. These Know Your Client (KYC) details help them build a profile and ensure you are provided with appropriate T&Cs and protection. These questions can take a few minutes to work through but are a sign that you're setting up with a trusted broker.
If you are completely new to trading or are still not 100% sure about putting your cash into play, then opening a free demo account with one of the brokers on the below shortlist is a great idea. These simulators offer a risk-free way to gain an understanding of how trading works. They also allow you to get a feel for the pros and cons of different brokers and, as they are free to use, trying out a few platforms is definitely recommended.
Buy Growth Stocks Outright
One important point to keep in mind is that your selected broker might offer CFD trading as well as the option to buy the stock outright. While CFDs have certain advantages over direct share dealing, if you're holding a position for longer than a few weeks, it's more cost-effective to take the stamp duty (SDRT) hit and buy the stock outright. CFD positions incur daily financing charges and over time, these stack up. A full breakdown of the pros and cons of both methods can be found here, but unless there are particular reasons in play, it's important to ensure you trade the right market and buy outright.
1. Research Growth Stocks and Growing Companies
Spotting growth stock opportunities involves digging down into the details of a firm's prospects. Engaging in in-depth fundamental analysis can be time-consuming, but there are plenty of free to access research sites that offer a summary of a situation.
Stock screeners and analyst ratings are useful tools but do double-check your decision by looking for articles that challenge your possibly predetermined assumptions. Even if you're super-bullish on a particular stock, a double-check on social media sites and an internet search of 'Why not to buy XYZ' could end up saving you a lot of money.
2. Find a Broker
One crucial consideration is to select a well-regulated broker. Registering with a trusted broker and avoiding the risk of losing all your capital to a scammer involves choosing one that is regulated by at least one of the below authorities.
Tier-1 Regulators:
The Financial Conduct Authority (FCA)
The Australian Securities and Investments Commission (ASIC)
The US Securities and Exchange Commission (SEC)
Cyprus Securities and Exchange Commission (CySEC)
3. Open & Fund an Account
The process of depositing cash into your online brokerage account is very straightforward. Brokers offer a variety of ways to transfer funds, but payments by debit/credit cards or bank transfer follow the same protocols as any other online transaction.
4. Set Order Types
Trading platforms offer users a range of risk management tools designed to trade you out of a position if price reaches a certain level. Take Profit orders close out a position and lock in gains and Stop Losses close out positions if price moves against you.
These order types are automated instructions and while they're widely used, an alternative school of thought is that buy-and-hold investors might want to consider not using them. Momentary spikes in price volatility and flash crashes can kick investors out of positions at a loss, just before price returns to 'normal' levels. Trading without stop-losses involves a degree of risk, so this is an important question and one that can only be answered on a case-by-case basis.
5. Select and Buy Growth Stocks
Once you've set up an account and have chosen your target stocks, the actual act of putting on your stock trades involves simply entering in the amount you want to buy and clicking a button or tapping a screen to confirm.
Best Broker for Trading Growth Stocks Online:
eToro:
67% of retail CFD accounts lose money
Take a look
The trading platforms of these brokers are ideal for both beginners and more experienced investors. They have been developed over many years and offer a combination of user-friendly functionality and powerful software tools. In addition, the list only includes trusted brokers that offer a safe route into the markets.
Fierce competition between brokers has driven costs down and has required them to try and capture market share by providing a range of excellent support services. These include research and learning materials and round the clock customer support. These brokers are an ideal place to start building a portfolio of growth stocks.
Summary
Past performance is not a guide to future returns, but investing in growth stocks has been a profitable strategy for decades. Once you've identified your target names and have ensured your broker is trusted, it's just a case of spending a few minutes registering for an account and putting your money to work.
If things turn out as planned, you'll have found a low-maintenance way to make market-beating returns. The time is now, as growth stocks potentially represent one of the best investments for 2021.