A range of firms, which have captured a space in the new and booming sector, have seen their share prices rocket. Whether vegan food is your personal preference or not, these firms demand consideration. This article will explore the best vegan companies to invest in, and explore these companies:
What makes a company 'vegan'?
Beyond Meat
Ingredion
Tyson Foods
Bunge
Final thoughts
What makes a company 'vegan'?
You can gain exposure to the rise of veganism in numerous ways. They all involve taking a position in a firm that has an angle on the growing consumption of plant-based products.
There are differing degrees of veganism. The purist approach involves not eating any food derived from animals. This includes dairy products and often giving up on using any other animal-derived products such as leather.
Then there are the 'flexitarians' who incorporate vegan consumption into their lifestyle without deciding to strictly follow a doctrine.
Both approaches are causing a boom in the global plant-based market, which is currently estimated to be worth $12.1bn. Research suggests there could be major changes ahead and that the global plant-based food market could grow to be $74bn in size by the year 2027.
In the same way that vegan consumers can be broken down into different categories, so can the firms operating in the sector. There are specialists who focus on vegan tastes and mainstream operators adjusting their position to cater to a wider customer base. Both are intent on capturing the vegan dollar to help their share price.
The trend has already started— 29% of Americans identify themselves as 'flexitarian'
The young demographic means it's here to stay— 79% of Gen Z (born between 1995 and 2015) eat plant-based food 1–2 times per week
Vegan food is going mainstream— 98% of consumers who buy plant-based meat also buy animal meat
It's an impulse buy — Plant-based meat sales increase by 23%, on average, when put in the meat department rather than the vegetable section
Vegan investing can also be diced and sliced. There are some who want to back a firm for ethical reasons and others looking to make a profit.
Beyond Meat (Nasdaq:BYND)
Beyond meat is a maker of plant-based meat. That might not sound the most exciting industry to be in, but despite the tight margins in the sector, the firm's IPO in May 2019 had all the hallmarks of a tech-start-up.
On the firm's first day of trading, it listed stock at $25 and early trading saw the price surge to $46 per share. By the close of the first day of trading, the stock was printing at $65.75 — an incredible gain of 163%.
It's not just the day-one share price performance that has marked Beyond Meat out as potentially one of the most exciting vegan companies to invest in.
In July 2019, the share price of BYND broke higher than $239 — though some investors have since banked profits, causing the price to fall back to trade between $100–$200.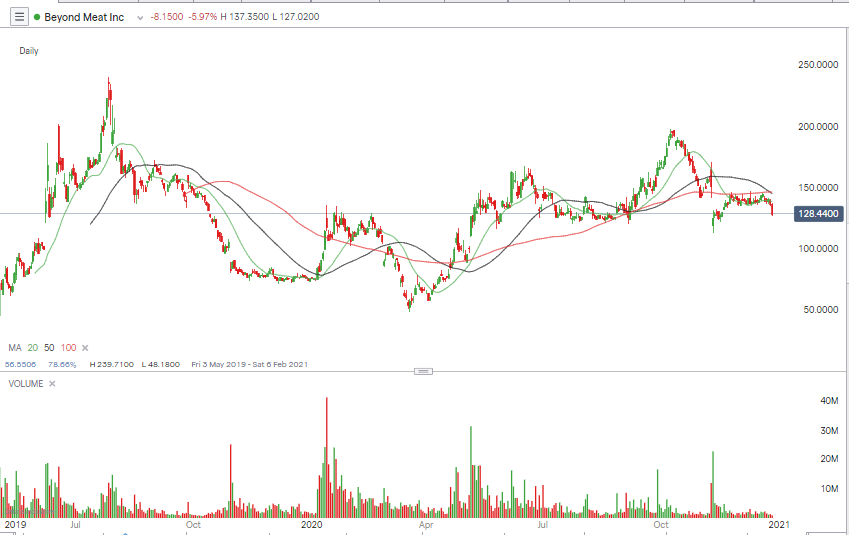 Source: IG
The BYND share price still has a degree of volatility to it and changes in trading volumes are particularly dramatic. Most days, approximately one million of shares are traded on the Nasdaq. When the firm is in the spotlight, as many as 40m shares can change hands.
The dips in the Beyond Meat share price are partly explained by one crucial factor — it's never recorded an annual profit. The quarterly announcements of earnings figures are a time of high-anxiety for shareholders. The 'miss' on earnings in Feb 2020 sent the BYND share price plummeting by more than 10%.
However, the firm is not what some would make it out to be. The business fundamentals might not justify the staggering P/E ratio (in the region of 250), but there are glimmers of hope. Triple-digit year-over-year revenue growth never went out of fashion.
There are buyers for the product— In the 39 weeks ended 26 September 2020, BYND revenues increased 53% to $304.8m.
Being a 'growth stock' is expensive— Net loss increased from $12m to $27.7m on the back of an increase in general and administrative spending ($40.3m to $86.5m) and R&D, which during the same time increased 38% to $17.9m
Beyond Meat might be a good addition to your portfolio, but timing your entry into a position will be key. The price volatility makes this firm a candidate for speculators rather than investors. Although, that doesn't mean a profit can't be made by holding its shares.
Ingredion (NYSE:INGR)
Ingredion is more business than consumer-facing. It's area of expertise is making the vegan sweeteners, starches, nutrition ingredients and biomaterials that are used by customers in everyday products.
Vegan consumers of products ranging from foods and beverages to paper and pharmaceuticals may not be aware quite how reliant they are on Ingredion. This means the firm has exposure to a wider range of sectors and offers the flexibility for it to target whichever one it chooses to.

Source: Plus500
From a technical perspective, the double-top formation formed by the peaks of August 2016 and January 2018, appears to have played itself out.
The fall in the INGR share price could be bottoming out. The multi-year low of $57.70 printed in 2014 has formed a support level for stock prices with the March 2020 low failing to breach that level.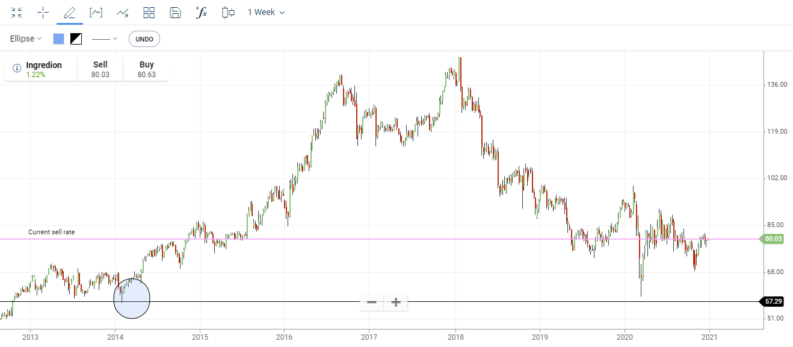 Source: Plus500
It doesn't have the stellar revenue growth of Beyond Meat, but it is consistently profitable. For the nine months ended 30 September 2020:
Revenues increased 2% to $4.39bn.
Net income decreased 23% to $233m, due to North America segment income decreasing 12% to $358m
Tyson Foods (NYSE:TSN)
If you're open to the idea of questioning Beyond Meat's valuation, you may well be basing your analysis on the other firms in the sector, names such as Tyson Foods (NYSE:TSN)
The problem for BYND is that the rate of increasing demand for vegan products will slow down, but the amount of competition won't.
Tyson Foods Inc. is an established US-based multinational corporation, which is the world's second largest processor and marketer of chicken, beef, and pork. Each year it exports the largest percentage of beef out of the United States. Its core business hasn't stopped it clambering aboard the vegan bandwagon.
If you're putting your money in the market, it does come down to assessing the value of Beyond Meat's premium and what that is based on. Tyson Foods has experience of operating on tighter margins, a hefty balance sheet and an understandable desire to tap into the vegan growth market.
While BYND's revenue figures are in the hundreds of millions, the 2019 revenue for Tyson was $42bn. The Tyson P/E ratio fluctuates in the low double-digits. As recently as September 2018, it was 6.94, which is a mouth-watering prospect for investors.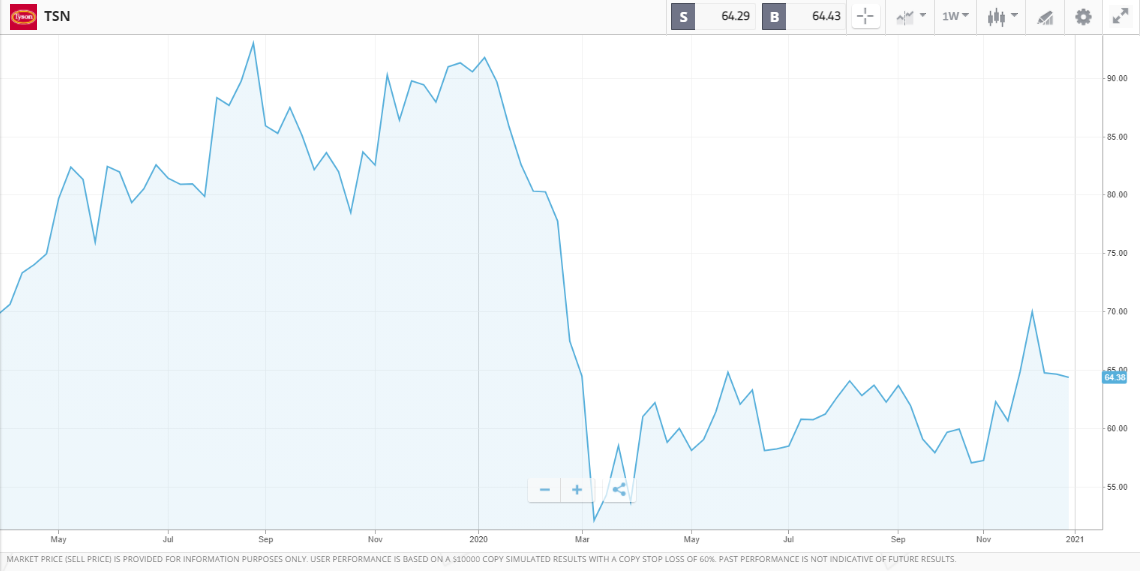 Source: eToro
The Tyson share price fell off a cliff during the COVID sell-off of March 2020 and has yet to bounce back to pre-pandemic highs. This is a surprising situation for a firm that produces consumer staples. Even during national lockdowns, people need to eat.
Tyson's Raised & Rooted range of plant-based foods was launched in the US in 2019. The announcement came in November 2020 that the vegan range would be spun-out to European markets.
It's an authentic range of vegan foods, produced using locally sourced ingredients, free from palm oil, artificial colours or flavours. Ticking even more ethical investment boxes, the protein used is made from fava bean instead of soya.
Tyson Foods has said that the UK is one of its principal target markets for the new range. It aims to replicate the 'rapid growth' seen in the US, and UK investors in vegan stocks can also benefit from the development. The large market capitalisation of the firm makes Tyson a popular name to trade at online brokers including IG, Plus500 and eToro.
Bunge (NYSE:BG)
At face value, 202-year-old, Missouri based, Bunge Ltd appears like a run of the mill agribusiness and food ingredient company. However, the share price performance suggests it demands a closer look.
Bunge's market capitalisation of $8.9bn gives it enough gravitas to be treated as a genuine player. Its far from being the largest of firms and appears to be using its smaller size and agility to its advantage.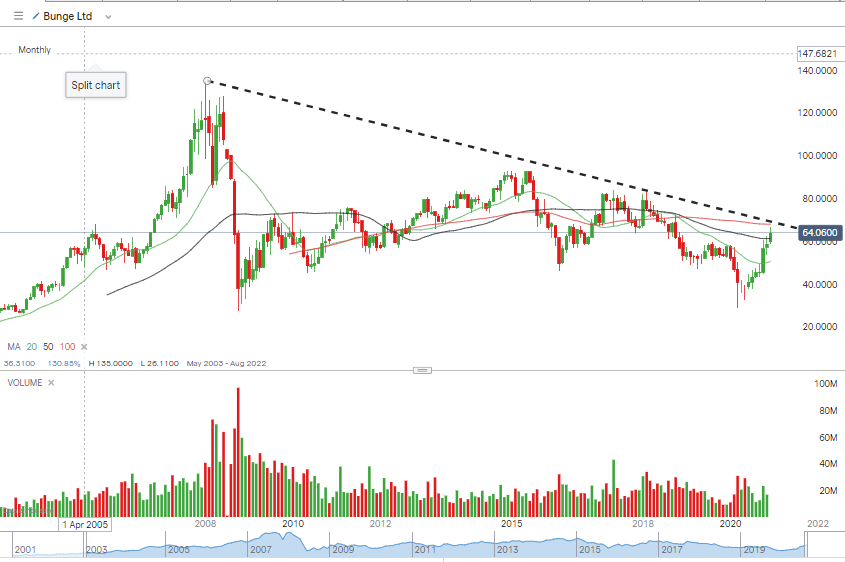 Source: IG
The share price has more than recovered from the March 2020 market crash. On a year-to-date timeline, the annual return to Bunge investors tops that of Ingredion, Beyond Meat and Tyson.
Bunge is all about taking food from the farm to the table and provides processed and raw agricultural commodities and specialised ingredients to a wide range of customers in the commercial sector. It still specialises in meeting demand from clients, which range from livestock ranchers to bakeries.
There is though some 'secret source' that explains Bunge's stock price growth. That is the firm's demonstration of an understanding of the vegan investment trend. It was, for example, an early investor in Beyond Meat. The 2019 financial accounts for Bunge show that a holding of 1.9% of BYND stock posted a $135m profit.
Another plus point for Bunge is that it's developed a product that helps improve the taste and appearance of meat-free burgers. Cracking that particular nut will put Bunge in a strong position in terms of capturing the flexitarians who want the health-aspects of occasional veganism but also the taste associated with the foods they eat on other days.
The flexitarian market is the more dynamic area of the vegan sector. It explains the excitement around 2020's news that the subsidiary Bunge Loders Croklaan, launched a new product range intended to imitate the taste, texture, and cooking experience of meat.
Final thoughts
The menu of vegan stocks is an extensive one. This reflects an array of firms trying to gain exposure to a sector that is continuing to build momentum.
There will at some point be a flattening off in new demand for plant-based foods and the question for the specialist vegan stocks such as Beyond Meat, is whether they can gain enough critical mass to survive that change.
The lower-risk alternative to vegan investing is to buy into companies that are adding vegan product ranges onto existing and extensive product lines, which may or may not themselves be vegan.
A portfolio that is diversified across non-cyclical food producers should have been one of the plays of 2020. The fact that it wasn't, makes the likes of Tyson primed for a stock price recovery or positioned as one of the long-term casualties of the failure to capture the vegan trend.
Occupying the middle-ground is Bunge. Ending 2020 with a share price printing multi-year-highs, the stock appears to offer investors looking for vegan companies to invest in an appetising blend of new and traditional benefits.
People who read this also read: