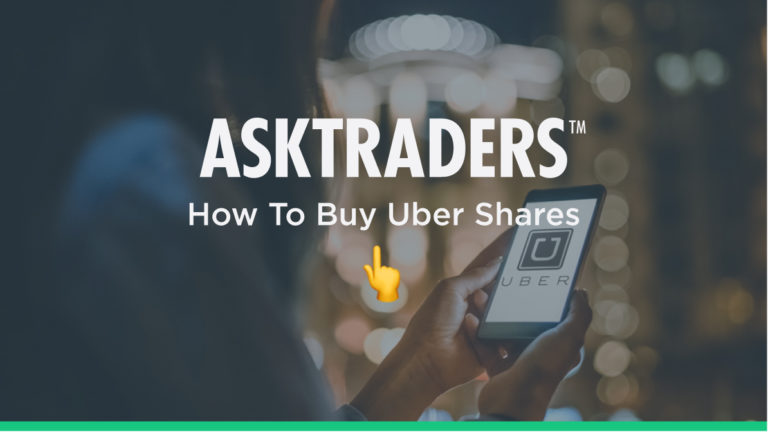 Part of the appeal of the firm is its ability to tap into new business lines, and ride-hailing is now only part of its offering. Being marked as a growth stock with an ambitious approach, it attracts investors looking to scale-up on their risk-return. Recent moves in the Uber share price suggest now could be the time to buy Uber shares. It's hard to get away from the market risk of a firm that is yet to post any significant profits. Operational risk — the potential that you suffer at the hands of an unscrupulous broker — can be managed more easily. This report will establish the path to take to make sure you choose a safe broker, how to open an account and how to book that Uber trade.
Uber Shares: The Basics
Uber Technologies Inc is listed on the NYSE under ticker UBER. It currently has a market capitalisation of $100.88bn.
The register of shareholders shows the firm has matured from being a tech-start-up. The Chief Executive Officer (Dara Khosrowshahi) owns 0.05% of the firm, and Chief Legal Officer (Tony West) and Chief Financial Officer (Nelson Chai) both have holdings of 0.01%. They still have skin in the game, but institutional investors are now the big shareholders. SB Investment Advisers (UK) Ltd owns 12.6% of total shares outstanding, Morgan Stanley 5.8% and Fidelity 4.7%.
Big investors have been drawn into positions thanks to the firm's potential for growth. The 2020 sale of the driverless car operations points to the firm moving away from having a bottomless pit of cash available and suggests it could be beginning to blend growth prospects with the need to turn a profit.
Recent and Historical Market Performance
Uber listed on the Nasdaq on 9th May 2019 at $45 per share. It was one of the largest IPOs in history, and being a high profile proposition, its subsequent share-price slide caught the headlines. By November 2019, Uber shares were trading close to $25, and in the COVID-crash of March 2020, the shares hit an all-time low of $13.71.
Since that time, the share price has recovered and the all-time high of $64.05 in February 2021 represents a 367% gain from the March 2020 lows.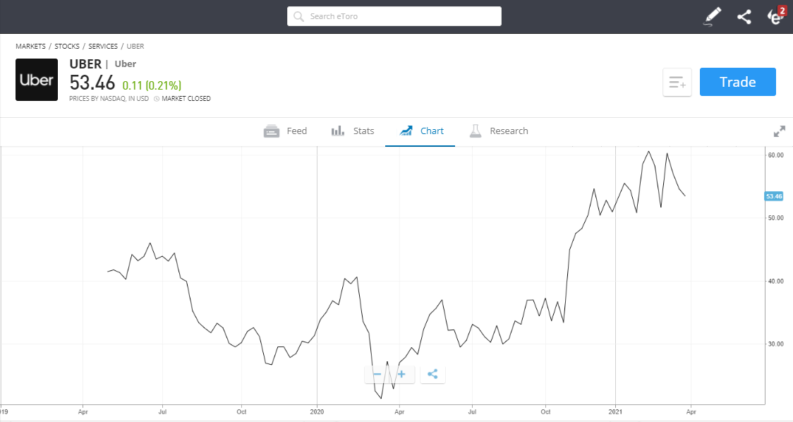 *68% of retail CFD accounts lose money
Is it a good time to buy Uber shares?
The recent strength in the Uber share price has led to many investors giving it a second look. On the weekly chart, price is trading above the 50 SMA and 20 SMA. The recent fall back in share price to 'kiss' the 20 SMA is, from a technical analysis perspective, a potential buy signal.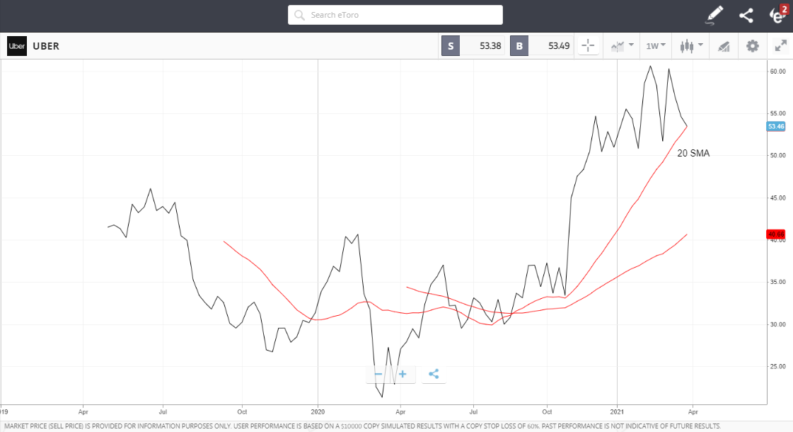 *68% of retail CFD accounts lose money
Digging into the granular detail of the shareholder register throws up another interesting reason that suggests now is the time to buy Uber shares. Year-end reports from December 2020 show 136 major hedge funds had Uber stock in their portfolios. This was up from 100 funds holding positions at the end of Q3 and marks an all-time high for this metric.
The world's elite money managers are taking positions in Uber and it now ranks as the 12th most popular stock among hedge funds.
The online broker IG has collated broker ratings on Uber shares and established that the average rating is currently 'buy'. None of the analysts consider Uber a 'strong sell' and 17 tip it as a 'strong buy'. Uber's new way of doing things looks like it has finally gained wide-spread approval.
Uber is still showing an ability to tap into current trends, and in February 2021, stated its ride-hailing service is considering accepting Bitcoin as payment.
New markets are still being targeted. On 2ndFebruary 2021, it announced it had used cash and stock to buy alcohol delivery service Drizly for $1.1bn.
The firm now has 93 million monthly active users and footholds in 900 cities worldwide.
It still dominates the all-important US market, where it has 71% of the ride-hailing market and 22% market share in the food-delivery sector.
The COVID pandemic was bad news for the transport sector. Lockdowns limited the number of total journeys made and consumers shied away from sharing confined spaces. As and when economic activity picks back up, Uber will be in the driving seat and ready to take advantage.
Steps to Buy Uber Shares
Uber is a global operator and attracts investors from around the world. Trading US shares is easy to do, even if you're not a US citizen. Online brokers have revolutionised the investment industry and now provide a trustworthy, cost-effective and user-friendly trading experience. It's easy to buy Uber shares even if you're based in the UK.
You can set up an account, trade and manage your portfolio within minutes. It's possible to do all this using a desktop or a mobile device and if you make the right broker choice, you'll be well set up to follow the Uber share price and see how your investment pans out.
1. Choose a Broker
There are hundreds of online brokers operating in the market, but this review of trusted brokers is a handy shortlist of firms that are experienced operators in the market. They all have multi-year track records and operate under license from well-regarded financial regulators.
Buying Uber shares is a reassuringly straightforward process. Trading platforms have been designed with beginners in mind but also offer research and analysis tools to take your trading to the next level. There are educational tools that explain the basics and to make sure your broker is a good fit it is worth spending some time trying out free demo accounts with a few. These are risk-free ways to practice trading using virtual funds.
2. Open & Fund an Account
All you need to set up a demo account is an email address, but to open a live trading account, you are required to share a greater amount of personal information. This is so that brokers can comply with Know Your Client (KYC) rules set out by the regulators. Questions on topics such as your investment aims and experience can actually help you formulate your ideas. Being asked the questions is a sign you're registering with a trustworthy broker.
Once you've completed the onboarding process, it's just a case of transferring funds to your new online account. Most brokers offer a variety of ways of doing this, including bank transfer and debit and credit card. If you're in a hurry to buy Uber shares, it's worth checking the processing time of each of the different payment methods. Some are instant, but some can take several days.
Best Brokers to trade Uber shares:
eToro:
68% of retail CFD accounts lose money
Take a look
If you are ready to add some Uber shares to your portfolio you'll need a broker that is regulated, has low fees and a user-friendly platform. Finding one can be a daunting task, which is why we've selected some of our favourites that tick all of these boxes to help you get started.
3. Open an order ticket and set your position size
Once your account is set up and funded, you're ready to trade. You'll be able to locate the market in Uber shares using the 'stock search' function, which will take you to the trading dashboard for that stock. This is where you'll also find price charts and news reports and will have a last chance to check the market before entering the number of shares you want to buy.
4. Set your stops and limits
Before you click the 'buy' button, it's worth considering using Stop Loss and Take Profit orders. These risk-management instructions allow you to build into the system automated instructions to sell some or all of your positions if price reaches a certain level. If price moves against you, Stop Losses will close out the position to limit the risk of further losses. If price goes in your favour, Take Profits orders can be used to lock in the gains. Both make it possible for you to manage your positions without having to follow the markets 24/7.
Limit Orders work in a similar way but relate to the entry point of your trade. For example, if Uber shares are trading at $52 but you think they might fall back slightly in the near future, you can instruct the system to buy at $50 or $48. There's no guarantee you'll get filled at those lower levels, but if it does happen, you'd be starting your trading journey from a better position.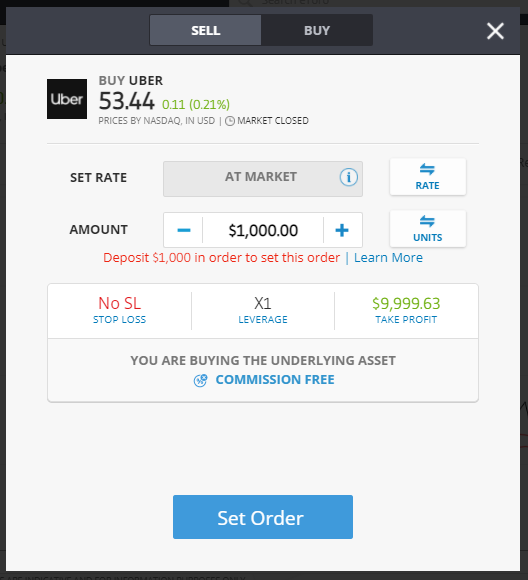 *68% of retail CFD accounts lose money
5. Select & Buy Uber Shares
Once all the checks are complete, all it takes to trade Uber shares is a tap or click of the screen.
There are two tips from experienced traders to keep in mind:
Before you click 'buy' or 'sell' SBRY— Most online brokers offer markets in share dealing and Contracts for Difference (CFDs). CFDs allow you to use leverage and scale up the risk-return on the trade but involve daily financing fees. If you're looking to buy Uber shares and hold them for more than a few weeks, then it is likely to be more cost-effective to buy Uber outright. This article explores that subject in greater detail.
After you trade —Be sure to check your portfolio and that the position is reacting as you'd expect. Even experienced traders make 'fat finger' errors such as buying the wrong amount and it's important to correct such errors before price gets away from you.
Fees When Trading Uber Shares
The increased popularity of trading and investing can, to some extent, be put down to intense competition between brokers hammering down trading costs.
The below chart details trade execution costs at trusted brokers. All of these make most of their money on the difference between the buy and sell prices they offer their clients — the bid-offer spread.
| | | | | | |
| --- | --- | --- | --- | --- | --- |
| | eToro | Plus500 | Markets.com | AvaTrade | IG |
| Live Account Fee | No charge | No charge | No charge | No charge | No charge |
| Demo Account Fee | No charge | No charge | No charge | No charge | No charge |
| Bid Offer Spread – Uber shares | 7c | Variable | 13c |  12c | 3c |
| Cash Deposit Fee | No charge | N/A | No charge | No charge | No charge |
| Cash Withdrawal Fee | Yes – $5 per transaction | N/A | No charge | No charge | No charge |
| Inactivity Fee | Yes – $10 per month after 12 months inactivity | Yes – $10 per month after 3 months inactivity | Yes – $10 per month after 3 months inactivity | Yes – $50 per quarter after 3 months inactivity | Yes – £12 per month after 24 months inactivity |
| FX Conversion Fee | Offers accounts in USD, only | Offers accounts in USD, GBP and EUR | Offers accounts in 14 base currencies including USD, GBP, EUR | Offers accounts in USD, GBP, EUR, CHF | Offers accounts in 6 base currencies, including USD, GBP and EUR |
| Minimum Deposit | $200 (or equivalent) | $100 (or equivalent) | $250 (or equivalent) | $100 (or equivalent) | $250 (or equivalent) |
There are other administrative charges to consider.
Some brokers charge separate commissions for trading US-listed stocks like Uber, but shopping around should be able to help you avoid these.
Account inactivity fees might be applied, but there are some potential workarounds to avoid them. At Plus500, for example, you can avoid the charge simply by logging on, so it's worth checking the T&Cs.
Paying fees unnecessarily is to be avoided, but charges do have to be put into context. If your broker offers high-grade research to help you improve your win-loss ratio, then that will likely outweigh it being slightly more expensive in one or another fee category.
Full Overview of Uber
Niche and History
Uber was founded in 2009 by Garrett Camp, a computer programmer and Travis Kalanick, who had just sold his tech-start-up Red Swoosh for $19m. Other notable hires included a nuclear physicist and a computational neuroscientist who worked on predicting traffic flow patterns.
The idea morphed out of Camp realising that hiring private drivers was unreasonably expensive and that a complete overhaul of the sector was overdue. The ride-sharing operation uses dynamic pricing so that prices reflect the supply and demand of drivers, passengers and the firm.
The app launched in 2011 in the city of San Francisco where the firm's headquarters are still based.
Financial Overview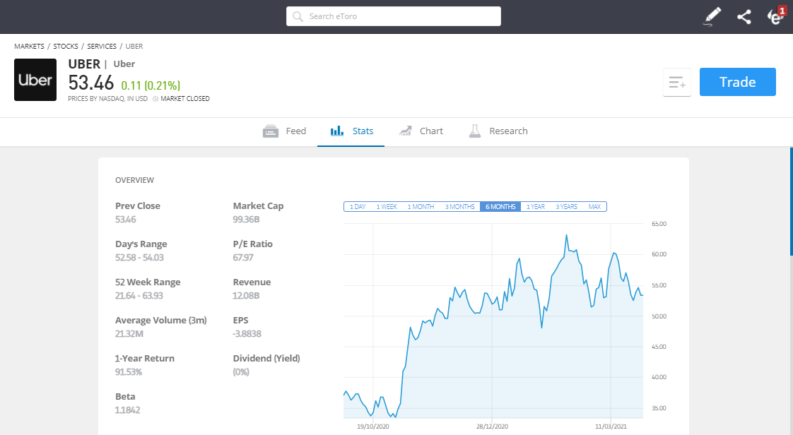 *68% of retail CFD accounts lose money
Uber EBITDA— 2020 year-end financial statements for Uber reported an adjusted EBITDA loss of $454m in Q4.
Losses — Uber is working its way towards becoming profitable, but the extraordinary events of 2020 were a considerable drag on performance. The firm lost $8.5bn in 2019 alone.
Uber P/E ratio— 67.97. The five-year average P/E ratio for the Nasdaq 100 index is currently 37.55.
Uber share dividends– Uber does not pay dividends and there are no signs of that approach changing in the near future.
Uber Ethical Rating
Environmental Impact
Uber is a prominent player in the 'sharing economy' whereby individual consumer footprints are reduced by traditional items being hired intermittently rather than owned outright. Uber's environmental credentials are reinforced by the primary target of its approach being motor vehicles.
The firm is seen as such a pioneer of a new way of doing things that the next-generation approach is sometimes referred to as 'uberisation'.
Treatment of Workers and Local Communities
One area where Uber falls down badly is treatment of workers. The firm continues to be criticised from all quarters due to its role as a pioneer of the 'gig economy'. The late 2020 share price rally skidded to a halt in February 2021 when a landmark ruling in the UK courts decreed the firm was required to consider its drivers as staff rather than self-employed contractors.
The firm has suffered the reputational damage associated with poor work practises and at the same time found itself on the hook in terms of back-dating pay to drivers who can now claim missed benefits such as holiday pay. If you've any doubts about the question, should you buy Uber shares? then this issue is likely to be part of that analysis.
Ethical Initiatives
Uber's business model provides the core to its approach to ethical issues. Making travel in cities more efficient can't be a bad thing. The firm also shares data on users and journeys with city authorities to help them plan urban development projects.
Controversies
The data Uber collects on journeys made is a valuable resource and has been termed 'God View'. Reports have surfaced of Uber staff tracking the movements of celebrities and politicians, and more serious data breaches in 2015 were not disclosed for nine months.
This reflects badly on senior management. Senior vice-president Emil Michael in 2014 was caught proposing a million-dollar budget to 'dig up dirt' on media figures who were publicly critical of the firm. Michael finally resigned in 2017 after further indiscretions such as visits to escort-karaoke bars came to light.
Summary
Uber's brand recognition is so strong that it can turn its hand to anything. Projects range from freight transportation to scooter hire and package delivery. There's little reason that it can't cross over into other non-transport sectors as well. A newly found appreciation of the need to monetise these schemes has encouraged some seasoned investors to take long positions. They'll be hoping to sit back and enjoy the ride, even if they can't quite be sure of the final destination.
There are a lot of variables in play, but there are pointers that the time to buy Uber shares could be now. It's a high risk-return proposition, but by choosing a trusted broker, you can at least ensure that you're safely buckled up for the ride.