What is a trading setup? If you are a trader, your workstation is your trading platform, so you need it to be as easy to use and as effective as possible. Taking the time to set up your screen and computer properly will help you take full advantage of the information at your disposal when you start trading. Being a well-prepared trader with an efficient day trading setup is a vital element of trading and can mean the difference between success and failure, so what are the best computers for trading?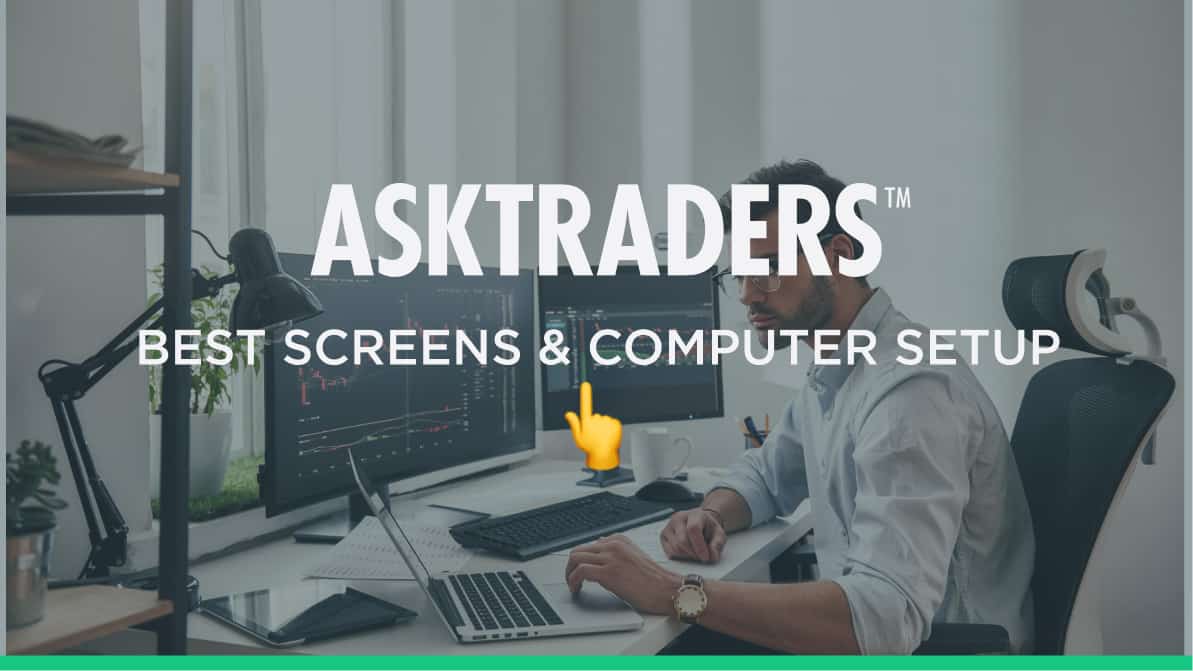 This article will guide you through setting up your trading screens and computer for a successful trading journey.
HOW TO SET UP YOUR TRADING SCREENS FOR DAY TRADING
Having the best possible computer setup when day trading the world's markets does not have to be complicated or expensive, and it can certainly help identify the best trading opportunities.
In fact, given that you could spend between 7-12 hours a day in front of your PC, it's vital for your long-term health to have a dual monitor in place. Dual monitors are essential for day traders or anyone using their PC for more than 3-4 hours a day.
---
Related Articles
---
UPGRADING TO A NEW PC
Most new PCs come with built-in dual monitor capabilities, requiring you only to plug in an additional monitor, an essential tool for the busy day trader.
As a general rule, a new PC will have a DVI connection as a second monitor adapter, and your new monitor should come with the relevant attachment. If you can't plug it in (due to having the wrong attachment), you can quickly source an inexpensive converter from your local computer shop or online.
Another benefit for the busy day trader trading forex, CFDs, Options or futures is to have the new PC stripped of unnecessary programs. If possible, use your new PC for day trading use only.
By doing so, you will ensure your PC stays clean and fast and will be able to boot and reboot quickly. There is nothing worse than having your PC crash during the trading day, hit restart, and wait an eternity for it to get back up and running.
The Best Daytrading Brokers:
eToro:
68% of retail CFD accounts lose money
Take a look
If you are ready to start daytrading you'll need a broker that is regulated, has low fees and a user-friendly platform. Finding one can be a daunting task, which is why we've selected some of our favourites that tick all of these boxes to help you get started.
DUAL MONITOR CAPABILITIES ON YOUR LAPTOP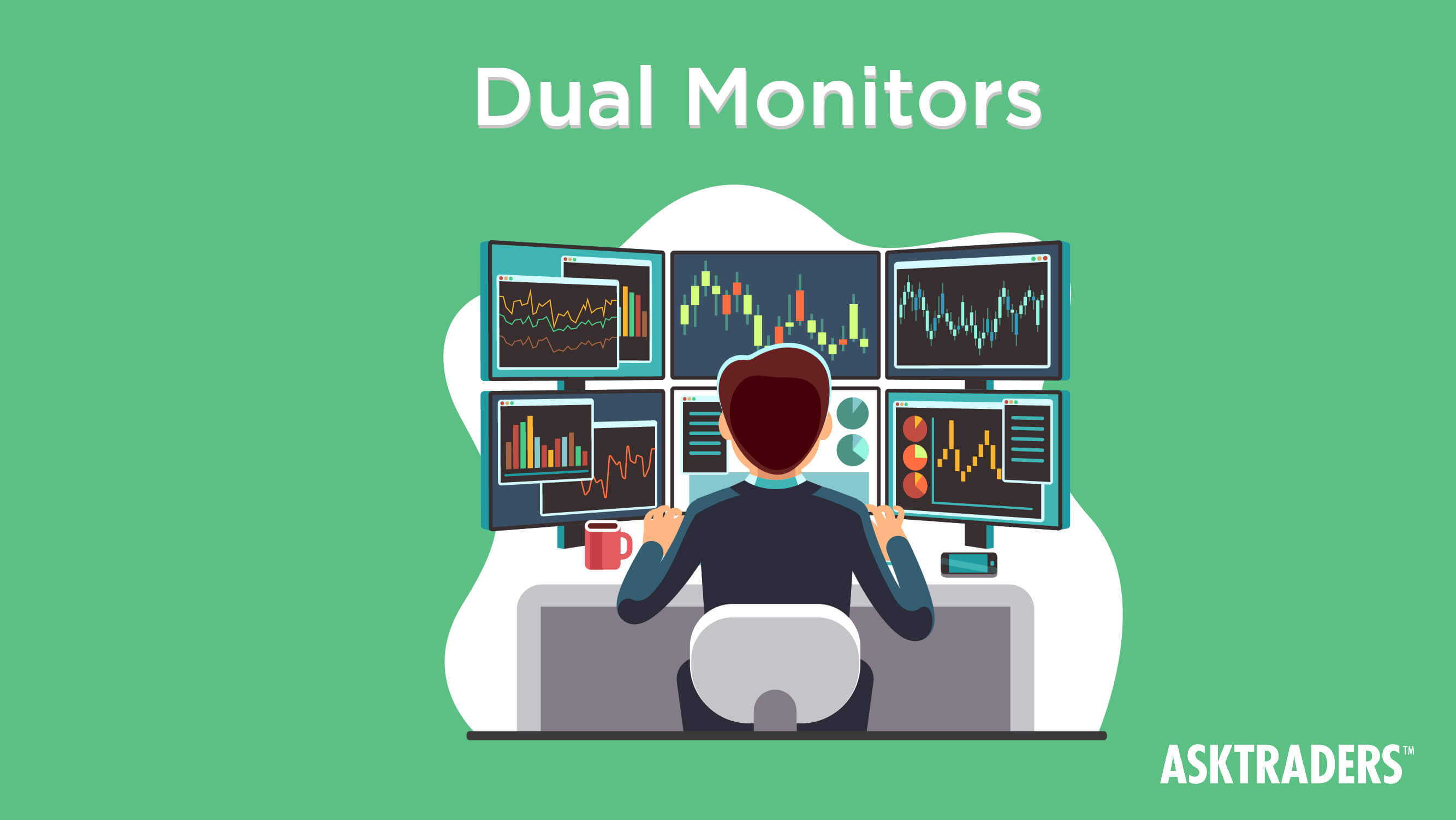 Running a laptop as your dedicated day trading machine can have advantages, especially if you use your home PC for other activities like running the family budget, downloading emails and watching videos. Your laptop can serve only as your day trading computer, and it's easy to install a second monitor.
All laptops come with the option to connect a monitor. All that's required is to head over to the display settings and set the monitor you just plugged in as your second monitor. You can then configure which is to be the primary and secondary display. This facility is plug and play, and most laptop users don't even realise their machine has this functionality. You might want to use this as a second trading machine in conjunction with your main day trading PC.
MAJOR BENEFITS OF USING DUAL MONITORS WHEN DAY TRADING
Access more information at your fingertips
Adjust the resolution to be comfortable for your eyes
Have charts on one screen and order tickets on the other
More screen real estate to make your life easier
If you are serious about your day trading endeavours, running dual monitors is vital to your overall efficiency as a trader. Don't compromise on the technology front, as once you upgrade, you will be wondering why it has taken you so long to do so. You will be pleasantly surprised at how efficient and effective a day trader it will make you.
WHAT TO LOOK FOR IN THE BEST DESKTOP COMPUTER FOR DAY TRADING
For trading software to work smoothly, a powerful computer is required.
Requirements for an efficient trading desktop include:
RAM: A minimum of 8GB RAM is needed for your computer to process all the data, though 16GB of RAM is ideal. If you run multiple programs, 16GB or more RAM is required. The higher the RAM, the better.
Processor Speed: While the minimum recommended specs for your processor are dual-core, a Quad-Core 2.8GHz (Intel i5 or i9 are leading options) is preferred. Look for a processor with at least four to six cores (like the i5 Intel Processor) to allow your computer to execute operations quickly.
Hard Drive: A minimum SSD 250GB hard drive is required for data storage. The primary hard drive is more reliable for retrieving information quickly. It helps to have the SSD drive used only for trading purposes.
Display: Dual screen monitor capabilities are recommended if you're a busy trader or you need to monitor multiple software options at once. Choose a minimum of 1080P (1920×1080) when buying a monitor. If you have a generous budget, you may consider exploring higher resolutions – 2556×1440 or 4K (3480×2160).
Battery Life: The best trading computers have at least eight hours of battery life.
Internet connectivity: You need to have good internet connectivity to strike on time!
TOP FIVE BEST DESKTOP COMPUTERS FOR STOCK TRADING
A vast range of computers is available to choose from that could help you with your day trading. The machines constantly improve and evolve as technology advances, with more sophisticated models regularly coming onto the market. Here are some models to consider.
Lenovo AIO IdeaCentre 520S Desktop
DELL XPS Tower Desktop
Apple iMac M1 24" 2021
Dell Optiplex 790
Acer Aspire TC-895-UR12 Desktop
LOOKING TO UPGRADE YOUR OLD PC?
With modern technology delivering lower and lower prices, it's always easy to use your day trading profits to upgrade your PC, although it won't necessarily make you a better trader!
If you are a day trader on a budget, you may want to consider upgrading only your video card to make your PC day trader friendly. You can purchase a dual monitor video card relatively cheaply and install it yourself if you have the technical skills.
If you are unsure what to do, ask for advice or inquire if the supplier can install it for you – they will probably charge a nominal fee.
Once you have the new video card installed and your machine has recognised it, you simply need to plug in your second monitor as above and adjust your display settings accordingly. You can then start implementing your best trading strategy to make profitable trades.
Further Reading