Cryptocurrencies are a type of alternative or digital currency. Instead of central banking systems or electronic money, cryptocurrencies use decentralized control systems. These systems are commonly referred to as distributed ledgers, shared ledgers or blockchains. They are a particular kind of database that is usually public and is distributed between a range of institutions and countries. In order to understand how bitcoin futures work, we will first look at how cryptocurrencies work and then what are futures and how an investor can apply trading strategies to these.
Cryptocurrencies – essence and mechanics
Bitcoin Futures
Brokers and exchanges
Selected trading strategies
Cryptocurrencies – essence and mechanics
The origin of cryptocurrencies can be traced back to 2008 when Bitcoin, the first cryptocurrency, emerged. Since then, cryptocurrencies have exploded and now there are more than 2,000 in existence.
The top 10 cryptocurrencies by market cap at the time of this writing are: Bitcoin, Ethereum, Ripple, Thether, Bitcoin Cash, Litecoin, EOS, Binance Coin, Bitcoin SV and Stellar. Bitcoin's market cap accounts for nearly 70% of the total capitalization of the sector.
You can find lots of information online about cryptocurrencies, including:
Litecoin
NEO
Classic Ethereum
Dash
Qtum
One of the most active cryptocurrencies you'll find is Monero – it's capable of creating private transactions and has one of the most active trading communities. Monero obscures details of sender, recipient and the amount of every transaction made. Unfortunately, it has attracted some illicit use because of the completely anonymous nature of its operation.
The following graph shows the total market cap of cryptocurrencies for the last five years. The spike in 2017 was the "hottest" time for alt coins, and Bitcoin traded for around $20,000 per coin.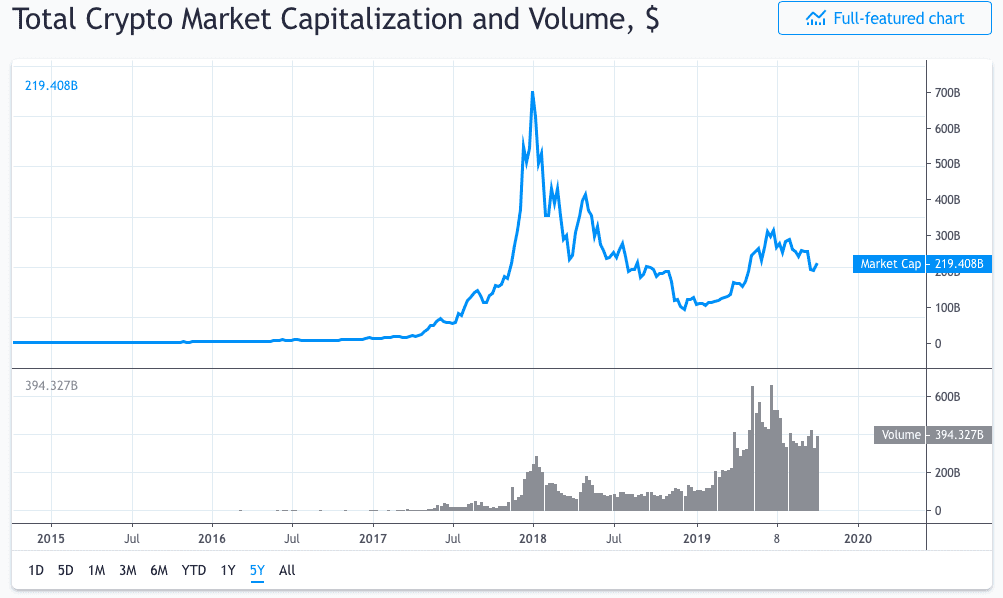 Bitcoin Futures
In the general futures market, you may already know that commodities are often treated as the most important element. With Bitcoin futures, you operate in a similar way. As an investor, you will be allowed to fix a set price at which you would like to sell or buy a certain quantity of the cryptocurrency at a fixed point in the future.
You are therefore creating a leveraged position by increasing your exposure to the asset; however, you are also increasing your exposure to potential losses. In the process, you are only posting security or collateral. One feature of the market is that it has been subject to extreme volatility and therefore exceptional price fluctuations. While this creates opportunities for trading, it also gives some investors cause for concern and there are not very many Bitcoin exchanges, therefore, that offer Bitcoin futures trading. Because of these facts, there are only a few brokers to look at when exploring Bitcoin futures:
BitMEX
CBOE
Coinut
Deribit
Evolve
Whalegroup
CME Group
There are also several others, and of course, new exchanges continue to appear from time to time. To prepare to trade, first make sure you are familiar with the exchange's procedures for setting up a new account, as these will vary from broker to broker. Most likely, you will need to disclose your investment interests and verify your identity, as well as provide funds for trading.
Brokers and Exchanges for Bitcoin Futures
The most important feature of a good exchange is to be secure and to provide liquidity. In most cases, an investor can use a wire transfer or a bank transfer to deposit money in their account. You can also transfer funds from another exchange and in some cases, you can use other cryptocurrency assets to purchase Bitcoin futures contracts.
A Bitcoin futures guide is really all about understanding the contracts and how to mitigate risk by hedging positions. Let's take a quick look at the brokers that allow Bitcoin futures trades:
BitMEX – no minimum deposit, lots of features and leverage of 1:100; however, it has high withdrawal fees and is generally not recommended for beginners.
Deribit – a minimum deposit of 0.001 and leverage of 20:1 but the interface can be tricky if you are new to trading, and Deribit will only accept BTC coins.
Coinut – no minimum deposit and will accept both Bitcoin and US dollars, easy process to set up an account
Evolve – no minimum deposit and leverage of 500:1. The website is geared up for BTC trading, but it is not regulated.
Whaleclub – no minimum deposit and leverage of 200:1. It permits anonymous trading and charges no trading fees. It has high interest fees and high withdrawal charges.
The top three Bitcoin Futures trading platforms
BitMEX
BitMEX has become a market leader when it comes to Bitcoin Futures. This may be because it offers something for everyone, including quarterly futures contracts, leverage of 100:1 and perpetual swap. Based in the Seychelles, BitMEX remains relatively unscathed by regulatory oversight for now. Platform users can manually close their contracts, otherwise the platform can instigate deleveraging to do this.
OKCoin
OKCoin features Bitcoin exchange plus a wallet service. Some traders trading on a weekly, bi-weekly or quarterly basis use OKCoin for 20:1 leveraged Bitcoin futures. This particular platform stands out from others because users can go long and short simultaneously, while on the same contract. This means that, as a trader, you can ensure that you can handle any type of price change at any given time. As you know, Bitcoin can be volatile at times, so the market will experience brief troughs and peaks. OKCoin allows traders to take advantage of all of these changes whenever they want to.
Cryptofacilities
Finally, trading Bitcoin futures through the London-based company Cryptofacilities is often overlooked. However, this platform provides an unusual and attractive feature in terms of calculated risks. A leverage of up to 50:1, with contracts running for a time period of between 1-4 weeks is available quarterly, twice per annum or every three-quarters of a year.
Other Bitcoin Futures trading platforms
Coinpit
American exchange Coinpit provides Bitcoin futures trading, with 100:1 leverage.
You can access contracts on a weekly or bi-weekly basis, and settlements occur every day.
Users have to close contracts to terminate them, which of course may lead to significant losses or gains, depending on your personal trading strategy.
Deribit
This platform has proved popular among Bitcoin futures traders, with leverage of up to 25:1.
Deribit offers users both weekly and quarterly futures for Bitcoin, and social loss determines all futures contracts.
EverMarkets
Recent start-up EverMarkets aims to build a new blockchain-based trading platform to challenge the Wall Street edge in the cryptocurrencies market and to support futures contracts trading that is peer to peer.
The company wants this to apply to both 'real world' and crypto markets. Users will be allowed to use cryptocurrencies to settle contracts, pay fees and post collateral.
The EverMarkets Exchange (EMX) plans to operate an auction system that will collect all your buy and sell offers, and then match them according to price and size within only a few minutes.
The company hopes the new system will balance the needs of regular traders against the high frequency employees of hedge funds.
Bitcoin Futures Trading Strategies
Given the unpredictability of the Bitcoin market, it's important that you have a strategy that will effectively govern your trading policies in changing circumstances. To do this, bear in mind the following five steps and treat them as tips for best practice:
Take your technical analysis seriously and do it well
Manage your trading schedule at a sustainable pace
Refer to live news feeds for world events that may cause price surges
Protect your open positions with stop losses
Take a prudent approach to leverage
Bitcoin's volatility is the number one reason why investors interested in Bitcoin futures should be very cautious when designing their strategies. Leverage is another consideration, and you should take into account the fact that incautious leverage can result in heavy losses. Using stop losses is simply common sense. It prevents overexposure and potential catastrophe. The best way to stay on top of news is to follow live news feeds and make sure you take note of any major world events that can affect the price greatly.
Mining – what do we need to know?
The process of adding new transactions to the Bitcoin public ledger of past transactions is known as mining. The ledger, often referred to as the blockchain, is used to confirm transactions that have taken place to the rest of the network. Arguably, miners are the single most important part of any cryptocurrency network, and mining is an investment, just like trading.
If you think of miners as providing an accounting or bookkeeping service for individual cryptocurrencies, it's easy to understand. Technology has ensured that the days of filling in a large ledger with pencilled entries are far behind us, and just as accountancy software continues to develop at a fast pace, so the complicated cryptographic puzzles that miners solve are becoming increasingly difficult. If a certain cryptocurrency becomes extremely popular, for instance, more people will try to mine it and the mining process will become more difficult.
As the software and equipment for successful mining has become more expensive, the days when you could use a desktop or laptop computer are disappearing. For beginners, experts recommend Feathercoins, Litecoins and Dogecoins as being cost-effective if you are using consumer-grade hardware. If you successfully solve the cryptographic puzzles, you receive an award fee plus a transaction fee; however, these are getting lower rather than rising. The Bitcoin network is designed to contain no more than 21 million coins at any one time, so more miners inevitably lead to lower fees.
Conclusion
Cryptocurrencies are very similar to 'regular' trading – they just have different features and a decentralised control. There are lots of cryptosporidium from which to choose, and Bitcoin futures is just one example. The number of brokers and exchanges offering Bitcoin futures is growing, and trading platforms range from the very well established and reliable companies to absolute newcomers to the field. It's important to get your trading strategy sorted early on in your trading plan, as Bitcoin markets can be volatile, so you should be prepared for rapid and extreme changes. Look for good deals with adequate protection from theft and fraud, as well as interfaces that you can easily navigate, and modest requirements for deposits.
Keep up with your technical analysis and make sure you understand how mining works. When investigating trading in Bitcoin futures, there are plenty of independent reviews to help. Remember that Bitcoin futures trading can be exciting and is high risk.
[tradingcategory_box size="big"]