Ripple is a special type of digital asset, one that is often confused by people as a cryptocurrency. Ripple is actually a money-exchange protocol, which provides an instant, low-cost and secure alternative to traditional banks. Ripple's protocol also has a token, called the XRP. The XRP is a tradeable cryptocurrency and can be bought on many popular crypto-exchanges. This article will provide an in-depth explanation of Ripple, how it works and where to buy, sell or exchange it.
Ripple is money-exchange protocol, while XRP is its token
It uses a network of independent servers to validate all transactions
Unlike bitcoin and ether, XRP can't be mined
A growing number of financial institutions have already adopted Ripple's transaction protocol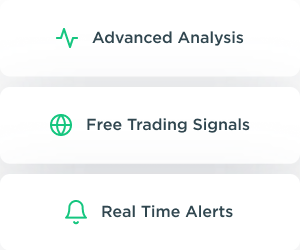 Essence and History of Ripple
Ripple is a real-time gross settlement system (RTGS) and currency exchange, which is managed by a network of servers that validate and compare all transactions. Unlike bitcoin which uses a proof-of-work model that requires high computing power and energy, the Ripple platform has very low energy needs. The servers that make up the network are distributed across the world and can belong to individuals and companies. The integrity of the network is ensured through a consensus process between all the servers involved in validating the transactions.
Ripple is a complete protocol for fast, secure and low-cost money transfer across the world. Its token, called the XRP, is a tradeable cryptocurrency but the Ripple protocol doesn't rely on XRP to validate and process the transactions. All types of currencies can be sent through the protocol: fiat currencies, commodities and even airline miles.
The Ripple network mostly caters to companies who send large sums of money, since the Ripple protocol can handle transactions of any size in a fast manner. That's a major advantage of Ripple, and many financial institutions have recognized its potential and started to cooperate with Ripple Lab, the company behind the Ripple network and its XRP token. Names such as RBC, Santander, Standard Chartered, Credit Agricole and American Express are testing money-transfer services based on the Ripple network.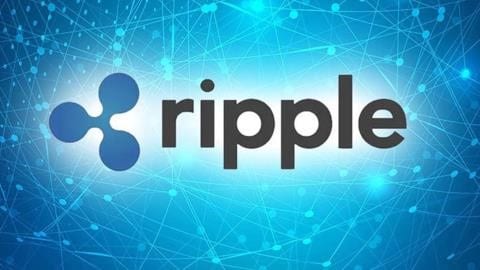 The People Behind Ripple
Long before Ripple was introduced in 2012, a web developer from Vancouver named Ryan Fugger, developed Ripplepay in 2004. Fugger planned to create a decentralized monetary system which would allow individuals to exchange and even create their own money. Based on this concept, Jed McCaleb, Arthur Britto and David Schwartz started developing a payment system where transactions will be verified by independent servers, rather than through the process of mining as is the case with bitcoin
The team founded OpenCoin Inc., which began to develop the Ripple protocol based on Fugger's ideas. The protocol, which forms the cornerstone of Ripple, allowed for the instant exchange of money between two parties. OpenCoin also developed the XRP toke to allow financial institutions fast and low-cost money transfer
In September 2013, OpenCoin Inc. changed its name to Ripple Labs, with Chris Larsen as the CEO. Chris Larsen had previously founded E-Loan and Prosper, and joined the Ripple team in August 2012. One month later, in October 2013, Ripple Labs partnered with ZipZap to create a potential competitor to Western Union.
Since then, Ripple's team focuses on increasing the market share in the banking industry, signing multiple agreements with major financial institutions. In 2015 and 2016, the company expanded and opened new offices in Sydney, London and Luxembourg.
Differences between Ripple and Bitcoin
While bitcoin's purpose is to take advantage of the blockchain technology in order to offer a decentralized and anonymous payment protocol, Ripple is different in the way that many operations are centralized and overlooked. Banks and Ripple Lab have a control over the servers that validate the transactions, and can restrict certain activities or even freeze accounts if a transaction seems suspicious. In fact, Ripple has updated its policies in 2013 to only allow payment gateways that are in compliance with financial regulations, following a FinCEN violation that year. Many supporters of blockchain's decentralized nature are criticizing Ripple for this centralized approach and regulation, but this property of Ripple may be one of the major reasons why so many banks are adopting its technology.
The second major difference between Ripple and Bitcoin is in their tokens. Bitcoin relies on thousands or even millions of miners who provide their computational power to validate bitcoin transactions, creating new bitcoins in the process. XRP, on the other hand, can't be mined. Ripple Lab has published 100 billion XRP tokens, and according to the company, this is the total number of XRPs that will ever exist. However, there's no guarantee that Ripple Lab won't release additional XRPs later on. The fact that XRPs aren't necessary for the Ripple network to function and that they can't be mined is a major point of criticism for Ripple's opponents.
Ripple and Financial Institutions
Ripple is primarily used by financial institutions who cater to large number of customers and large cross-border payments. According to Ripple Lab, more than 100 institutional customers are using Ripple's network and more than 75 of them are deploying it commercially.
Unlike traditional payment methods which are slow, expensive and with high failure rates, Ripple's network provides instant settlement via its independently verifying servers, real-time traceability of funds and low operational costs.
To increase the presence of XRP in the traditional financial industry and to minimize liquidity costs, Ripple introduced the xRapid payment system. xRapid circumvents the need for pre-funded local currency accounts when sending payments into emerging markets, which significantly lowers the capital requirements for liquidity. When a bank sends funds to an account in another bank, xRapid uses XRPs to offer on-demand liquidity and real-time settlement in emerging markets. Ripple's token can handle up to 1,500 TPS (transactions per second), compared to Ethereum's 15, and bitcoin's 3-6 TPS. XRPs are scalable to handle up to 50,000 TPS if needed – the same throughput as Visa.
Still, the centralized nature of Ripple's nodes which are handled by financial institutions and Ripple Lab doesn't differ much from the traditional banking industry. The servers simply validate the transactions, which is pretty much the same as traditional banks do. In a sense, Ripple acts as a "bridge" between the internet and financial institutions.
Essence of XRP
XRP is the name of the token behind Ripple's network, similar to "ether", the token behind Ethereum. The big difference between XRP and other coins is that XRP cannot be mined and is not necessary for the Ripple's network to function.
There are currently 100 billion XRPs in existence, with 60 billion owned by Ripple Labs. The company promised that it will not create additional XRPs, but there's no guarantee for that. Ripple Labs currently releases around 1 billion XRP in the markets each month in roder to fund new acquisitions and grow the business. However, as this practice would likely put significant downward pressure on the price of XRP, there are no hints that Ripple Labs is going to do so anytime soon.
However, in May 2018, A class-action lawsuit was filed against Ripple "alleging that it led a scheme to raise hundreds of millions of dollars through unregistered sales of its XRP tokens. [creating] billions of coins 'out of thin air' and then profited by selling them to the public in 'what is essentially a never-ending initial coin offering."
The current price of an XRP is around $0.25, bringing the total market capitalization to $10.7 billion. This makes XRP the third largest cryptocurrency in terms of market cap, only behind bitcoin and ether. During the period of the crypto-hype in late 2017, XRP reached its record-high of $3.30.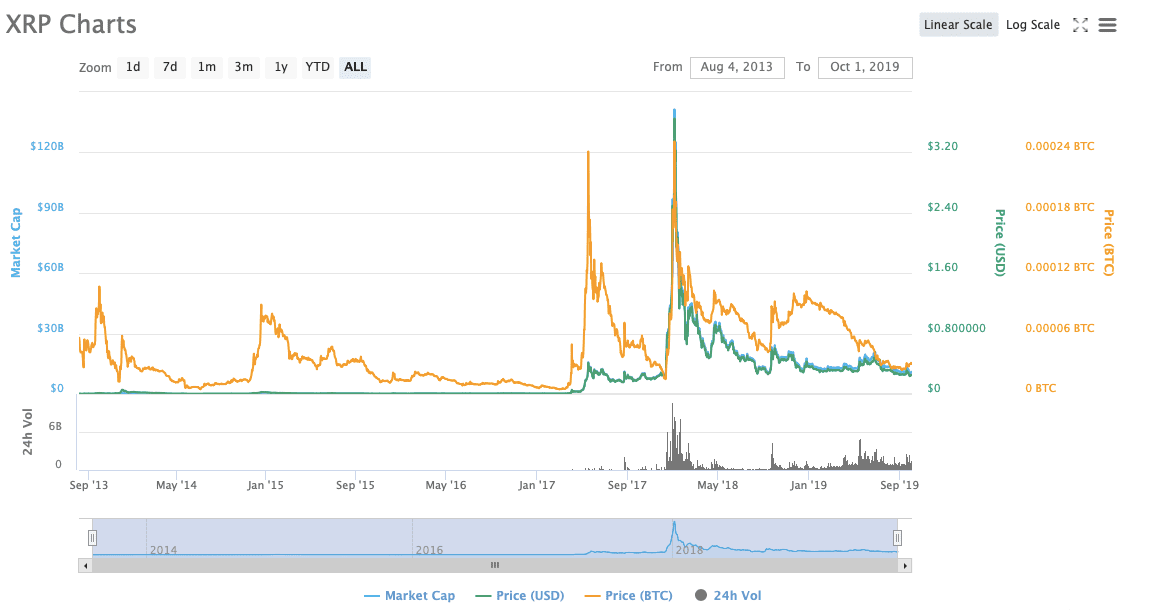 Payments in XRPs settle in only 4 seconds. Compared with ether's 2 minutes, bitcoin's 1 hour or traditional payment systems that take up to a week, this speed is a major advantage of XRP and this is the major reason why financial institutions like Ripple so much.
How to Buy XRP?
The rising prices of many cryptocurrencies in December 2017 caused a massive influx of investors who didn't want to miss the bull market. Bitcoin reached $20,000, Ethereum doubled, and investors turned to other lower-priced cryptocurrencies to enter the crypto-market. Ripple was a popular coin to buy at that time, jumping tenfold in price from $0.3 in the beginning of December to $3.30 only a few weeks later.
The largest US crypto exchange, Coinbase, recently listed XRP and this further solidified the trust of investors in the token.
XRP can be bought and sold on the following exchanges: Coinbase, Bitstamp, Kraken, Coinone, Coincheck and many more. The registration on these exchanges is straightforward: open an account and verify it. Once the verification process is complete, an investor can buy XRPs that are credited to your XRP balance.
Criticism of Ripple
There has been much criticism of Ripple in the crypto-world. Supporters of the decentralized blockchain-based cryptocurrencies, such as bitcoin or ether, state that the inability to mine XRPs is a major disadvantage of the coin. All coins were distributed directly by Ripple Labs, and the fact that the founders retained a large percentage of them (more than 60%) is also being criticized. However, more than 50% of all XRPs in existence are held in escrow and are released periodically at a mediated rate by the company, which settled much of the controversy. Many of the coins held by the founders have also been donated to various charities, such as the Computing for Good Initiative, which in turn started to offer XRPs to its volunteers. Ripple is investing heavily in bridging the gap between technology and education, supporting many premier schools around the world to study and understand the technology of blockchain.
Critics also say that Ripple is not fully decentralized, since the company or regulators could potentially interfere in the network and restrict certain transactions. This goes directly against the main advantages of blockchain, such as the inability of third parties to interfere and change the network's operations. The fact that Ripple's nodes do not perform proof-of-work but merely validate the transactions is also being criticized. On the other side, this leads to a significant reduction in energy consumption as compared to bitcoin's network for example.
Conclusion:
Ripple's platform offers many advantages compared to traditional payment methods. It's fast, secure, and the transaction costs are only a fraction of a regular wire transfer. The network is based on independently verifying servers which validate each transaction and keep a record of all transactions in a public ledger. All transactions can be traced, and UNLs (Unique Node Lists) ensure a high security of the protocol.
Since large sums of money can be exchanged in a few seconds, Ripple caters mostly to enterprises and has reached agreements with dozens of financial institutions including American Express, Santander and UniCredit Bank. Many other banks reported that they're experimenting with Ripple's protocol for their services.
Its token, called XRP, can't be mined like bitcoins or ethers. Instead, Ripple Labs created 100 billion tokens that, according to the company, is a fixed supply. Out of the total amount, 40 billion is distributed, 8 billion is held by Ripple Labs and 52 billion are held in escrow. The founders can decide to distribute additional 1 billion coins per month, in case the company needs funds for projects or acquisitions.
Although its concept is quite different than bitcoin's, there is no doubt that Ripple's platform has the potential to revolutionize the way how we exchange money today. Ripple Labs was recognized by the Massachusetts Institute of Technology as one of 50 Smartest Companies in 2014.
PEOPLE WHO READ THIS ALSO VIEWED: