Given the ground-breaking nature of the sector, it's unsurprising that a new generation of cryptos has emerged which don't have huge carbon footprints, a new wave of Eco-Friendly Cryptocurrencies. The accounting methodologies of Cardano, Polkadot, Ripple, and Tezos have been designed to use less energy. They also offer faster processing times and a range of other features which make them better equipped to take crypto to the next level.
The popularity of Bitcoin and Ether comes down to them offering solutions to a particular set of problems. However, the landscape is constantly changing, and the coins listed below are the ones investors are now backing.
The Best Eco-Friendly Cryptocurrencies
Cardano was founded in 2015 and launched in 2017 by Ethereum co-founder Charles Hoskinson. The aim was to take the best bits of Ether but use 'Proof of Stake' (PoS) protocols to manage the blockchain. PoS is a much more eco-friendly methodology than the 'Proof of Work' (PoW) system used by Bitcoin and Ether.
In February 2021, Hoskinson estimated the Cardano network used six GWh compared to the 110.53 TWh used by the Bitcoin network. Some of that difference comes down to Bitcoin being a more extensive blockchain with more members. Some of it comes down to the design of the platform. The market capitalisation of ANA is $16bn compared to Bitcoin's $650bn, but Cardano's energy consumption is less than 0.01% of that of BTC. Put another way, Cardano uses the same amount of energy each year as 600 US homes, whilst Bitcoin uses the same amount as Washington state.
Cardano Price Chart – 2020 – 2022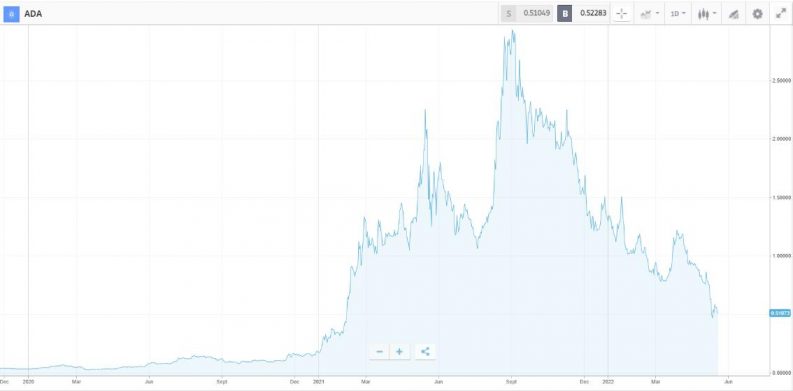 Source: eToro
*68% of retail CFD accounts lose money
Cardano beats Bitcoin in other areas; it is much better equipped to be used as a means of payment and can process 1,000 transactions a second compared to up to seven with Bitcoin. Another claim made by Cardano is that the Ouroboros PoS system that the platform developed can be easily scaled up. The firm stated that it does not need to sacrifice security or its green credentials even if ANA becomes the world's currency.
The Ripple network cuts down on its carbon footprint by using trusted validators to confirm transactions and keep track of its XRP tokens. The fact that all XRP coins have already been mined also helps, and Ripple has a stated aim to be carbon neutral by 2030.
The Ripple eco-system is energy efficient and has the functionality, which has resulted in its developing relationships with hundreds of financial institutions. It's a fast and cheap method of transferring funds and solves a problem traditional banks have always struggled with – how to facilitate cost-effective cross-border transactions.
An SEC lawsuit hangs over Ripple. The case was brought against the firm in 2020, but when it is resolved, the price of XRP can be expected to rise.
Ripple Price Chart – 2020 – 2022
Source: eToro
*68% of retail CFD accounts lose money
Tezos uses Liquid Proof of Stake protocols to manage its consensus mechanism. The energy savings are substantial and have also been audited by the internationally recognised accounting and auditing form PwC. The 50m transactions Tezos carried out during that PwC study were associated with the annual energy use of 17 world citizens.
Founded in 2018, Tezos started as a more 'traditional' crypto, even down to the founders Arthur and Kathleen Breitman having a colourful back story. The pair first met in 2010 at a crypto-anarchist lunch, and they maintain an interest in libertarian political campaigns. Tezos is a true disruptor style crypto, with a "sock it to the man" approach, but the pair made what, in hindsight, was a mistake by starting out using Proof of Work protocols.
Tezos Price Chart – 2020 – 2022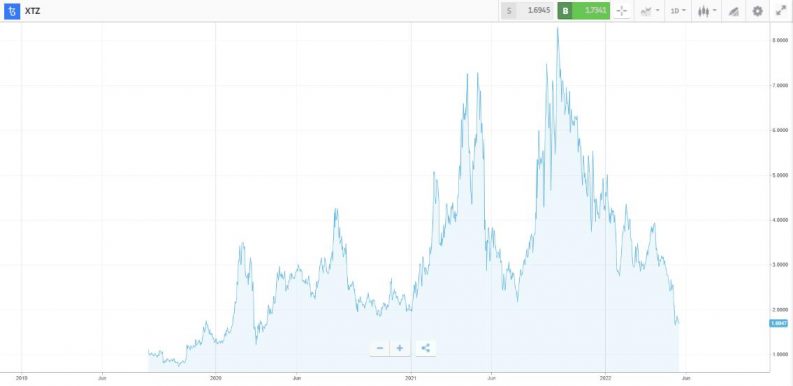 Source: eToro
*68% of retail CFD accounts lose money
A subsequent shift to Proof of Stake protocols means each Tezos transaction is now calculated to consume 2.5g of carbon, putting the coin in a position to attract those looking to invest in greener cryptos. It also opens the door to Tezos moving into the non-fungible tokens (NFT) and decentralised finance sectors traditionally dominated by Ethereum. Progress is being made in developing new markets, and in 2021 Tezos was selected by Red Bull Racing, Honda and McLaren Racing as their NFT launch platform.
The ability of the founders to overhaul the platform and move from one consensus methodology to another has reduced its carbon footprint. It also suggests the platform has the agility and technological skill sets needed to tackle other future challenges. Throw in that staking XTZ generates an annual return in the region of 5-8%, and buying XTZ looks like a good long-term bet for anyone looking to invest in eco-friendly crypto.
Polkadot uses PoS protocols to take energy efficiency to another level. The Crypto Carbon Ratings Institute (CCRI) found that Polkadot emerged as the network with the least electricity consumption compared with Ethereum, Solana, Bitcoin, and other top cryptos. The energy required by DOT is equivalent to 6.6 US households.
One way the platform achieves a tiny carbon footprint is that it offers those who stake their coins a generous annual yield in the region of 10%. That double-digit yield makes the coin highly attractive to investors looking for a passive income, but there are reasons to believe capital gains could also be on offer.
Polkadot's blockchain is a "relay chain" that oversees the network of accounts, but "para chains" are also auctioned off to organisations who want to develop their own crypto eco-system but still benefit from the security of the DOT network. This puts Polkadot in a head-to-head contest with the second largest crypto in the world, Ethereum, but Polkadot has a massive advantage in terms of energy use.
Polkadot Price Chart – 2020 – 2022
Source: eToro
*68% of retail CFD accounts lose money
Another way Polkadot captures the current zeitgeist is the platform's approach to social consciousness. Part of DOT's mandate is to support those who want to take back control of their online presence. By providing layer-1 blockchains to users, it tilts the balance of power away from powerful third parties, central authorities, and internet monopolies.
BitGreen was created to offer an eco-friendly alternative to Bitcoin. It uses Proof of Stake protocols, and there is no need for energy-intensive mining of new coins. Energy saving is part of the coin's DNA, and it draws on behavioural science to encourage behaviour which is good for the environment. Users are rewarded for actions such as drinking sustainable coffee, carpooling, and volunteering.
All BITG holders automatically become members of the BitGreen community, which means they can nominate new impact actions or promote new causes to be adopted by the group. This approach of developing a global community is a neat feature of BitGreen, and it solves the problem of crypto energy use and reflects the move towards more ethical investing.
*68% of retail CFD accounts lose money
What Next For Eco-Friendly Cryptocurrencies
Cryptocurrencies with smaller carbon footprints look set to challenge the more prominent players such as Bitcoin and Ethereum. That pair just can't shake off the problems associated with their high energy use. To make matters worse, the higher the price of a Proof of Work coin, the greater the incentive for 'miners' to scale up their operations with more energy-sapping computers and attempts to receive payment in the form of new coins.
The deadline for Ethereum's planned switch away from PoW to PoS keeps being pushed back and exposes it to the risk of newer coins eating into its core market. Bitcoin is a different proposition as it still appeals to those who see crypto as a store of wealth and want to buy some crypto and forget about it. But the problem of Bitcoin's energy use isn't going to go away. Tesla's decision not to accept Bitcoin as payment for its vehicles due to eco-concerns points to the coin becoming less, rather than more, widely accepted.
How to Buy Eco-Friendly Cryptocurrencies
Buying crypto has become easier but selecting a trusted platform for your trades is still crucially important. It's also worth remembering that the coins themselves are unregulated instruments and so fall out of the scope of protection provided by regulators such as the Financial Conduct Authority (FCA).
Specialist crypto platforms such as Coinbase cater to more tech-savvy investors and offer a broader range of markets. Still, regulated brokers such as eToro are catching up regarding coins available to trade. eToro now provides a choice of 65 different cryptocurrency markets and four of the five energy-efficient alternatives to Bitcoin on the above list.
Another advantage of using a firm like eToro is that some areas of its business are regulated. As a result, they follow the stringent rules and regulations set out by Tier-1 regulators. They also represent a safer bet because they have income streams from other areas of the financial markets, not just crypto. That could be important if the crypto markets go belly up.
1. Find a Broker
Firms which offer eco-friendly cryptocurrencies can be found on this shortlist of good crypto brokers. AskTraders analysts have reviewed them to ensure they provide cost-effective trading and the research tools and mobile apps that help optimise returns.
2. Open & Fund an Account
Setting up an account varies from platform to platform but can take as little as a few minutes to complete. Some platforms require specialist wallets to be set up, but online brokers which offer other asset groups such as equities and commodities usually allow clients to trade all the available instruments from a single cash account.
Instruction to Buy $350 of Polkadot at eToro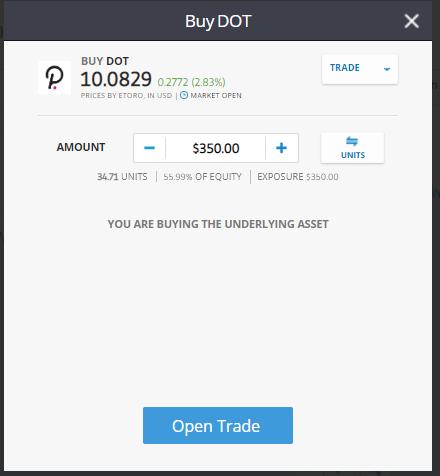 Source: eToro
*68% of retail CFD accounts lose money
3. Buy Crypto
Once you log onto your new account, the process of putting on your first trade is very straightforward. Navigate to the crypto you want to buy; enter the quantity you wish to purchase, and at that point, your account will be debited cash and credited a position in crypto. Live market prices will determine the value of your holding, and when the time comes to sell your position, the process is simply reversed.
4. Set Order Types
All trading is risky, but the extreme price volatility of the crypto markets means that extra care is needed. One way to manage risk is to use stop-loss, take-profit and limit orders. These are automated instructions built into your positions which instruct the broker to close out some or all of a position at specific price levels.
An alternative approach is to not use stop losses in case you get kicked out of a position during a momentary price crash. Risk can still be managed by following the tried and tested approach of diversifying your capital across different positions and only investing amounts you can afford to lose. In the case of crypto, it's best only to use funds you can afford to lose entirely, as although there is potential to make life-changing profits, there is also the risk that your positions head in the opposite direction.
Final Thoughts
The only thing holding these coins back is the head start established coins gained simply by coming to the market earlier. Bitcoin is still the largest crypto by market capitalisation, but that could change, and investors are already switching to more eco-friendly cryptocurrencies. The above next-generation cryptos have kept the best elements of earlier coins but at the same time offer a solution to the all-important energy consumption problem.
Trading with the trend is a fundamental rule of investing, and the move towards using less, and cleaner energy, is hardcoded into popular opinion. That makes eco-friendly cryptocurrencies the obvious option for someone looking to gain exposure to the sector. Some operational issues are associated with buying crypto, which means navigating to this list of legit crypto brokers will get your trading off to the best possible start.