It is also worth considering the staking rewards on offer, as they differ from coin to coin. The commissions charged also vary depending on which platform you use. The essential factors to keep in mind are the safety of funds and using a legitimate broker platform, plus the fundamental prospects of the cryptos involved. This review of the crypto market covers the different ways of managing a position of staked crypto, how to optimise your returns, and five of the best cryptocurrencies offering staking right now.
Cryptocurrencies Currently Offering Staking
Not all cryptocurrencies offer staking. Some use different methodologies and 'consensus mechanisms' to manage their blockchain infrastructure. These methodologies can include proof of work (PoW), proof of activity (PoA), proof of burn (PoB), and proof of capacity (PoC). The good news for crypto investors is that the PoS blockchains, which allow staking, tend to use much less energy, so they could be good long-term bets. They also include some of the biggest and most recognisable cryptos.
Cryptocurrencies Currently Offering Staking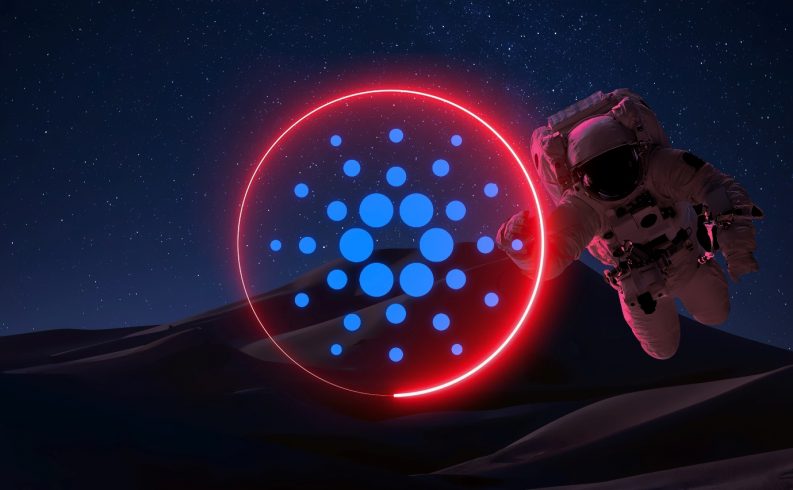 Source: 123RTF
Cardano (ADA)
Cardano has only ever operated using proof of stake protocols, and fans of the ADA blockchain see this as a competitive advantage. Founded in 2015, it is second generation crypto which means it has some catching up to do in terms of market share but has been able to cherry-pick the best bits of first-generation coins such as Bitcoin but overlay a range of upgrades.
The Cardano homepage explains the forward-thinking credentials of the platform, which is regarded as being one of the cryptos with the most robust eco-credentials.
"Cardano is a blockchain platform for changemakers, innovators, and visionaries, with the tools and technologies required to create possibility for the many, as well as the few, and bring about positive global change."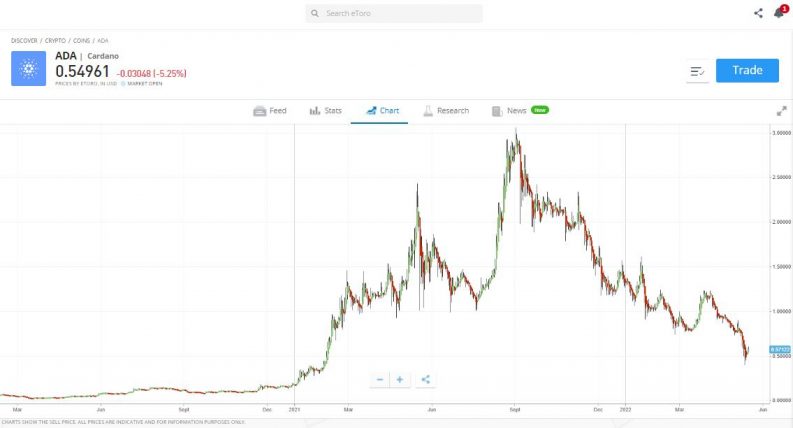 Source: eToro
*68% of retail CFD accounts lose money
Cardano is the seventh-largest crypto by market capitalisation ($18.7bn) but comes first on our list of cryptos to stake because it is very much the flag bearer for the proof of stake approach and the new way of doing things.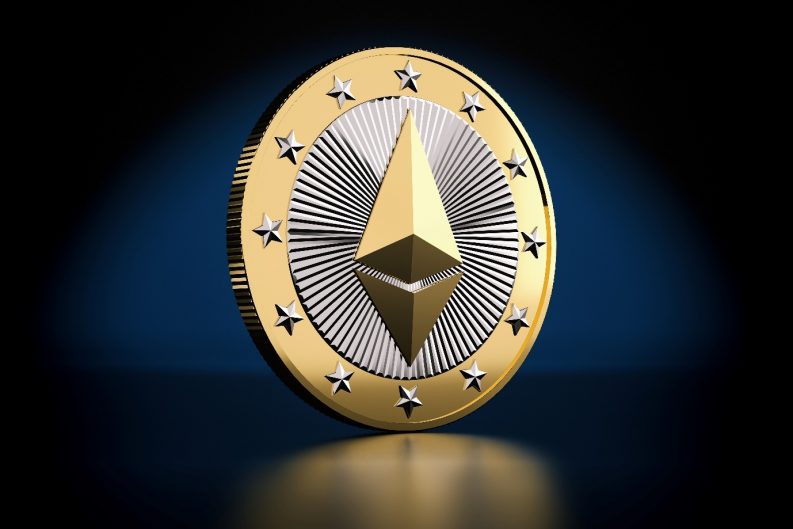 Source: 123RTF
Ethereum (ETH)
Ethereum is the second-largest crypto by market cap ($242bn) and is the coin seen as being the most likely challenger to Bitcoin. It's 3.2 times larger than third-ranking Tether, so the fortunes of the proof of stake methodology are very much tied up with the performance of ETH. In May 2022, Coinbase stated that the most widely staked coin on its platform was Ether.
Interestingly Ether started off using the proof of work approach and is still carrying out a system overhaul dubbed 'The Merge' where it will switch from PoW to PoS. That move is not without its own set of risks. Given that the PoW based Ethereum network is calculated to use 113 terawatt-hours per year, as much electricity as the Netherlands, there are obvious reasons to switch to an eco-friendlier approach.
Source: eToro
*68% of retail CFD accounts lose money
While it is currently possible to stake Ether, it is impossible to unstake it until the system upgrade has been completed, and the deadline for that occurring keeps slipping. Buying Ether now would suit those willing to stake now, receive a passive income stream, and wait for the dust to settle on the switch from PoW to PoS. If Ethereum is still the second-largest crypto by the time it comes out of the upgrade, it will be in an excellent position to use its faster and cheaper processing times to challenge Bitcoin.
Ether already has a solid position in NFTs (non-fungible tokens) that stretch across the worlds of digital art, music, and video. It has functionality and brand appeal, making it likely to be the natural home of the next big digital trends.
Source: 123RTF
Solana (SOL)
Solana utilises a novel proof-of-stake (PoS) consensus model that incorporates proof-of-history (PoH). That adds the element of time to the process and enables cryptographic verification of the passage of time between two events. There are no minimum size rules, so even the smallest position can be staked, and as of February 2022, the average reward ranges from around 6-8% per annum.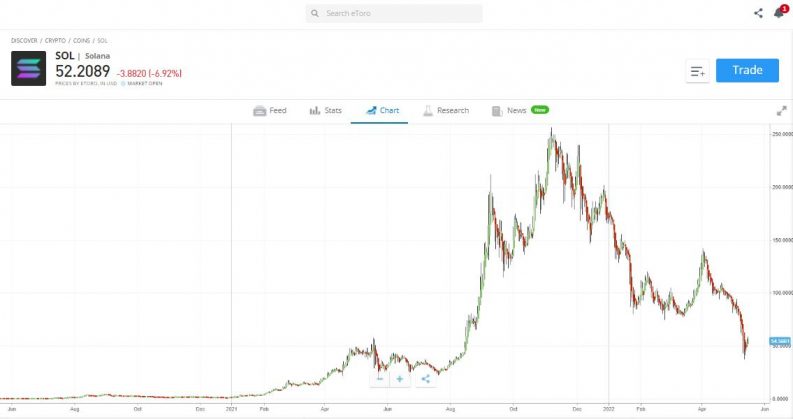 Source: eToro
*68% of retail CFD accounts lose money
It is essential to choose your validator wisely when staking Solana, as 'slashing' can occur. That is when malicious validators looking to abuse the system are issued with a warning or have their positions reduced.
Source: 123RTF
Tezos (XTZ)
Tezos was launched in June 2018, and the next-generation protocols of the system have caused a major storm in the crypto sector. It formed the biggest initial coin offering (ICO) with over $230m in investment and uses a version of PoS called liquid proof-of-stake (LPoS).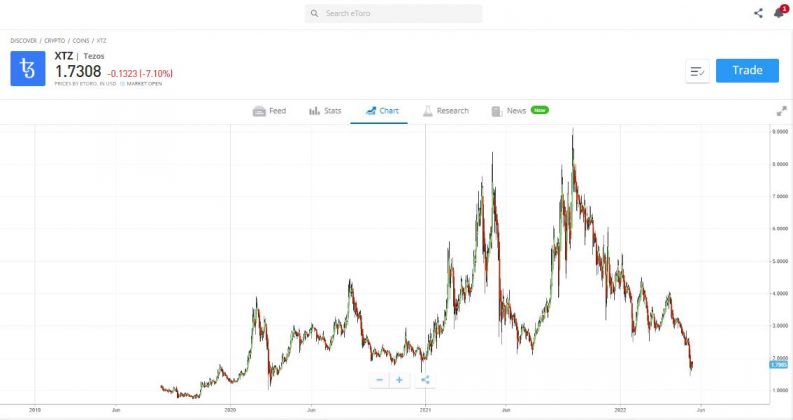 Source: eToro
*68% of retail CFD accounts lose money
The annual percentage yield on XTZ staking ranges between 5-6%, and a user needs 8,000 coins to run a stand-alone stake. Third-party operators offer a pooling service so that smaller positions can be amalgamated to be the minimum allowable size.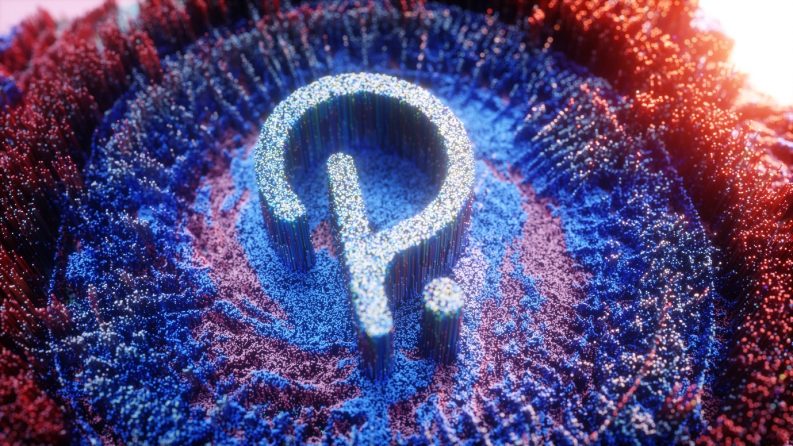 Source: 123RTF
Polkadot (DOT)
Polkadot offers crypto stakers a generous annual yield in the region of 10%. The rate will vary depending on stake size, the number of validators, fees and commissions and the broker platform holding your position. Either way, a double-digit percentage return beats the rates currently being offered on bank savings accounts.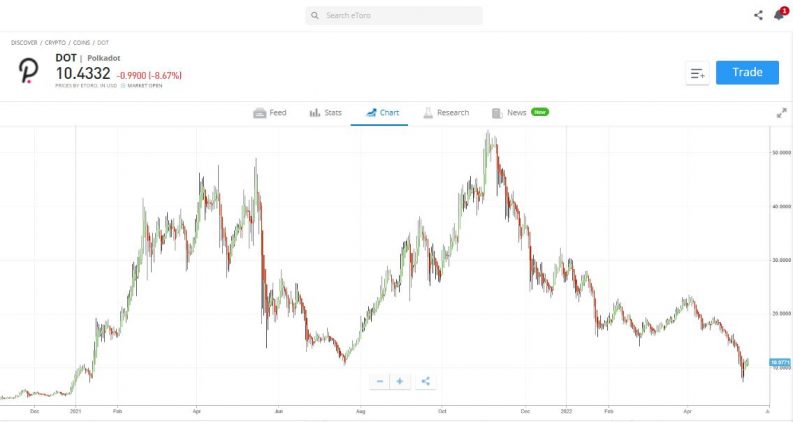 Source: eToro
*68% of retail CFD accounts lose money
As with other PoS systems, Polkadot captures the move towards making crypto more energy efficient, but its social consciousness credentials are boosted by its role in reclaiming the crypto space for the users.
Part of Polkadot's mandate is to allow individuals to take back ownership of their digital information from powerful third parties. By providing layer-1 blockchains, users can store their data away from central authorities and internet monopolies. New business models, organisations and even entire societies and economies can take advantage of DOT. Polkadot was launched in 2020, but its objectives echo those of the earliest crypto pioneers, and those sentiments are still a core part of the attraction of coins.
Is it Possible to Stake Bitcoin?
The big-name which is missing from the list is Bitcoin. The original crypto uses proof of work rather than proof of stake protocols to manage its blockchain. As a result, there is no capacity for Bitcoin staking.
The debate about the relative pros and cons of PoW and PoS looks set to run. If you're of the view that the reliability of PoW outweighs the faster transaction times and smaller carbon footprint of PoS, then Bitcoin will likely be your target investment. Bitcoin's appeal as a way to get exposure to crypto does appear enduring, and BTC still has the largest market capitalisation ($565bn) of any cryptocurrency. Even after the crypto rout of May 2022, Bitcoin's market capitalisation was greater than the combined market caps of the rest of the top 10 cryptos. A list which includes Ether, Solana, Cardano, and Ripple.
How to Stake Crypto
Choosing a crypto broker can be trickier than choosing a broker to trade stocks and shares. The coins themselves are unregulated instruments, and the specialist platforms such as Coinbase, which have sprung up, remain largely outside the scope of regulators such as the Financial Conduct Authority (FCA).
The unregulated status of specialist platforms and the need for wallets have put many off investing in crypto, but some online brokers offer a hybrid solution. Firms such as eToro, which are regulated by the Tier-1 authorities, have to comply with stringent rules and regulations because they offer regulated instruments. The crypto instruments in which they offer markets remain unregulated, but the broker knows the game's rules due to the other instruments it offers, and it isn't 'all-in' on crypto, which can be an issue for platforms when prices plummet.
1. Find a Broker
Firms which offer crypto markets can be found on this shortlist of good crypto brokers. AskTraders analysts have reviewed them to ensure they offer the T&Cs, research tools and mobile apps which give clients the best route into the market.
2. Open & Fund an Account
The process of setting up an account varies from broker to broker. Those firms which lean towards the 'crypto purist' end of the spectrum require specialist wallets to be set up. To find the best fit for you, it is worth considering this breakdown of the best crypto wallets.
Investors who want to gain exposure to crypto without becoming tech gurus can open an account with a broker such as eToro, which offers markets in all five coins mentioned above. It takes minutes to set up an account, and as well as trading and staking crypto, you'll be able to trade a wide range of other assets from the same account.
Instruction to Buy $550 of Ether at eToro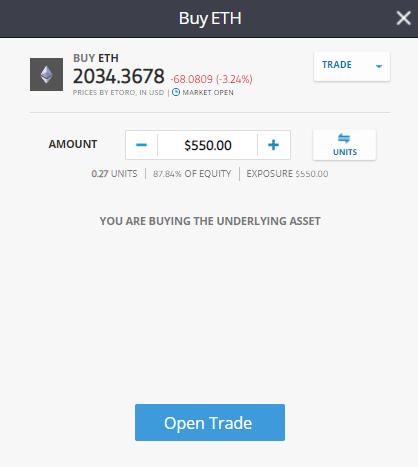 Source: eToro
*68% of retail CFD accounts lose money
3. Buy Crypto
Buying crypto at eToro is the same as buying other financial instruments such as commodities or stocks. From the homepage, simply navigate to the crypto you want to purchase and enter the quantity you wish to buy. Staking crypto does result in a passive income stream, but the basic, buy low, sell high principles still apply. Another factor to consider is risk management techniques. Extra thought has to be applied to staked positions as staking involves tying them up for a time, which means they often cannot be sold immediately.
4. Stake Your Crypto
Platforms are constantly upgrading their platforms to meet user demands, which means staking at mainstream brokers is becoming increasingly accessible. Even if your current broker doesn't support staking, you can move your coins to another wallet to stake them there.
5. Consider Joining a Staking Pool
Joining forces with other crypto holders to create a larger node in a blockchain framework can increase the likelihood of you being part of a group that receives a reward.
The rewards to a pool are shared accordingly among all members, so being part of a huge pool might improve your success rate but will also result in smaller individual payouts. Being a member of a smaller pool might offer the promise of a larger share of any reward but, on the other hand, reduces the chance of being allocated a reward.
You still own your crypto when you're a member of a staking pool, but most pools take a commission on any rewards. The average charge is between 2 – 5%, but it applies to the reward only, not capital gains on your position.
6. Receive Your Staking Payments
Exact T&Cs vary across the different coins and platforms but collecting your rewards can be exceptionally straightforward. Any returns from coins staked at eToro, for example, are credited monthly with zero interaction required from the account holder.
Final Thoughts
Not all cryptos offer staking, but those that do include some of the coins with the best prospects. Whether you're new to crypto trading or an old hand, head to this list to find platforms which offer user-friendly staking. Staking does add an extra layer of complexity in a space known for being high in terms of risk-return but setting up with a good platform that supports your trading is the first step towards trading success.