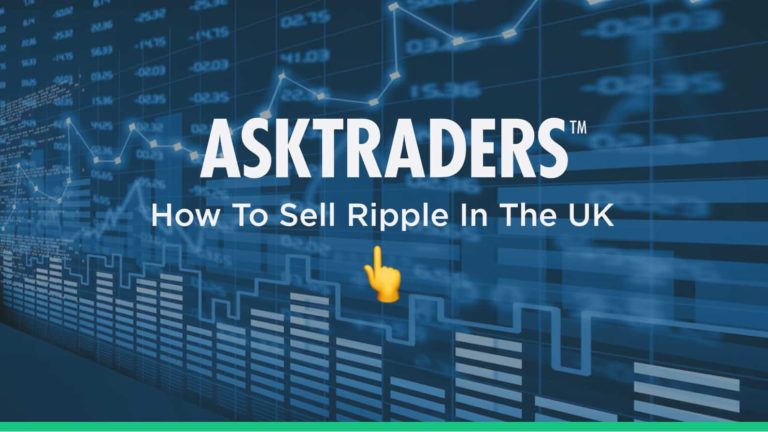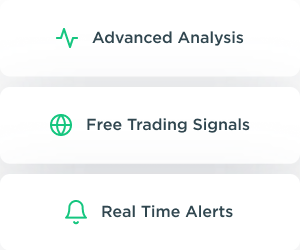 For others it's a sign to sell ripple and that XRP's days are numbered. This review will explain why they might be right and how to sell XRP. Read on as we cover the following topics:
What is ripple?
How has XRP traded?
Why sell ripple?
Tips for trading ripple
Final Thoughts
What is ripple?
Founded in 2011, ripple is an open-source blockchain system that works as a means of exchange.
Users of the ripple platform that is alternatively called RippleNet can convert fiat and digital currencies into the platforms native coin XRP, and then into other fiat or digital currencies.
Ripple's traditional strength has been to facilitate fast and cost-effective transactions. It's one of the top-five cryptos by market capitalisation as individuals and institutions have bought it to allow them to process payments.
The ripple platform has a range of extra layers of functionality which most other cryptos do not. It's essential to understand how close this takes ripple towards being an accepted and trusted global payment network. The list of additional services is always being added to but currently includes:
xRapid – An on-demand liquidity solution. Designed to allow XRP to act as a bridging currency between financial institutions making cross-border payments in fiat currencies.
XRPLedger – based on blockchain technology, the ledger's protocols allow for speedy and low-cost processing
xCurrent ­– Doesn't use XRP and demonstrates the willingness of ripple to operate in the grey area between crypto and traditional finance. xCurrent uses a protocol called ILP (Inter-ledger protocol). ILP is doubly exciting as not only does it facilitate exchange between crypto and fiat systems, but also crypto-to-crypto.
Messenger and Validator – These form part of the xCurrent package. Both provide secure, verifiable means of communicating and checking details of financial transactions.
How has XRP traded?
The fundamental business proposition of ripple sounds convincing enough and it has at times shared in some of the euphoria around crypto. However, the price of XRP tells a story. It has never quite shot up as hard and fast as its peer group and in relative terms, it also seems to be missing the latest crypto bull run altogether.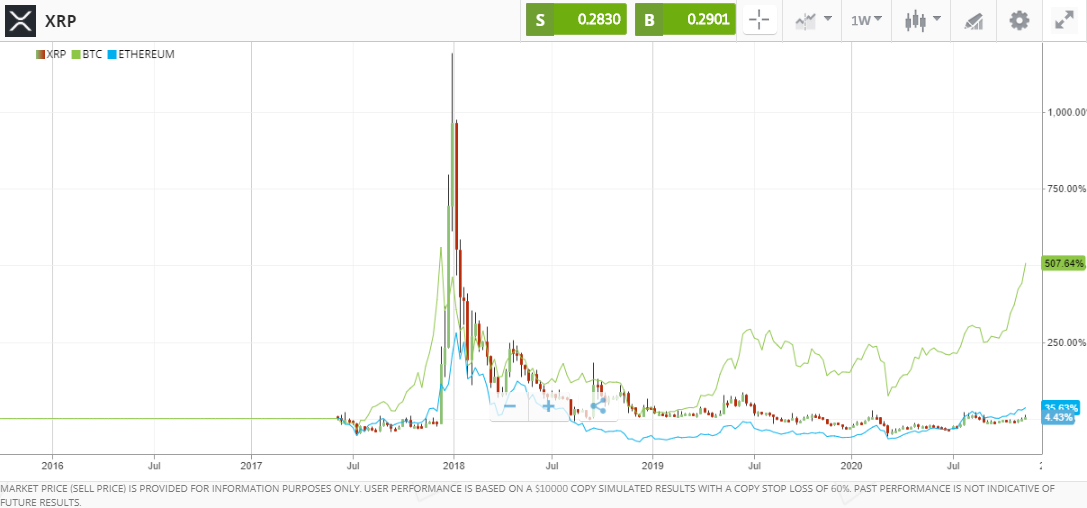 Source: eToro
Since July 2017 XRP's main rivals have outperformed it, the relative price changes are:
XRP + 4.98%
ETH + 35.60%
BTC + 509.57%
A price comparison over the last 18-months shows the two rivals leaving XRP in the dust.
XRP – 5.39%
ETH + 300.81%
BTC + 392.44%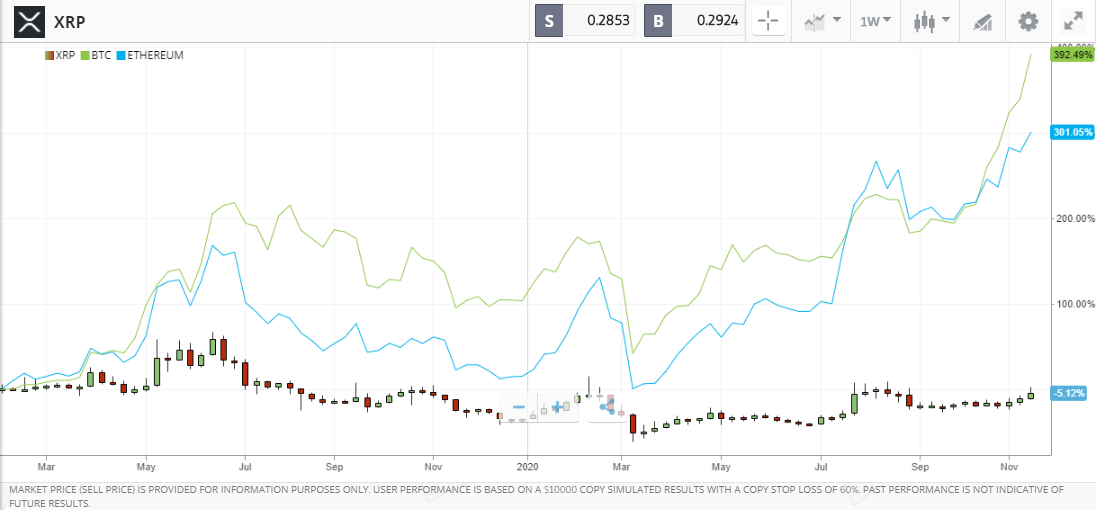 Source: eToro
The current price of XRP is $0.2897 but at its height in 2018, it printed at $3.50. As with other cryptos, there have been opportunities to make phenomenal gains (and losses) but price performance since then has been disappointing.
Why sell ripple?
Its role as a lubricant of payments has reduced its value as a store of wealth. It's a token that permits changing one currency to another, rather than the end target of a transaction.
The relatively mundane performance in price since the last quarter of 2018 is mostly due to ripple crossing over into being a 'normal' business. Processing payments between global institutions and individuals might be a valid role but it is hindering rather than helping the XRP price.
The way that RippleNet has been a drag on XRP prices is because of two factors.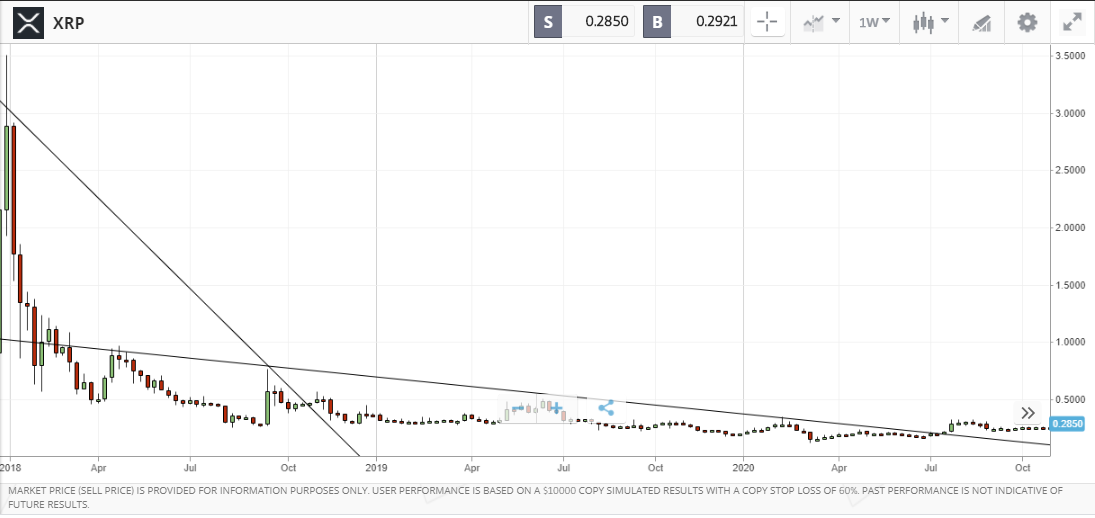 Source: eToro
Competition from other coins
Ripple was founded in 2011, so has some early-adopter advantages. However, blockchain is a fast-evolving technology and other Altcoins set up at a later date have been able to improve on ripple's design.
That is important as there can be only one winner in the race to be the payment processing format of the future. The close rival Tether was launched in 2014 and every three-months on average it processes $42bn worth of transactions. The corresponding number for XRP is just $1.8bn.
Tether is pegged to the US dollar so might not necessarily make holders of that coin rich. Stable-coins just aren't intended to work that way. It might, however, get in the way of XRP owners being able to cash in at a significant profit.
Selling-out
The second factor which is leading to some selling XRP is that purists see ripple as a sell-out.
The decentralised, open-sourced framework of bitcoin was initially envisaged as the first step towards a financial counter-culture. Ripple has taken that revolutionary spirit and diluted it by acting as a go-between for the major financial institutions that crypto was supposed to topple.
The mechanics of the ripple platform offers XRP some hope. The ripple network allows transactions to be processed every four to five seconds, on average. That compares well to Tether's six-minute delay and bitcoin's average, which is in the region of 10 minutes.
Ripple is falling down the rankings
The top-11 rankings of cryptos position XRP as the fourth-placed crypto by market capitalisation. What the table doesn't show is that until September 2020 XRP was placed in the third position but it slipped down the charts and had its place taken by Tether.
Being adrift of BTC and ETH is one thing but being behind a stable-coin, one that is designed to do what ripple does, but better, suggests ripple could be about to fall further down the rankings.
| | | | |
| --- | --- | --- | --- |
| Symbol |  Last price | Avg vol (3-month) $Bn | Market Cap ($Bn) |
| BTC-USD |    16,301.09 | 27.59 | 302.20 |
| ETH-USD |         453.63 | 13.95 | 51.46 |
| USDT-USD |            1.00 | 42.10 | 17.88 |
| XRP-USD |            0.27 | 1.88 | 12.44 |
| LINK-USD |           12.29 | 1.54 | 4.83 |
| BCH-USD |         249.37 | 1.90 | 4.63 |
| LTC-USD |           67.54 | 2.36 | 4.45 |
| BNB-USD |           27.99 | 0.43 | 4.04 |
| DOT2-USD |            4.44 | 0.44 | 3.90 |
| DOT1-USD |            4.40 | 0.49 | 3.87 |
| ADA-USD |            0.10 | 0.58 | 3.18 |
Source: Yahoo Finance
The slide down the rankings could become a self-fulfilling process. Crypto analysis requires delving into a lot of dark and distant areas of blockchain technology but it is also heavily impacted by sentiment. If ripple begins to have 'the smell of death' about it, then the price could fall further and dramatically!
Tips for trading ripple
If you're already holding a position in, and looking to sell ripple, then using your existing account will almost certainly be the most cost-effective method.
If you don't already hold a position and, after reading the analysis, want to place against XRP, then the most convenient way would be using an online broker. There are brokers using CFD instruments that allow you to sell-short – bet against ripple.
The first step is to make sure your broker is regulated. The sector, unfortunately, has a reputation for scams and scammers.
Choose a broker regulated by a Tier-1 authority, such as one of the below.
The Cyprus Securities and Exchange Commission (CySEC)
The Australian Securities and Investments Commission (ASIC)
The Financial Conduct Authority (FCA)
Then form a shortlist of potential candidates. That can be done using online reviews such as this table of top-five crypto brokers.
Information is power, so trialling the candidates using their free Demo accounts should get you up to speed with the relative strengths of each platform.
Signing up to your broker will be done online. You will be asked to offer information on things such as your trading aims and to upload some proof of identity.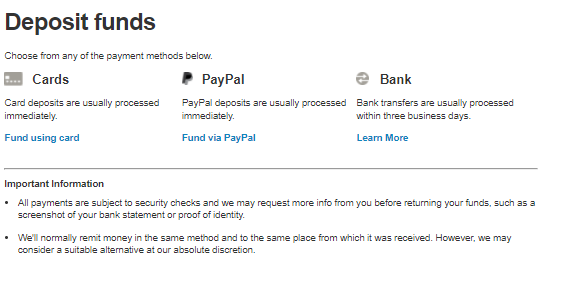 Source: IG
If you're funding your account using a credit or debit card, then the process of depositing funds will be very similar to any other online purchase. Just input your details and click 'go'.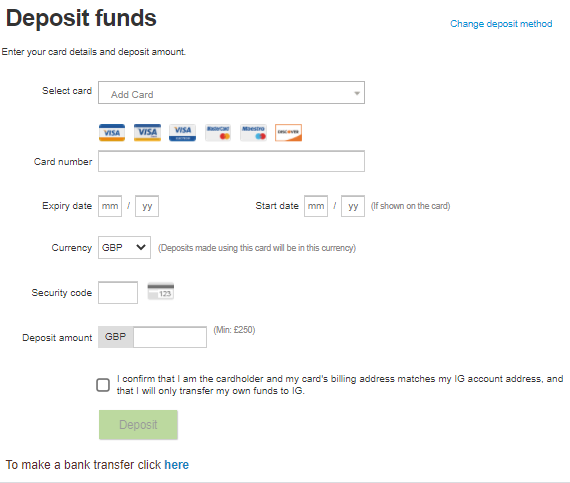 Source: IG
Successful trading relies on having a clear strategy and trading psychology. Short-selling comes with added risks, most notably the price can move against you to an infinite amount.
For this reason, it might be worth demonstrating patience before executing your first live trade. The funds at your account can sit 'on hold' for as long as you like. Timing your optimal trade entry point will be crucial to making a profit.
Final thoughts
Ripple has been a crypto success story but things change. The arguments both for and against ripple / XRP are convincing. It's ultimately down to your take on the situation. As this piece of research details, ripple's problems are not necessarily due to its structures but are more to do with the relative strengths of its rivals.
One feature of the XRP debate that it is impossible to ignore is the price history. More than any other market, cryptos rely on positive sentiment and price momentum.
The flat-lining price action is an indication of what the market thinks of XRP. It moves away from theoretical debate and the harsh reality of putting your own money at stake.
Unfortunately for XRP, there are not as many buyers as with other coins at present and while that situation lasts there will be traders in the market looking to sell ripple.
People who read this also read: