The analysis, which looked at the average amount of foreign currency brought home by holidaymakers, reveals that £3,807,984,041 is currently sat in drawers or wallets, unused.
Given the average food bill per household per week is £61.90, that means we could be holding enough foreign currency to cover almost a weeks' worth of food for a family, or 22.8 loaves of banana bread, if you're that way inclined.
Here's where the money is being held right now: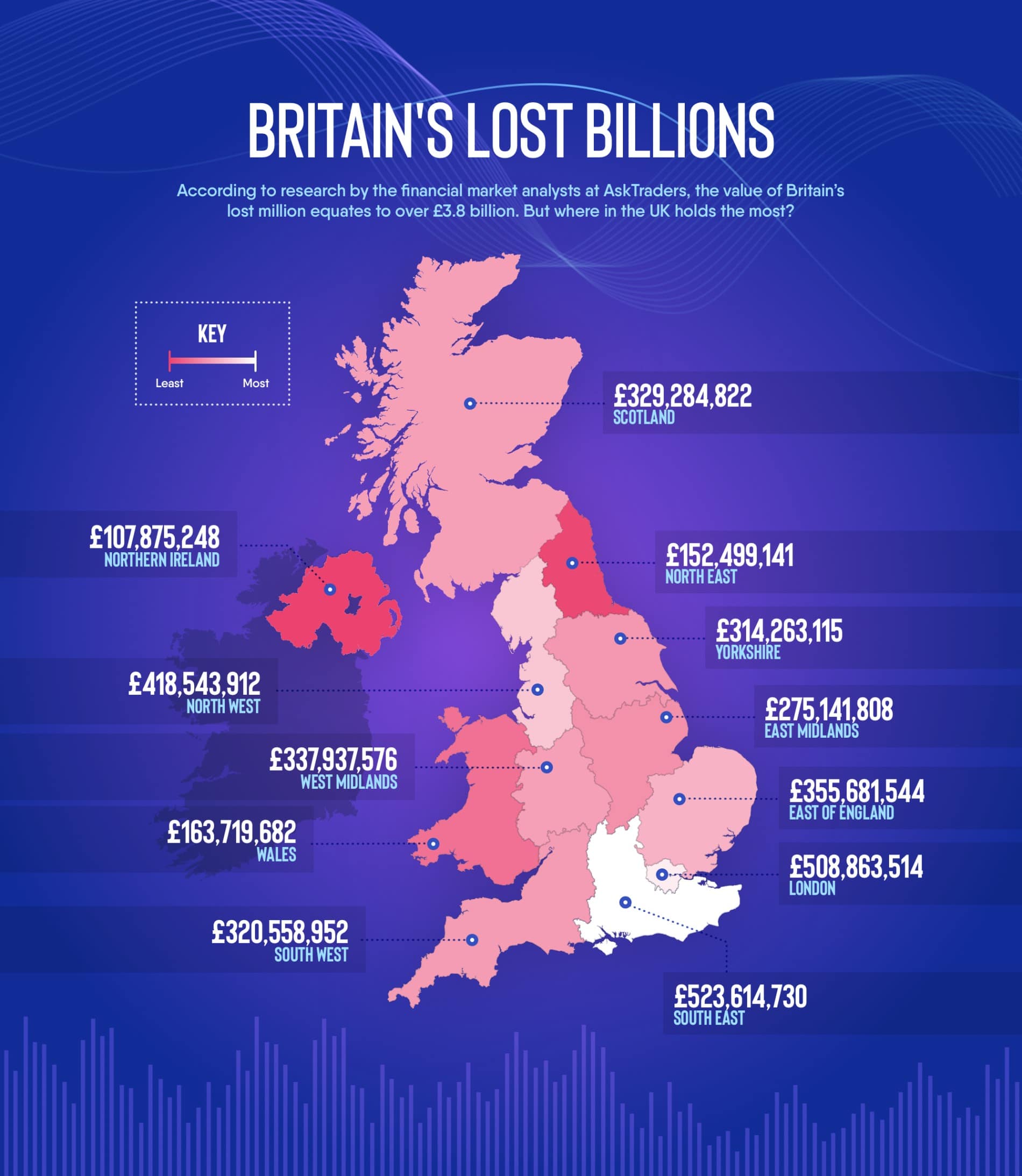 As shown here, the majority of the unspent cash sits in England, with a total of £3,207,104,290. The South East of England is the region holding the most foreign currency, at £523,614,730 – or £57.62 for each of its 9,086,274 inhabitants.
In Scotland, a total of £329,284,822 is held, with a further £163,719,682 in Wales and £107,875,248 in Northern Ireland.
The calculation is based on the average currency brought home by travellers of £60.66 per household, the average number of holidays taken per year of 1.9, and the current population figures for the country.
The following table breaks this down in each specific region:

Why do we hold onto foreign currency?
There's something really exciting about collecting and holding foreign currency. From the varied materials to the different designs and the exchange rates that can make you an instant millionaire on the right day, foreign money holds connotations of travel and fun – which many of us like to hold onto as a souvenir even once our trip is done.
Tom Bourlet is a travel blogger for Spaghetti Traveller. He said:
"The reasons we hold onto the money after returning home from our holiday can seem bizarre to some, but often it is a push to visit again sometime in the future.
"We always say we will return to our dream locations, but often we end up heading somewhere new. There is also the inevitable frustration that bureau de change companies only change up notes, so we end up with copious amounts of coins. The Euro has reduced the amount of coins I save, but I used to love looking through the unique designs, such as the Spanish Peseta coin with a hole in."
What to do with unspent cash
The choices of what to do with your unspent cash typically fall into three categories:
Keep it for a future trip.
Especially if you hold a common currency like USD or EUR, it could be worth keeping hold of it for your next trip to use there, rather than going through exchanges which could change the value of your cash.
Exchange it for GBP.
If you decide you'd rather turn your foreign currency into British pounds to make use of it now, you can do so via foreign exchange bureaux, though it's worth noting that the value of your cash is highly likely to change depending on when you choose to cash it in.
Invest it through forex trading.
The practice of exchanging foreign currencies in order to increase their value is a common one, though nothing is guaranteed. Broadly speaking, if you're trading major currency pairs like USD and EUR, likely changes in value can be predicted through technology, whereas if you hold exotic currency pairs like TRY (Turkish lira) or HUF (Hungarian forint), they're more likely to shift according to political and economic changes.
You can learn more about forex trading here.
Methodology behind the study
This study utilised a number of data sets to calculate the value of foreign currency currently held by people living in Britain. It is based on the following:
The calculation was therefore:
Number of people
Multiplied by 1.9 (holidays taken)
Multiplied by £60.66 (money brought back)
Divided by 2 (to account for average household size)
The regionalisation of the data was based on population figures per UK region.