By far the source of most complaints about online brokerages revolve around customers withdrawing money. Many brokers make it easy to deposit money into an online account, but when it comes to paying out, they are not so keen.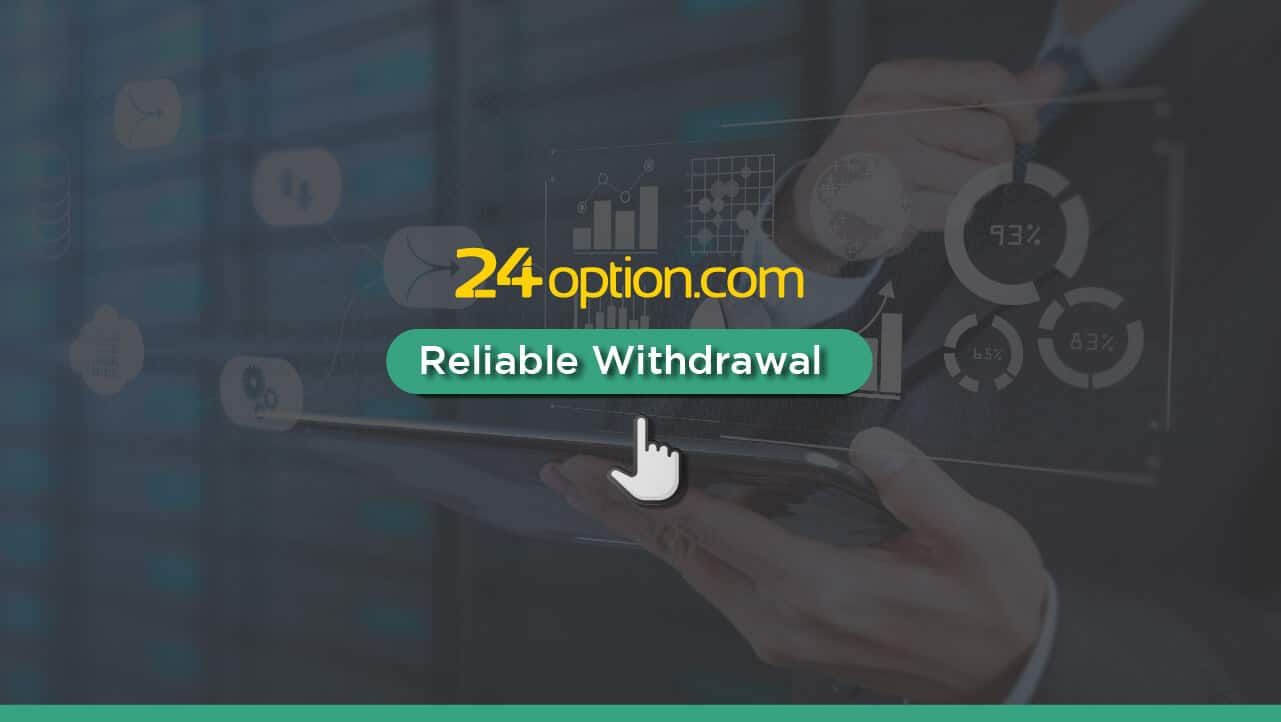 ---
---
Search for any broker comparison where there are user reviews and you will find gripes about the same thing. Some people only leave reviews when something goes awry, but it does indicate that this a common weak link and can mean the difference between the best forex broker and the worst. Here's what you should look for:
Are withdrawal procedures set out specifically in the terms and conditions, including withdrawal processing times?
Is there customer service available to deal with issues and do they make their response times clear?
Do online reviewers who reported a problem also report a resolution?
Does the company offer any type of guarantee that can be claimed against if something goes wrong?
Who is 24option?
When searching for an online broker, several names will appear as the best known and most widely used, and 24option is one of them. Here we will embark on a 24option review.
When you trade with 24option, you are not required to download software, as trading can be done online. All the most commonly used browsers are supported, with Firefox 3.6, Internet Explorer 8.0 and Google Chrome 4.0 or later versions all proving suitable.
Trading on mobile devices is also supported at 24option. Traders can access their accounts on mobile websites optimised for smartphones and tablets, making it possible to check the markets and make trades without a computer.
24option offers four trading categories – tradable commodities, forex currency pairs, stocks and indices.
There is a wide choice of tradable assets on offer. CFD positions are available on all the most popular standard indices from all the major national economies, such as the FTSE, the Dow Jones Industrial Average, the NASDAQ and the DAX. 24option offers positions on American technology stocks such as Apple, Facebook and Google.
Customers can also trade on the company stocks of European banking powerhouses such as Barclays, Deutsche Bank and Sberbank.
24option offers up to 200:1 leverage on forex trades. Currency pairs on offer at 24option include the euro, the US dollar, the Australian dollar, the Swiss Franc and the UK pound. Traders have access to the familiar MetaTrader4 along with the company's software platform.
Withdrawals at 24option
The company website advises customers who wish to make a 24option withdrawal to log in and go to the banking page. There you can submit a withdrawal request. No further information is given on their processing procedure aside from an assurance that they will handle it "as quickly as possible", which could mean anything. They say that you can help make the withdrawal run smoothly by ensuring that the identity documents they request are made available to them, as they won't start the withdrawal process until your identity is verified.
The 24option withdrawal policy only allows withdrawals to be credited to your original funding source, so you have to use the same account and method for withdrawals as you do for deposits. This only applies up to the amount of your original deposit. Any extra money you might have made trading has to be withdrawn by wire transfer.
24option does not accept or deal with PayPal. In the current climate, with many brokers accepting the widely-used online funds' transfer service, it makes no sense at all for a broker of this size and reputation to refuse this method, and they will undoubtedly be driving customers away as a result of this decision.
24option Withdrawal: Account Types and Withdrawal Fees
Lower level account users will attract 24option withdrawal fees. There are four different levels of account – Standard, Silver, Gold and Platinum. The higher level accounts offer extra features to account holders.
The minimum deposit and withdrawal fees for every account types is summarised in the table below
| | | |
| --- | --- | --- |
| Account Type | Minimum Deposit | Withdrawal Fee |
| Standard Account | £250 | £35 |
| Silver Account | £2,000 | £35 |
| Gold Account | £25,000 | £35 |
| Platinum Account | £50,000 | £35 |
| Diamond Account | Unspecified | £35 |
Basic/Standard Account
The Basic account has a minimum required deposit of £250, and this account attracts a £35 withdrawal fee, which is an awful lot for someone just starting who is only trading smaller amounts.
Silver Account
The second level of account at 24option is called Silver. The minimum deposit is £2,000 and also attracts a £35 withdrawal fee.
Gold Account
The next level up is the Gold account, which requires a minimum deposit of £25,000 and has the same £35 withdrawal fee as the two lower accounts.
Platinum Account
The top two accounts at 24option are called Platinum and Diamond. They have minimum deposit requirements of £50,000 and "unspecified" respectively. In return for making such massive deposits, traders who operate these accounts enjoy free withdrawals.
The minimum withdrawal amount for Platinum and Diamond accounts is confusingly stated on the website as $10. Still, under the section on wire withdrawals, it says that the minimum withdrawal amount is the same as the withdrawal fee for wire transfers, stated as £35.
It is not clear if the fee for wire transfers is in addition to the withdrawal fee.
There can be additional 24option withdrawal fees for specific withdrawal methods. Credit cards attract 3.5%, Skrill adds 2%, and for Neteller, you can add 3.5%.
Recommended 24Option Alternatives
If you're looking to deposit your profits with a new broker then these are the ones we recommend. At AskTraders we compare broker across several categories to help you choose the right broker for you.
Problems That Arise with 24option Withdrawal
The fact that withdrawals only up to the original deposit amount are made to the customer's initial funding source is the cause of many a 24option withdrawal problem.
Many customers will not have thoroughly researched their broker of choice enough, or done any kind of forex broker comparison. More often than not, they are caught off guard when they can't access their profits and go running to social media to complain before they fully understand what is going on.
There appears to be little justification for this policy choice, and it seems an effective way of inviting negative feedback with no real net gain for the broker apart from putting up obstacles to customers withdrawing money.
To be fair to the broker, 24option does clearly state this withdrawal policy in its FAQ section, so there is no dishonesty involved, but at the same time it hardly seems good business practice to use such a convoluted system.
There appear to be few users complaining about a real, 24option severe withdrawal problem, which is a reflection of the solid reputation this broker has built up over the years. The few complaints that exist appear to be beginners making fundamental errors, poor judgement, or people simply being ignorant through not reading the literature.
Sometimes these users bear grudges and start trolling the company. 24option is, in reality, a highly reputable company, and should a customer have a problem, and there is a customer service team on hand to resolve user issues.
Cryptocurrency Trading
Cryptocurrency has become a top-rated asset class among online traders because of the potential it has to return big profits. Trading online can be a good starting point for those wanting to begin investing in cryptocurrency as there is no need to create a cryptocurrency wallet.
A trading account with an online broker is all you need. This approach allows beginners to gain a feel for the assets and the market without having to invest directly in the tokens/coins.
24option was an early adopter of cryptocurrency CFDs. You can trade Bitcoin, Ethereum, Ripple, Dash and Litecoin. The company says it is continually watching for the latest altcoin so they can make it a tradable instrument. The 24option website has a beginner's guide which details how the cryptocurrency markets operate.
Cryptocurrency is highly volatile, and 24option warns users accordingly. The website says digital currencies can experience rapid changes in value with no guarantee of stability.
While noting that cryptocurrency is a new asset class which is experiencing rapid growth in popularity, they warn users that CFDs based on crypto remain a high-risk instrument. The adage of not risking what you are not prepared to lose certainly applies in the case of cryptocurrency.
Identify Yourself
There is a mention of "anti-money-laundering policies" when discussing 24option withdrawal procedures. However, they do not say whose policies these are and do not disclose or define the policies.
There is no way to find out the nature of these policies short of asking a customer service representative, who may or may not have an answer. There is certainly no link to read these policies anywhere on the website.
The company says that to comply with the undefined policies, they want copies of two or three forms of identification before your first withdrawal.
The company will email you outlining what documentation they require and will not proceed until you comply. They want a primary form of photo ID issued by a national or state government, either a passport or driver's licence.
They also want secondary identification with your current residential address in the form of a utility or credit card bill issued within the last six months.
Finally, if you used a credit card to make your original deposit, they want a copy of the card, front and back. This does not make much sense if they are trying to prevent fraud or money laundering, as such proof you are the legitimate account holder should have been established before the card was accepted in the first place, not afterwards.
If you use more than one credit card, this process must be repeated for each one.
The Platform
In terms of the platform's functionality, everything works as it should. Tests run on the website showed no issues or glitches with the trading software. The company employs IT professionals who keep the platform updated regularly.
There is also no reason for a user to encounter a 24option withdrawal problem. Tests found there were no issues with the functioning of this aspect of the platform. Requested funds arrive in the specified time for the method used.
Security surrounding the withdrawal process is stringent to prevent fraud or theft from client accounts. The multiple identity documents required is testament to this, and a real person does your ID check at the company, not a computer.
Only after all the identity documents have been checked and logged will you gain access to your funds. Once all your identity documents have been accepted and processed, the automated system takes over, and everything operates in the same way you would expect any other online financial transaction to work.
It is much the same as what happens when you use online banking. Business hours of the banks and/or payment processing companies involved will affect processing times, so it is best to bear this in mind when managing your money.
You're in Good Hands
When looking for an issue with the 24option withdrawal process, there is not much to uncover. This is a very well-established, highly reliable platform with stable software and the kind of technical support you would expect from a major bank or IT company.
All the core software component products the company uses are top of the range, meaning everything functions smoothly and as it should. This company is undoubtedly legitimate and could be seen as the polar opposite of a scam site.
Withdrawn funds can be expected to arrive on time as promised and provided you read all the terms and conditions. If you pay attention to processing and waiting times, you will not get any nasty surprises here.
Poor reviews are rare and appear to come from people who did not understand or did not read the conditions of use. If you look into the few complaints there are, you will be able to spot where the real problem lies – with the user, not the platform.
Do your due diligence, as with any product you might buy into, and you should not encounter any issues. All in all, it is reasonable for you to expect no problems with the 24option withdrawal system.
People who read this also viewed: