If you're thinking of wiring funds to any broker, the first question to ask is whether or not the broker is safe. The good news for those considering the award-winning broker Fineco Bank is that the firm is regulated by tier-1 financial authorities.
To explore this broker further, this article will consider:
What is the minimum deposit required to open an account at Fineco?
What amount of funds should I trade with?
What is a realistic minimum balance to start trading with?
How do I get started trading at Fineco?
Fineco Bank is authorised and regulated by The Bank of Italy. It is additionally a member of the National Compensation Fund and the National Interbank Deposit Guarantee Fund. Since its move into the UK market in 2017, it has operated under limited regulatory oversight from the Financial Conduct Authority and Prudential Regulation Authority as mandated by EEA rules. Fineco Bank has a strong balance sheet, investment-grade debt ratings, and has a clean track record with authorities.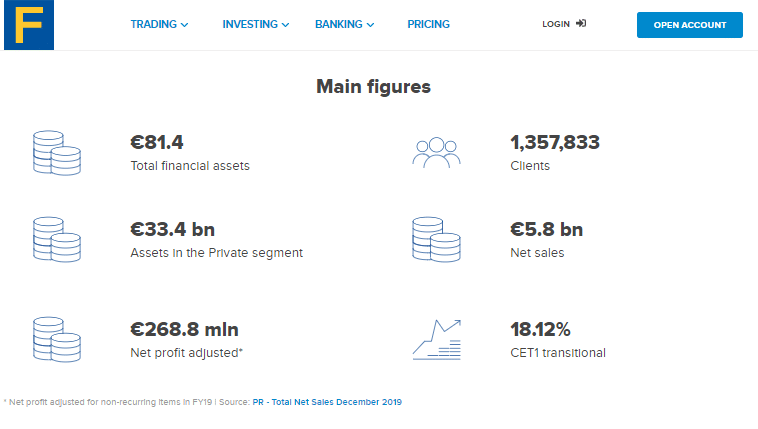 Fineco's corporate structure changed in 2019 when the broking operation spun out of Italian banking giant UniCredit Group.
The second question you might be asking yourself is how much you'd like to deposit?
Even if you already have a number in mind, there are some interesting and thought-provoking features at play when it comes to deciding the amount you want to deposit. It's also the case that different brokers have different minimum initial balance criteria.
What is the minimum deposit required to open an account at Fineco?
The great news for beginner traders is that there is no minimum opening balance requirement. While some brokers set the limit in the hundreds of dollars/pounds/euros, Fineco has given its clients the maximum amount of freedom.

This also means that you don't need to make a payment as part of the onboarding process. Breaking the process down into two stages, as Fineco does, has some benefits. The form-filling associated with joining a well-regulated broker can take some time to work through and the two-stage process offers a natural cooling off period as well.
What amount of funds should I trade with?
If you are new to trading, the honest answer to that question is to only trade an amount you can afford to lose. Compared to its peer group, Fineco ranks quite highly in terms of the number of clients that trade profitably. The risks involved in trading are though very real.
The firm's regulatory disclaimer states:
"CFDs are complex instruments and come with a high risk of losing money rapidly due to leverage. 69.75% of retail investor accounts lose money when trading CFDs with this provider."
This article goes into this subject in greater detail, but a percentage number in the 60s is notable as many brokers record scores closer to 80%
Taking emotion out of trading is also likely to make you a better trader. If you over-extend yourself, your trading strategy can be compromised by greed or fear.
It might not be a spectacular approach to take, but starting small and placing trades that will create minimal emotional reaction is a tried and tested approach. Stacking up lots of small wins and accepting small losses on the way, is a route to profitable trading.
What is a realistic minimum balance to start trading with?
Although the minimum account balance is zero, obviously you need to put some funds into your account to be able to put a trade on.
Realistically speaking a cash deposit in the region of $100, £100 or €100 can be enough to get you trading. For beginners, this would also encourage the adoption of the prudent approach of trading in small size.
It is worth noting that some asset classes are traded in larger unit size. Commodity markets, in particular, fall into this category. In practical terms, this can mean you need to have more cash in your account in order to trade instruments such as gold and oil.
Equities and forex in contrasts can often be traded in smaller cash size. If those are the markets that you're interested in, then the next stage of the process is deciding how to fund your Fineco account.
How do I get started trading at Fineco?
Payments into your Fineco account are made via bank transfer. Some other brokers do offer a wider variety of payment options, but the upside of the Fineco system is that there are no fees charged on account deposits.
Trading is hard enough without having your returns eaten into by frictional costs, so cost-free payment processing is always appreciated.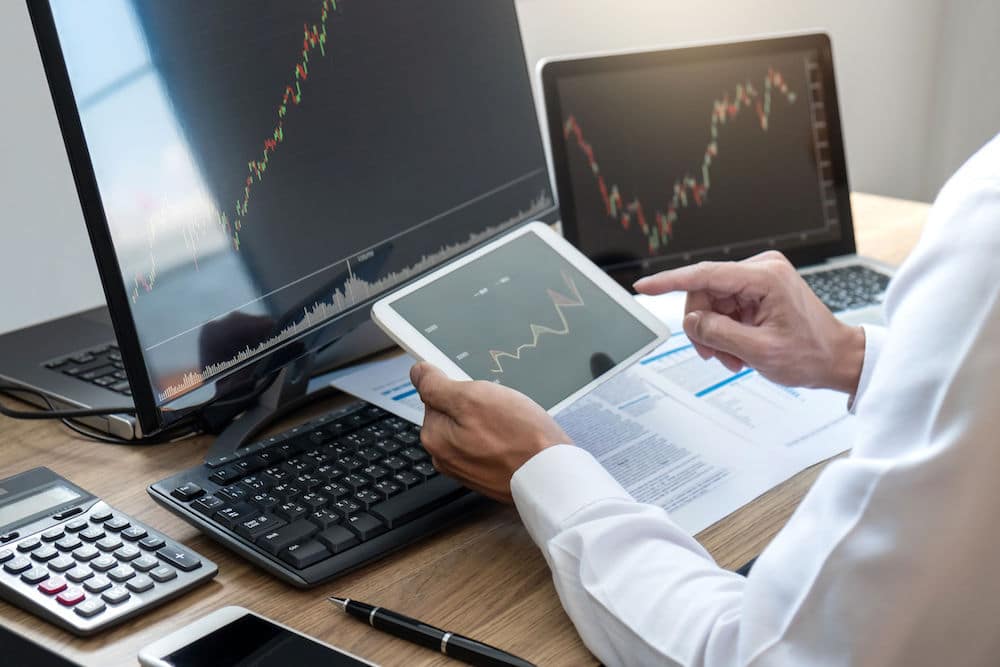 Once your funds are deposited, you can relax and wait for the optimal time to put on a trade. At Fineco, there are no monthly fees, no custody fees, no inactivity charges and no market connectivity fees. In short, you won't be penalised for being patient.
Withdrawing funds is equally user-friendly and equally cost-effective. There are zero fees applied by Fineco for account withdrawals.

Successful trading ultimately comes down to timing, which can apply in terms of when you set up your account and trade entry points. Fineco frequently runs promotional offers for clients; for example, between 22nd September and 31st December 2021, new UK clients will get three months of commission-free trading in major equity and bond markets, up to a commission balance of £500.
The bottom line
Minimum opening balances probably come some way down the list of priorities when choosing a broker. The PowerDesk trading platform at Fineco is a real plus point, and as the old adage goes, you have to speculate to accumulate.
However, the approach taken by Fineco is welcome. By operating a zero minimum opening balance, traders are given the flexibility to start small and scale-up. This is a fundamental principle of how to learn to be a successful trader.
People who read this also viewed: