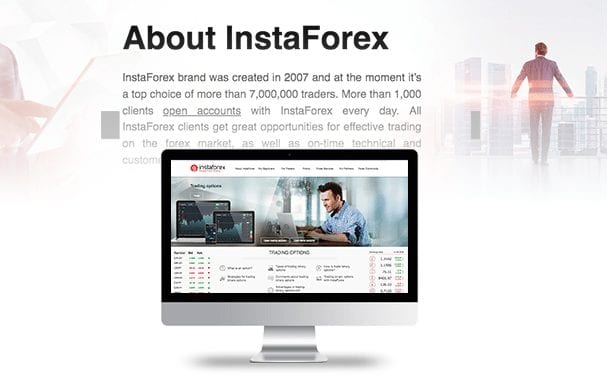 The InstaForex trading platform Metatrader 4 (MT4) is undoubtedly one of the best in the Forex community, and has won the hearts and minds of traders all over the world. There are versions suitable for IOS, Mac and Windows systems plus added extras for Windows that include multi-terminal use and a Forex rates reviewer.
The trading platform also has a user-friendly interface, so it's perfect for novices as well as experienced traders. Additional tools provide technical analysis and regular market updates. Is InstaForex MT4 the best Forex trading platform available at the moment?
Easy to use
Comprehensive analyses
Attractive InstaForex bonus system
Impressive leverage
Ease of use and accessibility
MT4 is famed for being a flexible platform for trading and straightforward to operate. It can be used to close deals, test trading strategies and analyse quotes, with the benefit of a wide range of handy instruments. Whether a trader wants to use hedging to offset potential losses or gains or Last In First Out (LIFO), their preferred method is supported. Alternative platforms such as MT5 don't support hedging and instead use FIFO as the default position. MT5 also imposes more system requirements on a PC than MT4, and takes more RAM.
Traders from across the globe can access the MT4 platform and all of the data in their chosen language, so it's highly accessible to everyone. As well as a trailing stop, traders are permitted to send:
Two market orders
Four pending orders
Two execution modes
Two stop orders
In terms of reading charts, MT4 provides preset templates and allows traders to simplify these by editing styles and colours. Any unwanted features can be deleted, while additional information on trading is easy to access. Due to its popularity, there is a lot of online information and even trading examples that have been created and provided by the InstaForex MT4 developers.
Best Forex broker
When considering a Forex broker, it makes sense to compare and contrast the advantages and drawbacks of each one by undertaking a broker comparison, including how the trading software stacks up. MT4 is the most popular type of software and is available from InstaForex for a wide range of devices, including mobile ones.
Customer service is another important element as traders prefer a broker environment that is supportive, and again InstaForex offers courteous and convenient contact with staff by phone, email and live web chat 24/7. Company representatives can communicate in Arabic, English, Indonesian, Malay and Russian.
Other brokers may require initial deposits in the region of $200+ dollars, such as easyMarkets (bonus 50 per cent) and XTB online trading (up to 30 per cent rebate), whereas InstaForex accepts as little as $1 for its standard account, with leverage of 1:1000 and a bonus of 250 per cent. There is also a demo account that allows traders to practice before they commit to online deals.
Experienced traders at InstaForex can join an affiliate programme, while newcomers benefit from a welcome bonus of 250 per cent of their first deposit. There are a range of other bonuses and benefits available according to a trader's status, so this is a broker that likes to be generous to their clients.
Multiple award winner
Everyone likes to be rewarded for their success and business awards are particularly treasured in any field that is highly competitive, including among financial institutions. As an international brokerage, InstaForex has achieved awards in all the key segments related to its work, displaying top-quality service, a safe and secure system, stability and a professional, innovative approach. The impressive selection of services, benefits and offers provided by the company has been noted by business magazines and special project organisers consistently. There is a very long list of awards since the company was set up in 2007, and among the most remarkable are the 'Best Broker' awards received in recognition of the company's performance in Asia, UK and Eastern Europe, plus specific awards for CIS, Social Trading and Retail Forex. As technology has continued to develop, there has also been recognition of the company's web trading and the versatility of its mobile app.
The mobile app success is a particular source of pride as it enables users to trade Forex no matter where they are – meeting with friends or colleagues, on holiday or during a business trip. Traders can also access demo accounts from their smartphones. At present, Forex apps are only available for Android smartphones.
The Instaforex range of bonuses
Users of the InstaForex trading platform have the option of benefiting from a very wide range of bonuses of different sizes, with varying ways of crediting an account and a number of options to use them in trading. There are no restrictions on withdrawing profits made from bonuses, and the bonus system is presented clearly and without ambiguity. This helps clients assess which is their preferred bonus to suit the amount of their deposit and their trading strategy. The key bonuses to note are:
The 100 per cent LFC Partnership Bonus
The 55 per cent bonus
The 30 per cent bonus
InstaForex Club bonus
Chancy deposit
InstaForex has launched a new campaign in partnership with Liverpool Football Club. This 100 per cent bonus cannot be used for investments or withdrawn. However, any profit made on it is available for withdrawal and there is no upper limit. The 55 per cent bonus is payable on every deposit in a trader's account. At this level, dealers can make major deals, and it's available to all InstaForex clients no matter when they registered with the InstaForex MT4 trading platform. There is no limit to the maximum amount. The 30 per cent bonus works in the same way and can be invested in PAMM accounts.
Special club bonuses and PAMM accounts
Any InstaForex review would be incomplete without mention of the extra features, such as the bonus specials that members of the InstaForex Club can add to the 30 per cent bonus. These are dependent on withdrawals from and deposits to an account, with a maximum available of 40 per cent. The Chancy deposit is an in-house scheme involving traders who top up their accounts to $3,000. This allows them to participate in the campaign, which has an annual prize pool of $50,000. Clients have won a total of more than $338,000.
The InstaForex PAMM system allows clients to invest in Forex projects. Every InstaForex trader can accept investments from other traders or invest funds in PAMM accounts, at which point they become shareholders. There are therefore two categories of users:
Clients who registered their accounts as investors in the PAMM system – they take part of the profit made by traders in proportion to their level of investment.
Clients who registered their accounts as traders with the PAMM system.
Users of the PAMM system by InstaForex automatically have control of, and receive a report on, all returns, operations and shares. A trader can accept an unlimited number of investments, and there is no cap on the amount or on the number of investors. Investors can decide what share of a trader account they wish to have and invest their funds accordingly.
Forex trading platform comparison
The best combination of trading platform features are those that help traders to quickly analyse the financial markets and place their trade orders promptly. Most brokers have bespoke trading platforms, and there are also independent ones, which are probably more suitable for experienced traders than new ones. When making a choice, traders should seek information such as historic and current market data as well as visual aids such as charting. In addition, the facility to execute a trade immediately is an important bonus and automated trading ensures that this can be done instantly.
As an example, AlgoTrader software makes this possible and is available for trades in the options, stocks, forex, futures, options and commodities markets, while the Ninja Trader online trading platform aims to directly support day traders interested in the options, stocks, forex and futures markets. MetaTrader 4 and 5 facilitate live access to global trading markets and are a favourite for trading in forex. It is also commonly used for online trading in the futures and CFD markets.
InstaForex makes MT4 and MT5 available free of charge and does not charge traders any fees for depositing money to their trading account. Transaction amounts are simply charged with a commission either by a payment system or by a bank for both credits and debits.
Some trading features at InstaForex
The leverage at Instaforex is usually substantial – 1: 1000. The average spreads are approximately 1.6 pips, though there are others. Traders are free to choose from an impressive array of assets, including 107 currency instruments, trades on silver and gold, futures CFDs and 34 US stocks CFDs. Hedging and scalping are permitted at InstaForex. There is also a free training course available for traders.
There is a wide range of expert analyses available for a number of topics daily, including the digital currency Bitcoin, and InstaForex analytical reviews keep traders fully aware of market trends. The demo account is fully functional and uses the professional MetaTrader 4 platform.
Those traders who use trading systems that do not allow for swaps are able to make use of the swap-free service. Sometimes, this is the case because certain clients are not able to use swaps due to their religious beliefs. InstaForex also provides its clients with the option to open a segregated account, and this means that traders will hedge their capital from risks or unexpected action related to the activities of the company. In effect, the segregated account funds that belong to the trader are kept separately from the company funds.
ForexCopy system – what it is and what it does
ForexCopy is a service that allows traders to duplicate orders of other successful traders even when they are away from their particular trading terminal. In just a few minutes, a trader is able to choose someone who has made successful trades and then select automatic copying of the chosen trader's activity. This can be reciprocated should other traders want to do likewise and copy trades.
ForexCopy is a remarkably reliable system as the follower is always in complete control of the activity. It is possible to customise the settings and to cancel copied orders manually if they appear to become potentially unprofitable.
Beginners, in particular, find this system advantageous as it can help them to make money more easily. Deposits to start copying can be as low as $10, with the trader who is following always being in complete control of their own account. As there is an option to follow several traders, beginners are able to minimise their personal risks.
Besides its own traders, InstaForex is proud of its record of supporting charitable organisations and volunteers. It uses funds to help individuals as well as partners involved in education and medicine, for example, in various parts of the world.
InstaForex MT4: a platform for all seasons
Despite the arrival in 2010 of MetaTrader 5, it is quite likely that MetaTrader 4 will not be relinquished by traders just yet. It has become a very familiar trading platform, even a classic, and has a firm fan base of traders who are used to how it works and who have had success with it.
In fact, 98% of all clients at InstaForex choose the InstaForex trading platform for their trading activities and select MT4 because it is known and celebrated as being reliable and efficient. In addition, some of the most popular InstaForex Services received are only available via MT4. These include bonuses, the PAMM system and the ForexCopy system. With its wide range of functions, MT4 allows users to follow the trading strategy they prefer. All of this conspires to establish the InstaForex Meta Trader 4 as one of the most utilised on the market, and one that we certainly have not seen the last of.
PEOPLE WHO READ THIS ALSO VIEWED: