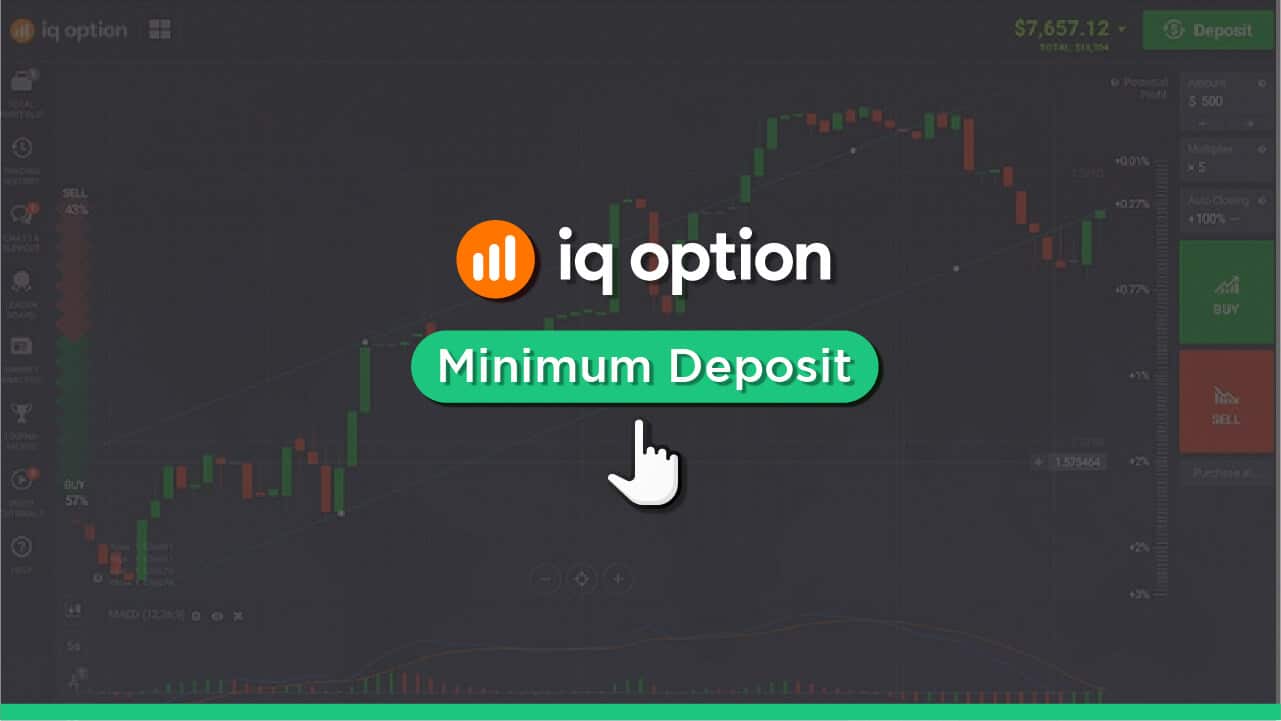 IQ Option is one of the leading trading platforms across the world with its great features for traders.
This article will look at IQ Option minimum deposit, how to make your deposit, how to get your account set up, and what the best options and choices are for you. .
With IQ Option, you can trade in Forex alongside stocks and crypto, as well as ETFs.
IQ Option Minimum Deposit
With IQ Option, the minimum trade size is only $1. This makes it possible for IQ Option to have a really low minimum deposit of only $10. The account currencies which are available to you depending on your nationality.
Below are some of the account currencies and the minimum deposit amount for each of them:
| | |
| --- | --- |
| Currency | Minimum Deposit |
| US Dollar | 10 USD |
| Euro  | 10 EUR |
| British Pound  | 10 GBP |
| Malaysian Ringgit  | 45 MYR |
| Chinese Yuan | 70 |
| Indonesian Rupiah | 100,000 |
| Viatnamese Dong | 200,000 |
| South African Rand | 150 |
| Philippine Peso | 500 |
| Thailand Baht | 270 |
| Russian Ruble | 700 RUB |
However, the minimum deposit increases as you get access to more benefits than this initial figure will allow you. For example, if you want a VIP IQ Option account, you would be looking at a much higher initial uptake of around $1,000. Thus, the minimum deposit will be higher.
Besides, depositing from a specific bank, credit cards, or third party payment like PayPal will incur different charges. You can look at IQ Option's "Deposit and Withdrawal" menu for more information on the deposit payment.
Some websites indicate that you would be expected to place a minimum deposit of up to $250 with some brokerage services, which is a stark comparison when these figures are put next to each other.
In comparison, some citations state offerings of five-figure sums, all the way up to $25,000 for just one broker comparison.
How to Deposit to IQ Option
To make the first deposit on IQ Option, you need first to set up the account. The steps on creating an account with IQ Option is simple. It will only take a few minutes to process. Now, let's get to the steps to create an account with IQ Option.
Go to the homepage on the website, and click on the panel on your page's right-hand side.
Choose to auto-fill your details (name and email address) using either your Facebook or Google account.
Select a password.
Click the button that says 'Open an account for free.'
Confirm your age .
From there, you will receive an email asking you to verify your email address and, having clicked on that, and you will be redirected back to the homepage.
Next, you will need to enter your data before you choose your trading strategies.
The IQ Option website then asks you some questions to pre-determine your trading experience and how you should begin. These include,
How you rate your appetite for investment (testing and discovery, amount of risk and length of strategy)
Your net wealth, annual income and
How much you would plan to invest throughout the year, as well as your source of funds.
From here, for IQ Option how to deposit access, you will need to submit your KYC (Know Your Customer) documents – your identity documents – and then you can submit your funds.
You can make deposits using a debit or credit card (Visa, Mastercard or Maestro) or an e-wallet like Skrill, Neteller, Webmoney, e-wallets and local bank accounts (for selected country only).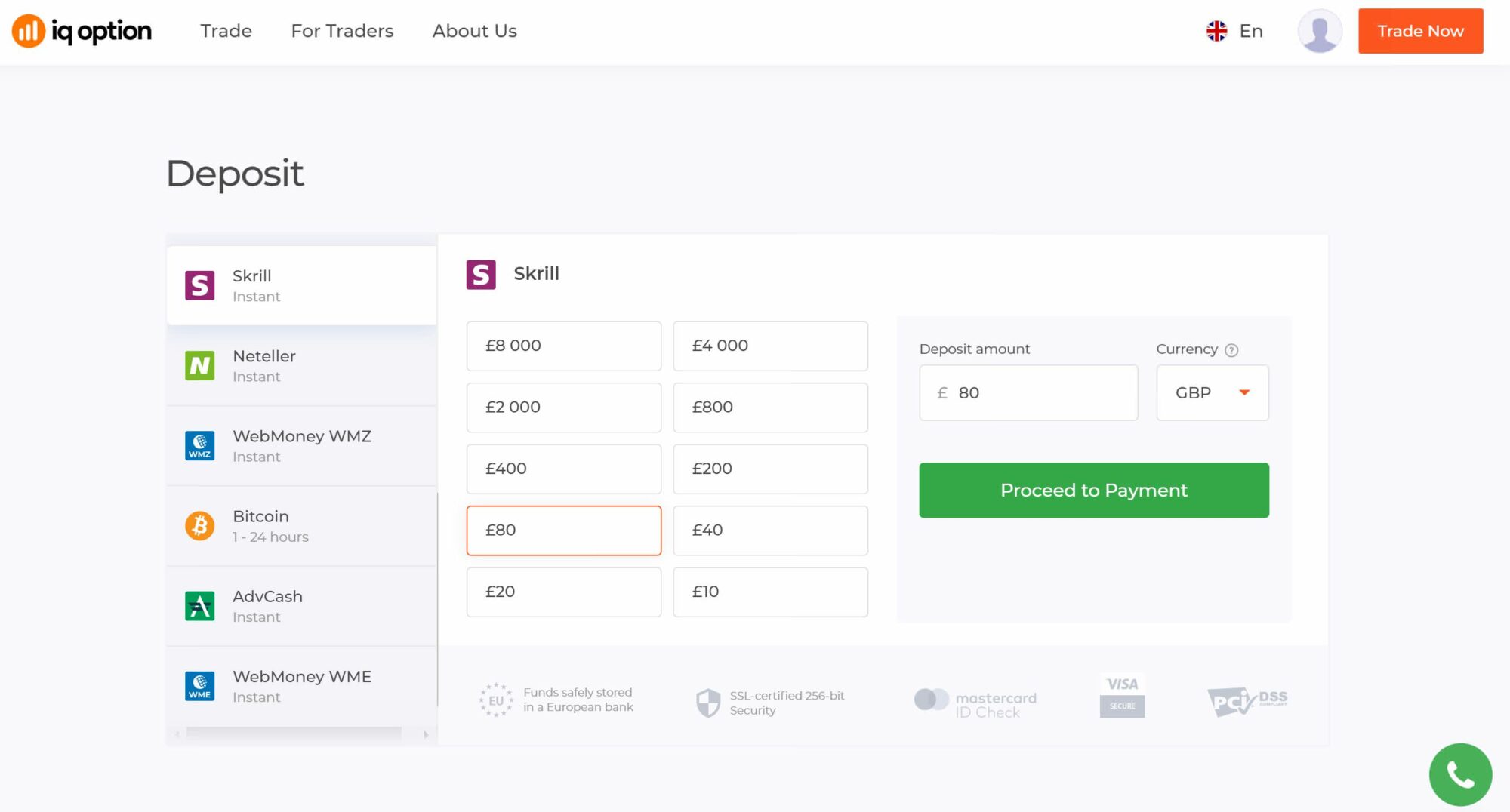 Award-Winning Platform
A quick look at the IQ Option website shows pages dedicated to their success, with many awards gained since they first launched.
Best Binary Options Broker and Best Binary Options Broker/Trading Application at the IAIR Awards.
Best Binary Options Broker gong at the FX Report Awards.
The Most Innovative Binary Option Broker at Show FX World.
The Most Reliable Binary Options Broker and World's Leading Binary Options Broker were both given to them by MasterForex-V.
The impressive list continues:
The Forex Awards in 2014 named IQ Option as "a real blueprint for the industry" as they were awarded the Best Trading Platform for that year, which shows off their capability as a technological leader as well.
Best Mobile Trading Platform, as honoured at the IFM Awards.
Best Technology Application, a title awarded to them by the Web Marketing Association.
IQ Option has been the recipient of numerous other awards, all displayed on their website. Naturally, this long list serves to highlight the usability of their platform.
Get Started with IQ Option Demo Account
If you want to test the waters before investing your IQ Option minimum deposit, it is possible to get used to the platform first. By opening a trading demo account, you can use their practice platform before you get serious.
A demo account is a great way to test certain strategies, and it significantly helps if you come across trading instruments you have not yet used before. If, for example, you were not aware that IQ Option offers more than are interested in checking out if Forex trading could suit you, you can do all of this without investing any money at all.
Test out what minimum deposit suits you.
Find your trusted strategies.
Check out different markets.
Using the trading demo account allows you to play around, see what works and figure out, among other things, what your IQ Option minimum deposit should be.
You might well find from your brief time spent getting used to everything that VIP access would suit you and that a higher deposit makes more sense for what you're looking to do with your capital.
If you decide you don't want to risk too much to start with, you can find out at IQ Option how to deposit with a smaller fund to reduce any potential apprehension you may initially have.
Of course, it also means that if you make a mistake the first time, it won't cost you anything with your first investment.
Conclusion
Choosing the right broker is essential for every trader that wants to start investing. As one of the fastest growing online trading brands globally, IQ Option is indeed the best trading platform for beginners. They have extensive trading instruments that range from CFDs on stocks and ETFs, Forex trading, and the exclusive product called Digital Options for you to work with.
Additionally, you can look at our broker review and broker comparisons for more comprehensive details on IQ Option and other trading platforms.
People who read this also viewed:
Yes, IQ Option is trusted. This company is authorized and regulated by the Cyprus Securities and Exchange Commission (CySEC)
IQ Option is a CFD trading platform where you can trade a wide variety of instruments such as Forex, Crypto, Stocks, Commodities, Indices and ETFs.