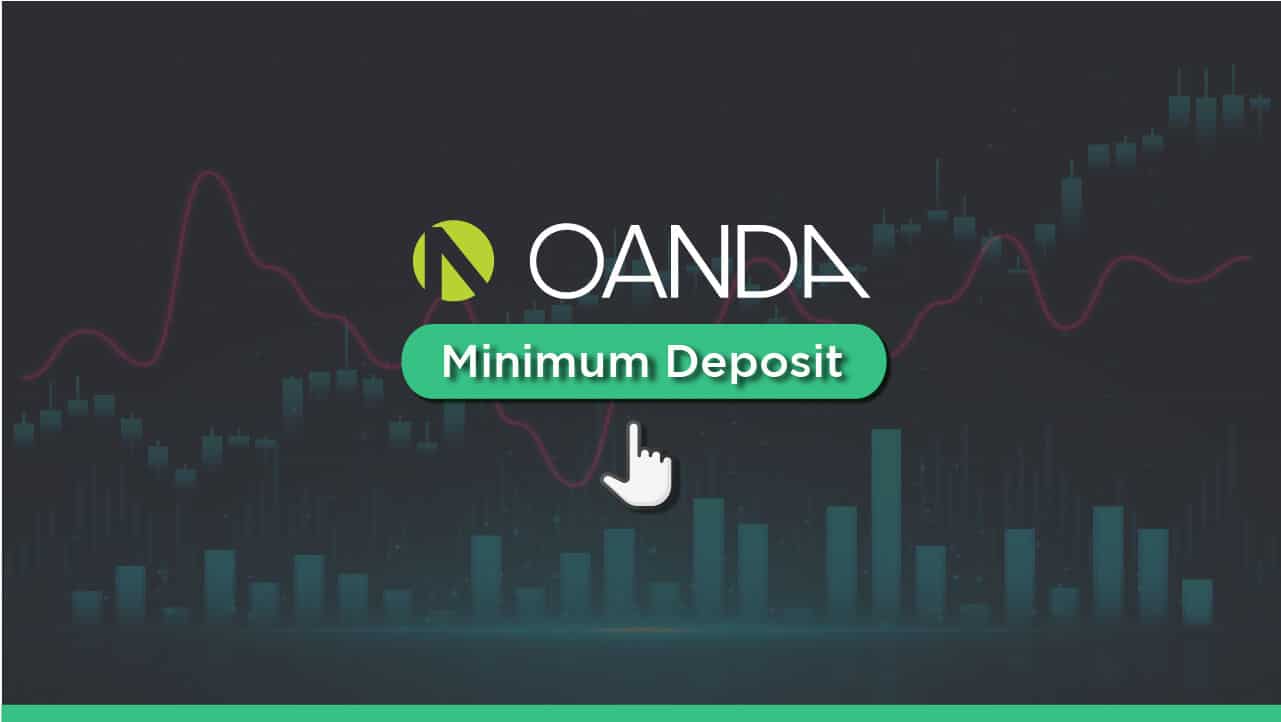 The bottom line in trading any kind of financial instrument is how much money you can make. One of the biggest determining factors when an investor is deciding on the best forex broker is what fees will be charged.
Not all trading platforms have a satisfactory level of transparency when it comes to disclosing all fees and some make their fee structure confusing, resulting in clients not having a clear idea about when and how fees will be charged.
There are several areas where traders can be hit with fees, charges and financial caveats including:
Minimum deposit amounts
Brokerage fees
Deposit and withdrawal fees
interest on positions held
| | |
| --- | --- |
| | Oanda |
| Minimum Deposit | $0 |
| Islamic Account | No |
| Demo Account | Yes |
| Instruments | CFD, Forex, Spread Betting |
| Mobile Apps | iOS, Android, Windows |
| Islamic Account | No |
| MT4 Integration | Yes |
| MT5 Integration | No |
OANDA Minimum Deposit
OANDA does not require any minimum deposit. This zero minimum deposit requirement is a great alternative for investors who want to start small.
The available deposit methods on OANDA are.
Bank Transfer
Credit/Debit card
Electronic wallets
The table below summarizes the minimum deposit and average processing time of OANDA deposits
| | | | |
| --- | --- | --- | --- |
| Deposit method | Minimum deposit | Average processing time | Fees |
| Credit Cards | None | Immediate | Your bank may charge you a fee |
| Debit Cards | None | Immediate | Your bank may charge you a fee |
| PayPal | None | Up to one business day. eCheques will take one business day after being cleared by PayPal. | A fee will be charged by PayPal when funds are deposited. Please contact PayPal for more information. |
| Internet banking via Faster Payments  | None | One to two business days | Your bank may charge you a fee |
| BACS or internet banking via BACS | None | Two to three business days | Your bank may charge you a fee |
| CHAPS payment | None | One to two business days | Your bank may charge you a fee |
| SWIFT | None | Two to five business days | Your bank may charge you a fee |
| SEPA Credit Transfer | None | Two to five business days | Your bank may charge you a fee |
OANDA Strives for Transparency
OANDA is an online trading platform dealing in contracts for difference (CFDs) and forex. This company should be well-known to experienced forex traders. The multinational trading house has been operating since 1996, offering individual and business traders access to CFD and spot forex trades.
This is a company which offers below-average fees and operates on standard trading software, but its main claim to fame is the level of transparency it presents.
The OANDA minimum deposit is just one of the factors that make the company attractive to those who crave fee transparency as a key element of a forex broker comparison.
Lot sizes which are more flexible than many other brokers is an attractive feature, making up for the fact cryptocurrency trading is not available. Single-stock CFD trading is also completely absent from the company's product range.
OANDA accepts customers from the US, UK, Singapore, Canada and Australia. They offer numerous products for trading, including currency, commodity and index instruments.
Forex, CFDs and spread bets are offered for trading at OANDA on an execution only basis, meaning they don't give advice or recommendations and provide no monitoring or risk management assistance.
The company is not shy about making it's transparency policies known. The website says OANDA was founded on the idea that CFD and forex trading ought to be universally accessible. Transparency also features highly in their mission statement and they certainly take more steps than most to put all information on display.
How Solid Is the Platform?
OANDA, when receiving requests, does not require any orders that have been already processed at the valid market price.
Their website explains the procedure: "No automated rejections, market orders only fail to be executed if they fall outside the upper/lower bounds that you choose to place to protect against price fluctuations, or if you have insufficient funds to execute your trade."
The website goes on to explain that while they use a computer engine to track global pricing and set levels accordingly, spreads can still be affected by market liquidity levels and volatile markets.
Real-time spreads are made available along with historical spread averages and this adds to pricing transparency.
Some higher level account holders have access to a raw-spread model, which should give better value than the standard spreads available.
The flagship of OANDA trading is its proprietary trading platform, "fxTrade". It was the first online retail forex trading platform on the market.
From 2001, fxTrade has been upgraded on a rolling basis. It has always been web-based and capable of handling heavy volume throughput.
An OANDA review also needs to raise a question mark over trust in the company. It appears that the company lacks protection for clients beyond government regulators' requirements.
The view could be taken that the lack of secondary safeguards is offset by the fact this is a highly regarded company within its sector, but this is nothing to bank on.
Putting Customers in Control
With "no minimum deposit" (the actual OANDA minimum deposit is $1), the company boasts a transparent pricing model and highly competitive spreads.
Vatsa Narasimha, CEO at OANDA, emphasised the company's position by saying: "We believe the retail trading industry as a whole will benefit from a more transparent approach where brokers are held accountable for making questionable statements or falsely disclosing their interests."
So who is the target customer? The products OANDA offers are presented for broker comparison as being appropriate for:
Experienced traders
Inexperienced traders who understand the risks and who have disposable income
Those with a high risk tolerance
Not appropriate for anyone who has low income and low savings
The fact there is a $1 OANDA minimum deposit, also means that the OANDA account minimum is not set at any fixed amount. Add in a lack of fees imposed on dormant accounts and the focus on keeping the customer informed about fees becomes clear.
Take this quick quiz to help us find the best path for you
Less than 1 min to do
Traders who place a high value on not being charged service fees will be attracted by this policy, although what the company does not collect in direct fees will always be made back in some other area of the business.
The website states:
"Spreads are only part of our equation also factors into the cost of your trades. Our proprietary v20 trading engine is fully automated which means that once you decide to trade, you can do so confidently knowing there's no algorithmic software designed to alter your trades."
Other Issues
Interest on open trade positions at OANDA is calculated second-by-second. This means the client only pays or earns interest for the actual length of time the position is open.
OANDA calculates its own interest rates. Interest on currencies is based on central bank rates, and interest rates on CFDs are related to the discount rate related to the CFD. Both may differ from the interest rate they are based on.
For transparency purposes, current and historic interest rates are published on the OANDA website. Interest is applied to customers' accounts once a day and also when a specific trade is closed.
The OANDA trading website also features an interest calculator so clients are able to determine how much interest they will pay on a given trade.
OANDA's money transfer facility does accept payment via a variety of methods.
Methods available to transfer funds into OANDA accounts are credit/debit cards, Paypal, internet banking, CHAPS payment and SWIFT payment. Customers sign up and select a preferred payment method to get an estimate of fees.
The company says it generally will offer a "no fee" transaction for most payments. Charges could apply if customers choose wire transfer or EFT as their payment method. OANDA Money Transfer is currently available in the US, Australia, Canada, the UK, and Germany. The delivery time for transfers varies according to the delivery method chosen when booking a transaction.
Support, Trust and Reputation
Some reviewers have flagged slow customer service as a problem with OANDA. Customer support is open 24 hours a day, seven days a week over email. Support using live chat and over the phone is advertised as being available Monday to Friday from 1pm to 6pm United States Eastern Time (5pm to 10pm GMT).
Tests performed by a reviewer from Investopedia found that OANDA's support was slow to respond and waiting times on hold were long. They claimed at one stage to have been placed on hold for 33 minutes. The times when web chat and telephone support are available are inconvenient and very short, especially for customers outside the eastern US.
Bilingual customer support representatives are available and are accessed through live chat, email, fax, or via phone. The company lists contact details on its website for offices in the UK, England, Canada, Singapore, Australia and Japan.
Both investors, new and experienced, can benefit from a series of educational videos (and articles) which the company provides. These are available with live webinars – which cover topics including market analysis, economic analysis and platform education.
Even though there is a high volume of content made available to clients by the company, some of it is out of date when compared to current trading platform releases. Also, some of the images and videos that are used are based on inconsistent platforms. Not all the information regarding education is in the same place, leading to potential problems with navigation.
Advantages and Disadvantages
There are several advantages to choosing OANDA as your preferred broker:
No OANDA account minimum size, accounts can be opened with one dollar making it easier to test trading strategies
There are 71 currency pairs available to traders, along with 16 stock index CFDs, eight commodity CFDs, six bond CFDs and 23 metal CFDs
Similar to many online providers, traders can use either MetaTrader 4 (demo and real-money accounts) or OANDA's own proprietary web and desktop trading software
Investors are able to trade whether they want to use traditional broker-spread or the less expensive raw-spread plus commission model
Traders outside the US can "hedge" positions by holding a long and short position simultaneously on a single instrument
If people are trading from outside the US, they can "hedge" positions – this works by keeping a long and short position on a single instrument
In terms of how trustworthy OANDA are in relation to the law, they are governed by several entities including CFTC, FCA, ASIC, IIROC, and the Monetary Authority of Singapore.
Some of the disadvantages of OANDA are as follows:
OANDA does not support Bitcoin or any Altcoins. While the volatility of cryptocurrency makes it less attractive to platform operators, not being able to trade it at all will turn away a large potential client base.
Client accounts lack negative-balance or slippage protection, the OANDA account minimum is zero. This could create some difficulties in a very volatile market.
Customer service is not available for 24/7, making it difficult for traders that need support
High bank withdrawal fee
No retirement accounts available
How Customers React
Traders who have used the platform seem to be satisfied with the $1 OANDA minimum deposit and the company's transparency policies. The most commonly repeated gripe is the length of time customer service takes to respond. Users reported 20 minutes to over half an hour waiting for a customer service representative to respond.
Another issue was identified with the payments system. The total amount that can be withdrawn to a debit card cannot be more than the amount the client deposited from the card. This means that if you make a profit from your trades, the balance that is left in your account after you have withdrawn the full amount you deposited can only be taken out via an alternative method.
There are two main selling points for OANDA. It's highly regarded reputation and its fee transparency. Indeed, one would struggle to find a more highly respected forex broker.
However, OANDA is not without its problems. The firm has been in the business of online trading since the beginning. They have won many securities industry awards over the years and are best known for their pioneering efforts in providing conversion rates for the public and then leveraging those experiences to produce the first online, fully automated, retail forex trading platform.
Size does have its advantages in this business and the company's efforts to provide stability, transparency and low fees are standing them in good stead.
PEOPLE WHO READ THIS ALSO VIEWED:
FAQ
With OANDA's zero minimum deposit and low fees, this platform is great for new investors looking to start small.
To withdraw funds via bank transfer, your bank account must be in the same name as your OANDA trading account. It takes between one and two business days to withdraw funds via bank wire transfer within the US and up to five business days for international withdrawals.
OANDA offers a maximum leverage of 100:1, but we recommend clients cap their leverage at 20:1 or lower.
It's not possible to directly buy or sell an index. At OANDA, you can trade indices as a CFD or spread bet.
No. But you will only pay a fixed commission per trade. The total cost for each trade will be the sum of the applicable core pricing spread plus commission. OANDA core pricing spreads start from as low as 0.0*, with $50 commissions per 1M.