If you invest in a company that suffers a reputational crisis, it can seriously damage your wealth. One of the big no-nos of modern investing is getting on the wrong side of the 'ethical business' debate.
This review will highlight what happens when businesses get it wrong and how you can mitigate, or even profit from, that risk. When it comes to the most unethical companies, here are the topics to be covered:
How do firms get it so wrong?
Electronic Arts
BP
Imperial Brands
Nestlé
Smith & Wesson Brands
Final thoughts
How do firms get it so wrong?
There is, to some extent, an inevitable trade-off between profit and conscience. With consumers and investors demanding more social conscience from the firms they do business with, the risk is that a lose-lose situation develops.
It occurs when you invest in an unethical firm and its share price tanks when the consensus opinion works out what it has been doing. The hard to manage part of this risk is that there are two catalysts needed for the situation to develop. The first is that a firm you are invested in makes a bad call, the second is when it gets caught.
What is also hard to calculate is the impact on the share price. As that is the ultimate concern for investors, the below companies are singled out as having seen significant repercussions for the value of their stock after the lid was lifted on their unethical activities.
The following five firms have all made blunders in terms of social policy, environmental issues, worker's rights or corporate governance.
Electronic Arts
US video game company Electronic Arts (Nasdaq:EA) has a long list of scandals attached. The gaming sector is a passionate one and customers are quick to praise or blame, and they do it loudly.
The customer base is skewed towards a young demographic and the spend on computer games can make up a large percentage of teen-budgets. Therefore, over-promising on a new product can be a risky endeavour and that is just what EA did in 2018–19.
On February the 6th, 2019, EA's stock value plummeted 13.3%, mainly due to the over-extended hype surrounding its much-anticipated Battlefield V game. The game was met with a mixed reception and sold one million fewer copies than the sales target figure of 7.3 million.
A slide in the share price started in 2018 following a drop in sales when EA began missing deadlines for the roll-out. The company's share price lost more than half of its value in under six months.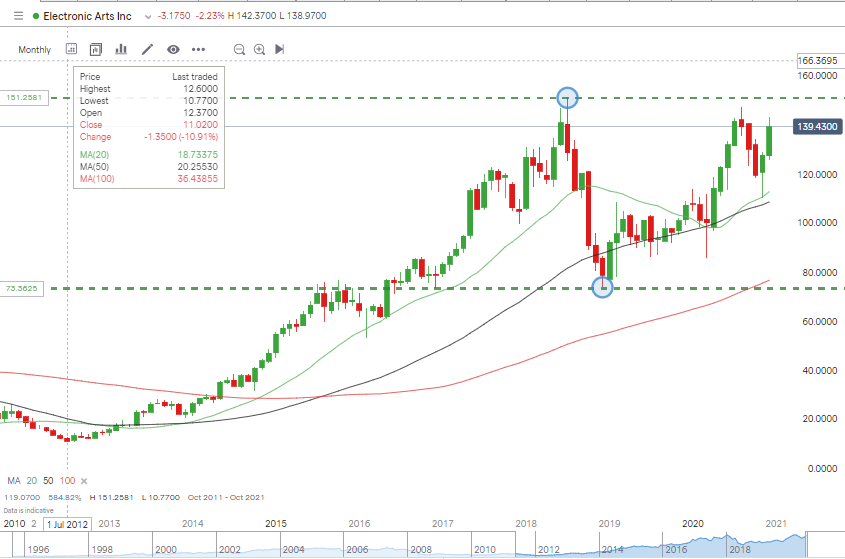 Source: IG
A lot of the 2020 bounce in valuations results from COVID-19 lockdowns keeping everyone on screens. However, when that support is removed, there is a potential for further price falls.
If you want a brand management project, then arrange for your firm to be awarded the title of 'Worst Company In America'. EA managed to collect that title in 2012 and again in 2013.
More recent challenges facing EA revolve around the firm carrying out marketing policies, which critics claim are little more than gambling. What's more, they are aimed at youngsters on a part of the EA platform that doesn't require parental supervision.
Some youngsters ploughed hundreds of euros, pounds and dollars into the Ultimate Team scheme, which suggested they'd receive cards of star players but instead they always received subs.
Discontent grew to such a level that two Paris-based lawyers Karim Morand-Lahouazi and Victor Zagury ended up representing two clients. They argued that Ultimate Team was a scam. "Buying packs is nothing more than a bet. The logic of a casino has entered their homes," Zagury told the newspaper L'Equipe (Source: Casino.org).
The EA loot-box system also fell foul of Belgium and Netherlands regulators who required modifications to be made before giving approval.
One major ongoing problem for EA is that the football game FIFA 20 earned the firm $1bn in microtransactions in 2019, but the present significant revenue stream comes directly from players. That approach was described by Claire Murdoch, the director of the UK's National Health Service, as "setting kids up for addiction by teaching them to gamble" (Source: Casino.org).
Alternatives to EA:
Activision Blizzard (Nasdaq:ATVI) is in the same sector as EA but comes with less baggage. The ATVI share price has risen by more than 50% this year and outperformed EA's share price at the same time. It's one of the few S&P 500 value stocks expected to post positive growth in 2020. It is also anticipated that earnings throughout the year will beat analyst estimates.
Source: TradingView
BP
A list of unethical companies wouldn't be complete without mention of a polluting, carbon-emitting oil and gas company. While the global economy is shifting towards greener technologies, carbon fuels remain a necessary evil. There are chances to profit from oil firms, but unfortunately, BP is synonymous with one of the greatest ecological disasters of all time.
On April the 20th, 2010, the BP oil drilling rig Deepwater Horizon, which was operating in the Gulf of Mexico, exploded and sank. The disaster resulted in the death of 11 workers and was the largest crude oil spill in the history of marine oil extraction operations. The BP share price more than halved in value in the space of just 90 days.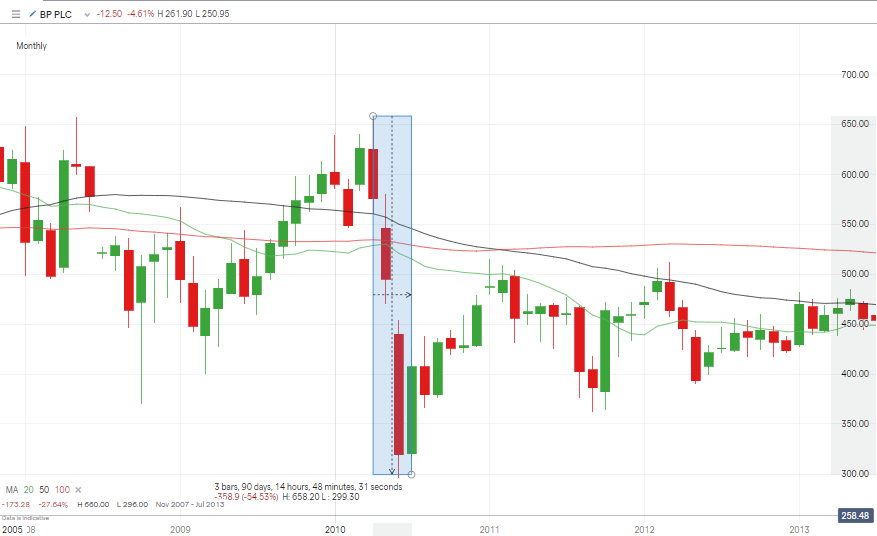 Source: IG
As if that wasn't bad enough, the political fallout almost crippled the firm.
The total cost of the clean-up operation is estimated to be at least $65bn. That revenue could have been distributed among shareholders.
Despite approaching the problem with deep-pockets, the firm suffered extensive reputational risk in the industry and general population.
Even without the Deepwater disaster to contend with the firm is a capital-intensive behemoth in a declining sector. Between April 2019 and October 2020, the BP share price gave up 66% of its value.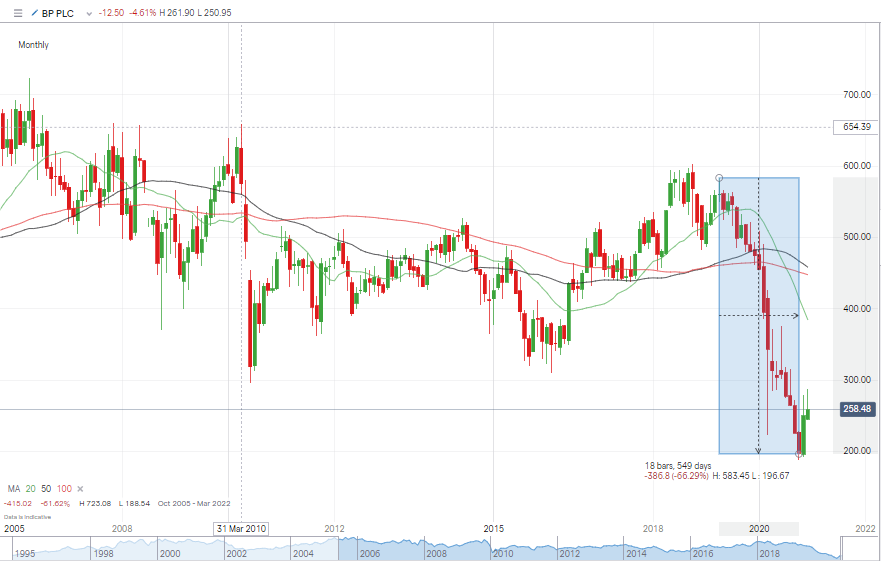 Source: IG
Alternatives to BP:
The Good Energy Group PLC (Lon:GOOD) demonstrates that people still need energy supplies. Consumers and investors are switching to cleaner energy, which ticks the box in terms of being more principled. More importantly, the share price performance of GOOD outstripped that of BP in 2020.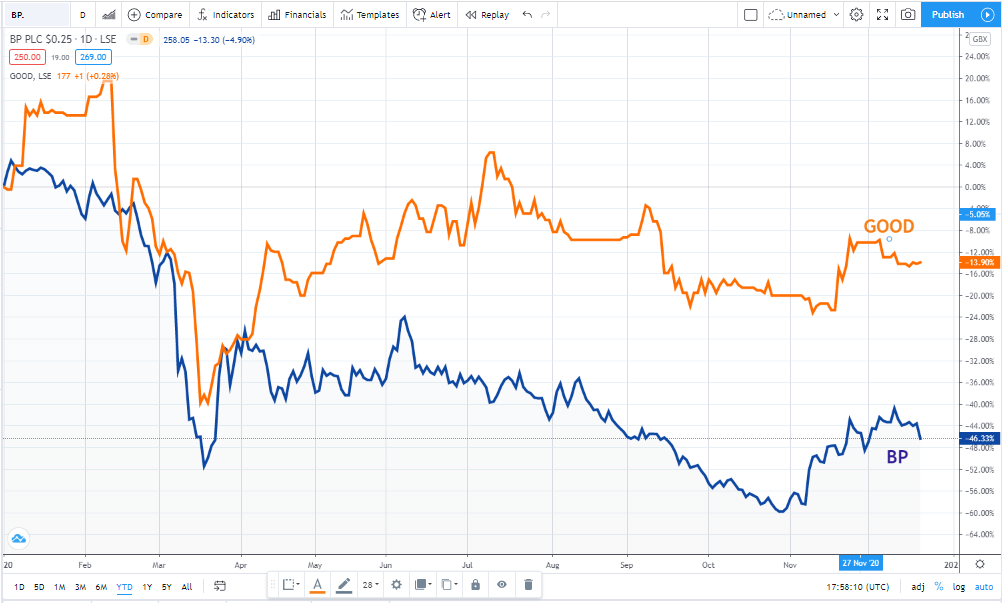 Source: TradingView
Imperial Brands
The long-term health concerns that afflict smokers can also apply to investors in tobacco stocks, as Imperial Brands has demonstrated.
Imperial Brands' downward price trend from 2003 onwards is a clear indication of big investors leaving a sinking ship. There are opportunities for long-only investors to trade the upwards retracements, but an online broker such as IG, eToro or Plus 500 that offer short-selling in CFDs is a better bet for catching the trend.
How far this goes is anyone's guess but the harsh truth is there are unlikely to be any surprising news stories taking the share price to the upside. Imperial has been identified as one of the most unethical companies in the market. It is an example of what can happen to your investment if you fail to keep up with current investment trends.
Nestlé
A food producer based in Switzerland might not be an obvious candidate for most unethical business practices. Still, Nestlé has a long track record of getting the wrong side of action groups. With a market cap of over $250bn, it could be doing a better job of protecting itself from reputational risk.
Unethical promotions of infant formula
Nestlé has been the target of a decades-long boycott because it promoted the use of its baby milk in some of the least developed countries in the world. The aggressive policy of providing some, but not enough powdered baby milk to mothers is claimed to have caused unnecessary death and suffering of infants around the world.
It was suggested that the infant formula product was almost as good as a mother's milk. A highly unethical policy for several reasons. It often left mothers spurning a free and superior natural approach that would have decreased infant mortality levels.
The policy was criticised for being a breach of international marketing standards and the babymilkaction.org website still campaigns against the Swiss food manufacturer.
Nestlé is the world's largest producer of bottled water. Having a vested interest in the world's supply affords the multinational firm a seat at the top table. The mistake it made was chairman Peter Brabeck-Letmathe saying that access to water is not a fundamental human right.
"There are two different opinions on the matter [on water]. The one opinion, which I think is extreme, is represented by the NGOs, who bang on about declaring water a public right. That means that as a human being you should have a right to water. That's an extreme solution."
Source: Africa Check
Brabeck-Letmathe later backtracked, and a more critical analysis of his speech suggests his comments were overblown and misused. However, there is at least half-truth in the allegation. As with many of Nestlé's policy decisions, the damage was already done.
Palm oil
Nestlé isn't alone in including the controversial ingredient palm oil in its foodstuffs, but added to the other issues it already faces, there's little wriggle room for the Swiss giant.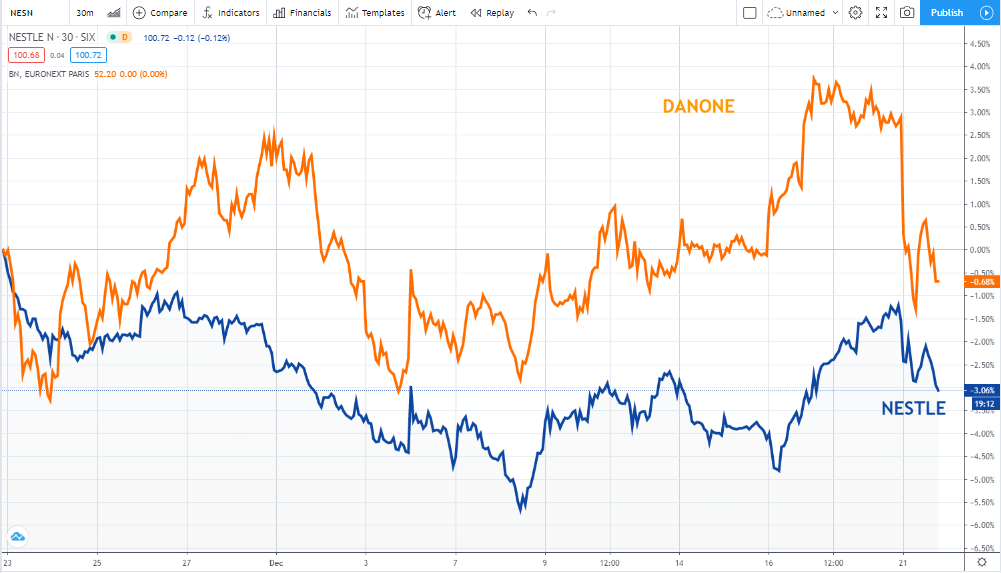 Source: Trading View
Alternatives to Nestlé:
Danone (EPA:BN) operates in the same sector as Nestlé and is cherished in its home country of France. When subject to a hostile takeover bid from the US giant PepsiCo in 2005, the French government declined. Danone was famously placed on the list of 'key industries', which was a list intended to include utility companies and arms manufacturers, not yoghurt makers. Danone still has a strong brand and rumours of another bid occasionally resurface to give the share price a boost.
Smith & Wesson Brands
Gun manufacturers have long been an investment opportunity many are happy to decline due to the sector's unethical business practices. With the core product designed for use in military conflicts, law enforcement, leisure and personal protection, there are significant issues with guns, which are:
Guns are invariably ending up in the hands of the wrong people.
Not only does that cost lives, but the international arms trade is a murky world full of allegations of corruption and bribery.
If you want to find political arm-twisting closer to home, then just look at the strength of the US lobby groups.

Source: Mother Jones
Between 2016 and 2019, the share price of Smith & Wesson (Nasdaq:SWBI) illustrated what can happen when a firm is accused of unethical business practices. The tumultuous year, 2020, also highlights how being one of the most unethical businesses in the market can benefit your share price.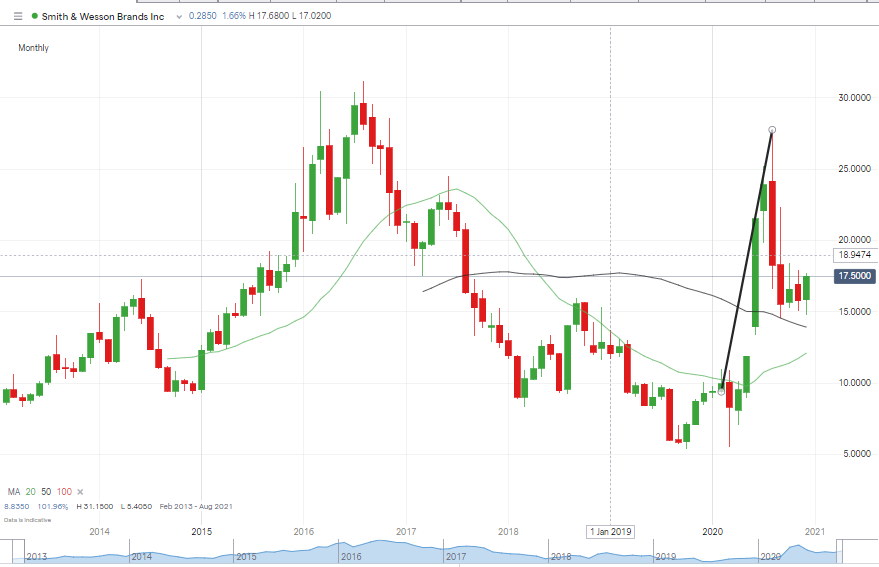 Source: IG
In a climate heavy with COVID-fears and public unrest, demand for hand-guns has rocketed and so has the SWBI share price.
Final thoughts
Being caught in a harmful and potentially toxic situation is a genuine threat. It's no longer the case that you can invest in tobacco, carbon or guns and just hold your nose while the money rolls in. The situation is more complicated than that and price moves can be brutal.
One of the most straightforward trading strategies involves spotting a situation with limited downside. The 'how bad can it get' school of thought has generated returns for investors over many years.
While bad management policies do need to be revealed, it is also important to note if they have been priced in. Using reverse psychology and ascertaining if a situation has been overblown might throw up investment opportunities.
People who read this also read: