This raises a question for South African investors. If experienced international investors are taking relatively small positions in South African assets, and diversifying their risk by investing in other countries as well, why would local investors want to be 'all-in' on South Africa? After all, it's perfectly legal for to buy US stocks in South Africa.
A quick scan of other regions of the world throws up similar investment opportunities, which also offer a degree of geographical and sector diversification. It doesn't mean that performance returns have to be sacrificed, and one popular market, the US stock market, has actually outperformed its SA equivalent over recent months. Between 16th October 2020 and 10th December 2021, the South Africa 40 index was up 29.48% but the US-listed Nasdaq 100 index was up 48.66%.
Nasdaq 100 Index – 2015 – 2021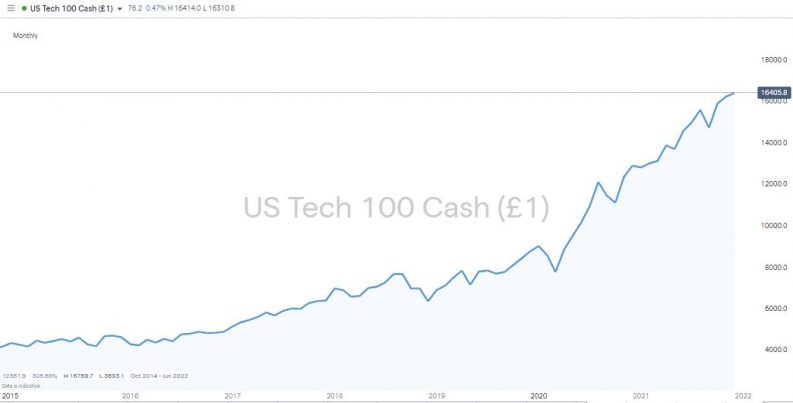 Source: IG
South Africa 40 Index – 2015 – 2021
Source: IG
How to Start Investing in Global Trading
The process for investing in US shares is the same as for trading in South African ones. Online brokers have revolutionised the finance industry and made investing easier, and more widely accessible and cheaper than ever before. For South African investors looking to buy US shares, there are two similar but not exactly identical routes into the market.
Use and International Broker
Some brokers are set up to cater to a global audience with support that extends to South Africa. Broker IG, for example, has its headquarters in the UK where it is regulated by the FCA, has 313,000 clients across the world, and offices in 14 different countries. One of those offices is located at The Place, 1 Sandton Drive, Sandton, Gauteng. IG Markets South Africa Limited is an authorised financial services provider (FSP No 41393) and offers international trading accounts.
Online brokers tend to offer execution only services. This leaves the decision making down to the account holder and by cutting out the middle-man keeps costs low. Once an account is set up, and the 'buy' button on the platform is clicked, the broker will draw on its network of global relations and IT connectivity to process a trade in whatever US stock is targeted.
One of the advantages of using an international broker is that they tend to offer a wider range of markets and, because they have higher trade volumes, can pass cost-savings on to clients. They've also been around a long time and that helps in terms of client safety. IG as a whole has been trading for +45 years, but it's involvement in SA also dates back more than 10 years. In 2012 the firm was voted SA's top CFD provider in Business Day Investors Monthly Annual Stockbroker Awards, and the trophies keep on coming, with the firm picking up the SA best CFD provider in 2020 and SA's Top CFD Broker in 2021 awards.
Use a Local Broker Foreign Stock Trading
For those who already have an account at a domestic broker in SA, using their services to buy US shares can be a convenient first step. As they are likely to be using intermediaries to access the US market, it could be that the number of available shares to buy is limited and that costs are higher.
Whichever route is taken, those looking to buy US stocks should ensure their broker is regulated by at least one of the below Tier-1 regulators.
The Financial Services Conduct Authority of South Africa (FSCA)
The Financial Conduct Authority (FCA)
The Australian Securities and Investments Commission (ASIC)
The U.S. Securities and Exchange Commission (SEC)
Cyprus Securities and Exchange Commission (CySEC)
Can Citizens of South Africa Legally Invest in the US Stock Market?
It's perfectly legal for citizens of SA to buy US shares. It would, after all, be counterproductive to discourage SA investors from enjoying the benefits of running a more diverse portfolio. Terms and conditions vary according to individual circumstances, but one note to keep in mind is that some South African residents are required to obtain the necessary tax clearance certificates in order to utilise their foreign investment allowance should they wish to open an offshore account with some brokers.
As with other types of trading, buying US shares might mean investors need to pay capital gains tax and dividends tax, but they may be able to claim tax deductions.
The T&Cs vary according to the number of trades put on in a tax year and how the South African Revenue Service (SARS) classifies you. It's possible that you may either have to pay capital gains tax, or pay tax on share trading as part of your personal income as revenue gains.
What is the Minimum Budget to Buy Shares in the US?
One of the biggest changes in the investment industry has been a dramatic fall in the minimum amount of funds needed to open an account. Some brokers offer Micro accounts, which require deposits as low as $5 or the equivalent. They are a good way for newbies to get a feel for trading, but, of course, returns in cash terms are limited.
Individual investors have to therefore consider what their target returns are in terms of percentages and absolute cash. Some classic risk-management principles come into play. The first is to only ever invest an amount of money that can be afforded to be lost and the second is that trading in small size and taking the emotion out of trading can actually help returns as it reduces the risk of panic decisions being made during times of market turmoil.
Another quirk to consider is that thanks to historical reasons US shares can sometimes have phenomenally high prices. Each share in the investment company Berkshire Hathaway, for example, has an eye-watering price in the region of $435,000. Even 'cheaper' stocks such as Microsoft has traded in the region of $340 and Apple Inc shares are valued at around $180. To get around the issue of these stocks having large nominal values, a lot of traders look for a broker that offers fractional trading. This is often offered by international brokers and allows traders to buy part of one share in a company rather than the whole share.
Best Brokers to Buy US Shares From South Africa
One way for traders to test out brokers is to open a demo account with a company from this shortlist of trusted brokers, which offer US share trading. These are free to use, take moments to set up and offer a simulated trading experience using live market prices. As the funds used are virtual, it's possible to test a strategy in a risk-free environment before putting any cash into play.
Demo accounts can be easily upgraded to become live accounts, or it's possible to start trading by selecting the live account option from the start. The process involves providing personal information to ensure the broker can comply with Know Your Client (KYC) regulations and so that the account holder can take comfort from being the only person who can access it.
Why You Should Invest in the US Stock Market
The US stock market is the largest in the world. American investors have acted as pioneers and been active in the equity markets for decades. As a result, it's a well-established market, which is monitored by some of the most respected regulators in the world.
Efficiencies
One of the advantages of the US stock market being so large is that the huge trading volumes make for low trading costs. The efficiencies of scale mean that not only is there every kind of stock to trade, but doing so can be cost-effective. Trading is hard enough without giving money away on administration costs or wide bid-offer spreads, which makes the US stock exchanges a happy hunting ground for wise investors.
Investment Gains
Not only is trading of US stocks easy and cheap to do, but the track record of investment gains is also very attractive. The US is a great place to do business and the enormous domestic market allows firms to grow to huge sizes before they even have to consider becoming multinationals. When they do branch out into other global markets, they already have critical mass, which makes that expansion more likely to succeed.
Diversification
The South African stock market has a lot going for it, but US stocks can offer something different. Not only do the firms operate in different geographical regions, but the industries available to invest in are many and varied. It's possible to buy US stocks that are household names in cyclical sectors or penny shares in up and coming tech firms. Investors looking for dividend stocks, growth stocks and undervalued stocks are spoilt for choice in the US market.
Growth
US companies have a knack of picking up on the next big thing. While the SA mining economy can offer exciting opportunities, there are fewer opportunities to invest in next generation stocks such as US electric vehicle maker Tesla, video conferencing firm Zoom, or tech giant Apple.
What US Stocks Should You Invest in Now?
The two most popular US exchanges are the New York Stock Exchange (NYSE) and the NASDAQ. The NYSE is the world's largest and hosts many major blue-chip offerings and established industrial giants. The roll call of firms is a list of top-ranking global brands, including:
Alibaba (NYSE:BABA) – China's equivalent e-commerce entity to Amazon with wholesale as well as retail operations.
Exxon Mobil (NYSE:XOM) – The largest oil and gas company in the world.
General Electric (NYSE:GE) – Major industrial behemoth in aviation, power, and healthcare.
IBM (NYSE:IBM) – One of the first generation tech stocks with a proven ability to reinvent itself.
JP Morgan Chase & Co (NYSE:JPM) – Big banks are tipped to prosper in an inflationary environment when interest rates rise, and trading margins improve.
Pfizer (NYSE:PFE) – A market capitalisation of $310bn and a leading role in the fight against COVID.
Procter & Gamble (NYSE:PG) – A household name with global brands and a stock price that rides out booms and busts.
Mastercard (NYSE:MA) – The payment-processing firm with the largest market capitalisation.
Wal-Mart (NYSE:WMT) – The #1 retail marketing chain in the world with a massive domestic market.
Walt Disney (NYSE:DIS) – Major entertainment content provider and theme park operator.
The NASDAQ exchange is widely recognised as the natural home of tech stocks. Some of the biggest firms on the planet started out as small operations listed on the Nasdaq. When Amazon listed on the NASDAQ exchange in 1997 it was possible to buy AMZN stock for $18, with the firm's share price now being in the region of $3,400. Other stocks listed on the NASDAQ include:
Alphabet (NASDAQ:GOOGL)– Parent company of search engine giant Google.
Amazon (NASDAQ:AMZN) – The firm's move into Amazon Web Services (AWS) demonstrates that the entrepreneurial spirit of Jeff Bezos still runs strong.
Apple (NASDAQ:AAPL) – The tech firm that still sets the standards others try to emulate.
Microsoft (NASDAQ:MSFT) – A proven track record of being able to take consistent income streams and use them to invest in the next big thing.
Netflix (NASDAQ:NFLX) – Streaming giant, which has revolutionised home viewing.
Tesla – Standard bearer of the booming electric vehicle EV revolution.
Buying US Indices
It is possible to buy US shares in each company but index funds that offer exposure to all the firms in the index are also popular. Another index, which isn't an exchange itself, but a basket of different firms is the Russell 2000. This is made up of US firms with smaller market capitalisations. These offer exposure to the US economy itself rather than multinationals such as Boeing and McDonald's, which operate on a global basis.
Summary
Buying US stocks from South Africa ticks a lot of boxes. Make the right choice of broker, and the door is opened to a relatively safe market, which is well-regulated. The stocks on offer are many and varied and trading costs are low.
The popularity and size of the US stock market is a result of the exchanges getting things right for investors for decades, which makes any time a good time for SA investors to consider adding US stocks to their portfolio.