The economic uncertainty makes UK grocer J Sainsbury plc (LSE: SBRY) a target for those looking for a recession-proof stock. The supermarket chain is protected by barriers to entry, and customer demand can be considered relatively recession-proof.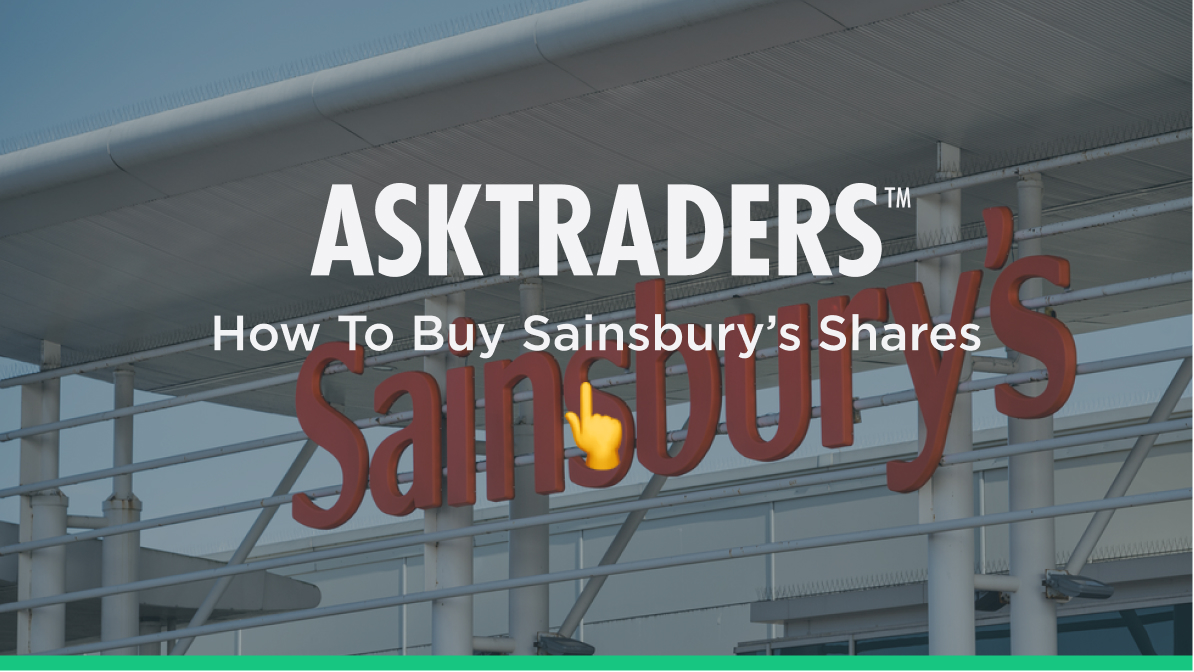 With Sainsbury's already having established a network of stores, it does have relatively limited capacity for growth, and challenges from rivals are a perennial concern considering the small profit margins of the sector.
Sainsbury's position as a relatively 'safe bet' makes it a popular stock with investors looking to gain exposure to the stock markets without the risk of losing their shirts. This breakdown of Sainsbury's prospects considers the pros and cons of buying Sainsbury stock, when might be a good time to do so, and how to go about it.

Overview of Sainsbury Stock
Sainsbury's is one of the UK's largest supermarket chains. It has also been around for a considerable amount of time, having been founded in 1869 by John James Sainsbury.
Today, the largest shareholder in Sainsbury is Qatar Holdings LLC, the Sovereign Wealth Fund of the Qatar state. It owns over 14% of SBRY stock. The rest of the top four Sainsbury investors include Bestway Group and two well-regarded institutional investment firms
The Sainsbury share price chart shows that the stock might be more volatile than some might initially imagine, with large swings, especially during the pandemic period.
The thinking behind now potentially being a good time to buy Sainsbury shares is that, like many other stocks, SBRY had a tough 2022. Fears of a recession, inflationary pressures, and rising interest rates triggered a general move away from risk assets such as equities.
Determining if Sainsbury is a good buy involves establishing the factors determining its value. They include how the firm is undergoing a reappraisal of its core strengths while also demonstrating the operational capacity to push the changes through.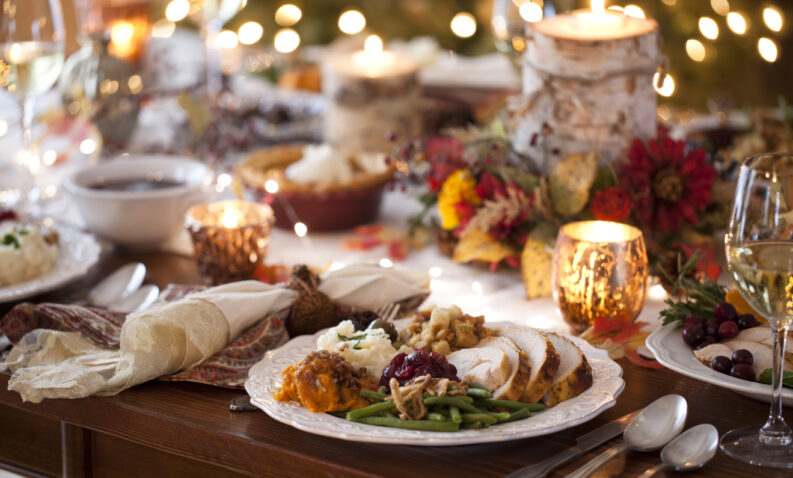 Sainsbury is often considered to be positioned in an uncomfortable middle-ground between the discounters Lidl and Aldi and high-end grocers such as Waitrose.
Despite the company's recent success, it is vital to consider its cost base as it is a factor that puts off many investors. It's not that they think buying Sainsbury shares won't make a positive return, more that better returns might be found elsewhere.
The first cost factor to consider is the global inflationary pressure on raw materials driving up the price of grocery products. Sainsbury is caught between price rises in commodity markets and consumers facing a cost-of-living crisis.
The second cost factor relates to Return on Capital Employed, a ratio that measures a firm's profitability against its capital efficiency. In short, profitable firms that have completed most of their investment in infrastructure are, for many investors, more attractive than those using revenue to build up the business.
The business model of Sainsbury is relatively capital-intensive. Some analysts estimate it has £15bn of capital assets and that the annual cost of maintaining stores and delivery vehicles is as high as £700m. With such ongoing costs being hard to avoid, that £700m will never drop to the bottom line of the balance sheet.
Sainsbury currently has a tight operating margin, so there's little room for the firm to get anything wrong
SAINSBURY'S SHARES: THE BASICS
J Sainsbury Plc is listed on the London Stock Exchange under the ticker (LSE: SBRY). It currently has a market capitalisation of over £6bn, confirming it as a member of the FTSE 100 index.
Being a member of the FTSE 100 results in additional support for the share price. Managers of tracker funds and ETFs that cover the index need to buy Sainsbury stock every time an investor subscribes to one of their products.
With Sainsbury's paying a solid dividend, the firm is in a sweet spot for dividend investors.
Sainsbury has been trading since 1869 and is the second-largest chain of supermarkets in the UK, with around 15% of the market share. The food division generates most of the group's revenue, but other divisions include banking and energy services and non-food retail lines such as TU (clothing), Habitat (homewares) and Argos.
The firm has adapted its operations to support the move toward online shopping, and in 2022, online grocery sales made up 17% of food sales, while 80% of Argos sales were online.
The view that Sainsbury has historically underperformed has sometimes resulted in attempted takeovers and mergers being proposed. None of these deals has been able to clear the requirements of the Competitions and Markets Authority, but a successful bid would likely be at a premium.
Steps to Buy Sainsbury Shares
Whether you want to buy or sell Sainsbury shares, the good news is that online brokers have made dealing in the markets a cost-effective and user-friendly experience. You can set up an account, trade and manage your portfolio using a desktop or mobile device.
Whether you're a speculator looking to sell short based on sectoral decline or a buy-and-hold investor who thinks long-term reforms are about to kick in, opening a position is pretty much the same.
1. CHOOSE A BROKER
This list of trusted brokers is a short-list of firms that are experienced market operators operating under licence from well-regarded financial regulators. Look for brokers regulated by Tier-1 authorities such as the Financial Conduct Authority (FCA), the Australian Securities and Investments Commission (ASIC) and the Cyprus Securities and Exchange Commission (CySEC).
The functionality of modern online broker platforms makes buying or selling Sainsbury's shares a straightforward process. They have been designed with beginners in mind but offer research and analysis tools to take your trading to the next level.
Many of the trading processes are generic, so your final choice will likely come down to personal preference. To ensure your choice is a good fit, it is worth trying out free demo accounts, which allow you to practice trading and get a feel for different brokers.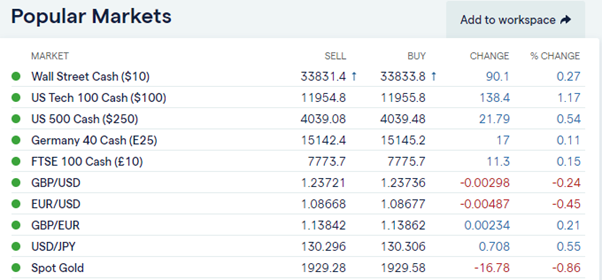 2. OPEN & FUND AN ACCOUNT
You can sign up for a demo account by providing little more than an email address, but to open a live trading account, you must share a more significant amount of personal information. This is partly so your broker can build up a user profile for you that considers your investment aims and experience.
Once you've completed the onboarding, it's just a case of transferring funds to your new online account. Most brokers offer a variety of ways of doing this, including bank transfers and debit and credit cards. If you're in a rush to trade the market in Sainsbury's shares, it's worth checking the length of time each of the payment methods takes. Some are instant, and others can take several days.
BEST BROKERS TO BUY SAINSBURY'S SHARES:
If you are ready to add some Sainsbury's shares to your portfolio, you'll need a regulated broker with low fees and a user-friendly platform. Finding one can be daunting, so we've selected some of our favourites that tick all these boxes to help you get started.
This list of well-regarded brokers includes the names of firms reviewed by AskTraders analysts to ensure they offer all the neat features to help your trading get off to the best possible start.
3. OPEN AN ORDER TICKET AND SET YOUR POSITION SIZE
Once your account is set up and funded, it's time to locate the Sainsbury's market on the broker's trading platform. The easiest way is by using the 'stock search' function, which will take you to the trading dashboard for those shares, where you'll find price charts, the latest news and research reports. Enter the number of shares you want to buy or sell.
4. SET YOUR STOPS AND LIMITS
Before you click the 'buy' or 'sell' button, it's worth considering using Stop Loss and Take Profit orders. These risk-management instructions are built into the system to close out positions at certain price levels automatically. If price moves against you, Stop Losses will close out the position, but if things go your way, Take Profits come into play and lock in the gains.
Most online brokers also offer Limit Orders. These relate to the entry-level of your trade. If you're looking to buy, and Sainsbury's shares are trading at 244p, you can build an instruction to buy a certain number of shares if the price drops to a lower level, for example, 222p. There is no guarantee your order will be filled at your target entry point, but Limit Orders can help you finesse your way into a trade.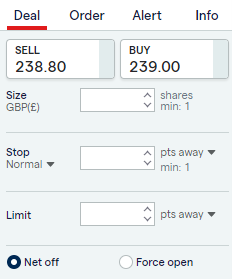 5. SELECT & BUY SAINSBURY'S SHARES
Once all the checks are done, all it takes to trade Sainsbury's shares is a tap or click of the screen.
There are two tips from experienced traders to keep in mind.
Before you click 'buy' or 'sell' SBRY— It's essential to establish if you are buying what you think you are. Online brokers offer markets in share dealing and Contracts for Difference (CFDs). CFDs allow you to use leverage and scale up the risk-return on the trade. They also allow you to sell short. If your strategy involves selling Sainsbury's shares in the hope of repurchasing them at a cheaper level, then you need to use CFDs.
If you're looking to buy Sainsbury shares and hold them for more than one month, it is likely to be more cost-effective to buy Sainsbury's outright. This avoids paying daily finance charges, which can stack up over time and eat into any profits. This article explores that subject in greater detail.
After you trade, check your portfolio to see if everything appears in order. Even experienced traders make 'fat finger' errors and correcting them is vital before price moves too far.
FEES WHEN TRADING SAINSBURY'S SHARES
Fierce competition between brokers has revolutionised the industry, which has resulted in super-low trading costs for their clients. All the trusted brokers below make their money on the difference between the buy and sell prices they offer their clients — the bid-offer spread.
This approach makes managing your costs and comparing broker T&Cs easier to do.
eToro
Plus500
Marketscom
AvaTrade
IG
Live Account Fee
No charge
No charge
No charge
No charge
No charge
Demo Account Fee
No charge
No charge
No charge
No charge
No charge
Bid Offer Spread – Sainsbury's shares
15p
Variable
27p
27p
15p
Cash Deposit Fee
No charge
N/A
No charge
No charge
No charge
Cash Withdrawal Fee
Yes – $5 per transaction
N/A (a charge may be incurred on
the 5th withdrawal of the month)
No charge
No charge
No charge
Inactivity Fee
Yes – $10 per month after 12 months inactivity
Yes – $10 per month after 3 months inactivity
Yes – $10 per month after 3 months inactivity
Yes – $50 per quarter after 3 months inactivity
Yes – £12 per month after 24 months inactivity
FX Conversion Fee
Offers accounts in USD, only
Offers accounts in USD, GBP and EUR
Offers accounts in 14 base currencies incl. USD, GBP, EUR
Offers accounts in USD, GBP, EUR, CHF
Offers accounts in 6 base currencies, including USD, GBP and EUR
Minimum Deposit
$50 (or equivalent)
$100 (or equivalent)
$100 (or equivalent)
$100 (or equivalent)
£250 (or equivalent)
There are some other administrative charges to consider and keeping on top of them can help you avoid paying unnecessary charges. Account inactivity fees some brokers charge can, for example, be worked around. At Plus500, you can avoid the charge simply by logging on.
Cost isn't everything. Some brokers offer exceptional research, which can help you improve your trading. Trying out the demo accounts of the different platforms is recommended. That way, you can filter through the candidates to find the best broker in your price range.
Final Thoughts
Sainsbury stock, similar to the stores it operates, isn't for everyone. But some investors are die-hard fans. The firm's track record of promoting ethical business practices, strong dividends, and market dominance will appeal to many.
The list of major shareholders shows many big firms are backing the stock to generate long-term returns, and there are signs that the management team has turned a corner in terms of getting their offering right.
Costs will always be a concern for any firm in a sector with such tight margins, but with the stock currently out of a dip in price, many are looking to buy Sainsbury stock now.
PEOPLE WHO READ THIS ALSO VIEWED THE FOLLOWING: