A quick look at the share price chart for Sainsbury's confirms that it continues to treat its investors to something of a roller-coaster ride. Between August 2020 and January 2021, the shares rose in value by around 30%. Over the same time period, the FTSE 100 index rose by a relatively sedate 17%.

There's a lot going on, and much of it is behind the scenes. This report will offer some insight and consider the pros and cons, and whether now is the time to buy or sell Sainsbury's.
We'll also look at ways of making sure you choose a safe broker with which to buy Sainsbury's shares. Then break down the steps you need to follow to take a position in the stock, which could offer some surprises.
Sainsbury's Shares: The Basics
J Sainsbury Plc is listed on the London Stock Exchange under ticker (LON:SBRY). It currently has a market capitalisation of £5.4bn, which confirms it as a member of the FTSE 100 index.
The register of shareholders throws up one of the first points of interest about the firm. A range of institutional investors such as Schroders plc, BlackRock Inc and VESA Equity Investment have substantial holdings, but top of the list, with almost 22% of voting rights, is Qatar Holdings LLC. Sovereign wealth funds aren't afraid to take large positions in firms, but when they do, it adds a little mystique to the situation.
Another sign that the Sainsbury's share price might be on the move is that the firm's site stresses references to a range of other income streams it is trying to develop. These include banking and energy services and non-food retail lines, TU (clothing), Habitat (homewares) and Argos.
Recent and Historical Market Performance
Supermarkets were stuck in an awkward situation during the COVID pandemic. The government lockdown measures brought equal amounts of good and bad news.
As the goods sold were classified as essential, the stores remained open and sales spiked, but so did costs, thanks to safety measures that had to be introduced.
The waiving of business rates helped the bottom line but made paying dividends to investors controversial as it gave the impression the firm was passing on tax breaks to City 'fat cats'.
Consumer habits drifted towards fewer, bigger shopping trips, which helped the firm gain ground on rivals Aldi and Lidl. At the same time, the ease with which the newcomers cut into SBRY margins lingers in the memories of potential investors.
Sainsbury's has for some time been a stock that divides opinion and COVID has left many investors still wondering, Sainsbury's shares, buy or sell?
The weekly price chart of 2020–21 shows it has found some strength since the March 2020 price slump.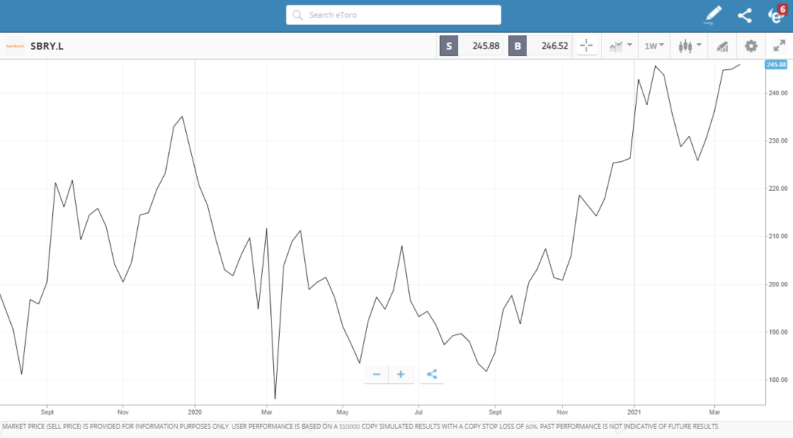 *68% of retail CFD accounts lose money
However, the share price is still some way from regaining the previous highs of 2013–14: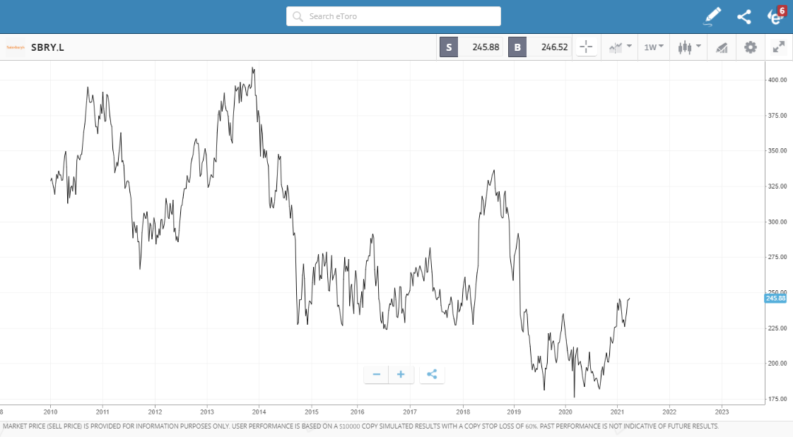 *68% of retail CFD accounts lose money
There could be room to the upside thanks to the firm undergoing a reappraisal of its core strengths. It currently brands itself as "an evolving retail group, with a portfolio of strong brands, we can create consistent value for our shareholders" (source: Sainsbury's).
Is it a good time to buy or sell Sainsbury's shares?
Should you buy shares in Sainsbury's? The real question is whether Sainsbury's previously strong position can be resumed. Will the investment in an array of new business lines pay off, or was it a final roll of the dice?
The online broker IG has collated broker ratings on Sainsbury's shares and established that the average rating is currently 'Buy'. Three of the 15 analysts included in that survey tip the stock as a 'strong buy' and none marked the stock as a 'strong sell'. It's a stock that divides opinion and the majority of analysts have opted for the safety of grading the stock a 'hold'.
Those analysts who took the safe option of selecting 'hold' are potentially waiting for signs of how things are going to pan out. There are reasons, however, to consider that now is the time to buy Sainsbury's.
A lot of the 'challenges' are already priced in, but the year-end statements provided reminders of the task facing the firm, which made for unpleasant reading and increased selling pressure:
Record Christmas sales and an upgraded earnings forecast suggest the new business lines could be beginning to kick in.
The core business of grocery sales had a bumper Q4 in 2020, total sales were up 7.4% year on year and online sales were up 128%.
Softer metrics such as customer satisfaction are also performing well and peaked during the all-important Christmas week.
The growing online presence could be the catalyst for a share price rise. Ocado plc has seen its share price rocket in recent years thanks to it being able to carve out a tech-assisted niche in the home-delivery market. It's become the 'go-to' UK grocery stock and has even led to hedge funds buying Ocado and shorting one of the traditional grocers in a long-short strategy, which offers a degree of market neutrality.
Approximately 7% of Sainsbury shares are currently shorted by hedge funds, a lot of them running the Ocado-Sainsbury pairs trade. If the SBRY share price picks up steam, those funds could find themselves in a short-squeeze and buying SBRY stock to close out their short position. A full-blown short-squeeze similar to GameStop might not be on the cards, but every little helps.
Steps to Buy and Sell Sainsbury's Shares
Whether you want to buy or sell Sainsbury shares the good news is that online brokers have made dealing in the markets a cost effective and user-friendly experience. You can set up an account, trade and manage your portfolio using a desktop or mobile device. There are a lot of brokers to choose from and one golden rule is to use one that is regulated.
No matter if you're a speculator looking to sell short on the basis of sectoral decline or a buy-and-hold investor who thinks long-term reforms are about to kick in, the process of opening a position is pretty much the same.
1. Choose a Broker
This list of trusted brokers is a short-list of firms that are experienced operators in the market and who operate under license from well-regarded financial regulators.
They make buying or selling Sainsbury's shares a straight-forward process. The user-friendly trading platforms have been designed with beginners in mind but offer research and analysis tools to take your trading to the next level. A lot of the processes are generic in nature, so your final choice will likely come down to personal preference. To make sure it's a good fit, it is worth spending some time trying out free demo accounts, which allow you to practice trading and get a feel for different brokers.
2. Open & Fund an Account
You can sign up for a demo account by providing little more than an email address, but to open a live trading account, you are required to share a greater amount of personal information. This is partly so your broker can build up a user profile for you that considers your investment aims and experience.
Once you've completed the onboarding, it's just a case of transferring funds to your new online account. Most brokers offer a variety of ways of doing this, including bank transfer and debit and credit card. If you're in a rush to trade the market in Sainsbury's shares, it's worth checking the time each of the payment methods takes. Some are instant and some can take several days.
Best Brokers to buy Sainsbury's shares:
eToro:
68% of retail CFD accounts lose money
Take a look
If you are ready to add some Sainsbury's shares to your portfolio you'll need a broker that is regulated, has low fees and a user-friendly platform. Finding one can be a daunting task, which is why we've selected some of our favourites that tick all of these boxes to help you get started.
3. Open an order ticket and set your position size
Once your account is set up and funded, it's time to locate the Sainsbury's market on the broker's trading platform. The easiest way to do this is using the 'stock search' function, which will take you to the trading dashboard for those shares and is also where you'll also find price charts, the latest news and research reports. Enter the number of shares you want to buy or sell.
4. Set your stops and limits
Before you click the 'buy' or 'sell' button, it's worth considering using Stop Loss and Take Profit orders. These are risk-management instructions that are built into the system so that it will automatically close out positions at certain price levels. If price moves against you, Stop Losses will close out the position, but if things go your way, Take Profits come into play and lock in the gains.
Most online brokers also offer Limit Orders. These relate to the entry-level on your trade. If you're looking to buy, and Sainsbury's shares are trading at 244p, you can build an instruction to buy a certain number of shares if and when the price drops to a lower level, for example, 224p. There is no guarantee you'll be filled at your target entry point, but Limit Orders can help you finesse your way into a trade.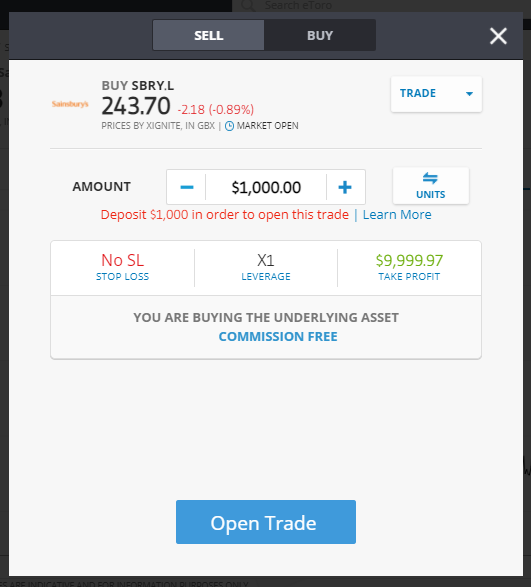 *68% of retail CFD accounts lose money
5. Select & Buy Sainsbury's Shares
Once all the checks are done, all it takes to trade Sainsbury's shares is a tap or click of the screen.
There are two tips from experienced traders to keep in mind.
Before you click 'buy' or 'sell' SBRY— It's important to establish if you are buying what you think you are. Online brokers offer markets in share dealing and Contracts for Difference (CFDs). CFDs allow you to use leverage and scale up the risk-return on the trade. They also allow you to sell short. If your strategy involves selling Sainsbury's shares in the hope of buying them back at a cheaper level, then you need to trade CFDs. If you're looking to buy Sainsbury shares and hold them for more than one month, then it is likely to be more cost-effective to buy Sainsbury's outright. This avoids paying daily finance charges, which can stack up over time and eat into any profits. This article explores that subject in greater detail.
After you trade — Be sure to check your portfolio and that everything looks in order. Even experienced traders make 'fat finger' errors and it's important to correct them before price moves too far.
Fees When Trading Sainsbury's Shares
Fierce competition between brokers has revolutionised the industry, which has resulted in super-low trading costs for their clients. All of the below trusted brokers make their money on the difference between the buy and sell prices they offer their clients — the bid-offer spread.
This approach makes managing your costs and comparing broker T&Cs easier to do.
| | | | | | |
| --- | --- | --- | --- | --- | --- |
| | eToro | Plus500 | Markets.com | AvaTrade | IG |
| Live Account Fee | No charge | No charge | No charge | No charge | No charge |
| Demo Account Fee | No charge | No charge | No charge | No charge | No charge |
| Bid Offer Spread – Sainsbury's shares | 15p | Variable | 27p |  27p | 15p |
| Cash Deposit Fee | No charge | N/A | No charge | No charge | No charge |
| Cash Withdrawal Fee | Yes – $5 per transaction | N/A | No charge | No charge | No charge |
| Inactivity Fee | Yes – $10 per month after 12 months inactivity | Yes – $10 per month after 3 months inactivity | Yes – $10 per month after 3 months inactivity | Yes – $50 per quarter after 3 months inactivity | Yes – £12 per month after 24 months inactivity |
| FX Conversion Fee | Offers accounts in USD, only | Offers accounts in USD, GBP and EUR | Offers accounts in 14 base currencies incl. USD, GBP, EUR | Offers accounts in USD, GBP, EUR, CHF | Offers accounts in 6 base currencies, including USD, GBP and EUR |
| Minimum Deposit | $200 (or equivalent) | $100 (or equivalent) | $250 (or equivalent) | $100 (or equivalent) | $250 (or equivalent) |
There are some other administrative charges to consider and keeping on top of these can help you not to pay unnecessary charges. Account inactivity fees some brokers charge can, for example, be worked around. At Plus500, you can avoid the charge simply by logging on.
Cost isn't everything. Some brokers offer exceptional research, which can help you improve your trading. Trying out the demo accounts of the different platforms is recommended. That way, you can filter through the candidates to find the best broker in your price range.
Full Overview of Sainsbury's
Niche and History
Sainsbury's has been trading since 1869 and is the second-largest chain of supermarkets in the UK with around 16% of market share.
It became the UK's largest grocer in 1922 and held that spot for many years but finally lost first place to rival Tesco in 1995. The sense that the firm was on the wane has seen various takeover attempts proposed, the most recent being a merger with rival Asda. None of these proposed deals have been able to clear the requirements of the Competitions and Markets Authority.
Financial Overview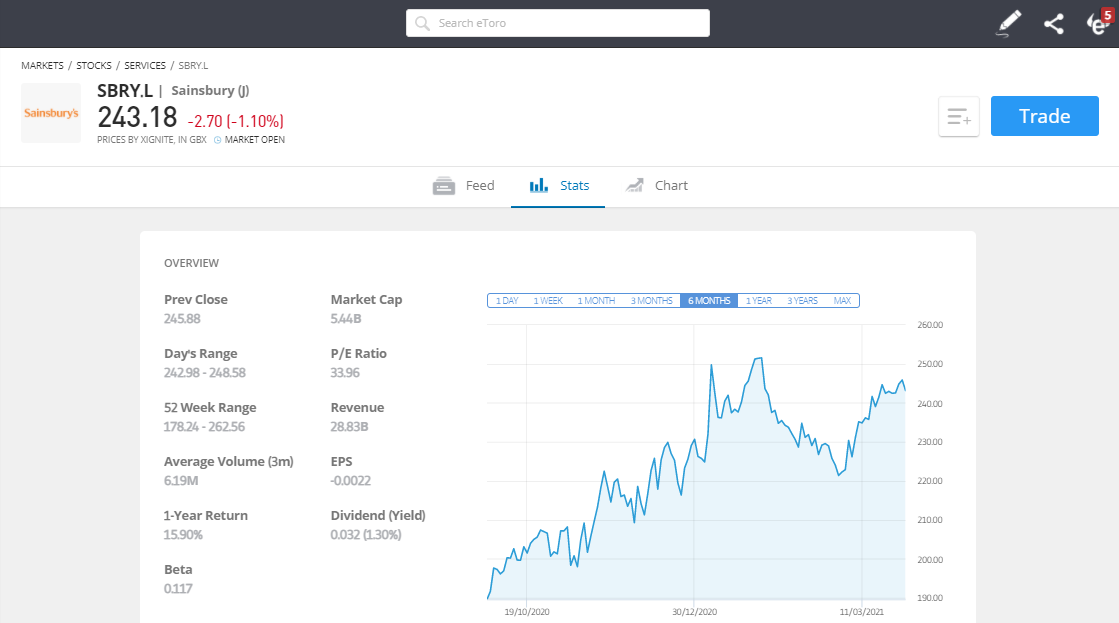 *68% of retail CFD accounts lose money
Sainsbury's EBITDA– £1.67bn in 2020.
Sainsbury's P/E ratio– 33.9
Sainsbury's share dividends– Every December and for the previous financial year in July, J Sainsbury plc typically pays an interim dividend. The exceptional circumstances of 2020 saw the firm defer its dividend, but it is expected to resume normal service in 2021.
Sainsbury's dividend yield– the average dividend yield over the last five years is 1.30%.
Sainsbury's Ethical Rating
Environmental Impact
Sainsbury's has strong brand recognition and loyalty and, despite a few slip-ups, has typically been one of the pioneers in its sector regarding ethical practices.
Treatment of Workers and Local Communities
Until 2017, Sainsbury's was the world's largest retailer of Fairtrade products. Its commitment and understanding of programs that support producers, particularly in developing countries, led to it challenging the orthodoxy in that year and setting up its own version of the program entitled 'Fairly Traded'.
The change led to public debate on the issue, with questions even raised in the House of Commons. Being a flagship for ethical work practises resulted in Sainsbury having to navigate a PR storm.
Ethical Initiatives
Sainsbury's has committed to investing £1bn over 20 years on a program of green initiatives, which target becoming a net-zero business across its own operations by 2040. This aligns it to the highest ambitions of the Paris Climate Change Agreement and would see it achieve its target 10 years ahead of the UK Government's own target.
Controversies
In 2018, environmental campaign group Greenpeace reported Sainsbury's to be the worst UK supermarket in terms of plastic packaging used in its products. Over 922,000 signatures were received for Greenpeace's petition, which called UK supermarkets to eliminate their throwaway plastic packaging. Inaction by Sainsbury's could inevitably lead to reduced footfall in its stores.
Summary
Recent share price volatility suggests there are traders in the market who take contrasting views when answering the question — Sainsbury's shares, buy or sell? On the one hand, it's one of the top-10 shorted stocks on the London Stock Exchange. On the other hand, buy-and-hold investors taking a longer-term view can point to several new projects that could act as catalysts of future revenue and share price growth.
There are a lot of variables in play, but the increased activity suggests the share price could be about to move. The best news for those following the situation is that the process of buying Sainsbury's shares using a trusted broker is now a user-friendly and cost-effective experience.