Buying mining stocks is a high risk-return proposition. If you dig down into some of the smaller, more volatile operations, you can scale the risk up even further. Canadian gold, copper and silver miner McEwen Mining is one such firm.
The founder, Chairman and chief owner, Rob McEwen, still owns a large part of the firm and calls many of the shots. There is substantial key-man risk involved, but also the comfort that comes with knowing the management also has skin in the game with interests closely aligned to shareholders. It's a tough call, which means any McEwen mining stock forecast needs to factor in many unusual variables.

Is McEwen Mining a good stock to buy? Rob McEwen is probably best positioned to answer that, and he currently holds 18% of the New York and Toronto listed firm. This MUX stock forecast will sift through the technical and fundamental analysis price drivers in an attempt to establish if other investors should be joining him.
Who are McEwen Mining (NYSE:MUX, TSX:MUX)?
McEwen Mining's mission statement is to "create a strong and profitable gold and silver producer focused in the Americas" (source: McEwen Mining). It has operations in Canada and the USA, which offers a degree of insurance against geopolitical instability in other parts of the world.
To counterbalance those reserves, the firm has largely untapped and, to some extent, unknown reserves in South America. The Los Azules mine in Argentina is a prime example. It has Indicated resources of copper totalling 10.2bn/lb/cu and Inferred reserves of 19.3bn/lb/cu. The site has a projected mine life of 36 years, but the fact that McEwen is still in the process of building a 50+ mile road to it demonstrates the risks as well as the opportunities of buying into a pioneering miner.
McEwen Mining (MUX) Share Price 2015 -2021
Source: IG
There are some basics in place which help form the foundations of any McEwen stock predictions. The firm is listed on the Toronto and New York stock exchanges and has a market capitalisation of approximately $500m. That's small for a miner but large enough for it to be on the radar of institutional brokers. The four analysts covering the stock all tip it as a Buy.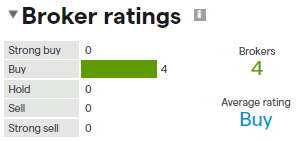 Source: IG
The appetite for long positions might come down to the relatively poor performance of the McEwen Mining stock price. The share price has fallen from $4.31 in 2017 to $1.08 in November 2021. This matches the price move in the gold and silver markets more than the price of copper, which has recently skyrocketed. If MUX can demonstrate an ability to exploit its copper reserves and make it a more substantial part of its operation, then the current share price could be a dip to buy.
McEwen Mining (MUX) Share Price 2015 -2021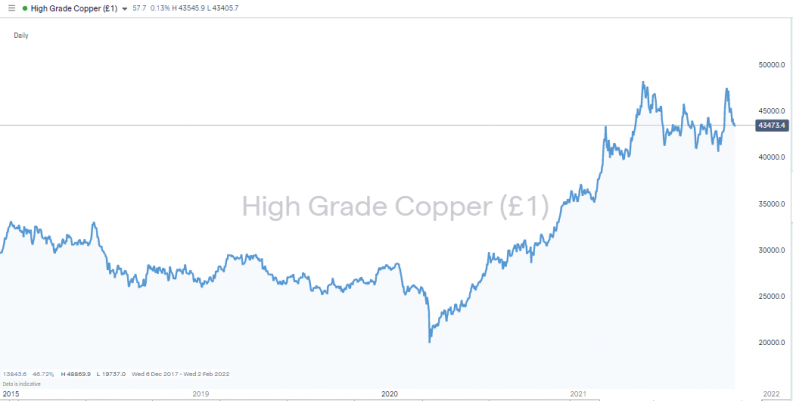 Source: IG
Highlights from the H1 financial results for 2021 include:
McEwen Mining Inc revenues increased 30% to $64.4m
Net loss decreased 84% to $18.5m
Revenues reflect United States segment increase of 56% to $39.2m
Canada segment increase of 23% to $20.7m
United States segment increase of 56% to $39.2m
Canada (Country) segment increase of 23% to $20.7m
Lower net loss reflects United States segment loss decrease of 95% to $5.2m
MSC segment loss decrease of 19% to $3M.Source: IG
Where Will McEwen Mining's Stock Price Be in Three Months?
Actions of the US Federal Reserve look set to be major short-term drivers of the price of gold, silver and copper. While it takes years to locate and start extracting the metals, the demand side of the price equation can be influenced by a passing comment from US Fed Chair Jerome Powell. His guidance on tapering and possible interest rate rises in the US is keenly monitored at the moment. Markets are pricing in that his roadmap for the post-pandemic US economy includes interest rate rises from June 2022 onwards.
Gold and silver prices tend to be negatively correlated to interest rate levels. Extra returns on cash held in savings accounts often result in those containing precious metals trimming their positions and moving into cash. If the US Fed points to tapering and interest rates rises being put on hold, then gold and silver prices can be expected to rally, and that would be good for the McEwen share price. Continued monetary stimulus would also be good news for the broader economy, driving demand for the copper McEwen mines and manufacturers buy.
The US Federal Reserve's FOMC committee is to meet and decide rates policy on 14th–15th December and 28th–29th January 2022. Interim 'guidance' in the form of comments to the press can also be expected.
McEwen Mining (MUX) Share Price 2019 -2021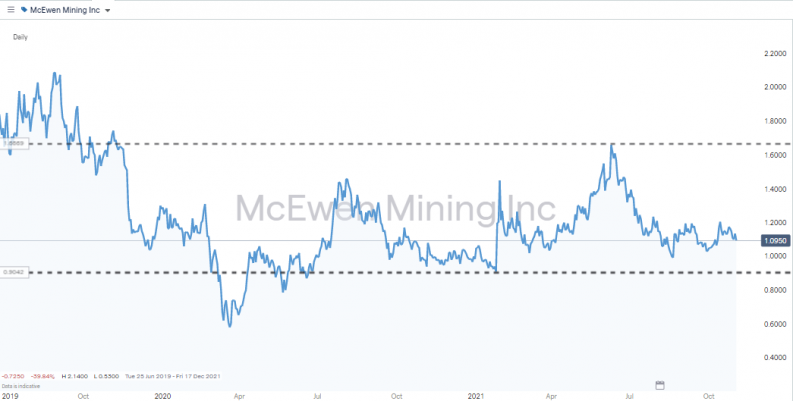 Source: IG
Currently, MUX revenues are mainly reliant on gold and silver mining operations, and the prices of precious metals have not surged in the same way as the price of copper. Two key support/resistance price levels of MUX stock are $0.90 and $1.66, which mark the year-to-date low and high price levels of McEwen Mining shares. A breakout of either of these levels could indicate that price is building momentum and a new trend pattern is forming.
Where Will McEwen Mining's Stock Price Be in One Year?
In terms of demand for McEwen's products, the same principles apply in the medium term. Continued economic growth and lower than expected interest rates would be good for the share price. At the same time, inflationary pressures, which some have identified, could encourage a move into commodities that can offer a form of hedging against inflation.
Supply-side factors which are specific to MUX stock are likely to come into play over the medium term. A lot is riding on the projected reserves in the Los Azules mine coming good.
Once up and running, it is anticipated to be the world's 25th largest copper producer and a lowest cost quartile producer. It is one of the world's most significant undeveloped high-grade open-pit copper projects, which contains substantial further growth potential.
It is projected to be profitable even if gold, silver and copper prices fall from current levels, and of course, there is as much potential for those to rise.
As stated on the McEwen Mining website:
"Using the assumptions of $3.00 per pound of copper, $1,300 per ounce of gold, and $17 per ounce of silver, the Los Azules project generates a $2.2bn After-Tax Net Present Value (NPV) (discounted at 8%) and 20.1% After-Tax Internal Rate of Return (IRR)."
(Source: McEwen Mining)
It has the potential to be a robust, high margin, rapid pay-back, and long-life open pit mine operation, but there are still a lot of unknowns. The PEA (Preliminary Economic Assessment) made in 2013 was followed up by another in 2017. The latter report significantly upgraded the site's potential, and the firm is scaling up its operations which means more good or bad news could be on the way.
In a statement to investors in September, the firm announced:
"Preparations are underway for a large 53,000-meter drilling program targeting the upgrading of Inferred mineral resources to the Indicated category."
Source: McEwen Mining
The first two drill rigs are arriving in early November 2021, and production will then ramp up to a full complement of 10 drills by January 2022.
Access to the project is currently via an exploration road, 48 miles of which have been safely cleared, but delays in completing that route would be bad news for shareholders. Similarly, the new all-season lower altitude access road is underway, with completion expected in H2 2022.
Where Will McEwen Mining's Stock Price Be in Five Years?
A McEwen Mining stock forecast for 2025 and beyond will be heavily influenced by the progress made in the Los Azules mine, but there is a range of other factors to consider.
The stock remains a proxy for those looking to take a position on gold and silver. It's often more convenient to hold a mining stock than the metals in physical form. One long-term threat to the price of gold and the MUX share price is the possibility of cryptocurrencies, especially Bitcoin, being regarded as a digital store of wealth and an asset of last resort.
A move into copper mining should help insulate MUX from some of that risk. Copper's use in manufacturing and construction isn't threatened by the post-covid change in social habits in the way that some other sectors are. In fact, home improvements and higher numbers of electrical devices would be good for the price of the metal. A shift towards electric vehicles is also underway, and copper is an essential part of that manufacturing process.
It takes years for miners to research new sources of copper. Then the financing and development of sites add further delays to the metal being extracted. The 2013 PEA of the Los Azules mine demonstrates the time it can take for increased supply to come onto the market. If a commodities super-cycle is about to come into play, McEwen looks well-positioned to make substantial returns from its mines that could be coming online at just the right time.
The mine is expected to, on average, produce 415m/lb of copper during the ten years of operations. The cash copper production costs for the first ten years are expected to be on average $1.11/lb. If those projections hold up, it will pay back costs within 3.6 years, and Los Azules has a LOM (Life of Mine) forecast of 36 years.
Is McEwen Mining a Good Buy?
McEwen Mining buy or sell? There are arguments for both approaches and given the high risk-return involved in small-cap mining stocks, whichever approach is taken, it would be prudent to follow basic risk management protocols.
All speculative investments should be made using amounts of money small enough that they can afford to be lost entirely. That rule certainly applies to exploratory miners with assets vulnerable to sometimes dramatic price swings in the global commodity markets.
There are other reasons for investors in McEwen mining going 'all in' too early. The firm's ambitious projects require further financing, and private placements and IPOs have already taken place, and more are on the cards. These can result in existing investors seeing the value of their holding effectively decrease if they don't take up the option to buy more stock at a discount.
A lot also comes down to the performance of the founder, Chairman and chief owner of the stock, Rob McEwen. His impressive reputation in the Canadian mining sector will be a big draw for a lot of investors. His turnaround of McEwen Mining is a work in progress but given enough time, and an uptick in commodity prices, particularly copper, and investors could bank considerable profits.
Key man risk needs to be considered as McEwen is 71 years old, and the call to make is whether he sees his eponymous firm as his lasting legacy or whether he might lose appetite for a multi-year project. His annual salary for his work is reported as being $1, which demonstrates his commitment is based on his 18% shareholding. Which means his interests are as closely aligned to ordinary shareholders as they can be.
One red flag would be if McEwan were to scale back his 18% ownership of the firm. While he is in charge and motivated, there is plenty of room for copper prices to rally and reserves in Los Azules to match or beat predictions.