With the FIFA World Cup about to kick off, there are some potential pitfalls surrounding the event that stock investors need to be wary of. Some individual firms are exposed to risks that could trigger a downturn in share price performance.
Our list of stocks that are negatively affected by the football World Cup considers the controversies and possible upsets that some leading brands might face.
Stocks That Are Negatively Affected by the Football World Cup
---
1. Netflix Inc (NFLX)
Streaming service Netflix will be in direct competition for viewers when the 2022 World Cup starts on 21st November and charts a course to the final on 18th December. The firm goes into that contest from a position of weakness, with NFLX stock already having lost more than half of its value since the beginning of the year.
The firm's share price tanked because investors worldwide questioned its growth prospects, the feeling being that everyone who might consider taking the service has already signed up. A four-week-long rival event has every chance of impacting the key 'new subscribers' metric, which analysts have been flagging up as a cause for concern.
There is also the risk that a break from Netflix could trigger some subscribers to realise that they can do without the service. The last subscription price hike that applied to the Premium, Standard and Basic packages was announced in January 2022. Can the firm squeeze through another price hike with customers already facing a cost-of-living crisis, or will additional revenue have to be sacrificed to maintain subscriber numbers?
The timing of the World Cup is particularly problematic for Netflix. The Q3 earnings report that was released on 18th October was favourably received by investors and was followed by a 17.8% surge in the share price. However, Netflix still faces significant challenges, and that mini rally could be exposed as a dead cat bounce. With one-third of the streamer's Q4 financial quarter overshadowed by the World Cup, Netflix could be heading towards posting a Q4 earnings miss.
---
2. Coca-Cola Co (KO)
The Coca-Cola Company is one of the longest-standing corporate partners of FIFA. The formal relationship began in 1974 when it became an official sponsor of the FIFA World Cup, but the firm has had stadium advertising in place since 1950.
Marketing gurus have moved on from focusing on pitch-side banners, but some of the modern methods, such as product placement, have backfired at recent football tournaments.
Football superstar Cristiano Ronaldo caused an uproar during a press conference held after a Euro 2020 match. Irritated by Coke products being placed beside him, he removed them, picked up a bottle of water, and told the gathered audience they should drink "Agua!" instead.
Ronaldo's post-match antics were followed by a KO share price crash that took more than $4bn off the market value of the firm. It can be safely assumed that measures will be taken to avoid a similar upset, but as Coke can already testify, live sporting events are hard to stage manage.
---
3. Anheuser-Busch InBev NV (BUD)
Brewing giant Anheuser-Busch InBev is another FIFA World Cup sponsor. Its Budweiser brand will be on prominent display and risks becoming part of the debate about alcohol-related health concerns due to the host nation, Qatar, heavily regulating alcohol sales.
A deal has been struck between the event organisers and Qatari officials that permits alcohol to be consumed in stadiums during matches. Zero-alcohol Bud products will also be available. However, Anheuser's portfolio of products contains alcoholic brands that could suffer if a 'dry' World Cup plays a part in triggering a shift in consumer behaviour.
The World Cup's position as a flagship sport tournament has historically been a good fit for Anheuser-Busch InBev and formed part of the firm's campaigns to promote global brands. That 35-year-plus relationship could be breaking down due to publicly stated concerns that the brewer has about the governance of FIFA. In a statement, the brewer said: "We are concerned about the situation and are monitoring developments."
If viewers and consumers share Anheuser-Busch InBev's concerns about the ethics of the competition and the governance regime at FIFA, then that could force the brewer to give up one of its most high-profile marketing opportunities.
---
4. McDonald's Corp (MCD)
The contracts between the football World Cup and corporate partners extend for multiple years. The decision taken by McDonald's to sponsor the Qatar 2022 tournament was, for example, taken eight years earlier in 2014.
If the fast-food chain's management team had known in advance how controversial aspects of the tournament would play out, it could be argued that the firm would have instead chosen to distance itself from the event.
McDonald's is committed to being associated with a World Cup that has been dogged by claims that the host nation's approach clashes with modern standards of ethics. From charges of unsafe working conditions for foreign workers, to concerns among the LGBT community, there is a very real risk of a consumer backlash against FIFA's corporate partners.
Of the firms running the risk of a consumer reaction, McDonald's looks particularly exposed. The firm's CSR policy is one of the most innovative and forward thinking in the market, but that's partly because McDonald's has for decades had to fight off allegations relating to its own operations. The last thing that the firm would want is to be linked to an event where concerns over ethics play a significant role.
---
5. ITV Plc (ITV)
The FIFA World Cup has become a global phenomenon with astronomical viewing figures and has seen steady growth of approximately 10% over the last four tournaments. This makes it a key component of terrestrial broadcaster ITV's revenue stream.
In the face of stiff competition from streaming services, commercial terrestrial broadcasters need a good World Cup. Unfortunately, the format of the tournament could see viewer figures not match expectations.
FIFA's decision to host the tournament in Qatar is part of its plans for expanding the game's global audience. However, there is a risk that giving the tournament to a tiny fledgling nation with limited football culture could result in listless matches. The host nation's team is ranked 109th in the world. This means that there is limited chance of them progressing to the later stages, which has traditionally helped World Cup tournaments gain momentum and maintain public interest.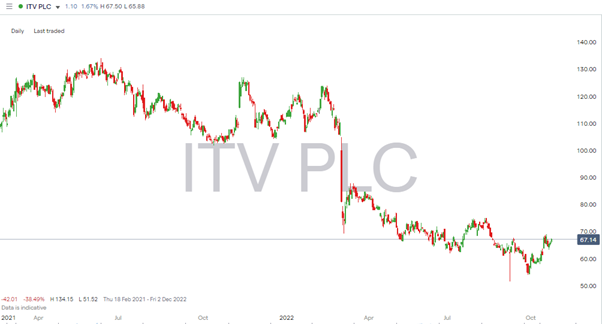 There will also be a significant increase in the number of participating teams, with 48 rather than 32 entrants. This has raised the fear that the standard of play in the early stages will be lower and get the event off to a slow start. It could also create opportunities for collusion in the final group games and teams implicitly manufacturing results so that both can progress.
Final Thoughts
Turbulence in the 2022 stock markets has already acted as a reminder to investors of the need to manage risk and preserve their wealth. The unusual nature of this football World Cup means that another round of risk management analysis needs to be conducted.
While some of the risks associated with the World Cup might not materialise, there is a very real chance that some stocks could be negatively affected by events in Qatar. For those stocks, the tournament represents another potential trip hazard in an already difficult year.
A dip in a company's share price isn't necessarily bad news. Investors who have been waiting to enter into the stock market will, of course, be able to use the extra volatility to seize opportunities to buy the dip and optimise their entry price level. This list of trusted brokers includes firms that have all the tools to help you track the prices of stocks sensitive to the World Cup and get your trading off to the best possible start.
People Who Read This Also Viewed: