Buying Teck Resources stock offers a route to diversified exposure to the mining sector. The Vancouver, Canada-based miner has, over its 100 years of operations, become a market leader in the extraction and processing of copper, coal, zinc and gold. It's a well-run and large-scale miner that has got fully on board with the shift towards 'sustainable' mining, but it still has enough of a pipeline of resources to benefit from a possible surge in mineral prices.
If a commodity super-cycle, or anything even half resembling one, comes about, then TECK shareholders will be well positioned to benefit. Is Teck Resources a good stock to buy? This stock forecast will apply technical analysis and fundamental analysis to outline the short-term and long-term prospects for the firm.

Teck Resources (TECK) Share Price 2015-2021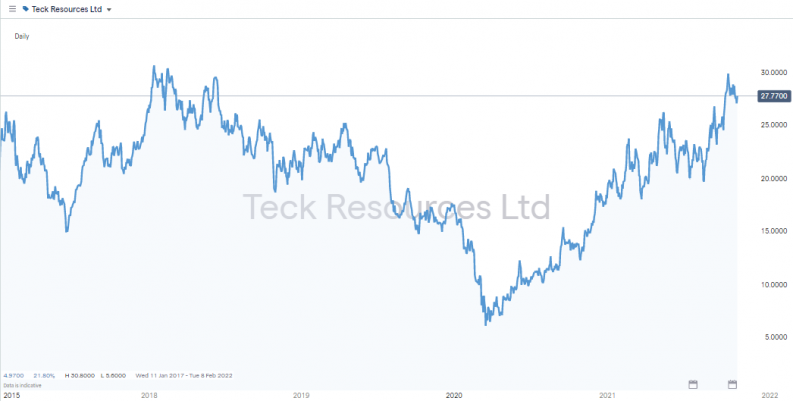 Source: IG
Who are Teck Resources?
Teck Resources has share listings on the Toronto Exchange and the New York Stock Exchange. The tickers for the Canadian stocks are TECK.A and TECK.B, and the NYSE-listed stock has ticker TECK.  Over the last 52 weeks, TECK stock has traded within a price range of $14.34 and $29.87.
Teck Resources Fundamentals

Source: IG
In mining terms, it's mid-range in size with a market capitalisation of $14.83bn and 10,000 employees. A modest dividend yield is paid out to investors, and share buyback programmes are also in operation. These both offer support to the Teck share price and go some way to explaining the punchy P/E ratio of 47.6, which is above the average for the Basic Materials sector and points to some investors considering Teck Resources having the potential to grow in size.
The potential for growth identified by some investors comes down to the firm's diversified portfolio of income streams. Teck Resources stock predictions need to factor in the regular markets such as copper, gold, lead, molybdenum and zinc, but Teck also has divisions operating in the Energy (oil sands) and Industrial Products & Fertilisers sectors. The copper market has received a lot of investor attention recently, and Teck has a pipeline of copper projects in various stages of development. Copper mining accounts for 44% of Teck's gross profit.
The diversification across products is matched by diversification in terms of the geographical locations of its copper mines. It has mines operating in the Highland Valley region of British Columbia, Canada, the Quebrada Blanca copper mine in northern Chile, and the Carmen de Andacollo copper mine in central Chile. It also has an interest in one of the world's largest mines, the Antamina copper/zinc mine in Peru.
Teck Resources Balance Sheet

Source: IG
Teck's proven and probable copper reserves total 33.0 million tonnes, and in 2020, the firm extracted and sold 276,000 tonnes of that supply. The firm is therefore well positioned to increase capacity if the price of the metal goes on a bull run.
Highlights from the H1 2021 financial results include:
Teck Resources Ltd (USA) revenues increased 25% to C$5.11bn
Net income totalled C$565m vs. loss of C$461m
Revenues reflect Steelmaking Coal segment increase from C$792m to C$2.16bn
Copper segment increase from C$405m to C$1.59bn
Zinc, average price per metric tonne, total increase of 15% to C$3,145 per metric tonne
Zinc Production (MT) – Antamina increase of 51% to 241,000 metric tonnes.
Source: IG
Where Will Teck Resources' Stock Price Be in 3 Months?
Short-term price moves in mineral markets are driven by demand more than supply, which is relatively inelastic regardless of how high metal prices go. Miners such as Teck Resources need years to find, evaluate, and then finally start extracting mineral resources. No matter how extreme a change in demand is, there is little capacity for miners to adjust their processes to take advantage of a shift in demand.
Short-Term Fundamentals
The main fundamental driver of the Teck Resources share price is the state of the global economy. The products that Teck mines and sells support a wide range of manufacturing sectors, and any pickup in production levels means more demand for Teck stocks.
Since COVID-19, short-term bursts of economic activity have been largely reliant on fiscal and monetary policymakers offering stimulus measures. Those are continuing to come through the pipeline.
In November, President Joe Biden hailed the passage of his landmark $1tn infrastructure spending package as a "monumental step forward" (source: BBC). The once-in-a-generation public works bill will last eight years and will focus on upgrading highways, roads and bridges, and to modernise city transit systems and passenger rail networks.
It's not just the White House that is generating demand for metals and minerals. The US Federal Reserve in its November Federal Open Market Committee (FOMC) meeting signalled that interest rate rises may be put on hold – more good news for businesses considering taking on loans to finance infrastructure projects.
The US Federal Reserve's FOMC is due to meet and decide rates policy on 14th-15th December and 25th-26th January 2022. Interim 'guidance' in the form of comments to the press can also be expected.
Short-Term Technicals
One major technical resistance point is the high of $30.31 that dates back to January 2018. This forms the top of a sideways channel that dates back to 2013. There have been three brushes of the support level of $3.15. These came in 2009, 2015 and 2020, and price could be seen to be range-bound.
Teck Resources (TECK) Share Price 2008-2021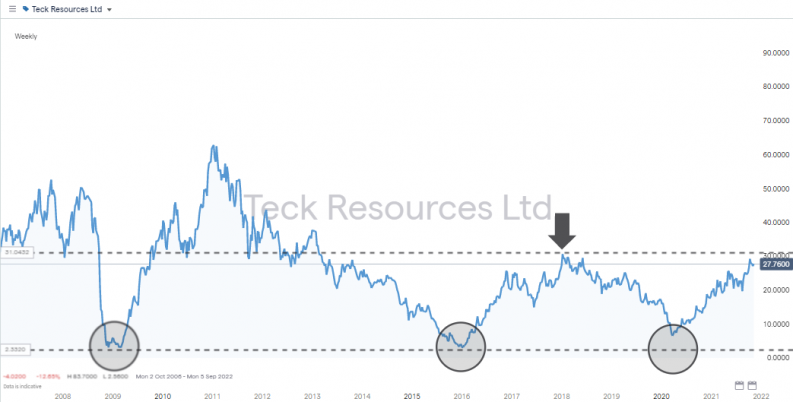 Source: IG
If price were to break above $30.31, it would then convert the resistance level into a support level and leave the path of least resistance to the upside.
A recent fall in short-selling interest also suggests that momentum could be shifting in favour of the bulls. MarketBeat reports that in September, Teck Resources short positions declined by 33.4% in the space of one month. Short interest as of 30th September totalled 4.42 million shares or 0.9% of the company's shares. This was down from the 15th September total of 6.64 million shares. Based on an average trading volume of 4.69 million shares, the short-interest ratio is presently 0.9 days.
Where Will Teck Resources' Stock Price Be in 1 Year?
Over a 12-month time horizon, there is more opportunity for mining companies to have a direct say over their share price. Dividends and buybacks provide base-level support to share prices, and a Teck Resources stock prediction needs to factor in the buyback announced on 27th October 2021.
Teck may purchase up to 40 million Class B Shares during the period starting 2nd November 2021 and ending 1st November 2022. This represents approximately 7.6% of the outstanding Class B Shares, or 8.6% of the public float, as of 20th October 2021.
The extension of the scheme to be able to buy 40 million shares and cancel them is an interesting one as the firm had a similar 12-month programme running from November 2020-2021. During that earlier period, it didn't step in to make any 'normal course issuer' bids.
The stated aim of the firm is that normal course issuer bid schemes can be used when the firm "believes that the market price of its Class B Shares may, from time to time, not reflect their underlying value and that the share buy-back program may provide value by reducing the number of shares outstanding at attractive prices".
Source: TECK
In November 2020, the TECK share price was trading in the region of $13, which given its statement suggests that the board didn't consider this to "not reflect their underlying value". It climbed higher from that level and touched $29.87 12 months later. Investors will have to make a call on whether the fact that TECK stock doubled in value without the aid of any buyback measures is a more significant indication of the firm's prospects than the fact that the board didn't consider the firm undervalued at $13.
Being one of the most well-diversified mining stocks in the North American stock markets means that the firm is followed by a collection of analysts, all of which weigh up whether Teck Resources is a good stock to buy.
Teck Resources Broker Ratings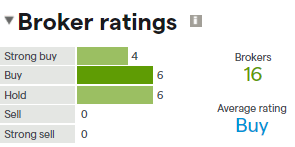 Source: IG
The 16 broker ratings reported by IG range from Hold to Strong Buy, and none of the analysts allocated the firm a Sell rating.
Data from CNN reports that of the 19 analysts it studied, the median target price over the next 12-month period is $33.08. The estimate at the top of the range is $43.33, and the low estimate of $27.55 is in the region of current price levels.
Where Will Teck Resources' Stock Price Be in 5 Years?
Any Teck Resources stock forecast for 2025 and beyond will still be heavily reliant on the state of the global economy. A COVID-19 resurgence or economic downturns would be bad for the TECK share price, but if commodity prices do surge, the firm, like other miners, will be in a good position to benefit from the move.
Mining companies benefit from a neat calculating procedure that means that price rises in underlying assets can result in exponential price rises in mining stock prices. A lot of TECK's cost base is made up of fixed rather than variable costs, and those exploration and infrastructure set-up costs are also front-loaded.
Taking one of the markets in which Teck Resources operates as an example, if the gold mining breakeven operating costs of Teck are at $1,200 and the market price of gold is $1,800, then a 10% increase in the price of gold would result in TECK's profit margin increasing by 30%, not 10%. [(19800-12000) / (18000-12000)].
Is Teck Resources a well-run company?
A longer timeframe does allow the firm to have more say over its own destiny. The decision to mine a diverse range of minerals and energy resources is unlikely to change because it strikes a chord with investors. It allows shareholders to gain exposure to commodities and spread the risk of one market tanking.
The Q3 earnings update released on 26th October didn't have any surprises large enough to move the TECK share price. Following a +50% rally in the stock between 20th August and 18th October, a lot of the good news in the report was already priced in. The fact that price held in the region of $27 to $28 does open up the possibility that price is consolidating at current levels before making a next move up, and those holding positions will be relieved that stock was not subject to a case of 'buy the rumour, sell the fact'.
Teck Resources (TECK) Share Price 2021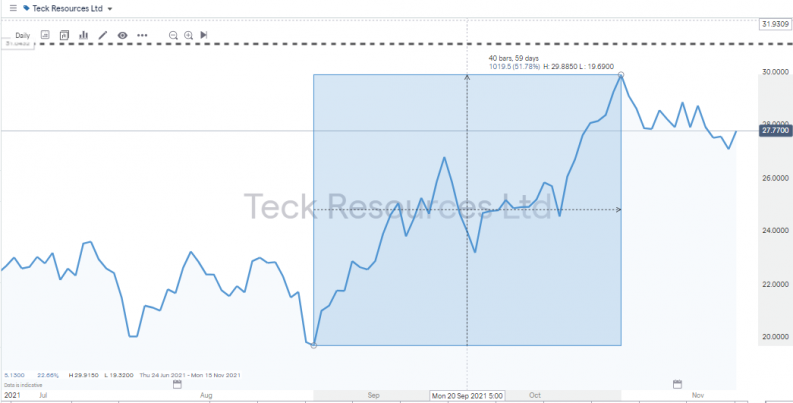 Source: IG
Institutional investors pulling the trigger on 'buy TECK' trades is a good sign in terms of one of the industry's buzzwords, 'sustainability'. Green investing and are hot topics that are driving investment decisions, and although the mining sector runs the risk of being on many blacklists, TECK at least appears to be targeting being the least bad option for big fund managers.
One new potential banana skin for investors is the subject of sustainability. Investor and public opinion are giving higher priority to social and environmental issues. While mining stocks are unlikely to ever be targeted by green investors, they do need to demonstrate sufficient awareness of the trend to not be blacklisted from any investment programmes.
The good news for TECK investors is that the firm is ahead of the curve and ticking a lot of boxes in terms of corporate social responsibility (CSR). The 2020 Teck Resources Sustainability Report includes the below highlights, which suggest that the firm is doing enough to avoid any negative attention from the majority of ethically minded investors:
Reduced greenhouse gas emissions by 414 kilotonnes in total since 2011
Utilised over 100,000 terajoules of renewable energy since 2011
Increased the number of women at Teck by 54% since 2012
Increased procurement of supplies from local suppliers by 33% since 2011
Reduced total recordable injury frequency by 58% since 2010
(Source: Teck)
In 2020, Teck Resources won the Dow Jones Sustainability World Index for the 11th straight year and was the Top-Ranked Mining Company in the World and the only Metals & Mining company awarded the S&P Gold Class Award.
Who Owns TECK stock?
Those looking for a steer from institutional investors will note that reputable investment managers hold substantial positions in the firm. Those positions are being scaled up, and in the 12 months since November 2020, institutional-scale money managers have moved from holding 15% of the total share in the firm to 27.50%.
In recent months, only three of the 12 investment managers with the largest holdings in Teck Resources have scaled back on their positions, and only one of those sales was in significant size.
Major investors in TECK include hedge funds, ETF managers, mutual funds, advisors to high-net-worth individuals and pension funds. There can be some comfort taken from the fact that investment firms from all corners of the investment community are building positions.
What are the long-term risks facing Teck Resources shareholders?
Potential downside risks to the Teck share price need to be considered. In October's investor update, the firm stated that it remained "confident in the longer-term outlook for our major commodities" (source: Teck), but the management team is experienced enough to be able to identify the issues that TECK and the whole sector face.
The update gives special mention to "the extent, duration and impacts that COVID-19 may have on demand and prices for our commodities, on our suppliers and employees and on global financial markets" (source: Teck). However, some of the challenges faced by Teck Resources shareholders have been around a lot longer than COVID-19. The report also references:
"The depleting nature of ore reserves, difficulties in finding new ore bodies, the permitting processes, the availability of skilled resources to develop projects, as well as infrastructure constraints, political risk and significant cost inflation may continue to have a moderating effect on the growth in future production for the industry as a whole."
Source: TECK
The share buyback programme may not have come into play between November 2020 and 2021, but its existence, while pointing to a healthy balance sheet, also raises the question of whether the pipeline of new mines might be drying up. It is hard to get away from the fact that the opportunity cost of short-term share price support is a long-term slide in mineral reserves.
Is Teck Resources a Good Buy?
Is Teck Resources a good stock to buy? Investing in the mining sector is a high-risk-return proposition. The challenges faced by firms such as Teck Resources are many and varied, and a lot of them are completely out of a firm's control. Those looking to pursue a buy trade in miners might be drawn to TECK due to the firm's size, the diversity of income streams and its sustainability programme, which are the company's stand-out features.
The risks are still there, but having operations that include energy, fertilisers, gold and copper offers some degree of insurance compared to other firms that can be out-and-out specialists in one area. The firm is large enough to offer a degree of security, but small enough to suggest that further growth could be on the cards, particularly if its extensive copper reserves benefit from a price rise in that market.
Teck Resources – Buy or Sell?
Market analysts have the stock tipped as a buy. They see the bull run continuing, but more patient investors may want to wait for the technical resistance at $30.31 to be breached before stepping in. There is strong support at current price levels, which suggests that the downside risk and chances to buy dips could be limited.
Investors would do well to follow Teck Resources' lead and follow the fundamental principles of risk management and diversify their position. Trading in small size is also an option for those looking to take the emotion out of investing in miners, which can be something of a roller-coaster ride. If analysis points to holding a position through any downturns, not being all in can help Teck Resources investors to stay in positions.