** Content does not apply to US users**
As a leading player in the development of financial technology for trading, eToro has attracted millions of investors with its innovative platform and wide range of trading options.
---
76% OF RETAIL CFD ACCOUNTS LOSE MONEY
---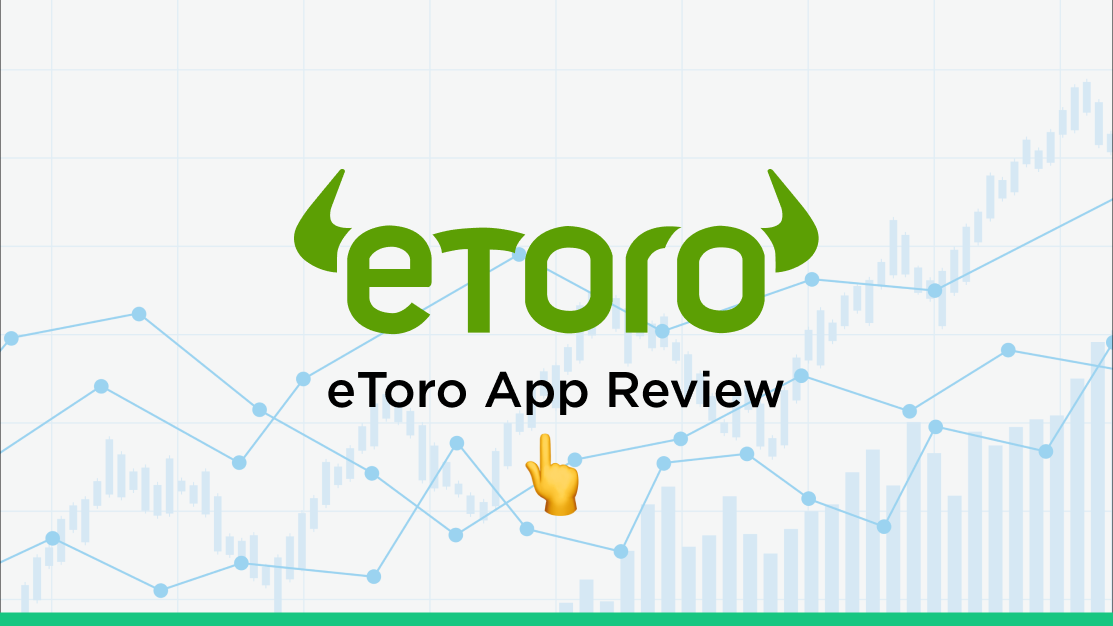 To keep with the increasing number of users trading from a mobile device, eToro has developed apps so that the platform can be used both on iOS and Android phones and tablets.
Here we will cover:
How to download the eToro App and get started
Downloading the eToro app is as straightforward as downloading any popular product from App Store or Google Play Store.
Just search for "etoro", choose this option: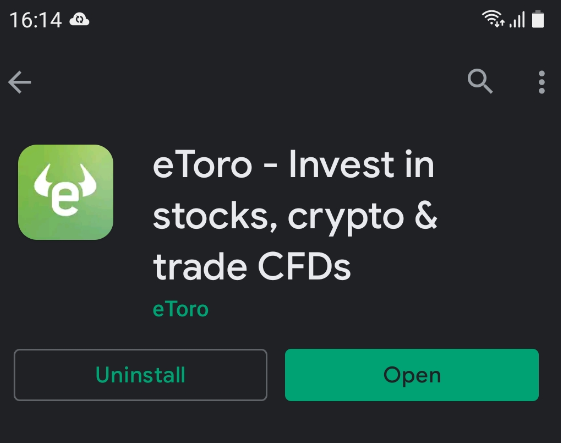 and then just install and open the app after the installation is completed.
If you already have an eToro account, you can sign in with your email/username and your password.
If you don't, you can check our guide on how to open a demo account.
eToro App Overview
eToro trading app that can be easily tailored to your trading requirements. The look and feel of the app were designed to emulate the eToro website.
Viewing areas are large and searches are clear, and the mobile app also has a full range of the assets that are available on the main website.
Your full trading history is available as are all live prices, and the app allows trading accounts to be funded. There are some charting features available as well.
Additionally, eToro platform has been designed to be simple and easy to use. For traders who want to practise before using their own money for trading, the platform offers a demo account to ease them into how it works and how the different markets operate.
Traders can build up a virtual portfolio and get a deeper understanding of the process of trading with a pool of virtual money they have been allocated to trade with. The demo account is useful for experienced traders as well because there can often be differences in how another broker's platform operates.
Check the image below to see where to switch to the demo account in the app: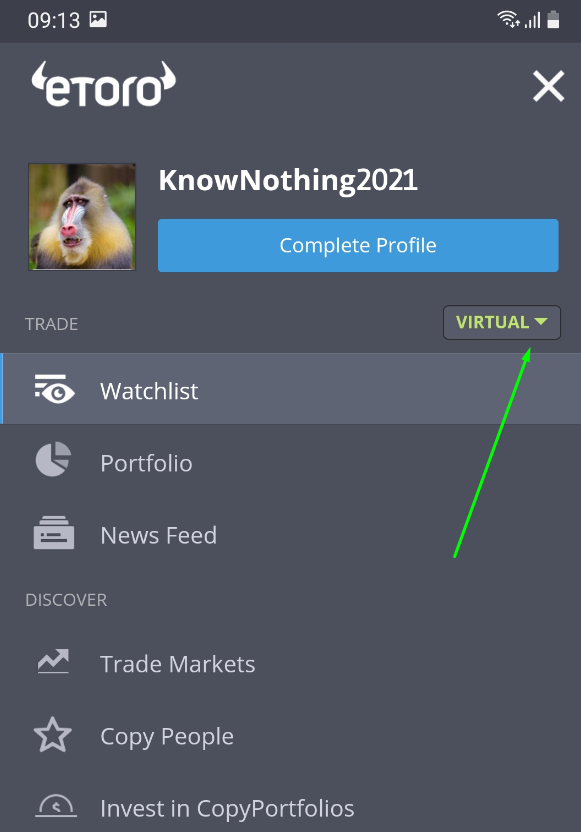 Available Assets
eToro offers a platform that can link traders with many different markets.
Nonetheless, the largest market in the world forex, and it can move extremely fast. Whether one currency moves up or down against another can be affected by economic decisions taken by individual countries or those grouped in a zone, such as the Eurozone.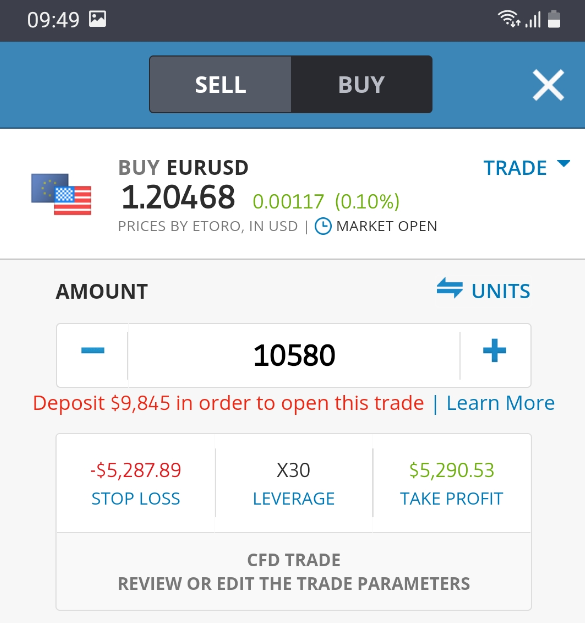 Aspects such as the level of inflation or poor economic growth either predicted or in actuality can set off fluctuations in the currency market, so traders need to keep clued up with news feeds and predictions from experts to keep abreast of current economic and political events.
Many different currencies can be paired with another, with traders taking a position using the eToro platform or the eToro trading app and deciding which way a currency is likely to go against its pair.
As in all investments decisions, there are risks, and traders new to the field should register for a demo account first and gain access to eToro's various educational tools to help them in their quest to become successful. The platform cannot tell traders what to do but can help with risk assessments and the nuts and bolts of understanding financial dealing. Traders can also opt to deal in commodities such as energy and precious metals, invest in major cryptocurrencies, or have access to the stock market and trade in the shares of many major global companies.
More: How to buy bitcoin on eToro
Social Trading
Social trading was effectively invented by eToro, and it's one of the key plus-points of the eToro app. By using the CopyTrader facility, clients are able to duplicate another trader's portfolio automatically and replicate their trading activity.
eToro offers a transparent process for clients who use CopyTrader by exposing each trader's portfolio together with their risk score and track record so that those wishing to copy it are clear about their options. An important part of this transparency is the option to access a newsfeed, which is a common aspect of other social media sites.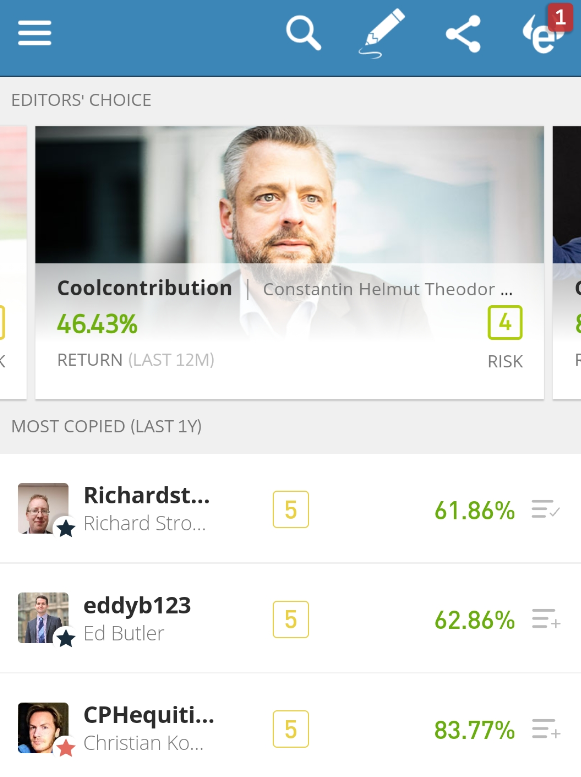 Note: Your past performance is not an indication of future results.
It allows relevant information to be posted by any trader, and clients can follow certain traders for explanations as to why a particular trading decision was made and see the result. Traders are playing the markets, not each other, and many experienced ones are happy to share their knowledge and insights. The key to successful trading is knowledge and experience, so following an experienced investor can set the standard for a newer trader.
Opening a demo account is a great way to experiment. It puts $100,000 of virtual money into the account, allowing clients to test out various strategies, ask questions of traders with experience and define the levels of risk they are prepared to take. Following a number of traders gives insights into the logic behind their decisions and can determine whether their trades are worth copying, and access to asset classes traded and success rates can help when a choice is to be made.
How to Finance your eToro app
When an individual decides to go into live trading with the eToro trading app, there is a minimum deposit required to open a trading account, though a demo account is free to use.
eToro minimum deposit is between $200 and $500 and will depend on the trader's circumstances. To find out what the minimum deposit will be, click on "Deposit Funds", and in the "Select Amount" box, the appropriate deposit will be displayed.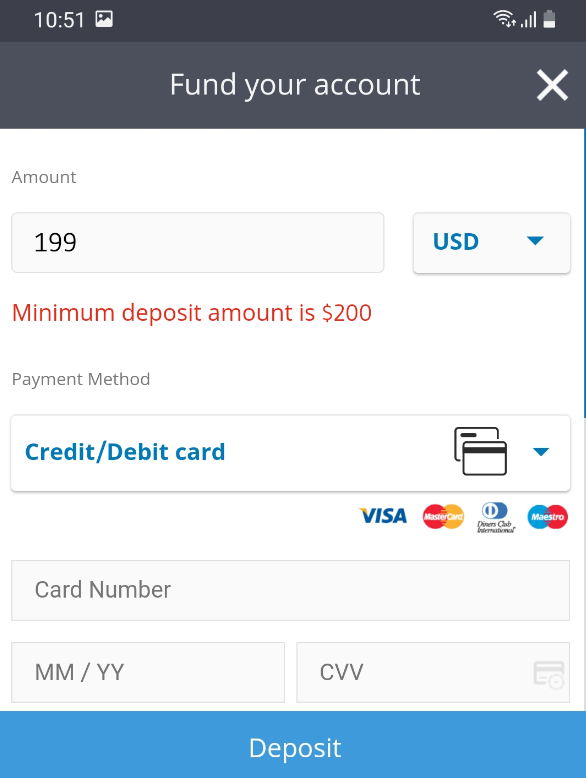 In July 2017, eToro imposed a $10,000 minimum deposit requirement for traders resident in Israel, and traders who wish to open a corporate account will also have to put down $10,000 as a minimum deposit. Any unverified accounts with eToro have a $2,250 limit placed on them, and traders can get their accounts verified by accessing their profile and selecting the "Complete Verification" button.
There are a number of ways minimum deposits can be put into an account – MasterCard, Diners Club and Visa credit cards are all acceptable methods of payment. Clients who prefer other electronic ways of paying the deposit can use the following methods:
Neteller
Skrill
WebMoney
PayPal
Giropay
Yandex
Those who are able to put down an initial deposit of $500 could also be eligible to use a wire transfer. For new traders, in particular, the relatively small minimums allow them to trade live in a small way to begin with so not too much capital is at risk.
Share Dealing with eToro app
Several years ago, eToro added stocks to its list of tradable products, adding to the initial offers of currency and commodity dealing so that traders could buy and sell company shares. As a global business, it can be hard to keep tabs on the stock market, especially as markets open and close at different times depending on which part of the world they are in. It's possible to trade most of the day and night in the various geographical markets including:
Japan
Singapore
Germany
London
US and Canadian
Trading in stocks with eToro is straightforward on its platform. Traders select a company and choose whether they want to buy or sell, how much they want to invest and what leverage they want – this can be up to x10.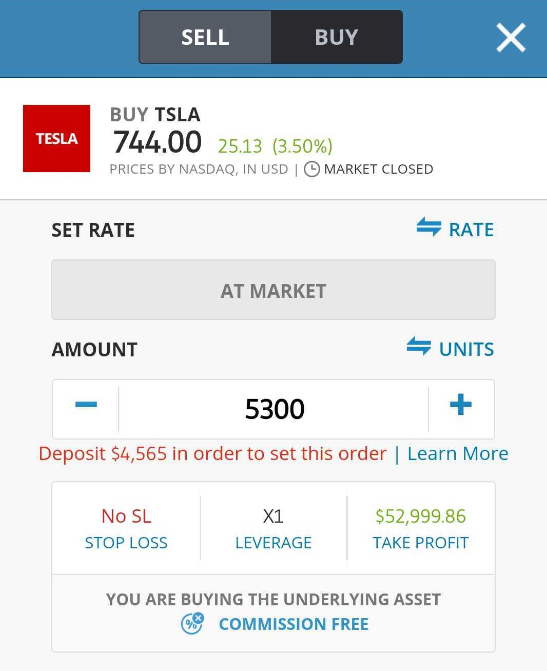 When take profit and stop-loss orders have been set, simply click the open trade button and the trade will start immediately. If the trade has been set to open at a particular market rate, it will only open when the share price hits the rate ordered. Stocks are liable to fluctuations due to economic conditions or a negative perception of a company.
Commodity trading on a mobile device
Commodity trading has been around since trading first began many thousands of years ago and is still a popular way of investing either for the long-term or to try to get a faster profit with a short-term position. The eToro platform allows trades in several commodities, the most important being the energy fields of natural gas and oil.
The eToro app means that traders can access prices and positions on these types of investments from anywhere. As with any market, prices can move up or down quickly, and traders should access newsfeeds and economic news reports to help gain insight into whether a particular market could rise or fall.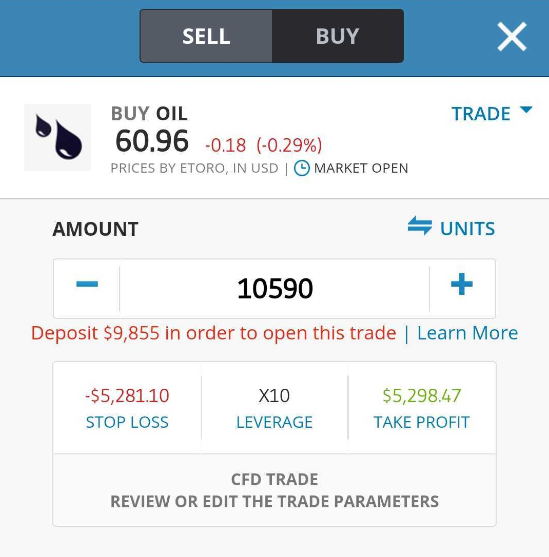 The price of oil can be very unpredictable, as it can be affected by political decisions that may mean there is less of it on the open market, driving prices up, or too much production, leading to a decrease in prices.
This volatility can be checked using eToro's tools such as charts and up-to-the-second movements of prices, so traders in these areas should keep track of any potential major shifts and adjust their position accordingly.
Precious metals are another highly tradable commodity that can be accessed through the eToro platform, with gold in particular considered as a relatively safe haven if other markets are particularly volatile.
eToro app history
eToro's platform was made available worldwide in 2007 as an online alternative to the traditional world of investment, and two years later it unveiled WebTrader so that both advanced and beginner traders could use its intuitive trading platform.
As an early adopter of financial technology, eToro developed social trading as a model for investors who wanted the feature and then offered traders the opportunity to diversify their portfolios by introducing the option to trade stocks as well as currencies, commodities and other assets.
Understanding that traders did not want to be office-bound or home-bound in order to trade, 2012 saw the eToro app rolled out, making every feature on the eToro platform available to its clients and enabling them to trade and to keep in touch with markets and their investment portfolios from anywhere.
Verdict
In the crowded world of financial technology, eToro has blazed something of a trail with the development of its trading platform and in particular in its embrace of social trading. By encouraging people to communicate, explore ideas, share information and learn from others, the company has built a community that helps its own members.
The concept of following more experienced traders and getting tips and steers from them, as well as getting information about the reasons behind investment decisions, has helped many traders still feeling their way to gain a deeper understanding of markets and how to trade well.
The development of mobile apps for both Android and Apple devices has made it easy for traders on the move to keep in touch with market developments and monitor their own portfolios and performance no matter where they are situated. With a wide range of markets for traders to choose from, eToro offers a wide range of services and a strong educational support programme.
Add in a slick user interface that mimics the web platform, and we can say that the eToro app is a deserving part of eToro's ecosystem and one of the best apps for trading.
People who read this also viewed:
eToro is a multi-asset platform which offers both investing in stocks and cryptoassets, as well as trading CFDs.
Please note that CFDs are complex instruments and come with a high risk of losing money rapidly due to leverage. 76% of retail investor accounts lose money when trading CFDs with this provider. You should consider whether you understand how CFDs work, and whether you can afford to take the high risk of losing your money.
Past performance is not an indication of future results. Trading history presented is less than 5 complete years and may not suffice as basis for investment decision.
Copy trading is a portfolio management service, provided by eToro (Europe) Ltd., which is authorised and regulated by the Cyprus Securities and Exchange Commission.
Don't invest in cryptos unless you're prepared to lose all the money you invest. This is a high-risk investment, and you should not expect to be protected if something goes wrong. Take 2 mins to learn more.
eToro USA LLC does not offer CFDs and makes no representation and assumes no liability as to the accuracy or completeness of the content of this publication, which has been prepared by our partner utilizing publicly available non-entity specific information about eToro.