CEX.IO is not a typical brokerage if we compare it to companies such as Charles Schwab or Fidelity. It is a much newer innovation that deals only in crypto-related tokens.
They do not have the same level of trading features that can be found on mainstream platforms, but it does carry out its core functions exceedingly well by the standards of other exchanges, with a transparent fee structure and strong liquidity.
The company has been operating since 2013 and recently opened its services in the USA with a Money Transmitter Licence. They are a simple, secure, and highly regarded outfit for the buying and selling of digital currency products.
The company is one of the few exchanges that operate internationally instead of regionally. The site boasts nearly three million active traders and supports over $8M in trades every day. As a result, there is a lot of liquidity on its exchange, which offers plenty of trading options.
Based in London, the firm is now looking to integrate security token offerings into its exchange. Security token offerings ('STOs') are a new asset class that can be immensely profitable. However, considerable uncertainty and regulatory scrutiny are surrounding their adoption right now. There also remains an evident lack of established price patterns, which means the margin for error is more significant due to lack of data.
With CEX.IO, you can only trade digital tokens. Available coins include Bitcoin (BTC), Ethereum (ETH), Ripple (XRP), Bitcoin Cash (BCH), Bitcoin Gold (BTG), Dash (DASH) Stellar (XLM), Zcash (ZEC).
#

CEX.IO Crypto Review
| | | |
| --- | --- | --- |
| App Support | Max Leverage | Trading Fees |
| Regular | 1:1 | Low |
The company is one of the best exchanges for buying and selling cryptocurrencies, whether you are an advanced trader or a novice. The trading terminal can be used to buy/sell digital coins for 0.25%. You can also buy directly using a credit card for 3.9%, and the transaction will then be processed instantly. The platform is simple yet sophisticated, and one aspect we particularly liked was the ability to engage in cross-platform trading.
They also have many informative and analytical features.
You can buy eight digital coins – BTC, ETH, XRP, BCH, BTG, DASH, XLM, and ZEC. However, you can only trade with four of the digital currencies – BTC, ETH, BCH, XRP. This is typical of most exchanges, with three or 4 four major coins used for purchasing smaller tokens. You can also make deposits in the following fiat currencies – EUR, USD, GBP, RUB.
The platform is versatile and offers an intuitive range of products and a transparent pricing structure.
While the company has all the basics covered for new traders to start trading, we feel that for more sophisticated traders, Coinbase and other exchanges tend to have superior trading features. Coinbase also has excellent tools for institutional investors who want to invest in mutual funds at competitive prices. Such options are not available with CEX.IO, which is more focused on the straight buying and selling of digital coins as opposed to derivatives and funds.
What did our traders think after reviewing the key criteria?
CEX.IO Fees
All in all, our review team was delighted with this exchange across several criteria. The fees might be high, which is typical in this industry. But, the benefits of security, reliability, and transparency outweigh this cost in many instances.
The trading platform can be utilized to reduce fees to as low as 0.16% depending on the volume of trades you make.
They also charge different fees based on whether you are a 'maker' or 'taker.' A maker is someone who places an order that sits in the order book, and a taker is someone who puts in an order that matches or 'takes' the maker's order.
Like Coinbase, CEX.IO charges hefty fees for direct credit card purchases of digital coins through its platform. These fees are 3.9% +$0.25c per purchase, which is certainly not cheap. However, purchases made using bank transfers (ACH and SEPA) are free.
Digital coin purchasers typically want to buy their products quickly, and with as little hassle as possible, so the credit card option is the most widely used. This is because many of these customers are long-term buy and hold investors as opposed to active traders. They expect substantial price increases to offset their fees.
It is entirely possible to buy and sell for less than 0.25% using the company's trading platform. But you will still pay a fee of 3.9% if you fund your account with a credit card. Withdrawal fees can add up to 3% total depending on how the funds are withdrawn. With the brokerage service, total costs will add to 10.9%, which is exceptionally high, even for novice investors.
Investors will need to have a long-term buy and hold strategy to justify a 10.9% trading fee. It is 3.9% for credit cards and 7% for the service, though this can be reduced to 7% with ACH or SEPA transfer. It can be further reduced by using the trading terminal, which is what the majority of active traders will clearly be doing. With the potential withdrawal fee of 3%, traders and investors need to think very carefully before working with this platform.
Account Types
There are 4 account types with CEX.IO. These types are Basic, Verified, Individual, and Corporate. What this means is that your buying and selling limit will be increased depending on what level of documentation you can provide to the exchange.
This is in contrast to financial brokerages with different types depending on how much you deposit. It is easy to qualify for the Basic, but it can take a lot of time and documentation to upgrade your account to the highest level. Once verified, trading is secure, streamlined, and hassle-free.
Platforms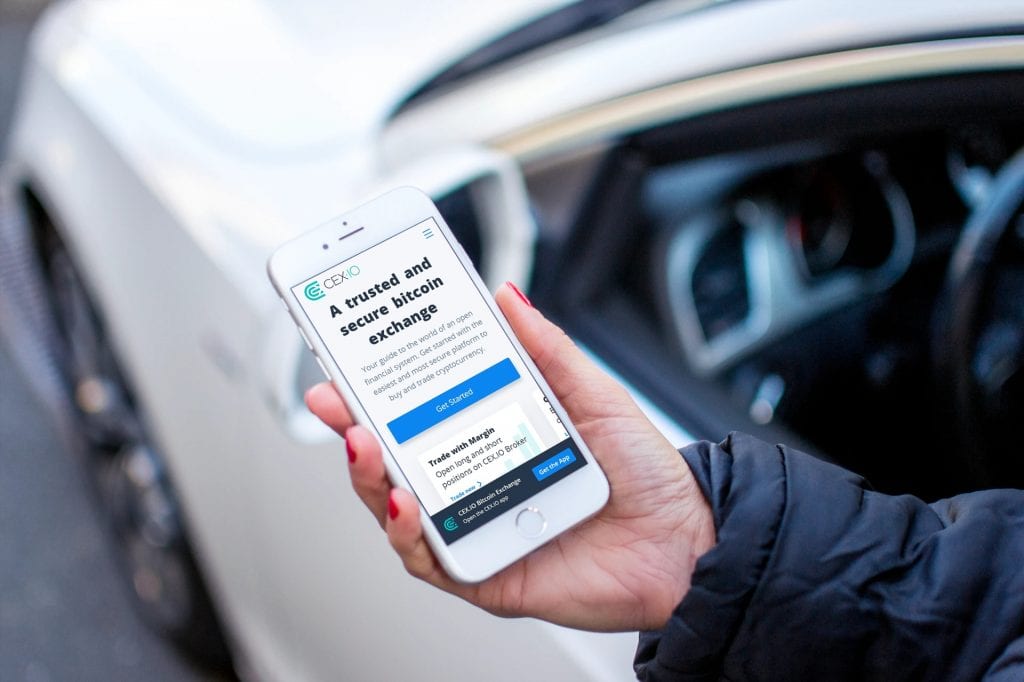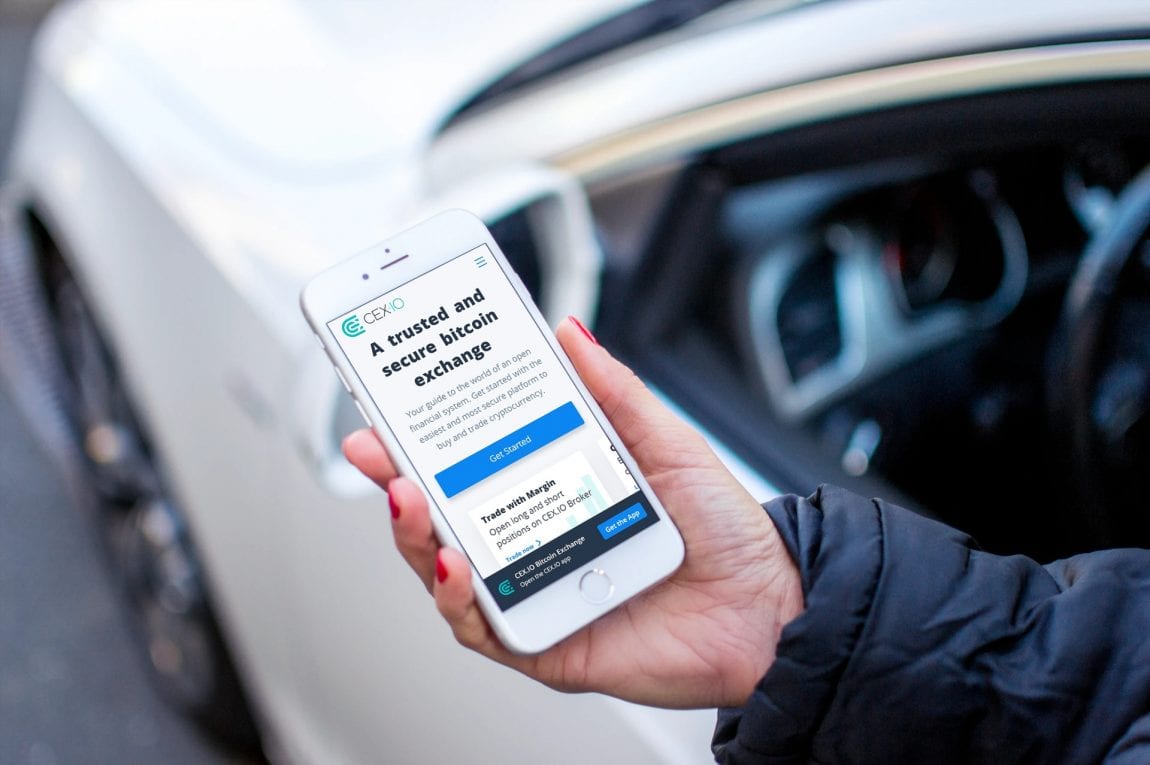 The CEX.IO trading platform is excellent for beginners and advanced traders alike. It is incredibly intuitive and easy to use. The account opening and sign-up features are also very smooth.
In comparison to other exchanges such as Kraken and Coinbase, the company is behind in terms of its liquidity and trading tools. The Android and IOS applications both function very effectively and both BTC and LTC can be deposited through the app.
Their trading interface is built around trust and transparency. Unlike other exchanges, they use a Fill or Kill ('FOK') fulfilment method. This means that the entire order gets executed at the agreed price, or not at all. However, the downside is that the company takes a hefty 7% service charge fee for doing so, although this is only for brokerage trades. When using the CEX.IO platform, the trading fees will never exceed 0.25% (see the picture above).
The platform also supports more countries than any other crypto exchange.
Usability
The company is one of the most intuitive and user-friendly of all exchanges. It is a straightforward process to navigate and sign-up. The registration process also asks if you would like to set up 2FA, one of the most reliable security protocols that help to prevent cybercriminals from accessing your account. New investors will find this platform very welcoming.
CEX.IO has an advantage in that its approval times are very swift, unlike many other exchanges which come with a ton of hassle. It has a strong reputation and is very reliable and trustworthy. Customer support is also extremely robust on this platform. For investors looking to buy digital coins quickly with no delays, then they provide the perfect solution. You won't have to wait weeks to get a response, as has been reported with other exchanges.
Customer Support
The customer service that CEX.IO provides is above the industry standard. They treat customers fairly and respond in a reasonable time frame. The company tends to get a bad reputation from online reviewers, but most of these are to do with the fees, which as we have mentioned are high. However, these fees are transparent and are not hidden – customers should read the fine print before buying or selling on any exchange.
It is worth noting that crypto exchanges tend to have a difficult time in terms of feedback in general, and the company is one of the better ones in this regard. However, the company does not offer live phone support. They only offer email support that operates 24/7.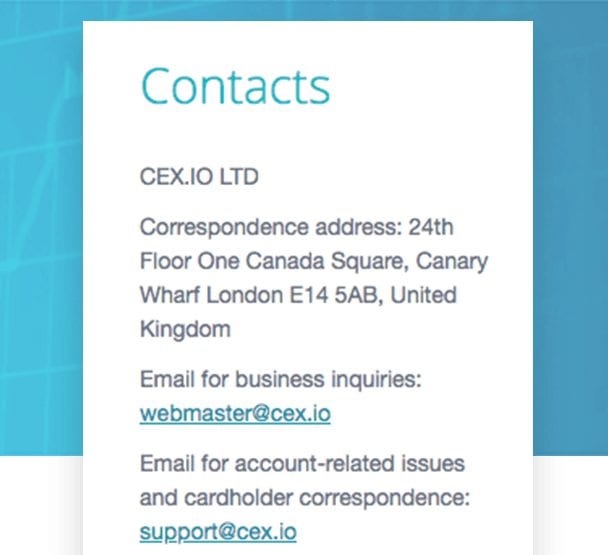 Payment Methods
CEX.IO offers ideal payment solutions for deposits and withdrawals. You can buy digital currencies using a credit card, debit card, bank transfer, or you can make a deposit in a total of ten different digital coins. However, if you are buying via the brokerage service, only eight coins are supported.
SEPA and ACH transfers are free, while credit card deposits incur a fee of 3.9%. You can deposit funds using either USD, EUR, GBP, or RUB. However, be wary of depositing funds and then buying digital coins via credit card. You could be hit with fees twice, once for the fiat deposit and the second time for the payment of the digital currency.
Best Offers
Our review team did not find any sign-up bonuses or promotions available with CEX.IO at the current time.
Regulation and Deposit Protection
The company is arguably the most secure and trusted digital currency exchange, with the possible exception of Coinbase. They are a registered member of the Financial Crimes Enforcement Network (FinCEN). They are incorporated as a private company in the UK and are compliant with the Payment Card Industry Security Standards Council, meaning that credit card numbers are stored using the industry-standard security protocols.
The firm does not go into detail concerning how it stores user funds, and this is typical of most exchanges. It has stated that the funds are stored in offline cold storage, which is the most secure mechanism.
Accounts can be secured with Two Factor Authentication ('2FA'). The company has been in operation for nearly 7 years, which is a long time by crypto exchange standards.
Awards
CEX.IO has not won any awards of note. However, it is generally regarded as one of the most secure and reliable exchanges in the industry and is known for its advanced security protocols.