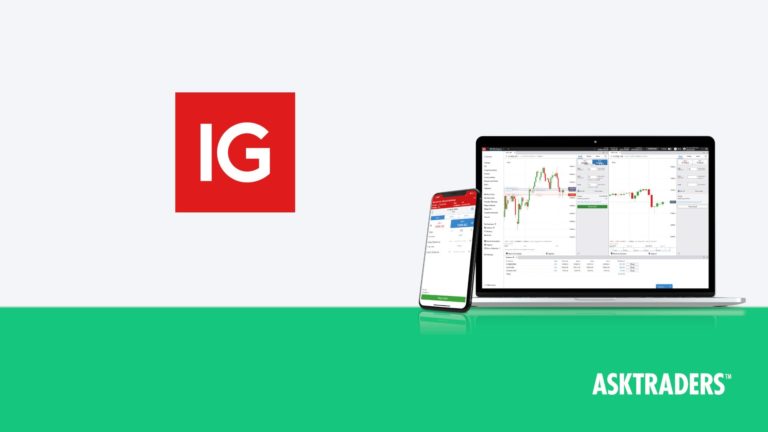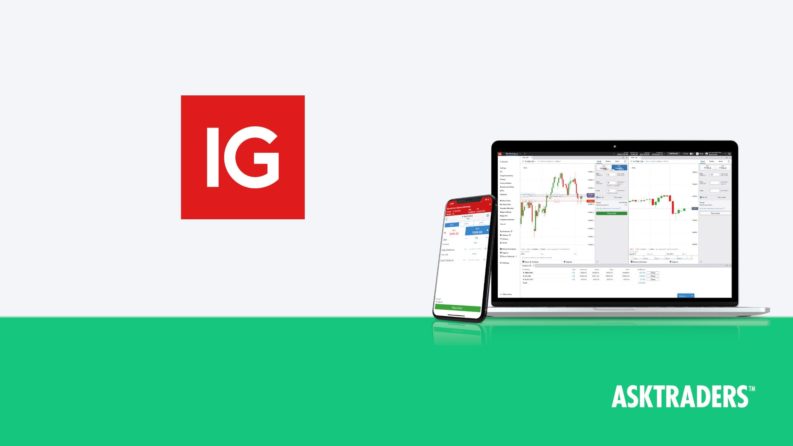 IG forex exchange has been around since the 1970s and currently serves over 178,000 clients worldwide. While quite popular in the UK and Australian markets, it wasn't until 2019 that the well-known forex broker decided to make its way into the American market.
#

Forex
| | | | |
| --- | --- | --- | --- |
| Min Deposit | App Support | Max Leverage | Trading Fees |
| $250 | Good | 1:200 | Low |
IG has been offering forex trading options to clients since 1974, making it one of the older platforms available. However, the exchange did not operate in the US until 2019.
This being said, IG still offers over 80 FX markets, including all the standard major and minor pairs that a forex trader would expect. Beyond this, IG supports an impressive set of exotics along with Australasian, Scandinavian, emerging and exotic pairs.
#1

Stocks
| | | | |
| --- | --- | --- | --- |
| Min Deposit | App Support | Max Leverage | Trading Fees |
| $250 | Good | 1:1 | Low |
When considering how to trade US stocks with IG, it's worth noting that the broker permits customers located in Australia and the UK to have access to US markets. This includes some of the country's most highly traded stocks, such as Tesla, Microsoft Corp, Apple and many more.
IG offers commission-free trades for Australian and UK customers when buying and selling stocks listed on American stock exchanges. When it comes to national markets, UK clients are charged £3 for buying and selling UK listed stocks, and Australian clients are charged AUD $5 for Australian listed stocks.
Individuals, non-individuals and joint account holders in Australia and the UK can apply to deal on US equities by completing the necessary W-8 form. Non-individual US citizens are required to complete a W-9 form. Failure to do so can incur a $50 fee on accounts.
#2

Social Trading
| | |
| --- | --- |
| App Support | Trading Fees |
| Good | High |
Unlike many forex trading platforms, IG does not have its own social or copy trading platform. For those who are unaware, copy trading allows beginner or novice traders to essentially copy the trading decisions of another, more experienced trader. Many platforms allow users to pick a trader to copy based on past success, trading style and risk appetite.
Although IG does not offer social trading in the traditional sense, it does offer what it calls Trading Signals, which is a program that sends real-time buy and sell suggestions straight to the trader. When a trader receives a notification from the Trading Signals service, not only does it give a suggested entry price, but it also gives a recommended exit price and detailed analysis.
All suggestions come from two third-party groups, Autochartist and PIA First.
Autochartist: Founded in 2004, Autochartist has become a popular name in the field of automated technical analysis. The service scans data across multiple markets and time frames, and it currently serves over 1 million traders in 100 different countries. Autochartist has offices in both Cyprus and South Africa.
PIA First: Also founded in 2004, PIA First offers many of the same services as Autochartist, but with a strong focus on human analysis instead of automated chart/market analysis.
Besides its Trading Signals program, users who want to engage in a more traditional social trading platform can do so via MetaTrader 4, which is the main trading interface used by IG. Many popular copy trading websites and platforms allow users to interface with MetaTrader 4, though this may appear difficult for some users.
Aside from this, MetaTrader 4 has its own social trading option, also called Trading Signals, which allows users to subscribe to traders and copy their trades for a fee, most of which run between $30 and $40 per month. Upon entering the Trading Signals interface, the trader is asked to enter which exchange they are currently trading on, along with the preferred time frame and trading style. Once the information has been entered, the trader is presented with a list of options detailing the total number of trades, the total amount of pooled funds, and the percentage of winning trades.
All in all, the lack of US support for a proprietary social/copy trading platform may be somewhat of a letdown for some users, though such services are available in the UK and Australia.
What Did Our Traders Think After Reviewing the Key Criteria?
Fees
IG claims to have one of the lowest available EUR/USD spreads, which comes in at a minimum spread of 0.8 pips. Furthermore, IG offers commission-free trades on all forex pairs, which is not always the case when it comes to other forex exchanges.
Aside from low fees, IG has low minimum margin requirements for many of the most popular trading pairs. For example, EUR/USD requires only a 2% margin per contract, and other major pairs require a minimum of 3% to 5%.
For those who are unaware, the margin refers to the minimum deposit required to open and maintain a position.
One criticism that some traders have the maximum leverage available at 40:1, and not everyone qualifies. While this may seem low, it is important to keep in mind that legally, 50:1 is the max leverage that brokers are allowed to offer on many currency pairs.
Trading Fees
Spreads: Spreads vary from pair to pair, but on most major FX pairs, the spread ranges from 0.8 to 1.4 pips. Major pairs offer lower spreads than most minors, with the lowest spread option being EUR/USD.
Inactivity Charge: If no trades have been made for two years or more, IG will begin to charge a $12/month inactivity fee. This inactivity fee stops once the account is used to perform trades.
Commission: Unlike some other forex platforms, IG offers commission-free trades.
Overnight Funding Fee: As with nearly all forex exchanges, traders are charged a small fee for any positions that are kept overnight.
Currency Conversion Fee: If a user wishes to conduct trades in any currency other than their account's base currency, they may be subject to a 0.5% conversion fee.
Wire Withdrawal Fees: All withdrawals made
Account Types
Unlike some other exchanges that offer several different types of accounts, all with different minimum deposit amounts, fees and commissions, IG has only two types of accounts – a demo account and the live account.
As the name implies, the demo account does not require the user to deposit any real funds, and it can be used as a practice account for those learning about forex. Aside from beginners, experienced traders sometimes use demo accounts to test out or practice new trading strategies. One convenient aspect of the demo account is that it can be opened without a Know Your Customer (KYC) verification process, and once opened, users can begin practicing in minutes.
Those wishing to trade real funds will open up a live account, which is subject to all the fees and spreads that we have discussed so far. The live account uses STP, something that has become somewhat mainstream among forex platforms in recent years.
For those who are not familiar, STP stands for 'straight-through processing' and it is a type of trade execution protocol. With STP, all market orders are sent to the broker's liquidity provider, and all buy and sell orders are executed at the price listed by the liquidity provider. Before the invention of STP, all trades were conducted through a dealing desk by way of market makers. When a trade was processed, market makers would be required to take the opposite position of whatever trade they were executing, which created a conflict of interest, something that STP eliminates.
Platforms
IG provides traders with three main trading platforms: MetaTrader 4, its online forex trading platform, and ProRealTime.
MetaTrader 4: Considered the gold standard of trading platforms, MetaTrader 4 is by far the most popular piece of forex trading software in use today. In fact, the program is so popular that you would be hard-pressed to find a professional-grade forex exchange that does not offer the service. Along with fast execution times and an easy-to-use interface, MetaTrader 4 provides traders with 23 analytical tools, 30 technical indicators, a real-time financial news wire, and social trading options. On top of this, MetaTrader 4 supports the use of programmed trading bots, which can either be imported or programmed using its proprietary MetaQuotes scripting language.

Online Trading Platform: IG supports a browser-based trading platform that does not require the downloading of any additional software. This feature is likely to be enjoyed by individuals who want to process a few quick trades or edit buy/sell orders without opening up their MetaTrader 4 desktop app. Furthermore, traders who don't require the high-level functionality of MetaTrader 4 may feel that the simple, straightforward interface offered by the online trading platform is sufficient.
ProRealTime: ProRealTime is an advanced charting and analysis tool that is fully integrated with IG's online trading platform. Not only does it offer advanced screening tools, but users can also even develop custom indicators, though doing so does require some intermediate programming knowledge. Another impressive feature of ProRealTime is the ability to build and incorporate customized algorithms into the trading platform.
The ProRealTime integrated online trading platform is one area where IG truly stands out. Not only is the service a professional-grade, browser-based trading platform, but IG is also the only US forex exchange that offers this service.
IG Mobile App
IG offers mobile and tablet trading applications for both Android and iOS. Although these applications do not offer the same features as the MetaTrader 4 platform, they give traders access to the most essential functionality, including both market and limit buy and sell orders, setting stop losses, and real-time charts with basic indicators and drawing tools. These mobile apps also allow traders to set up personalized watch lists and real-time alerts, informing the trader if an order has been filled or a specific pair has hit a pre-set price level.
It should be noted that the Android and iOS trading applications for the iPad and tablets provide quite a bit more functionality than the mobile applications.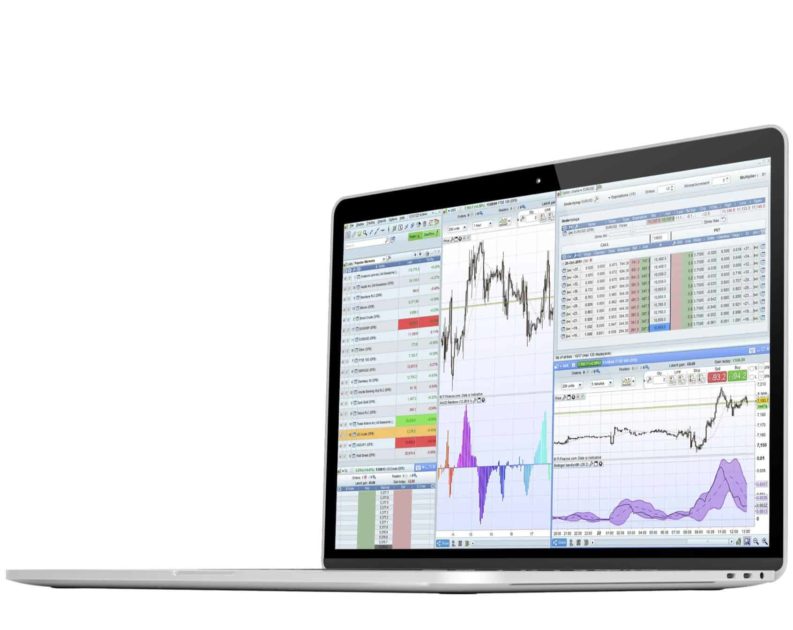 Usability
IG ranks high when it comes to usability for several reasons. First, the exchange uses the well-known MetaTrader 4 program, which any semi-experienced forex trader should already be familiar with. Second, IG provides two other platforms (mentioned in the previous section) that are incredibly user-friendly. Sometimes, when exchanges try to create their own web-based trading platform, the final product is not always as user-friendly as one would like it to be. With the integration of ProRealTime into its online trading platform, IG avoids this pitfall and offers an all-around highly usable experience.
One other aspect that should be mentioned is the fast approval time. In most cases, personal information can be verified in as little as five minutes, meaning that traders can open an account and begin trading the same day.
Customer Support
IG provides clients with two ways to reach its customer support: via email or phone. Unfortunately, US clients do not have access to a live chat option, which is something that may leave many traders wanting. Despite this, IG is known for providing prompt responses to its emails, and phone lines are open 24 hours. In regard to phone numbers, IG has two different helplines – one for existing customers and another for new clients.
Aside from help desk-type issues, IG also offers a large number of forex trading resources and training literature, all of which can be found under the 'Learn to Trade' tab on the main page. Here, users will find articles pertaining to risk management, basic forex terms and strategies, and online seminars that traders can use to better hone their skills.
Payment Methods
American traders have three options for funding their account – wire transfer, automated clearing house (ACH), and debit card.
Wire Transfer: This option is best for traders looking to deposit more than $99,999 in a single day. Although IG does not charge any fee for accepting wire transfers, the sending bank usually charges anywhere from $25 to $35 to process the transaction. Furthermore, the transfer could take up to three business days, making it the least popular option.
Automated Clearing House (ACH): ACH is an American electronic funds transferring system that has been in place since the 1970s. Like a wire transfer, it sends money from one bank account to the other, though it is much faster than a SWIFT transfer. Not only is the service faster, but it is also much cheaper, with many banks offering the service for free.
Debit Card: By far the most popular option, IG allows traders to log into their IG account and fund it directly using their debit card. In most cases, IG will ask users to verify their personal and bank details. Once this has been completed, most transfers go through instantly. Because of the fast transaction time, high daily limit and no fees, debit card deposits are by far the most popular.
Related
Best Offers
While IG doesn't strictly provide best offers, it does promote its claim to be America's lowest provider of spreads on EUR/USD. IG doesn't charge its US clients commissions and offers the EUR/USD pair from a minimum of 0.8 pips (1.2 pips average). IG states these figures are up to 20% lower when compared to the US's top two brokers. This spread also applies to the USD/JPY pairing.
Furthermore, IG notes its minimum spreads for GBP/USD and AUD/USD are comparatively lower than its closest competitors.
Regulation & Deposit Protection
IG, which is registered under the name IG US LLC in the US, is registered as a Retail Foreign Exchange Dealer with the Commodities Futures Trading Commission (CFTC) and is also a current member of the National Futures Association.
One important aspect to consider is that to be a member of the CFTC, forex platforms are required to have an on-hand net capital of at least $20m, which is much higher than most other regulatory bodies require.
The CFTC also requires all members to have some level of insurance to protect deposits, though the exact amount for which IG US LLC is insured is unknown.
Awards

IG was the recipient of Investopedia's 'Best online forex broker' award in 2019. For those who don't know, Investopedia is one of the most highly visited websites dedicated to explaining financial concepts to laypeople, beginners and experts alike. Moreover, IG was also the winner of the 'Best retail FX platform of the year' at the FX Markets e-FX Awards in 2019.