Key points:
4d Pharma shares surged 11.2% after the FDA cleared its IND applications.
The company will proceed to launch a phase 1 human clinical trial.
The two drug candidates could become treatments for Parkinson's disease.
The 4d Pharma PLC (LON: DDDD) share price surged 11.2% after the US Food and Drug Administration (FDA) cleared its investigational new drug (IND) applications for two Live Biotherapeutics targeted at treating Parkinson's disease.

The two drugs are, MRx0005 and MRx0029, which have different treatment mechanisms, will be investigated to measure their effectiveness against Parkinson's. The company expects to start in-human trials in mid-2022.
4d Pharma clarified that MRx0005 and MRx0029 are two separate single strain Live Biotherapeutic candidates that have demonstrated effectiveness against various aspects of Parkinson's disease in pre-clinical trials.
The two drugs have shown effectiveness against gut barrier integrity, oxidative stress, neuroinflammation and neuroprotection. In addition, the drugs have been tested in animal models and protected against the loss of dopamine metabolites and dopamine-producing neurons in the brain.
The first study in-human will test the safety of the drugs, including their effectiveness against the disease biomarkers, after which the company can move to phase 2 clinical trials.
Dr Alex Stevenson, 4D Pharma's Chief Scientific Officer, said: "Entering the clinic with our novel CNS programs stemming from our proprietary MicroRx platform will represent an important step for 4D Pharma's continued growth and leadership in the microbiome field. We believe MRx0005 and MRx0029 are the first-ever Live Biotherapeutic products for Parkinson's to enter the clinic,"
Adding:
"Current treatments focus on symptoms but do not address the underlying causes of neurodegeneration. Patients and clinicians need new, more effective treatment options. The gut-brain axis is an exciting area of innovation with the potential to change how we approach Parkinson's treatment. We believe that our LBPs MRx0005 and MRx0029, which have different mechanisms of action worthy of investigation, provide a unique opportunity to address the high unmet needs of those living with Parkinson's disease."
4D Pharma is collaborating with Parkinson's UK, a non-profit organisation focused on advancing the understanding of Parkinson's disease and improving treatments and has established a Patient Advisory Board (PAB) comprised of people living with Parkinson's.
Professor Peter LeWitt, the Coordinating Investigator of Phase I clinical trial, said:
"Parkinson's disease is a devastating condition impacting more than 10 million people globally. As the global population ages, this number will continue to increase. There is growing evidence suggesting that the gut-brain axis could be key to developing new treatments for several neurological disorders, particularly Parkinson's disease,"
Adding:
"Oral, gut-targeted treatments such as 4D Pharma's Live Biotherapeutics MRx0005 and MRx0029 offer an exciting new way for possibly slowing Parkinson's disease progression. The development of these potential new therapies is breaking new ground in the field."
4d Pharma shares have fallen 40.97% in 2022, bringing their 12-month losses to 76.65%, making them attractive to investors.
*This is not investment advice. Always do your due diligence before making investment decisions.
4d Pharma share price.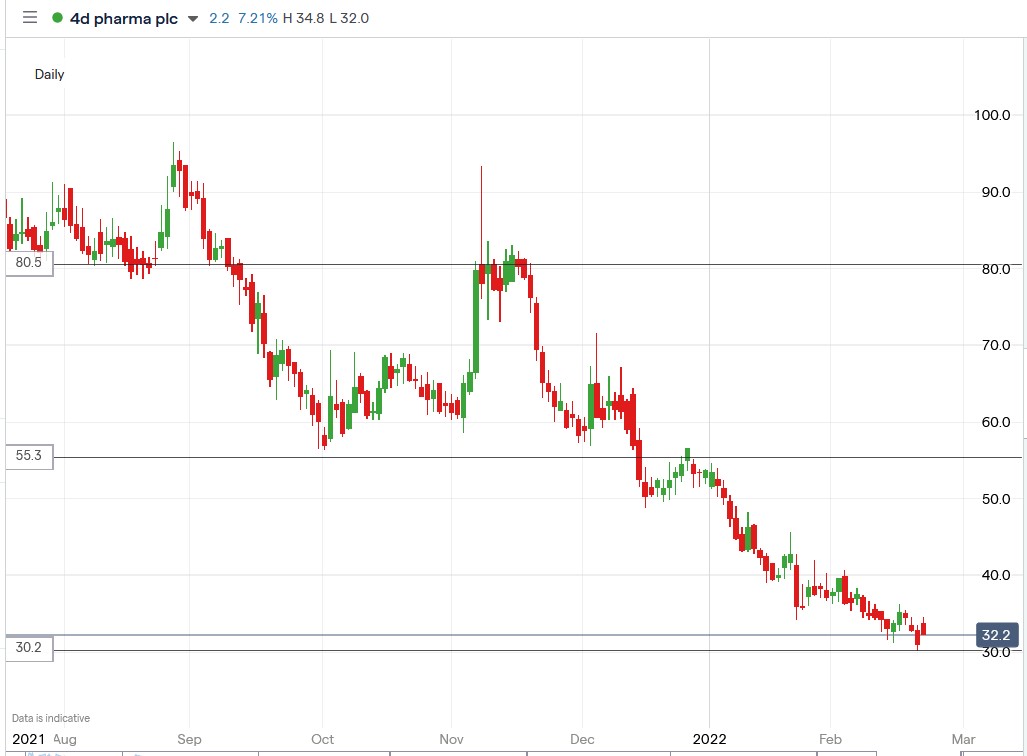 4d Pharma shares surged 11.25% to trade at 34.6p, rising from Monday's closing price of 31.1p.