Shares of 4d Pharma PLC (LON: DDDD) fell for the second consecutive day today as investors cashed in following the US Securities and Exchange Commission (SEC)'s approval of its Nasdaq dual-listing on Friday.
The drop in the biotech company's stock price since Friday's listing is an excellent example of the classic phenomenon of "buy the rumour, sell the news." You may have heard this phrase mentioned if you've been trading for a while, and this is a real-life demonstration of it.
Investors have been waiting for months for 4d Pharma to complete the dual-listing of its shares on the Nasdaq since October 2020, with many expecting a flood of US investors to lift the company's share price.
However, 4d Pharma's shares have fallen since Friday after the US Securities and Exchange Commission (SEC) approved the dual-listing of its shares on the Nasdaq via the special purpose acquisition company (SPAC) known as Longevity Acquisition.
Trades who are not familiar with some of the investing cliches such as 'bulls and bears make money, while pigs get slaughtered' may find it worthwhile to spend some time familiarising themselves with such cliches that could improve their trading results.
Investors are still likely to get the long-awaited rally once 4d Pharma's ADS' start trading on the Nasdaq once the merger is completed. Hence, long-term investors may prefer to wait for the ADS' to start trading.*
However, nothing in the markets is guaranteed, and we could get further declines in 4D Pharma's share price before a rally materialises.
4D Pharma unveiled John Back as Chief Financial Officer (CFO), a 30-year finance expert who has previously held the CFO position in three publicly listed life sciences companies.
Duncan Peyton, 4D Pharma's CEO, said: "John will be an important addition to 4D pharma's management team at such a pivotal time, as the company prepares to close our SPAC merger and begin trading on NASDAQ. His deep experience and financial expertise as a CFO of several publicly traded life sciences companies will be critical as we further grow our company and global footprint,"
4d Pharma share price.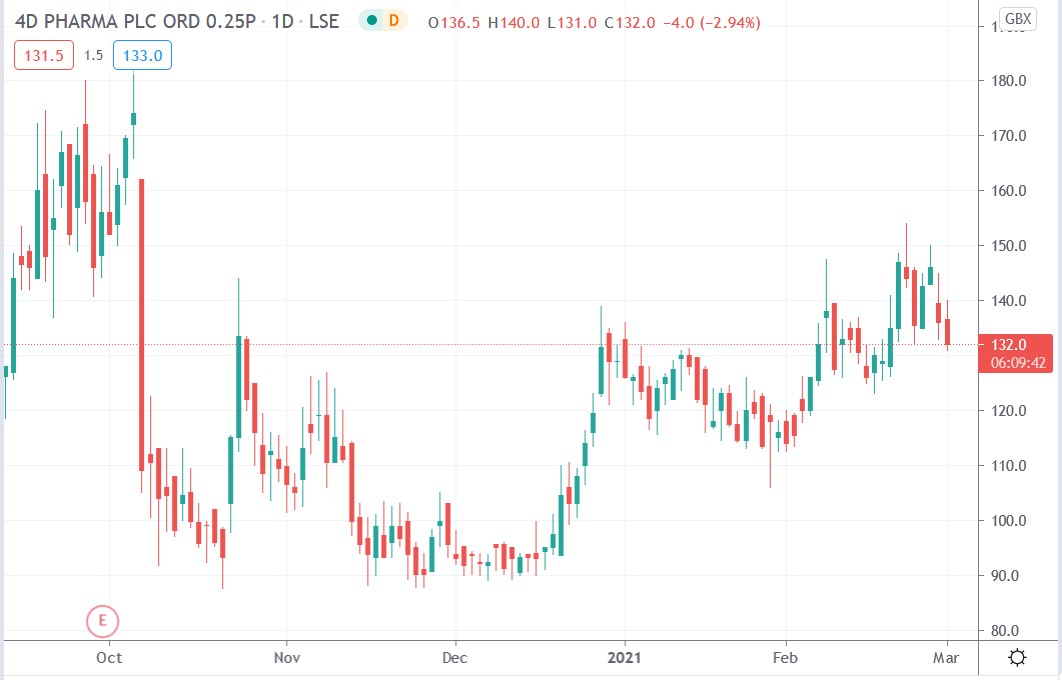 4d Pharma shares fell 5.88% to trade at 128p, dropping from Friday's closing price of 136p.