Shares of 88 Energy Ltd (LON: 88E) crashed 28.5% after announcing that it has taken steps to minimise spending on its exploration operations in the NPR-A region of the North Slope of Alaska.

The mining company said that it was seeking clarification on the recently announced 60-day suspension of authority for Department Bureaus and Offices concerning the issuance of new drilling permits on Federal land.
The firm noted that the authority to issue licenses was not withdrawn completely, but it was delegated to higher government positions.
88 Energy had submitted a drill permit application on 12th January 2021 and was expecting a decision by 12th February 2021 given the typical 30-day waiting period for a decision to be made.
The oil company is in contact with the Bureau of Land Management ("BLM") to determine how the 60-day suspension shall be interpreted. Still, the firm has a strong case given the advanced nature of its existing operations.
88 Energy had earlier released an update on its Alaskan North Slope operations saying that mobilisation of snow road construction equipment to the Merlin-1 drill site has commenced. The spud of Merlin-1 remains on schedule for mid-late February 2021.
The project targets a prospective resource of 645 million barrels after being formally awarded a lease for the Coastal Plain.
88 Energy had also mobilised the equipment to construct a snow road to the Merlin-1 location given the expected permit issuance in mid-February but has slowed down the pace of operations until the BLM issues the necessary license.
Managing Director, Dave Wall, commented: "At this time it is uncertain whether this will have an impact on operations. We anticipate being able to get clarity on the situation within the next week. We have a strong case to be granted the permit given the many permits that have already been granted as well as our considerable, and ongoing, operations in the field."
88 Energy share price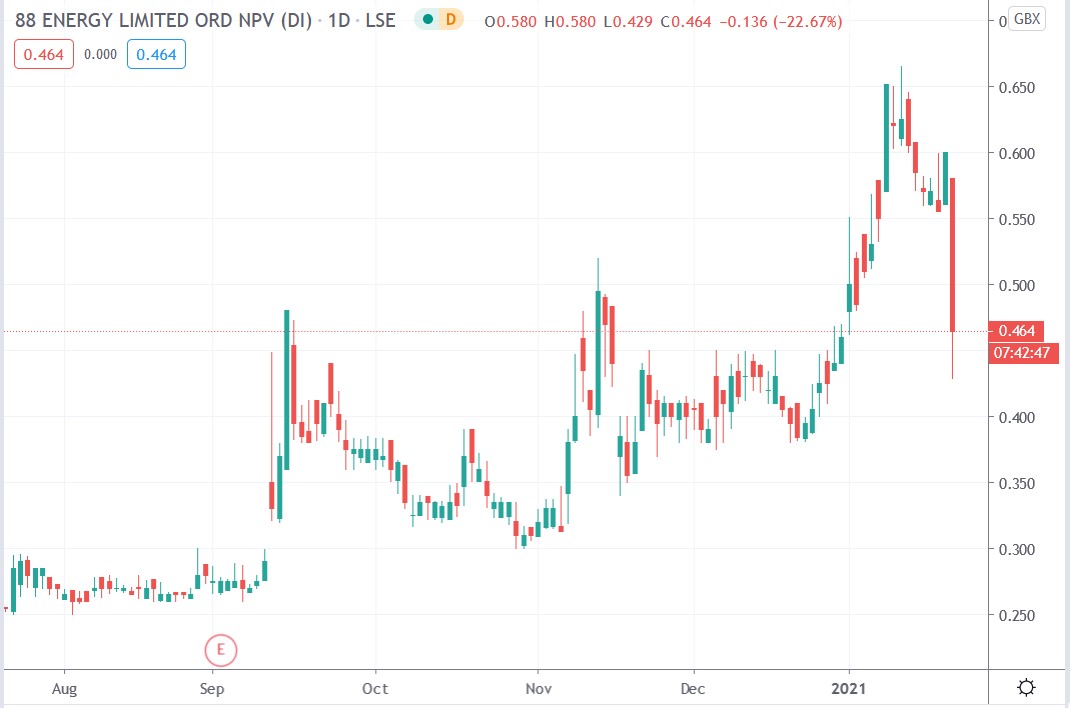 88 Energy shares crashed 28.5% lower to trade at 0.429p having dropped from Thursday's closing price of 0.60p.