Key points:
Adamis Pharma (ADMP) stock rallied 31.8%, adding to Tuesday's rally.
The rally is driven by retail traders who could turn the stock into a meme.
However, the question remains, will the rally turn into an uptrend?
The Adamis Pharmaceuticals Corp (NASDAQ: ADMP) stock price rallied 31.8% on Wednesday, adding to Tuesday's 16.4% rally as investor sentiment towards the pharma company turned decidedly bullish.

The mover higher is driven by an influx of buyers, mainly retail traders, who want to capitalise on the recent negative development at the company that triggered a 56.9% decline in Adamis Pharma stock over the past month.
Adamis announced on October 03, 2022, that it was considering multiple strategic alternatives, including the potential sale of its two commercial products, Zimhi and Symjepi, to raise funds after the independent Data Safety Monitoring Board (DSMB) recommended that it halts its phase 2/3 CVOID-19 study of Tempol.
Also read: The Best Biotech Penny Stocks Under $5 To Buy Right Now.
The DSMB recommended that Adamis end the clinical trial examining the impact of Tempol on high-risk patients with early COVID-19 infections after the third planned interim analysis of the trial data showed that it had failed to meet its primary endpoints.
Investors were disappointed by the DSMB's recommendation issued on September 21, 2022, which triggered a massive drop in Adamis Pharma's stock price. But, interestingly, nothing has changed about the company since its last announcement.
Adamis is still exploring various strategic options, including a sale, merger or reverse merger of the company to get out of a dire financial situation. Some other measures the biotech company is considering include reducing its headcount to cut costs. The firm is also considering scaling down some of its product development activities.
Given the dire financial straits that Adamis Pharma is in, it becomes clear that the investors interested in its share price are retail investors looking to stick it to the institutions by saving the company from what could be imminent bankruptcy if it cannot raise funds quickly.
It remains to be seen whether the latest rally shall transcend into a sustained uptrend elevating ADMP stock into "mem stock" status. However, such a move could benefit Adamis Pharma significantly as it would be able to raise new funds via a share issue at higher prices.
*This is not investment advice.
Adamis Pharma (ADMP) stock price.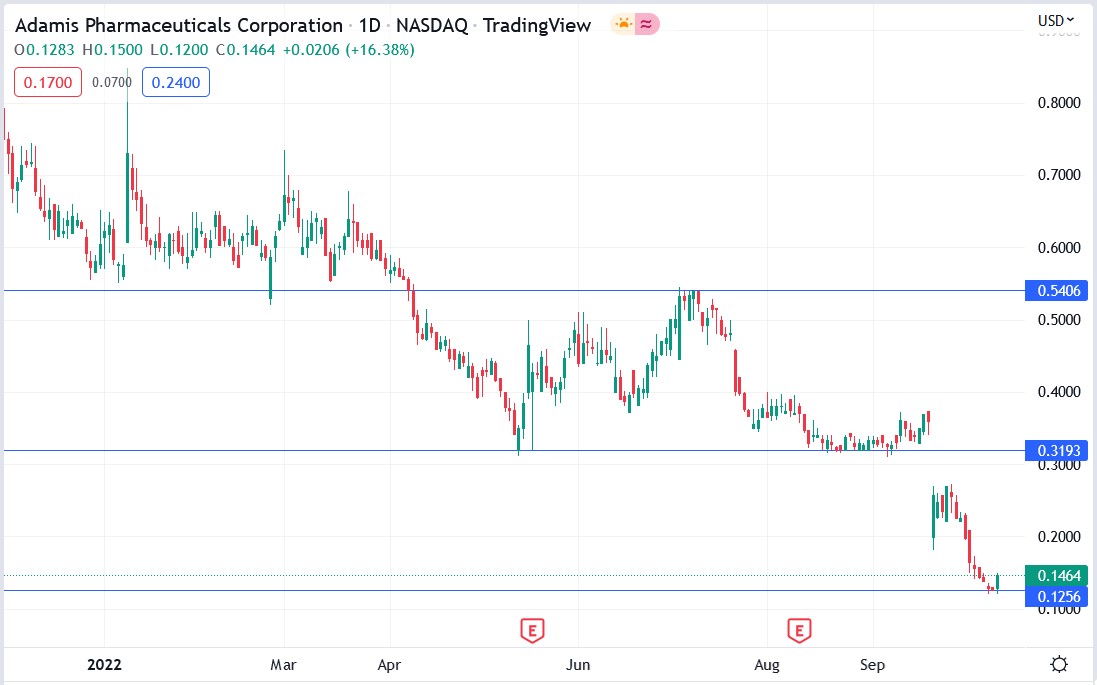 The Adamis Pharma stock price was trading up 31.83% premarket at $0.19, rising from Tuesday's price of $0.15.