ADMA Biologics (NASDAQ: ADMA) is one of the biggest US gainers on Wednesday after the company gained FDA approval for its expanded manufacturing process, enabling fractionation and purification of a 4,400-litre plasma pool for the manufacture of Intravenous Immune Globulin (IVIG).

ADMA's share price has gained over 27.6%, currently priced at $2.43 per share.
The 4,400-liter IVIG plasma pool scale for BIVIGAM will allow ADMA to expand its manufacturing plant's total processing capacity from 400,000 litres to an anticipated peak throughput of up to 600,000 litres, the company said.
The end-to-end commercial biopharmaceutical company now has FDA approval to produce BIVIGAM at a higher capacity while maintaining the same high quality as before, using the same equipment, release testing assays, disposables, and labour force.
ADMA believes this will result in meaningful gross margin improvement as production throughput flows through the standard 7 to 12-month manufacturing cycle.
The company said it will now also offer BIVIGAM in two vial sizes, both the 50 mL and 100 mL configurations.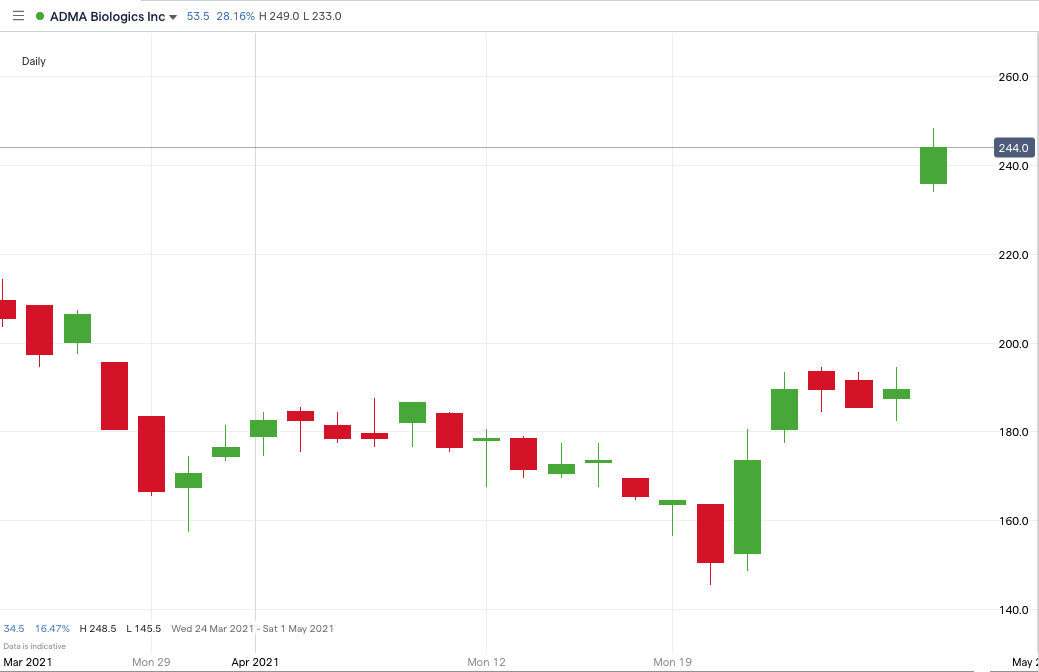 Adam Grossman, President and CEO of ADMA, commented: "The FDA approval of the 4,400-liter IVIG plasma pool production scale process is a transformative milestone for the ADMA organization and will allow the company to produce significantly more IVIG for the U.S. market and for patients living with immune deficiencies.
"The expanded plasma pool production scale allows us to confidently commit to generating peak revenues in excess of $300 million and this approval solidifies the pathway to meaningful gross margin expansion beginning potentially in the second half of 2021 and accelerating throughout 2022.
"In addition to the increase in ADMA's multi-year financial guidance, the Company is reiterating its expectation for quarter-over-quarter revenue growth throughout 2021 and beyond."
Should You Invest in ADMA Biologics Shares?
One of the most frequently asked questions we receive is, "what stocks are best to buy right now?" It's a wide-ranging question, but one that we have answered… Our AskTraders stock analysts regularly review the market and compile a list of which companies you should be adding to your portfolio, including short and longer-term positions. Here are the best stocks to buy right now