Shares of Agronomics Ltd (LON: ANIC) rose 2.47% after revealing that it had sold its stake in Insilico Medicine Inc for $669,775 (£475,540) as part of its strategy to dispose of its legacy holdings.
The alternative proteins company said it earned an IRR of 54% by selling the unit and said it would use the funds to fund its new and existing opportunities in cellular agriculture.
Agronomics acquired Insilico Medicine for £92,755 between June 2017 and July 2018.

Investors reaction to the announcement was subdued, maybe because the company raised £50 million via a discounted share placement in May, which it intends to use to acquire other companies in the "cultivated meat" sector.
The cellular agriculture investment holding company soon after that increased its stake in Meatable, one of its portfolio companies, by €200,000, raising the value of its stake to €8.15 million, representing an unrealised gain on the cost of €2.95 million.
Agronomics recently announced that its portfolio company CellX Limited had completed its seed financing round, valuing its stake in the firm at $300,000, from an initial investment of $50,000 made in December 2020.
Today's announcement is another step in the right direction. The company is actively selling many of its legacy holdings that are not aligned with its new lucrative strategy focused on cellular agriculture and cultivated meat companies.
Agronomics owns a portfolio of 16 companies ranging from the seed to series B funding stages. Some of its portfolio companies at the series B funding stage are likely to IPO in the medium term, giving the firm a chance to exit its positions for a significant profit.
*This is not investment advice.
Agronomics share price.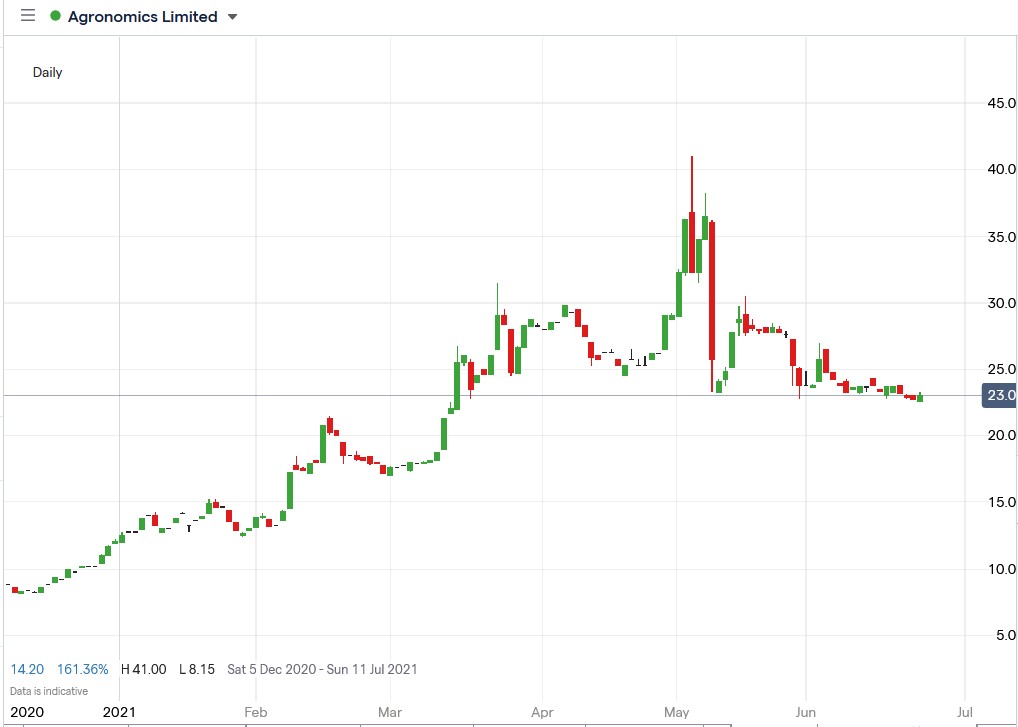 Agronomics shares rose 2.47% to trade at 23.26p, rising from Wednesday's closing price of 22.70p.