Key points:
AMC Entertainment's APE stock rallied 11.9%, erasing previous losses.
Investors seem comfortable with the dilution caused by the share issue.
So are APE shares better than AMC shares? Read on to find out.
The AMC Entertainment Hldg Pref Equity Units Depositary Share (NYSE: APE) stock rallied 11.9% today, erasing yesterday's losses as investor sentiment improved despite the looming capital raise diluting all current shareholders.

AMC announced that it would issue up to 425 million new AMC Preferred Equity Units (APEs) to raise $1.6 billion, which it would use to "repay, refinance, redeem or repurchase" existing debt and for general corporate purposes.
Also read: The Best Undervalued Stocks To Watch In 2022.
The movie theatre chain is taking measures to shore up its finances when its rival Cineworld has filed for chapter 11 bankruptcy protection. Its leaders lamented that the company could have avoided bankruptcy if it had become a meme stock like AMC.
AMC Entertainment was saved from bankruptcy by retail traders who started buying up its shares to make institutional traders who had shorted the stock lose money by being forced to cover their short positions by buying AMC shares.
The meme stock craze saved AMC from certain bankruptcy, but the trend did not extend to Cineworld. As a result, AMC is again taking measures to shore up its capital by repaying and refinancing some of its debt while repurchasing other debt to avoid its rival's problems.
While the capital raise is good for AMC, investors holding APE shares will be significantly diluted since the proposed capital represents an almost 50% dilution for holders of the APE shares. Furthermore, there is little chance that the APE preferred shares will ever be converted into common shares.
Holders of AMC's common shares had refused to give the company authority to issue more shares to avoid further dilution, which is why the firm issued the APE shares in August as a special dividend to its common shareholders.
By doing so, AMC can now issue more APE shares that do not have the same limitations as the common shares. Therefore, it seems that the preferred shares are worse than the common shares despite being convertible on a 1-to-1 basis into common stock.
*This is not investment advice.
AMC APE stock price.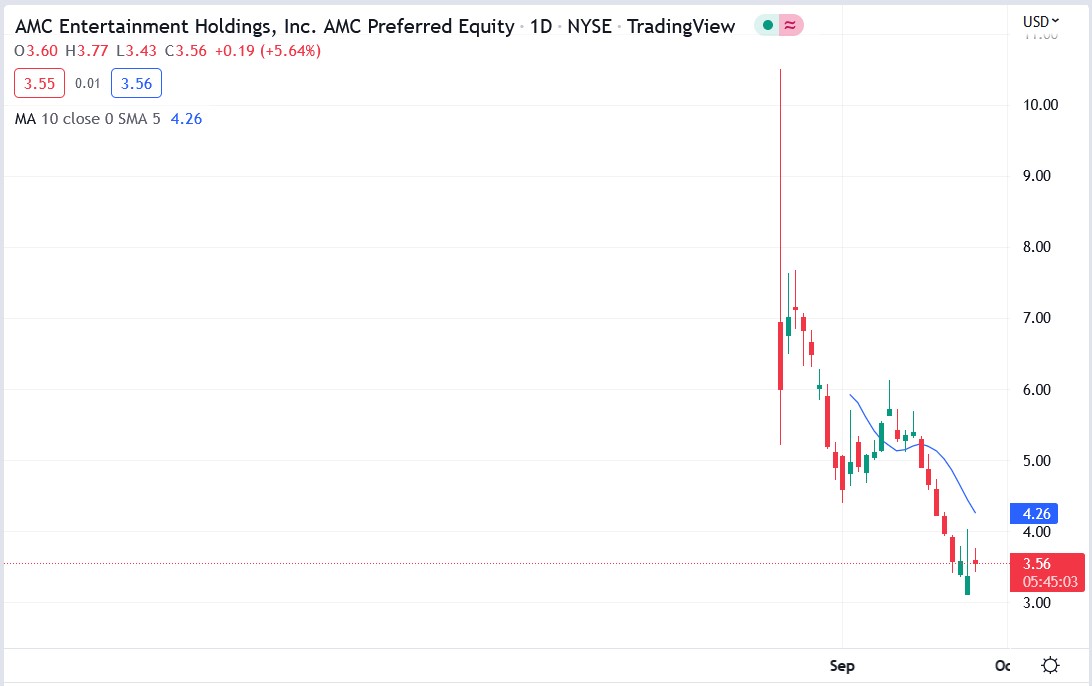 The AMC APE stock price was trading 11.87% higher at $3.77, rising from Monday's closing price of $3.37.