Key points:
AVCT stock is now up 300% and more since the new CEO announcement
Is this going to go further or is this it and it will reverse?
We can only understand that when we've identified the real reason for the move
American Virtual Cloud Technologies (NASDAQ: AVCT) stock is down 91% over the past 12 months but it's just risen 300% in the past couple of trading days. Clearly there is something going on here but exactly what it is needs to be examined. It's possible just to shout "meme stock" and be done with it but to be fair here there doesn't seem to be any great outburst of traffic on r/wallstreetbets or on stocktwitter. So, it could indeed be just people getting excited about something but it's not from those usual sources.

The 91% fall in AVCT is easily enough explained. The business simply isn't doing very well. In fact, if we look at the latest results announcement we might think that it is, essentially, bust. Revenues come nowhere near covering costs, the fiscal runway is shrinking and there's no obvious point or place for a turnaround. Sure a profit can be seen in those numbers but that's rather from writing down the value of those warrants – as they exercise at $11 there's little chance of their being taken up. In fact, if AVCT shares really soared, as a meme stock, then that revaluation might have to be reversed leading to even worse accounting figures.
The essential business problem seems to be being a cloud based business and yet facing vast competition from all the majors. This just isn't a great place for a small business to be. Yes, everybody and their dog now runs things in the cloud but the vast majority of the business is being picked up by the majors, Google, Microsoft, Amazon and so on. Quite apart from anything else the downward price pressure is stultifying.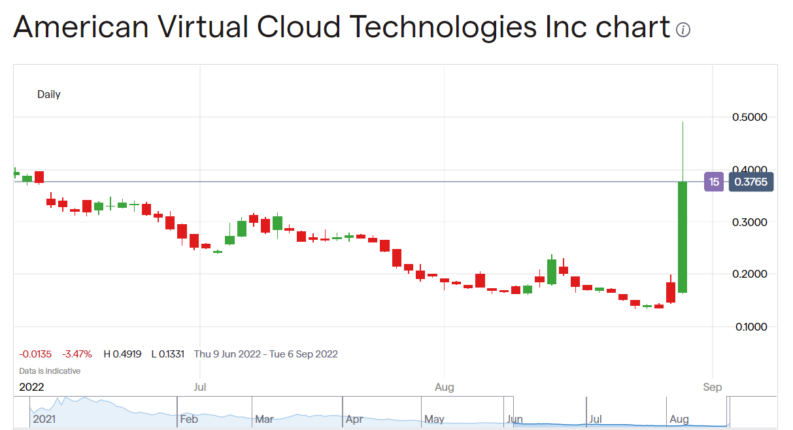 Also Read: How To Buy Google Shares
The thing to be explained is the current rise in AVCT stock. As we remarked last week there was a significant rise on the announcement of a new CEO for American Virtual Cloud. The company is now looking to sell either itself or some assets in order to save the business. A year and more back things were looking reasonable enough with revenues growing and so on. But that effect seems to have faded away.
It's difficult to shake off the feeling that the 156% rise yesterday, following the near 50% rise at the end of last week, followed by near 20% again today, is something of an over reaction to that announcement of trying to sell the company. An announcement of having found a buyer, and a price, might do that but for being willing to go looking that does seem excessive.
However, momentum trades do exist, the big question in momentum trades being how far is it going to go? A useful thought about prices that change just because people pile in because prices are changing being that any reversal is also geared to the same effect. Trading positions in AVCT should be considered – the consideration being to work out exactly why this price is moving. For only once we understand why AVCT is moving so much can we work out how far it will go or even when it will stop and or reverse.