Key points:
Amigo Loans shares have been trading below resistance for over a month.
The sideways price action shows that neither the bulls nor bears have control.
However, this is likely to change ahead of the court sanction hearing in May.
Since mid-March, the Amigo Holdings PLC (LON: AMGO) share price has traded below a crucial resistance level. The bears cannot push prices lower, and the bulls lack the momentum to push prices higher and break above the resistance level.

The lack of movement in the AMGO share price has left many wondering what comes next for the guarantor lender. The good news is that the company is on track to resume lending activities after the court sanction hearing on 24 May 2022.
The UK's Financial Conduct Authority (FCA) is not opposed to the new business scheme proposed by Amigo Holdings. Still, the affected customers have to approve the new scheme via a vote scheduled for 10 May 2022 before the courts can sanction the scheme.
The new scheme will significantly dilute existing shareholders as the lender raises new capital to pay the aggrieved customers and resume lending activities after the courts sanction its new business scheme.
Amigo Loans shares had spiked higher after the court convening hearing on 8 March 2022 before pulling back and entering a sideways trading range that is in place to date. Therefore, I expect we will get a similar spike before, during and after the sanction hearing scheduled for 24 May 2022.
However, investors should closely watch the customer and creditors' vote results scheduled for 10 May 2022. The approval of the new business scheme by the affected customers could trigger a rally in AMGO shares. Therefore, I would buy AMGO shares at current prices in anticipation of a move higher on 10 May 2022 and a further rally on 24 May 2022.
Still, there is a small risk that AMGO shares could fall. Such a scenario would happen if the aggrieved customers decided to reject Amigo's offer, which is highly unlikely.
Investors should remember that the FCA is willing to reduce the fine imposed on Amigo Loans if it would interfere with the planned payout to affected customers, which is suitable for the company and its customers.
Going forward, investors could be well rewarded if the company resumes lending activities soon after the sanctions hearing in late May since there is significant demand for the company's guarantor loans.
*This is not investment advice. Always do your due diligence before making investment decisions.
Amigo loans share price.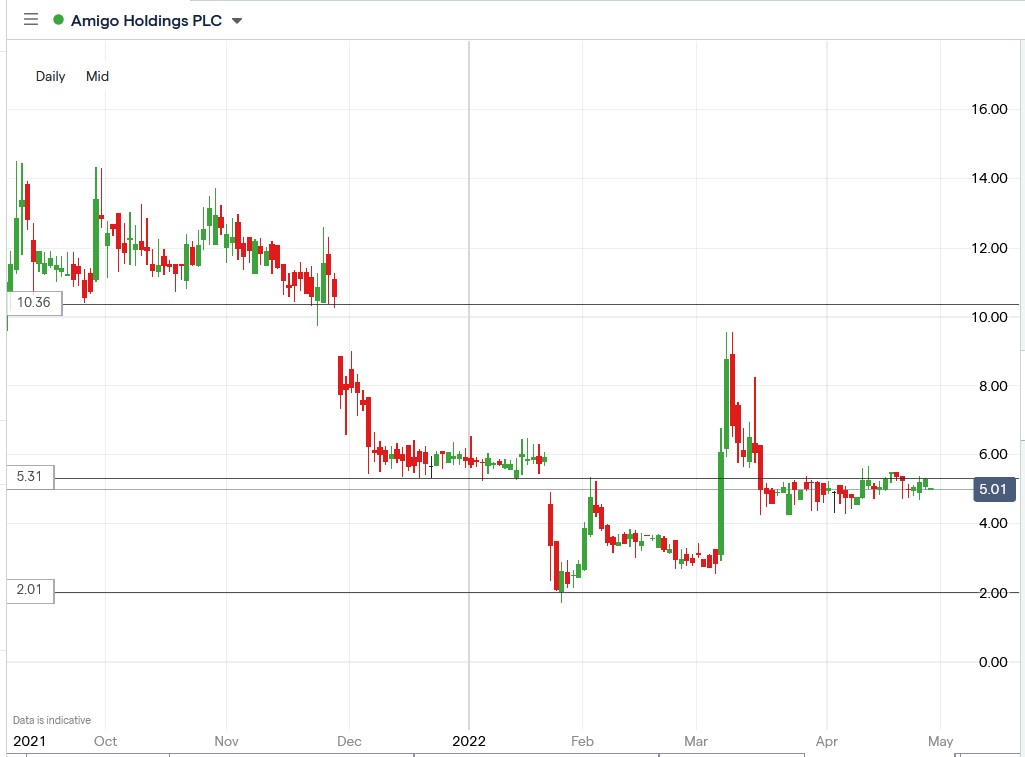 The Amigo Loans share price has fallen 12.19% in 2022 but could be headed higher in May.