Key points:
Antofagasta shares plunged after its Q1 production fell significantly.
The company attributed the decline to the ongoing Chilean drought.
Investors remain cautious about the mining company's prospects.
The Antofagasta plc (LON: ANTO) share price plunged 8% after producing 138,800 tonnes of copper during Q1 2022 at its Los Pelambres and its Centinela Concentrates projects in Chile.

The production figure was in line with the company's expectations but represented a 24.2% decline compared to Q1 2021 production figures and a 22.4% drop from the Q4 2021 production numbers.
The multinational conglomerate attributed the lower production figures to the ongoing Chilean drought that has broken global records after persisting for over ten years.
Mining is a water-intensive activity; hence, Antofagasta's mining activities might remain constrained. Luckily the company is taking steps to compensate for the lack of rainfall in Chile after building a massive desalination plant at Los Pelambres, to be completed in H2 2022.
Antofagasta produced 38,400 ounces of gold, representing a 35% decline in production compared to a similar period last year. In addition, the company produced 2,000 tonnes of Molybdenum, which is a decline of 1,000 tonnes compared to Q1 2021.
The company said that lower throughput at Los Pelambres combined with lower grades of the three metals it produces.
Investors were displeased by the results, evidenced by the 8% decline in Antofagasta's share price. Still, the mining conglomerate maintained its full-year production guidance of 660,000 to 690,000 tonnes of copper.
The guidance is based on the assumption that there will be no rainfall in Chile until the rainy season and that the desalination plant will start operations in H2 2022.
Antofagasta is currently expanding its Los Pelambres project, with the expansion being 73% at the end of Q1 2022. The expansion is expected to cost up to $2.2 billion when complete.  The company is also exploring other brownfield opportunities, such as the joint venture with Barrick Gold and the Pakistani government to revive the Reko Diq project.
The company intends to exit the project for $900 million after it is reconstituted under a new joint venture known as Tethyan Copper Company Pty Limited (TCC). The mining company expects to receive the proceeds in 2023 if the reconstitution of TCC is completed this year.
*This is not investment advice. Always do your due diligence before making investment decisions.
Antofagasta share price.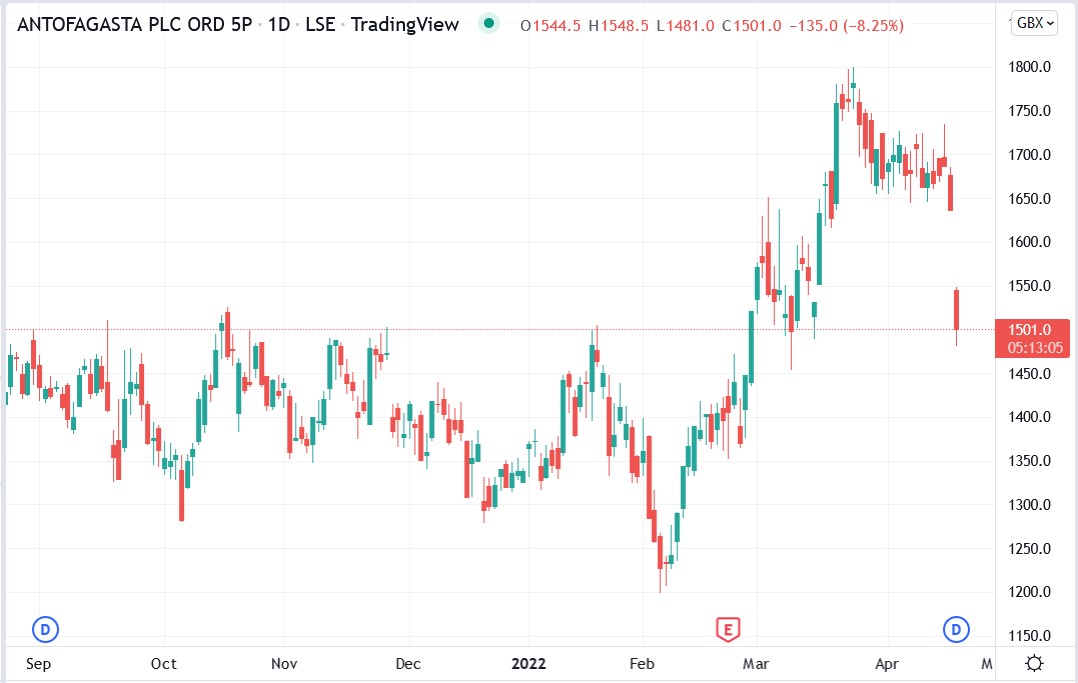 The Antofagasta share price fell by 8.3% to trade at 1500p, falling from Wednesday's closing price of 1636p.