Key points:
Boohoo shares have fallen 28.3% in 2022 but could have bottomed.
The fast-fashion company's shares are positioned to keep rallying higher.
Still, it faces intense competition from Chinese firms with less scrutiny.
The Boohoo Group PLC (LON: BOO) share price has fallen 28.3% in 2022, bringing its total losses over the past 12 months to 74.1% despite the fast-fashion company's performance remaining above that of its peers.

Earlier this year, the company unveiled its first manufacturing capacity on Thurmaston Lane in Leicester to clean up its image and demonstrate to investors that it had left its shady past in its rearview mirror.
Still, investors remained unconvinced that the company's suppliers from over 1,000 factories globally were following the same strict rules showcased at Booho's Leicester factory. So while the move to open the UK factory was praised as a brilliant move, the discussion quickly shifted to Boohoo's future profitability.
I have mentioned in past articles that the fast-fashion company has been dealing with numerous returns from its international clients combined with long delivery times for items shipped internationally. Still, it is working hard to resolve its supply chain issues.
What about Chinese competition?
Another emerging factor in Boohoo's story is the stiff competition it faces from Chinese fast-fashion companies in most international markets. While Boohoo has to deal with significant oversight of its operations, Chinese companies do not operate under the same level of scrutiny.
Boohoo has to ensure that its suppliers pay their workers the minimum wage at the very least while ensuring that their working conditions meet strict standards. In addition, the employees are also entitled to certain rights, such as paid leave, which is not the case in China.
Shein is one of Boohoo's top competitors in the fast fashion industry, given its vast network of dingy workshops located in Guangzhou, China, making up most of its supply chain. Shein reportedly raised $1 billion earlier this month, valuing the company at $100 billion.
However, while Chinese companies such as Shein enjoy less scrutiny, the tide could shift in Boohoo's favour as customers ask questions about Shein's supply chain and labour practices.
BOO shares are currently trading below the 100p resistance level, and the current price action indicates that the shares could break above the level triggering a new rally phase. After breaking the 100p level, the following critical level is at 126p, after which the rally could proceed to the 180p level.
There is little standing in Boohoo's way, given the steps taken by the company to increase the transparency of its supply chain. Moreover, the move is likely to pay off immensely as its Chinese competitors face scrutiny from their western and global customers.
*This is not investment advice. Always do your due diligence before making investment decisions.
Boohoo share price.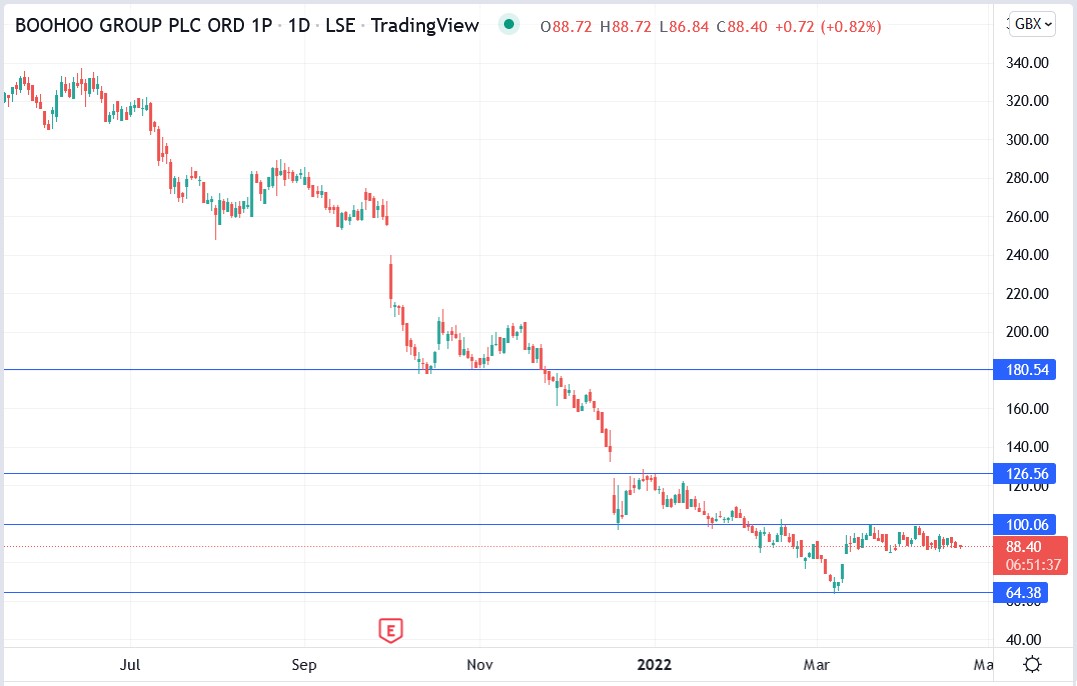 Boohoo shares have fallen 28.26% in 2022 but recently bounced off the 64.38p level. BOO shares rallied higher but failed to break above the 100p level, a significant resistance zone.