Shares of AstraZeneca plc (LON: AZN) are up a mere 2.77% this year despite the company announcing positive COVID-19 vaccines trial results in late November.
The pharmaceutical company's stock has seen its valuation depreciate by almost £7 billion ($9.35 billion) since releasing the results after questions emerged about the two dosing regimes used in the clinical trials.
A small group of study participants were given half a dose of the vaccine followed by a full dose, which proved over 90% effective at preventing COVID-19 infections, while the majority of participants were given two full doses, which proved 62% effective, lowering the overall effectiveness to 70%.
An AstraZeneca official claimed that the second regime where participants were first given a half dose followed by a full dose was arrived at accidentally, while officials from the University of Oxford said that the new regime was agreed on after thorough discussions.
Given that the clinical trials were conducted jointly by the two institutions, the discrepancies in the two explanations have raised questions among scientists and other experts about the accuracy of the findings, which triggered the sell-off in AstraZeneca shares.
AstraZeneca is yet to complete its US clinical trials with the current data being derived from trials in Brazil and the UK. The company is expected to release the interim trial results in January before applying for Emergency Use Authorisation (EUA) in the United States.
The company has performed poorly as compared to its peers such as Moderna, which is up 703% this year driven by the coronavirus vaccine news, while BioNTech is up 250% based on its COVID-19 vaccine, which was developed in collaboration with Pfizer.
AstraZeneca share price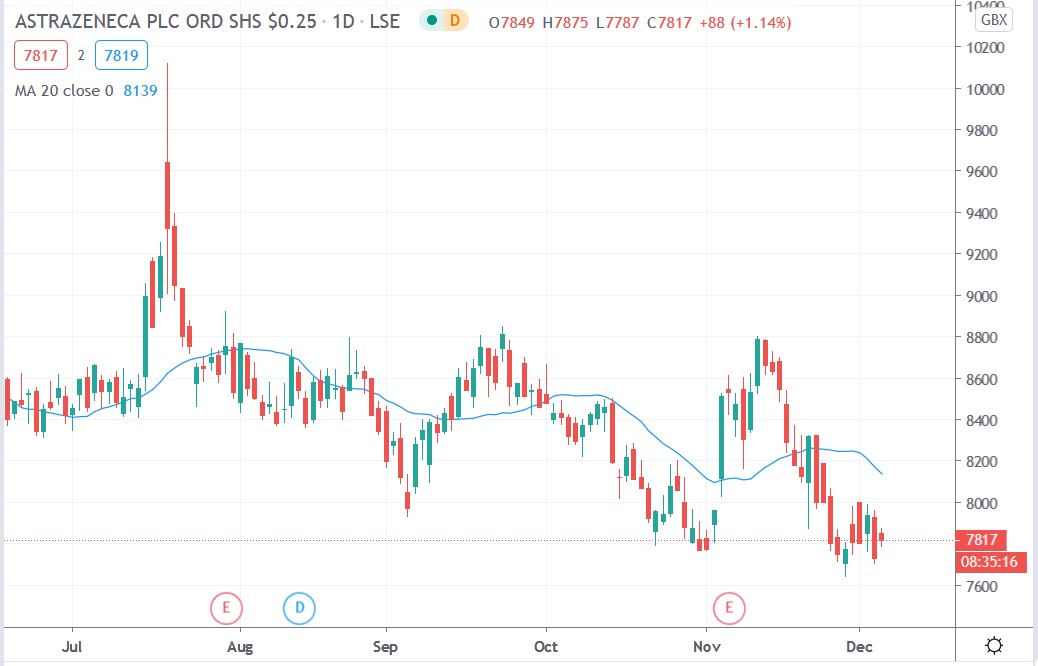 AstraZeneca shares are down 8% since November despite the upbeat coronavirus vaccine news.
People who read this also read: