Shares of AstraZeneca plc (LON: AZN) today fell 2.16% despite the company reporting that its coronavirus vaccine is 90% effective in one of two dosing regimes taken by the company.

The vaccine was 90% effective when taken as a half dose followed by a full dose one month later. The vaccine's efficiency drops to 68% when taken as two full doses a month apart, lowering its average efficacy to 70%.
Investors seemed unimpressed by AstraZeneca's data given that coronavirus vaccines developed by Pfizer and Moderna have efficacy rates that are above 90% with Moderna's vaccine having a 94.5% efficacy rate.
AstraZeneca is lagging behind it speers given that it is still collecting and analysing data from the study, which could see the efficacy rate revised in future, hence the lukewarm reception to its initial vaccine results.
However, AstraZeneca's vaccine might be approved much faster than those of its peers given that it has been working with regulators throughout its study, and the fact that it can be stored at normal fridge temperatures is a huge win for the company.
The fact that the company intends to distribute its vaccine at cost during the course of the pandemic also may not sit well with investors since the company will not be making a profit on its vaccine sales.
AstraZeneca share price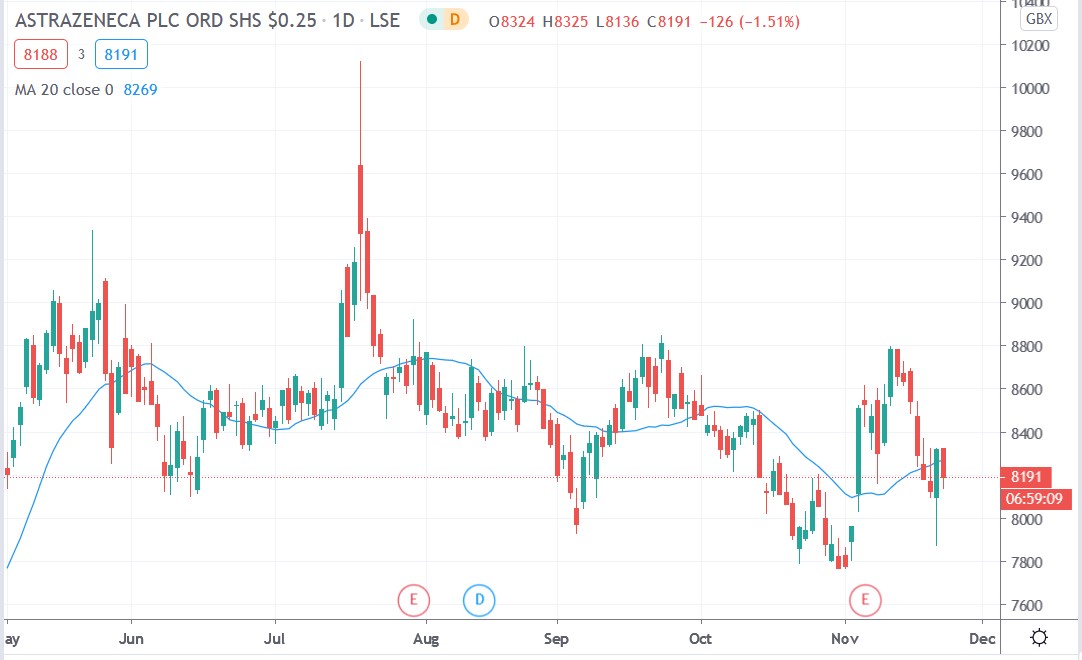 AstraZeneca shares today plunged 2.16% to trade at 8137p having dropped from Friday's closing high of 8317p.
People who read this also read: